A French-style chateau owned by a banking heiress in the English countryside hardly seems the place to ponder women's lib and the democratisation of society after a brutal European war. But Waddesdon
Manor, Alice de Rothschild's sprawling Buckinghamshire estate, tells a story
of inevitable change in a period not unlike today, one marked by conflict, infectious disease and shifting supply chains. Like its chatelaine, Waddesdon
is a period piece with 21st-century resonance.
The manor has a new exhibition to mark the centenary of Alice's death. On
display are the typical preoccupations of a privileged woman. Exquisite items testify to Alice's taste in art; her talent for canny acquisitions of Sèvres
porcelain, early English earthenware, Renaissance tin-glazed ceramics, Staffordshire pottery of Tipu's tiger eating a man and a Savonnerie carpet
commissioned by Louis XIV for a gallery in the Louvre.
A pocket dictionary in German, English and French, by the 19th-century educator Friedrich Ernst Feller, shows her facility with languages. An excellent horsewoman, she is pictured riding. Letters demonstrate horticultural knowledge, ranging from soil types to plant diseases. There are records of her meticulous housekeeping, with strict injunctions on how to polish porcelain (in silence), arrange flowers (no higher than the bottom of the painting under which the vase stands) and protect furniture (keep it out of the light). The National Trust now enshrines "Miss Alice's Rules" as the essential principles of conservancy.
---
But the exhibition also reveals an interest in people management unusual for her station. When the 1911 smallpox epidemic hit, Alice went beyond her charmed circle and insisted the servants, too, be vaccinated with calf lymph. During an influenza outbreak, new quarters at Waddesdon were built to house staff individually rather than in dormitories, to reduce the risk of
infection. She created a club room, well supplied with books and papers for senior employees, and encouraged bilingualism for staff rotating between Waddesdon and her 135-hectare estate in Grasse in the south of France.
"She was an extraordinary woman who stands out in an age dominated by
men, intelligent, exacting, discerning and independent," says Pippa Shirley,
director of collections and gardens at Waddesdon.
Certainly, Alice had a more unconventional approach to life than might be expected of a great-granddaughter of Mayer Rothschild, founder of the banking dynasty. Mayer's last will and testament explicitly excluded daughters from the family business. But a letter from Alice to her friend, horticulturist Ellen Willmott, indicates a firm belief in female empowerment. "It is important to have your financial independence," she wrote.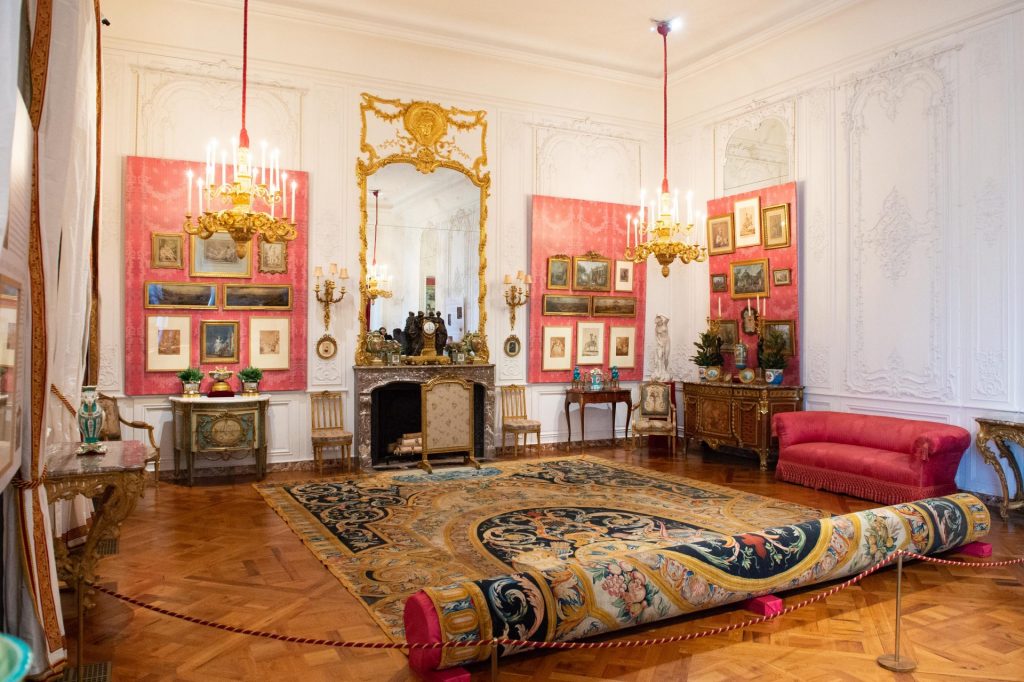 She did, on receipt of a share of her father Anselm's fortune when he died
in 1874. Newly wealthy in her own right, Alice bought Eythrope, an estate
that neighboured her brother, Ferdinand, at Waddesdon, as well as a house next door to him on Piccadilly in London. Ferdinand's death in 1898 as a childless widower meant Alice inherited Waddesdon. He had built it for Saturday-to-Monday house parties, the term used before the weekend became a concept. Alice proceeded to run it like a military operation aiming
for maximum shock and awe, albeit with spectacular seasonal plantings
and prize-winning pedigree livestock.
But as the American feminist poet Adrienne Rich has said, no woman is really an insider in the institutions fathered by masculine consciousness. Alice does not figure in the Rothschilds' wall of stars. That has a clear pedigree.
At the top is Mayer, the clever son of a trader from the Frankfurt
Judengasse who sold small items from a pack loaded on the back of a donkey. Mayer rose to the post of financial manager to the Landgrave of Hesse and by the close of the 18th century, the Rothschilds were the 11th
wealthiest Jewish family in Frankfurt. Next on the wall of stars is Nathan,
third of Mayer's five sons and Alice's grandfather. He came to England speaking nothing but German and
Yiddish and became a national hero in his adopted country by helping the
British treasury pay for Napoleon's defeat at Waterloo in June 1815.
Nathan managed this by enlisting his four brothers – all settled in European cities – to smuggle money across the continent without loss to themselves or the entity they represented. It was a feat that might have been impossible for any financial agent other than a Rothschild.
After the Napoleonic wars, the family was unstoppable. A biography of the Rothschilds noted: "Individually, each brother commanded personal wealth that outstripped the wealth of nations; combined, they literally financed the
wars of Europe… The Rothschilds stood at the dawn of an age in which wealth could be attained by people of common birth, and once attained, confer nobility."
For the Rothschilds also racked up titles along the way. The Habsburgs offered to make barons of all five brothers, even though only one – Salomon, Alice's grandfather – would pick Vienna for his home. By the end of the 19th century, the Rothschilds had mostly managed to weather occasional outbreaks of antisemitism within their adopted countries – England, France and Austria – and shown themselves to be devoted citizens.
Alice, born in Frankfurt and raised in Vienna and elsewhere on the continent, arrived in England aged 19. She was naturalised as a British citizen, but as Waddesdon's curator of decorative arts, Mia Jackson, explains,
Alice carried around the idea that Europe was hers.
When the first world war broke out, it stood to reason the family fought on
different fronts. In England, Lionel de Rothschild worked hard to keep the
British currency stable while Leo, another English Rothschild, lost one son fighting against the Turks in Palestine and had a second wounded at Gallipoli. In France, James de Rothschild fought in three successive armies – the French, the Canadian and the British – while Henri de Rothschild, a medical doctor, built ambulances and took them to the front. In Austria, Eugène von Rothschild was wounded at the Russian front and had a leg amputated.
All of these were Alice's uncles, cousins and nephews and news of their valorous, often heart-rending exploits threw into stark relief her own contribution to the war effort: from 1916, Waddesdon's floral displays made way for essential vegetable cultivation for the wider community, which meant the house no longer had cut flowers.
The seemingly piffling alteration in routine would be the harbinger of a more dramatic change – the decline of the grand country estate and a way of
life that had lasted 200 years.
Alice died four years after the war ended and the Rothschilds bequeathed Waddesdon to the National Trust in 1957.
In Waddesdon's story, there are echoes of the present day, in the context of the war in Ukraine and shifting tectonic plates of the world economy.
---
Until the Great War, as John Maynard Keynes wrote in his 1919 book The Economic Consequences of the Peace, the leisurely life of a member of the British upper class allowed him to "order by telephone, sipping his morning tea in bed, the various products of the whole earth, in such quantity as he might see fit, and reasonably expect their early delivery upon his doorstep; he could at the same moment and by the same means adventure his wealth in the natural resources and new enterprises of any quarter of the world, and share, without exertion or even trouble, in their prospective fruits and
advantages."
What's more, said Keynes, the upper classes regarded "this state of affairs
as normal, certain, and permanent, except in the direction of further improvement". Just as the first world war shattered certainties, so has
Ukraine.
Alice's Wonderlands is open Wednesdays to Sundays until 30 October
Rashmee Roshan Lall is a Fellow of the Royal Society for the Encouragement of Arts, Manufacture and Commerce and has written for The Independent, The Guardian, The Economist and The New York Time