When satellite television launched more than 30 years ago, the very first MP I interviewed asked me how he could get pornography on his dish. He went on to boast that to avoid any embarrassment, he'd attached the dish to his neighbour's house. Which he also owned.
This honourable member is no longer with us. I suppose his public image was of an "old school gent" and, as it happens, it would be wrong to jump to any obvious conclusions as to which party he represented.
Pestminster is not a party political problem, it is part of the culture of the place. Another time at Westminster in mixed company – in terms of ideology, gender and occupation – someone gossiped that an MP was sleeping with his summer intern from America. "That's what they are there for," chirruped a future minister. Famously, back in the days before smartphones, when the best way for a reporter to talk to an MP was to physically stake out "the Lobby", two distinguished female correspondents, Elinor Goodman and Julia Langdon, were standing side by side. "This place gets more and more like the Reeperbahn every day" shouted a man in a gaggle of colleagues rushing to the division lobbies. The Reeperbahn is the red light district of Hamburg.
Any journalist working at Westminster will have a stock of such off-colour stories. Women's personal experiences are generally worse. They are likely to have been accosted, propositioned or appraised openly for their attractiveness.
Until quite recently, those accredited to the press gallery or lobby were complicit in this bad behaviour. By definition "Lobby terms" meant that you did not identify your sources. The job was to report banter only when it was about politics and to ignore it otherwise. Besides, editors would probably not have been interested in printing it. There was no authority to which potential offenders could be reported. Even today, Partygate is demonstrating that ministers and MPs still do not respect external regulation and are inclined to make excuses when they assert the right to discipline themselves.
Things have changed in the outside world. There are more rules in our workplaces. Even if Britain's lawmakers haven't noticed, sexual harassment, bullying and expenses fiddling are no longer widely tolerated. MPs could have heard the alarm bells that times and the media were changing, but they still haven't.
The #MeToo movement brought down two ministers, Damian Green and Michael Fallon. Recent scandals specific to parliament range from the generic – such as cash for questions and MPs' expenses – to a slew of disgraced individuals of which Jeffrey Archer, Jonathan Aitken, Keith Vaz, Owen Paterson and Imran Ahmad Khan are just a small sample.
A knight of the shires was humbled when the "sugar tits" affair revealed that he had publicly demeaned a long-serving female staffer. Yet sexism and other abusive behaviour are clearly still rife among a substantial minority of those frequenting parliament.
For some it is as though #MeToo never happened. The Sunday Times has just reported that 56 MPs are being investigated for alleged offences under the newly established independent grievance scheme. This is an astonishingly high figure, suggesting that political standards of behaviour are exceptionally poor, considering that there are only 650 MPs, two thirds of them men. At any other private or public employer the HR department would be in meltdown, with senior executives already out of the door.
---
Attitudes shared by a few honourable members and their pals from the press propping up the Strangers Bar have not kept pace with the mores of the population at large, nor with standards of most journalists including political reporters. Their values are as decayed as the crumbling masonry of Westminster itself. Partygate is proving awkward for some well-connected journalists precisely because it is no longer professionally acceptable to connive in hiding the dirty linen of your friends in politics.
The latest rows have let the daylight in on some toxic cultures still blooming in dank nooks and crannies. As the media marketplace becomes more polarised, partisan and competitive there is a risk it is metastasizing into something worse in some dank crevasses of parliament. Westminster is becoming a more dangerous place.
The Mail on Sunday article that ignited the current explosion of moral outrage seems to have been a misjudgment. Once it might have hit the spot in the male-gaze fnaar-fnaar culture epitomised by topless tabloid models. But page 3 has long been abandoned by The Sun. Likening the deputy leader of the Labour party, Angela Rayner, to the leg-crossing flasher played by Sharon Stone in the film Basic Instinct backfired spectacularly. She has condemned it as "disgusting", "sexist" and "classist" and, confronted in the court of contemporary public opinion, everyone from the prime minister down has agreed with her. Two female Conservative MPs were so enraged that they shopped a male colleague to the chief whip for watching pornography on his phone while in the chamber. Neil Parish Tory MP, and a tractor-loving farmer, was flushed out as the culprit after a few days and eventually announced his resignation from the Commons. The Conservatives now face a byelection in the usually safe seat of Tiverton and Honiton.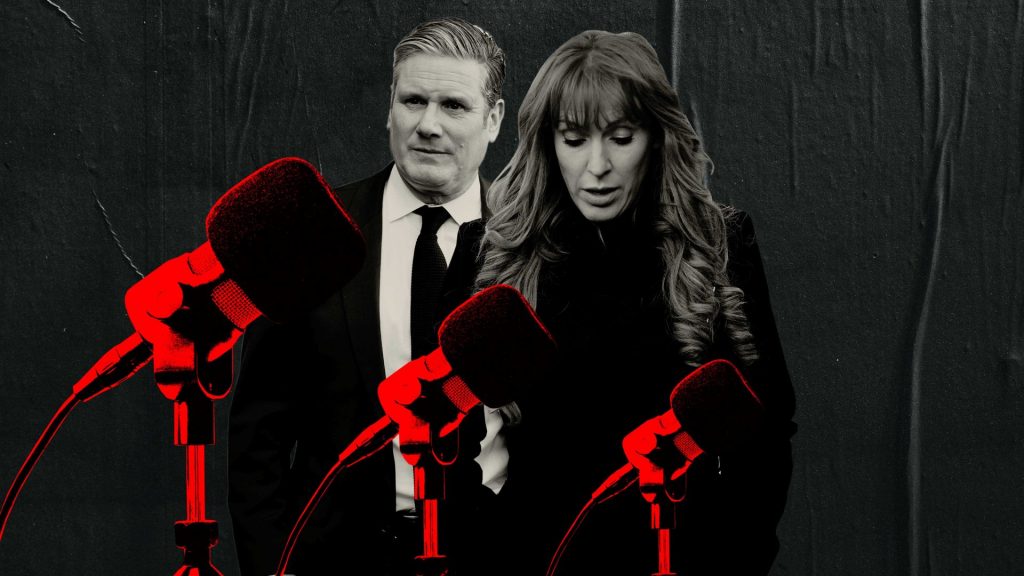 If identified, the MPs who stood up The Mail on Sunday story could well face the chop as well, even if they are not responsible for originating it. As my associate Tom Roberts has pointed out on Twitter, The Daily Mail's columnist Amanda Platell had a previous run at it, writing on January 6 this year: "ANGELA WON IT IN A FLASH. No wonder Boris Johnson got into a fluster at this week's prime minister's questions when confronted by Angela Rayner, standing in for serial Covid patient Sir Keir Starmer. Wearing a chic dress that showed off her thighs the Labour deputy leader was channelling her inner Sharon Stone. Boris has always had a tendresse for women with basic instincts."
In political terms, Rayner should take the renewed assault as a compliment. The demeaning attack shows that she is now seen as a contender. Some of those behind the editorial lines in the "Tory press" are increasingly worried that she and Labour might actually come to power. They are using what resources they have to try to stop it by attempting to discredit the opposition leadership.
The last editor of The Daily Mail, Geordie Greig, was an equal-opportunities muckraker who exposed one of the most damaging stories for the Conservative party image: the lucrative moonlighting in the British Virgin Islands by the MP and former attorney general Sir Geoffrey Cox MP. Since Greig's departure the group's papers have concentrated on stories to discredit Labour, sometimes at a stretch. Mail papers have embarked on a joint effort to save both their and the Prime Minister's reputations by turning on their critics. Rayner has been attacked for being the ultimate source of the story – another manifestation of the traditional "blame the woman" for our bad behaviour approach. While "Keir's Beer" – a photograph of the Labour leader holding a drink while on a campaigning visit – has been given priority the front pages over Neil Parish, Ukraine, and, of course, Partygate. Such transparent attempts at exculpation have only found echo chambers in the new partisan media outlets such as Guido and GBNews, made possible by digital technology.
Partisanship in British newspapers is long-established and legitimate. After all, this newspaper is The New European. The threat to remove the pass to work in parliament from the journalist who wrote the story was wrong and an attack on the freedom of the press, which is limited enough in this country. The Speaker of the House Sir Lindsay Hoyle overstepped the mark by summoning the reporter and the editor of The Mail on Sunday. They were right to refuse the invitation.
Yet Hoyle was on to something that the newspaper had missed – that change in the mood as to what is acceptable. The pomposity of parliamentarians who cannot bear to be disrespected did not lie behind his reaction, nor was it because he was previously a Labour MP. As Speaker, Hoyle has made it his priority to safeguard and cleanse the atmosphere for all who work at Westminster. If nothing else, the attempted slutshaming of Rayner revealed what was going through the dirty minds of the MPs and journalists responsible. Best left unuttered. Even the saintly President Jimmy Carter was once castigated for confessing "adultery of the mind". It is not really helping to big up a beleaguered prime minister by suggesting that his "Oxford Union" oratory could be derailed by the sight of a woman – that is the mindset of the Taliban.
Politicians put on the defensive by scandals are wont to protest that there are more important things the media should be talking about. Johnson keeps on saying that "people want to move on" from lockdown parties in Westminster and Whitehall. Such complaints would be more convincing if politicians on all sides weren't happy to sling grubby accusations at each other. Once, it might have been credible to demand that politicians and press should only attend to matters of great import, but not in the present ecosystem for news. When almost anything both public and private can be recorded or reported, new concerns are raised about the inevitable intimacy, and, perforce complicity, between journalists and their subjects.
Broadcasters are not isolated from the pressures of competition brought on by the great increase in the media for rapid communication through digital technology. It has been most keenly felt by newspapers and magazines, not least because radio and television have long been stealing what had previously been their lunch – telling the public what of interest and importance is going on around them. To survive they need to find something else.
At the height of the Iraq conflict, I was travelling with the prime minister. At the time I presented Sky News' Sunday morning programme. I had the exclusive interview of the trip with Tony Blair. We broadcast it live before hastily joining the rest of the party who were already waiting in the plane on the tarmac.
As agreed in advance, I handed an audio tape of the half-hour interview around the cabin, so that my colleagues could file as soon as possible. One of the best tabloid journalists came over to chat to me. "I like the bit about the holidays", he said. For a moment I didn't know what he was talking about. The interview had been serious stuff about the war and domestic policy at home. Then I remembered that the prime minister and I had chatted briefly and awkwardly about our summer plans while the cameras were lining up. That was what my colleague had gleaned from my work. The interview had already gone out, he needed something fresh, even if it was just overhearing polite conversation and personal not political.
---
In the Major and Blair years, growing numbers of print journalists began to concentrate on the gossip rather than information because at least they could guarantee that their copy was original rather than a repeat of something seen elsewhere. Commons proceedings were televised from 1989. Rolling 24-hour TV and radio news fast forwarded this transition from primary to second-order news stories. The personal conduct of MPs had always mattered, but print reporting has shifted away from policy and first-hand political discourse. There has been a greater premium on reporting personalities because drunkenness, lechery and greed can bring down a career. The access granted to journalists by the Lobby system has turned into a liability for politicians who misbehave.
The intensity of personal scrutiny they would face has undoubtedly discouraged many people with something to offer from attempting a parliamentary career. On the other hand, the abusive behaviour and corrupting cronyism they encounter when they get there is encouraging many others, especially women, to cut short their careers.
On balance it is probably better and certainly more salutary for clean government that political journalists expose rather than turn a blind eye or deaf ear to the questionable behaviour of the politicians they get to know. But it is a delicate balance that has to be handled with self-awareness. It can be embarrassing for politician or reporter or both if they fail "to check your privilege". As Jesus once advised, "let he who is without sin cast the first stone".
Adam Boulton is a former editor-at-large of Sky News