Jürgen, thought about going into politics?
Dear Mr Klopp,
I'm doing a German course and for my homework this week I have to write someone a letter. As I am also editor-at-large at The New European newspaper, I had the idea of writing this letter to you, and publishing it in German and also in English.
I'm a big Burnley fanatic and a friend of our recently departed manager Sean Dyche, and you've sometimes criticised my club and our style of play. As Sean is no longer with us, however, I can say that you are now not only the longest-serving manager in the Premier League, but also the one I admire the most. I would like to explain why in my letter.
First, you have built a wonderful team. As Graeme Souness said after your 4-0 win over Manchester United, this team plays the best football Liverpool fans have ever seen. And Graeme Souness is qualified to talk about that.
---
I love your passion. For football. For your players. For the fans. For the city and its history. You understand why the Hillsborough 97 are, and always will be, so important. You understand why The Sun will never be welcome in Liverpool. You understand the importance of football in the life of the city, not just Liverpool FC, but Everton, Tranmere, and hundreds of amateur clubs.
I love it when you step on to the field with a giant smile and hug the players at the end of a match. I love that fist punch on your chest that you do in front of the Kop. I admire how you develop and improve players. I did an interview with Trent Alexander-Arnold for GQ magazine two years ago and he spoke of you and your management with genuine love.
He said: "He is unbelievable. Just everything about him in every way. As a person, as a manager. Just unbelievable. He's a loving person, you can see that he's someone who cares about the people around him. He cares about his family, he cares about his players, he cares about his staff. He treats everyone as equals. Treats the captain the same as you would a young player. People probably have a conception of him as being maybe very emotional. Heart on the sleeve. Which he is to an extent, but he knows how to control it in ways that are beneficial to everyone around him.
"He keeps our mentality 100%. He makes sure that the message is instilled in us every single day to make sure that we're our best."
I wish I had interviewed you for my 2015 book Winners and How They Succeed, in which I wrote about my "Holy Trinity", Strategy, Leadership and Teamwork. It seems to me that you are master of all three, especially when it comes to the link between leadership and teamship.
I once saw you angrily criticise Virgil van Dijk for two rare mistakes as he played. Maybe the best defender in the world. But someone who has so much respect for you that he knew he had to do better, and he did afterwards. What a difference to our prime minister who constantly lies, flatters, deceives to keep his team by his side.
Yes, let's come to politics. I also see that you are so much more than just a football man. You know you are privileged to have become rich in a job you love so much.
You know that if you have money and power or influence, you also have a responsibility to help others who are less fortunate in life. You know that the richest have to pay their taxes and not avoid them as so many do. I know how much you do for the community, as you did in Mainz and Dortmund.
When Covid-19 entered our lives, you immediately understood the seriousness of the situation. You said this is more important than football – a message not to be underestimated in this football-crazy city that is Liverpool.
And a city that hates authority, and where many people were willing to turn down the vaccine, heard from you that getting it was important. Leadership!
Thank you for speaking out against Brexit because you understand it is not good either for Britain or for Europe. You are aware that populism is a real danger.
You asked – good question – why our country gives political power to liars like Boris Johnson and Nigel Farage? You have values, Mr Klopp, which these opportunists do not have and will never understand.
We see these values in the football you play and the life you lead. You believe that one should always try to tell the truth. You believe that strong people have a responsibility to help the weak.
Even if you have never read the Labour party constitution, I know you understand – and live – its key point, that we can achieve more together than we do alone.
I do a podcast every week with former Conservative minister Rory Stewart. Last week we had a question from a listener. "Who among Premier League managers would be the best political leader?"
The answer was undoubtedly Labour supporter and former Manchester United manager Alex Ferguson for many years. Today, Mr Klopp, without a doubt, it is you.
I wish our real so-called leaders of the country would study your type of leadership. How wonderful it would be if they had your passion for their work. Your attention to detail. Your ability to innovate and adapt. If they had your ability as a communicator. Above all, if they had your ability to bring so much joy and pride to a community.
So thank you. Thank you for everything you give to our country. Thank you for the nice football. Thank you for your love of northern England. Thank you for reminding us that we have good leaders in this country even if, sadly, they are not in the government.
Good luck in your pursuit of the Quadruple. And I hope that, once the trophy cupboard is overflowing, you think about going into politics. Our country needs you!
AC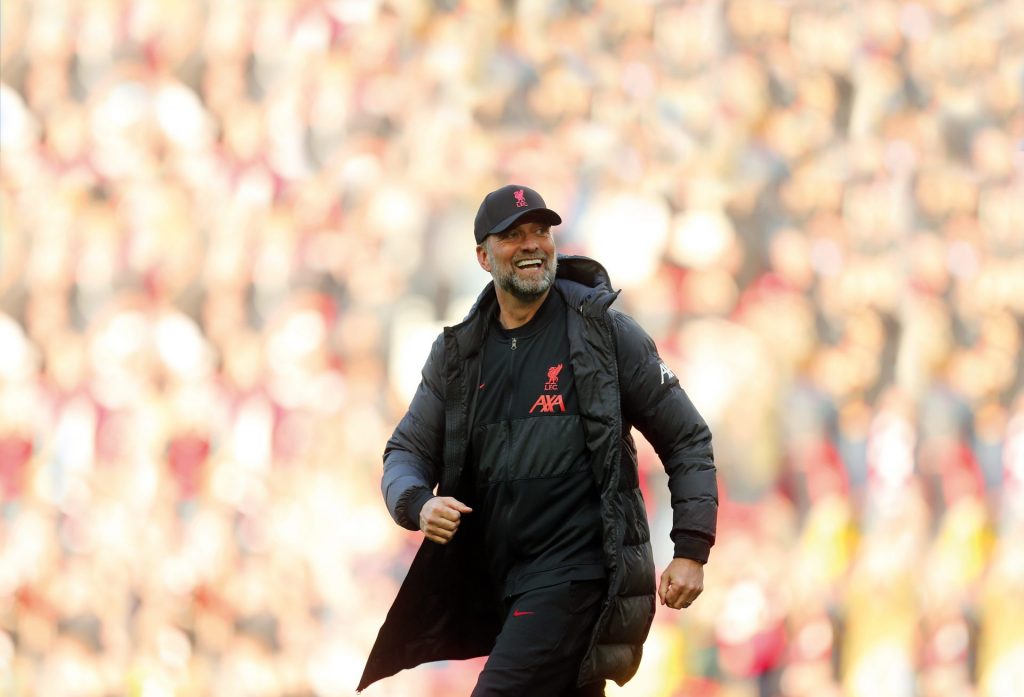 ---
Jürgen, würden Sie bitte darüber nachdenken, in die Politik zu gehen?
Lieber Herr Klopp,
Ich mache einen Deutschkurs und für meine Hausaufgaben muss ich diese Woche jemandem einen Brief schreiben. Da ich auch Redakteur bei der New European Zeitung bin, hatte ich die Idee, Ihnen diesen Brief zu schreiben und ihn auf Deutsch und auch auf Englisch zu veröffentlichen.
Ich bin ein großer Burnley-Fanatiker und ein Freund unseres kürzlich gegangenen Managers Sean Dyche, und Sie haben manchmal meinen Verein und unseren Spielstil kritisiert. Da Sean nicht mehr bei uns ist, kann ich jedoch sagen, dass Sie jetzt nicht nur der dienstälteste Manager in der Premier League sind, sondern auch derjenige, den ich am meisten bewundere. Warum, möchte ich in meinem Brief erläutern.
Erstens haben Sie ein wunderbares Team aufgebaut. Wie Graeme Souness nach dem 4:0-Sieg gegen Manchester United sagte, spielt dieses Team den besten Fußball, den Liverpool-Fans je gesehen haben. Und er ist qualifiziert, darüber zu sprechen.
Ich liebe Ihre Leidenschaft. Für Fußball. Für Ihre Spieler. Für die Fans. Für die Stadt und ihre Geschichte. Sie verstehen, warum die Hillsborough 97 so wichtig sind und immer sein werden. Sie verstehen, warum The Sun in Liverpool niemals willkommen sein wird. Sie verstehen, wie wichtig Fußball im Leben der Stadt ist, nicht nur der FC Liverpool, sondern auch Everton, Tranmere und die Hunderte von Amateurvereinen. Ich liebe es, wenn Sie mit einem riesigen Lächeln das Spielfeld betreten und die Spieler am Ende eines Spiels umarmen. Ich liebe diesen Faustschlag auf Ihre Brust, den Sie vor dem Kop machen.
Ich bewundere, wie Sie Spieler aufbauen und verbessern. Ich habe vor zwei Jahren ein Interview mit Trent Alexander-Arnold für das GQ Magazine geführt und er hat mit aufrichtiger Liebe von Ihnen und Ihrem Management gesprochen. ''Er ist unglaublich. Einfach alles über ihn in jeder Hinsicht. Als Mensch, als Führungskraft. Einfach unglaublich. Er ist eine liebevolle Person, man sieht, dass er jemand ist, der sich um die Menschen um ihn herum kümmert. Er kümmert sich um seine Familie, er kümmert sich um seine Spieler, er kümmert sich um seine Mitarbeiter. Er behandelt alle gleich. Behandelt den Kapitän genauso wie einen jungen Spieler. Die Leute haben wahrscheinlich eine Vorstellung von ihm als vielleicht sehr emotional. Was er bis zu einem gewissen Grad auch ist, aber er weiß, wie man es so kontrolliert, dass es allen um ihn herum zugute kommt. Er bewahrt unsere Mentalität zu 100%. Er stellt sicher, dass uns die Botschaft jeden Tag vermittelt wird, damit, dass wir unser Bestes geben." So Trent.
Ich wünschte, ich hätte ein Interview mit Ihnen für mein 2015 erschienenes Buch Winners and How They Succeed geführt, in dem ich über meine "Heilige Dreifaltigkeit": Strategie, Führung und Teamfähigkeit geschrieben habe. Es scheint mir, dass Sie Meister aller drei sind, insbesondere wenn es um die Verbindung zwischen Führung und Teamfähigkeit geht. Ich habe einmal gesehen, wie Sie Virgil van Dijk für zwei seltene Fehler wütend kritisiert haben, als er spielte. Vielleicht der beste Verteidiger der Welt. Aber jemand, der so viel Respekt vor Ihnen hat, dass er wusste, dass er es besser machen müsste, und das tat er danach. Was für ein Unterschied zu unserem Premierminister, der ständig lügt, schmeichelt, täuscht, um sein Team an seiner Seite zu halten.
Ja, kommen wir zur Politik. Ich sehe auch, dass Sie so viel mehr sind als ein Fußballmann. Sie wissen, dass Sie das Privileg haben, in einem Job, den Sie so sehr lieben, reich zu werden. Sie wissen, dass man, wenn man Geld und Macht oder Einfluss hat, auch die Verantwortung hat, anderen zu helfen, denen es im Leben weniger gut geht. Sie wissen, dass die Reichsten ihre Steuern zahlen müssen und diese nicht vermeiden, wie es so viele tun. Ich weiß, wie viel Sie für die Gemeinschaft tun, so wie Sie es in Mainz und Dortmund getan haben.
Als Covid-19 in unser Leben trat, haben Sie sofort den Ernst der Lage verstanden. Sie sagten, dass ist wichtiger als Fußball – eine nicht zu unterschätzende Botschaft in dieser fußballverrückten Stadt. Und eine Stadt, die Autorität hasst und in der viele bereit waren, den Impfstoff abzulehnen, hat von Ihnen gehört, dass es wichtig war, ihn zu bekommen. "Leadership"!
Vielen Dank, dass Sie sich gegen den Brexit ausgesprochen haben, weil Sie verstehen, dass er weder für Großbritannien noch für Europa gut ist. Sie sind sich darüber im Klaren, dass Populismus eine echte Gefahr ist. Sie haben gefragt – gute Frage – warum gibt unser Land Lügnern wie Johnson und Farage politische Macht? Sie haben Werte, Herr Klopp, die diese Opportunisten nicht haben und nie verstehen werden. Wir sehen diese Werte in dem Fußball, den Liverpool spielt, und dem Leben, das Sie führen. Sie glauben, dass man immer versuchen sollte, die Wahrheit zu sagen. Sie glauben, dass starke Menschen die Verantwortung haben, den Schwachen zu helfen. Auch wenn Sie die Verfassung der Labour Party noch nie gelesen haben, ist mir klar, dass Sie den zentralen Punkt verstehen und leben, dass wir gemeinsam mehr erreichen können als allein.

Ich mache jede Woche einen Podcast mit dem ehemaligen konservativen Regierungsminister Rory Stewart. Letzte Woche hatten wir eine Frage von einem Zuhörer: "Wer unter den Fußballtrainern der Premier League wäre der beste politische Führer?" Das war viele Jahre lang zweifellos der Unterstützer der Labour Party, Alex Ferguson. Heute, Herr Klopp, sind Sie es ohne Zweifel.
Ich wünschte, unsere echten sogenannten Anführer würden Ihre Führung analysieren. Wie wunderbar wäre es, wenn sie Ihre Leidenschaft für ihre Arbeit hätten. Ihre Liebe zum Detail. Ihre Fähigkeit zur Innovation und Anpassung. Wenn sie Ihre Fähigkeit als Kommunikator hätten. Vor allem Ihre Fähigkeit, so viel Freude und Stolz in eine Gemeinschaft einzubringen.
Also danke. Danke für alles, was Sie unserem Land geben. Danke für den schönen Fußball. Danke für Ihre Liebe zu Nordengland. Danke, dass Sie uns daran erinnern, dass wir in diesem Land gute Anführer haben, auch wenn sie leider nicht in der Regierung sind.
Viel Glück beim Streben nach dem Vierfachen. Und ich hoffe, wenn der Trophäenschrank überfüllt ist, dass Sie über den Gang in die Politik nachdenken. Unser Land braucht Sie!
AC