Last week, I reported on the show of hands – or rather show of no hands – at a Q&A I did with Peter Schmeichel, when the ex-footballer asked his audience how many had voted Leave in 2016… and nobody would admit to having done so.
This week, I give you another, perhaps more accurate and honest show of no hands, from 150 entrepreneurs from all over Ireland, gathered for an EY conference in Killarney.
"How many of you," I asked, "would say Brexit is going well?" All hands stayed down. Then, "how many of you would say that the UK's reputation is in a good place?" Once more, no hands raised.
There seemed to be a mix of anger, scorn, sadness and pity for the UK.
Anger among those directly impacted by the chaos unleashed by Brexit, and from those who fear the UK government is playing fast and loose with the peace process. Scorn above all for Boris Johnson and David Frost, for continuing to exploit problems for domestic political consumption rather than address them in a serious, grown-up way.
And sadness and pity, because they see more clearly perhaps than those of us living in Brexit's midst the damage and decline in a country with which so many have ties of family and friendship.
---
My addictive personality has found itself drawn to daily cold water swimming in recent years and I challenged the audience to join me the following morning, in beautiful Loch Lein. To be fair, seven of them were in the water before sunrise.
Loch Lein turned out to be warmer than my usual habitat, Parliament Hill Lido. My complaint that the water was "a bit too warm" prompted looks from my fellow swimmers that suggested they felt I might have issues that went beyond the addictive personality.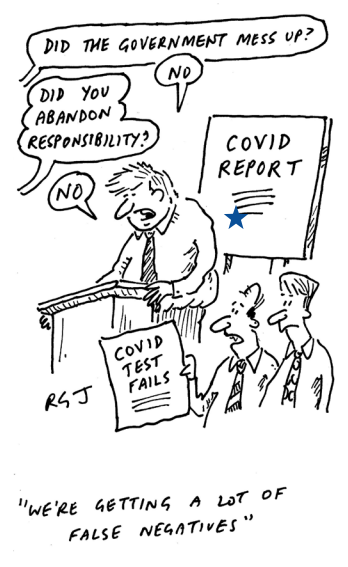 ---
Sir David Amess was a young MP when my partner Fiona and I were young political journalists, plying our trade in the members' lobby at the Commons, where MPs and reporters mix. As we absorbed the shock of his death, we chatted over memories of him.
Both of us remembered the smile that was always on his face as he walked through the swing doors, and the friendly conversations which invariably followed. That smile, and the good heart and good life lived that it revealed, will be remembered long after his killer is forgotten.
---
Everywhere I go just now, people raise with me the BBC documentary series about New Labour. Five hours is a long time in TV, yet still I felt it only really scratched the surface of our time in power.
Of course Iraq had to be a big part of the story, but so should Kosovo and Sierra Leone have been. And while what we called the TBGBs, the ups and all too often downs of the Blair-Brown relationship, could not be ignored, they took up time and space that might have been devoted to looking at what we actually delivered. Added to which, I am not sure those around GB were entirely full and frank in their depictions of what happened and why.
But it was at least a serious reminder of what a serious government, made up of people who actually see politics as the means by which to improve people's lives, looks like. Last weekend, on the way into a gig by Scottish folk band Skipinnish in Islington, I was stopped by a woman in her late 20s, who said she had just finished part four. "I had no idea you guys actually did so much," she said.
One reason for that is that for most of the time since we left power, the Labour Party itself has been at the forefront of talking down the Blair-Brown era's achievements. It really shouldn't need a TV series to educate a young Labour Party member in what the last Labour government did, and how much better it was for Britain than the crew we have running (sic) the country right now.
---
I have no problem with Boris Johnson taking a break every now and then. I do have a problem with his sponging off donors and cronies. And I have a problem with the double standards of the media with regard to his sunshine sojourns.
I cannot even begin to imagine how many reporters, photographers and camera crews would have descended on Tony Blair, had he been sunning himself in Marbella at the expense of a peer he had stuck in the Lords, while back home he was cutting benefits and raising taxes, an energy supply crisis was developing, a mix of his Brexit and his incompetence was continuing to disrupt delivery of fuel and essential supplies, and a parliamentary committee was making clear the cost of his botched Covid response.
Johnson is at heart a journalist. And right now, journalists are helping to keep him afloat.
---
I spoke at a UK Hospitality dinner, where leaders of major food, drink, hotel and leisure companies were united in hair-tearing-out mode at the government's refusal to engage with the real problems caused by Brexit and Covid.
For the pub trade, the big thing was the HGV driver shortage. "We are closing our pubs two days a week on average because of staffing and supply issues," one chain CEO told me. "Watch out for kegs going big on the news," he added.
With not enough lorries to go round, many pubs are getting their beer delivered by 'white vans' and couriers. Unlike the HGV guys, these do not take the empty kegs back with them. "We are running out of space to keep empty kegs. Eventually we will run out of kegs."
Every day, so many things happen that beg the question: "When are we going to wake up to the scale of this disaster?"
---
We managed to get tickets for Macbeth at the Almeida, and my God, what performances from James McArdle and Saoirse Ronan. During the interval, as Fiona and I were chatting to friends, a woman interrupted to tell us: "There has to be a revolution! This cannot go on." She was talking Johnson's Britain, not Macbeth's Scotland.
I note that if you Google the play's central theme, up pops this: "The destruction wrought when ambition goes unchecked by moral constraints." Now, which modern political figure does that bring to mind?
---
Actor Brian Cox invited me to a small dinner to celebrate completion of his soon-to-be published autobiography, (spoiler alert: it's good) and to the premiere of the latest series of Succession (ditto).
It is very different watching the series in a Festival Hall full of 2,000 people than on your sofa at home. It was at times like being in a football crowd. Great lines got huge waves of laughter. Surprise storyline twists were met with cheers. Cox was superb. But then so were they all.
Afterwards we had a drink with writer Jesse Armstrong, reminiscing about his time as a researcher to former Labour MP Doug Henderson before he decided to give writing a go. "I think you made the right career choice," Fiona assured him.
---
I did several events for World Mental Health Week, and particularly enjoyed the one with Leeds City Council. With national government failing so badly in this field, local government and business have a huge role to play, and the best are playing it. Also, please check out a new mental health initiative in which I am involved. It is called Just Ask A Question, and I guarantee there is nobody who doesn't know somebody it might help. JAAQ.CO.UK – honestly, check it out. A potential game-changer. Free and not for profit, and we are scaling up to cover all mental health conditions.