I worked in Downing Street for six years full-time, several more part-time, and can confidently state I never played, nor was aware of anyone else playing, 'party games.' I'm not talking about political party games, you understand, which I fear are just part of the fabric of political life, and not all bad; but party games such as charades, pass the parcel and musical bumps.

Is there something wrong with me that the 'party games' detail in the Mirror story about Number 10's rulebreaking (i.e. illegal) party last year is the one that especially offended me?

Don't get me wrong, I am as sickened as the next man or woman that while others less well off were being taken to court and fined for breaking lockdown rules, the people who devised and legislated for those rules were throwing a boozy bash in Number 10; sickened too that while they were on the lash, so many others were unable to see loved ones or attend funerals, or forced to cancel a wedding or an operation; that so many ministers could happily trot out the lie that "all rules were followed" when any party was itself a clear breach of the rules; and that the cops show no interest in investigating.

But 'party games.' FFS. My idea of hell. But I am struggling to understand how, even if you were a party-game kind of person, you would want to play them, let alone think it was appropriate to do so, at the height of a pandemic, in the middle of a lockdown, in 10 Downing Street.

And the only answer I can latch upon is that those who played them really, genuinely, beyond peradventure, are a breed apart.

A breed apart in that despite being actual adults, they actually want to play pass the parcel and musical chairs. Above all a breed apart, in that they think rules do not apply to them, even when they have made them.

This is all of a piece with last week's column about Eton teaching its pupils that they are superior, and can therefore get away with more than the lower orders.

There will come a point when those who are laying down the law are simply ignored, if they fail to obey their own laws themselves. If democracy is not respected by the people who make its laws, democracy itself will founder.

It is also all of a piece with work and pensions secretary Thérèse Coffey seeing no big problem in being seen to sing (I've Had) The Time of My Life at the Tory conference karaoke at the very moment a brutal poverty-inducing cut to Universal Credit came into effect.

Coffey was back on rule-making duty last week, urging no snogging under the mistletoe.

In the interest of not losing the intel on the Tory Party shambles he provides, I shall not name the Tory MP who sent me a picture of Ms Coffey with her anti-snogging exhortation and the message "try to contain yourself ".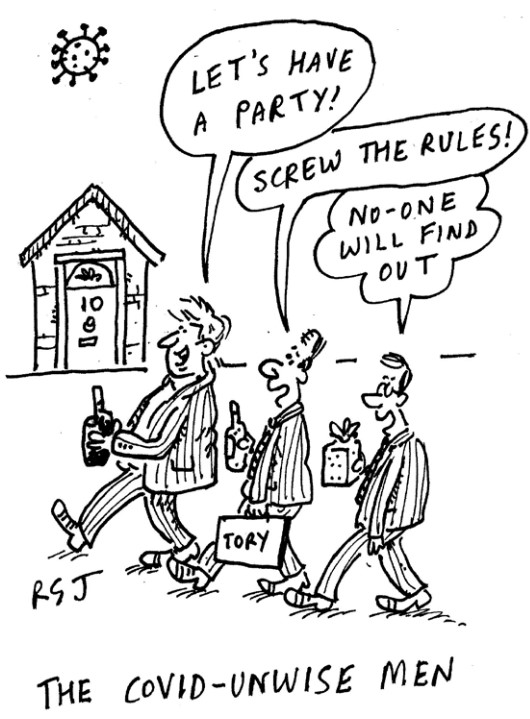 ---
If I was not so technocrap, I would put together a compilation of all the times Boris Johnson has vowed to "move heaven and Earth" to deal with a problem he then ignores – helping stranded Afghans and Nazanin Zaghari-Ratcliffe are two that come immediately to mind – alongside a similar compilation of all the times he assures us his "thoughts and prayers" are with someone.

Is this one for the Labour campaigns team? Or for lawyer and YouTuber activist Peter Stefanovic?

I think we have seen and heard enough of Johnson to know he doesn't pray, and that his thoughts are always very much with himself.
---
I had a wonderful day with Wigan Warriors rugby league team, who have signed up with JAAQ, the new mental health website I helped to launch a few weeks ago.

They have a player, Zak Hardaker, who has had a whole series of struggles down the years, and he will be among the next wave of people to open up about their mental health on the site, so people can engage directly with him. We also have players from Warrington Wolves and Leeds Rhinos lined up. Oh, and Jimmy Carr, the comedian, talking about anxiety.

With the government allowing the mental health agenda to slip, it is great that so many other organisations are stepping in to fill the gap. They shouldn't have to, but great that they are.

Watching the squad train was a fresh reminder that however fit I may like to think I am, these guys are in a different league. But when it came to joining in a wrestling session, I am pleased to report I put JAAQ founder Danny Gray on his back, in seconds. What do you mean, he is half my size?
---
Given how minutely scrutinised The Beatles were in their pomp, it is quite a thing for Beatlemaniacs when dozens of hours of hitherto unseen film footage show up. No wonder filmmaker Peter Jackson was sufficiently inspired to turn it into a major three-parter for Disney+.

I've only seen the first two of eight hours so far, sections of which are utterly mesmerising, especially if you're interested in the musical creative process. I once made a radio documentary about Belgian singer Jacques Brel, and when I interviewed his accordionist, Marcel Azzola, he played throughout as he explained how they would often just riff their way to a classic.

Watching Paul McCartney, under the watchful gaze of George Harrison and Ringo Starr, on a musical meandering to what eventually became Get Back is a very good use of anyone's time. I've watched it half a dozen times already.
Paul is clearly the main man and the driving creative force during the period covered, in which you can feel the tensions that will eventually lead to their break-up. John Lennon seems somewhat detached, and Yoko Ono a silent presence rarely leaving his side. George comes over as a bit moany and needy, while Ringo has the permanent look of a man worried about what is happening all around him. Paul telling him how to play his drums is another high point.

There are long periods when nothing much seems to happen, but it is a wonderful watch from start to finish, and a reminder that The Beatles are up there with Elvis, Brel and Piaf, not to mention Mozart and Beethoven, in the pantheon of musical immortals. With six hours left to watch, Christmas viewing is sorted, especially given I already know it is one of those series likely to be even better second time around.
---
Let's stick with music, shall we? ABBA. I loved them from the moment Waterloo launched them to Eurovision victory and enduring global success and stardom.

So hearing their new album, Voyage, was a major excitement. But not half as exciting as the fact that, learning of my fandom, their team sent me a fabulous Christmas jumper, with ABBA emblazoned across the front. Festive attire sorted too.

Track two, When You Danced With Me, is my favourite on the new album, not least because it kind of works on the bagpipes!
---
After a brief online consultation about some strange growths on my back, I had a face-to-face appointment at my brilliant GP surgery, Park End.

Here was the chance to share my disgust at the way the Tories and their media lapdogs have been trying to turn the public against doctors as part of Operation All Blame No Responsibility, an essential element of sado-populism. Then came the diagnosis – "nothing to worry about" – followed by a long medical term I didn't understand.

"What does that mean?" "Otherwise known as senile warts!"

Senile warts! As reminders of ageing go, this is right up there with waking in the middle of the night needing to pee