When I was growing up in Yorkshire, I had three very simple ambitions in life: to play football for Burnley and Scotland, cricket for Yorkshire and England and rugby league for Keighley and Great Britain.
My parentage made me eligible to play for Scotland. At the time, only people born in Yorkshire could play for their cricket team, and I qualified on that front too. As for Great Britain, that is what – until Brexit, when my Scottishness and my Europeanness both raised a few notches – has been the strongest part of my national identity.
There was one big problem with my childhood masterplan; I was average at football and cricket, and by senior school we had moved to Leicester, where my school only played rugby union, and league was not really a thing.
In recent years, despite living in London, my love of rugby league has grown, not waned. I have done a bit of work with two of the top clubs in the country, Warrington Wolves on mindset and strategy, more recently with Wigan Warriors on mental health.
So last Thursday, I was sorting my travel to Newcastle for this Saturday and Sunday, the Super League's so-called "Magic Weekend". Six games over two days, Toulouse Olympique v Wakefield Trinity, St Helens v Wigan, Leeds v Castleford, Huddersfield Giants v Salford Red Devils, Catalan Dragons v Warrington, then Hull FC v Hull Kingston Rovers. Some of the biggest names in the sport. Can't wait.
No sooner had I added the train tickets to my Apple Wallet, than in popped a WhatsApp message from my son Rory, who despite a southern upbringing is also a fan of rugby league, and is coming to St James' Park with me. "Have you seen this? WTF!"
"This" was a link to the mind-blowingly stupid speech by Nadine Dorries, at the launch of a report on the sport's social impact ahead of the World Cup in the autumn, in which she revealed: "I've always quite liked the idea of rugby league. My long-standing memory is that 2003 drop goal." Cue sharp intakes of breath and much bottom-squirming.
The speech was in St Helens, a town synonymous with rugby league. The words "rugby league" were on the backdrop behind her. The audience was made up of leading figures from the sport. And here was the secretary of state for media, culture and sport picking out one of the most iconic moments in British sporting history as the highlight of her relationship with rugby league… when the said moment came from Jonny Wilkinson's boot in the only World Cup final England have ever won in rugby UNION. It is a different sport, with different rules and formats since 1895 when league broke away from the then-amateur union to start a new professional competition.
I wouldn't expect every member of the public to be aware of the detail of the sport's history, and its roots in rebellion against snobbery and "class". But we are talking about the cabinet minister responsible for sport, speaking directly to the people whose life is that sport. Believe me, you have to be really, really dense to make that kind of mistake. You have to be surrounded by advisers who are equally dense, or who so disrespect you that they don't really care if you drop a clanger, because they don't think you should be there in the first place.
Boris Johnson, by growing consent at home and abroad, is the worst prime minister we have ever had. Part of his awfulness is that he has deliberately and wilfully surrounded himself with second-rate people who pose no threat, and question no decision he makes or character defect he displays.
If he was a coach, he would have been sacked long ago. Dorries would never have made the squad, and she has plenty of colleagues around that cabinet table who would never have been appointed to their jobs under any other prime minister in history. No wonder Tony Blair talked of the dangers of the UK being "relegated from the premiership of nations" when we spoke on The Rest Is Politics podcast last week.
I shall enjoy Newcastle. Not least because I will be with tens of thousands of people who love the sport, and who would, to a man and a woman, be better cabinet ministers than most of those actually drawing the salary and pensions to follow. Worst PM in history. Worst cabinet. Worst possible time. We need sport more than ever, just to help take our minds off them, their incompetence, their venality, their utter uselessness.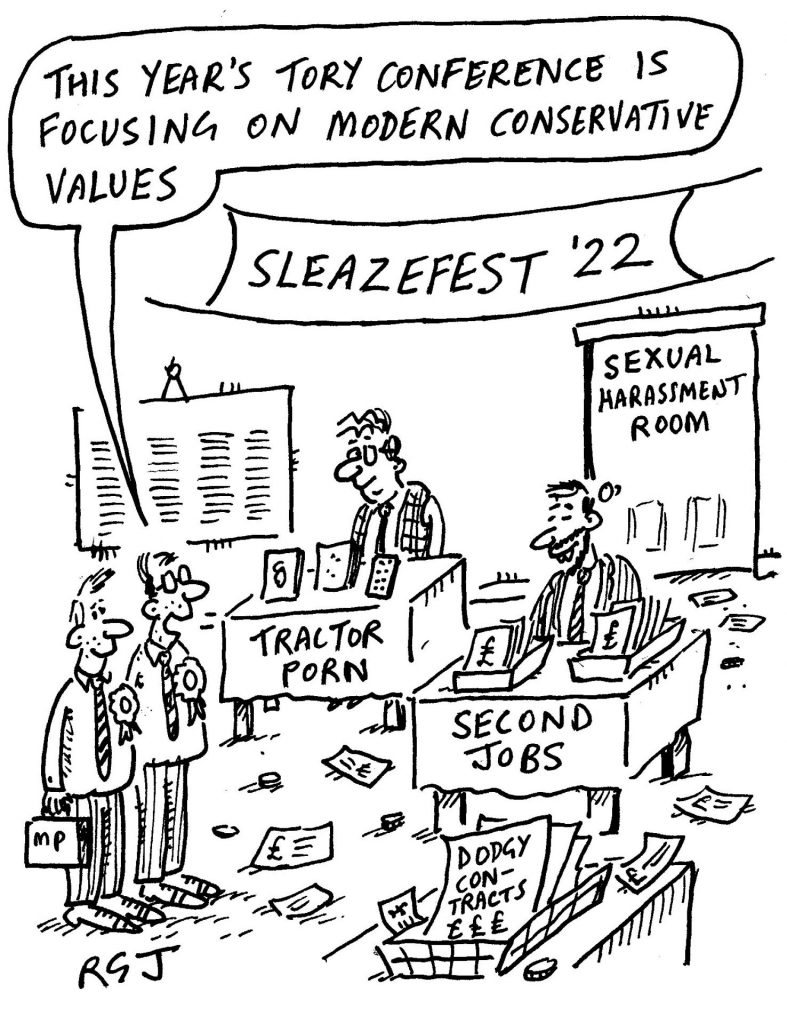 ---
For all the despair the current cabinet, and the state of politics more generally, inspires in me, my mood has been improved after two months filming Channel 4's Make Me Prime Minister, in which Tory peer Sayeeda Warsi and I try to find an alternative PM. Twelve candidates were whittled down to three over several weeks, and now only the final is left.
When two of our contestants were interviewed by LBC's Nick Ferrari in one of the challenges en route to the final, he said to me afterwards they were "way better than most of the ministers and shadow ministers we have in here".
It will be screened in the autumn. I hope you enjoy watching it as much as I have enjoyed making it, and finding my hope re-energised by people of values and convictions who know politics is broken, and want to do something to fix it.
---
If a school secretary stumbled in on a headteacher being orally pleasured by a young teacher applying for a job, and news of that act became public… if a chief inspector walked in on a chief constable in the midst of the same sex act being performed on him by a cop in the running for promotion… if the physio of a women's football team went into the office of the male manager and found a player who was hoping to make the first team in the next match with her lips around the manager's penis… if a junior civil servant was delivering papers to the head of department, and noticed a junior colleague was beneath the boss's desk, and the boss's trousers were around his ankles… you get the picture, I could go on… but for now:
1) Ask yourself what our wretched, rancid, right wing media would do with those stories… go to town, or help cover them up? You know the answer.
2) Ask yourself how long the recipient of the blow job, once the school governors, the police commissioner, the board of the football club, the permanent secretary were aware, would remain in post? You know the answer to that, too. Immediate suspension pending investigation, sacking to follow.
Yet for the supposedly highest office in the land? Nothing, but a bit more shame for a man who doesn't know the meaning of the word.
Johnson recently said he had his sights set on a third term in office. It is a first term in prison he should be facing, for misconduct in public office, and the charge sheet is a lot longer than the list of his positive achievements as prime minister, longer even than the list of women who are not his wife who have had the dubious pleasure of a sexual liaison with him.
---
I have always loved Elvis. And though the new Baz Luhrmann film about him strays into pretentiousness at times, I love him even more after seeing it in the cinema last week.
It is so hard for an actor to play someone so well-known, who has such a unique voice and manner. But Austin Butler pulls it off. Tom Hanks is brilliant as Colonel Parker, the manipulative Dutch-born conman refusing to let Elvis stray too far from his side. But the real star is the real Elvis, who died too young, yet whose songs and story mean he will live on for ever.