Well that didn't go terribly well, did it? No sooner had last week's New European hit the news stands, with Jürgen Klopp's big shiny gnashers illustrating my plea to him to consider going into politics, than he signs a new contract! Ah well, can't win 'em all.
I was at the Pendulum Summit in Dublin when the paper came out, speaking about leadership, teamship and strategy, and so, with the Liverpool manager front of mind, I asked for a show of hands on who was the better leader, Jürgen Klopp or Boris Johnson? There were several hundred people in the audience, and a sea of hands went up for Klopp. Not one for Johnson. Incidentally, it was exactly the same in response to my question "is Brexit going well or badly?" No prizes for guessing which one got nul points.
Of course charismatic, community-oriented football coach v controversial PM might seem like an unfair contest from the off. But conference organiser Frankie Sheahan made an interesting observation afterwards: "The Irish may not have been that fond of Maggie Thatcher, but if you'd had a vote on her against Brian Clough back in their day, she'd still have got a fair few; and the Irish might like and admire Alex Ferguson, but if there had been a vote between him and Tony Blair, Tony would have done OK."
Johnson, it would seem, is uniquely bad in the history of the Premiership (as opposed to Premier League), and as his MPs continue to help him cling to power, they underestimate the lasting damage being done to our reputation around the world not just by him, but by them in refusing to face up to a reality others can see so clearly.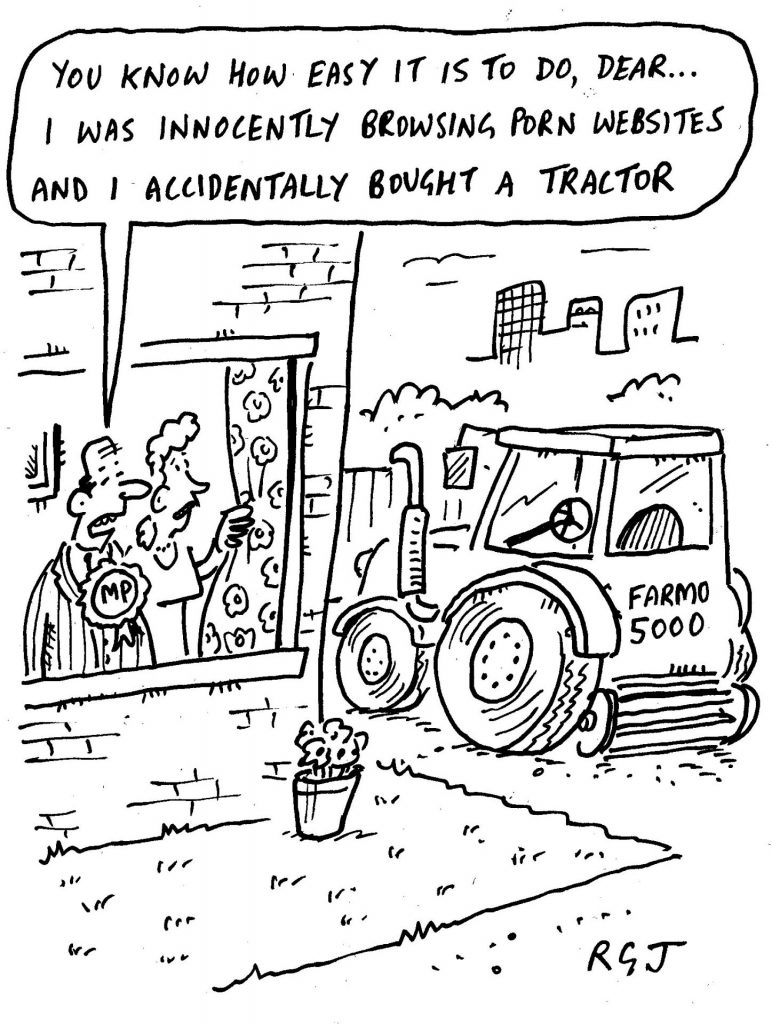 ---
When the UK-EU Brexit negotiations were raging, I found RTÉ's Tony Connolly was the go-to man for the straightest reporting and deepest analysis. Likewise, compared with the UK, Ireland's papers can still claim to have a fair bit of quality journalism. It doesn't come much higher quality than Irish Times columnist Fintan O'Toole. My Dublin breakfast was enlivened by reading his searing analysis of Brexit, the repeated "performative not principled" threats to tear up the Northern Ireland Protocol, and of the penny finally dropping with the DUP that the whole wretched project is about English nationalism.
"When the serial betrayer Johnson and his absurdist acolyte Rees-Mogg are wrapping themselves in the Union flag, it is only to cover the increasingly exposed nakedness of their English nationalist project. The sugar rush of Brexit is spent. What remains are the chancers who surfed it to power and who will risk anything – the stability of Northern Ireland, even the unity of the democracies in the face of Putin's aggression – to try to hold on to it."
Brilliant. Every bloody word.
---
I always enjoy Ireland, despite its government's continuing deafness to my suggestion that a small number of Irish passports should be granted to those members of the Tony Blair team who helped to bring about the Good Friday Agreement almost 25 years ago. HOW MANY HINTS DO YOU NEED, TAOISEACH? But maybe I should have known better than to agree, on top of my speech to the conference itself, to take part in a post-dinner "ask Alastair anything you like" session. So, in addition to serious questions about politics home and abroad, before long I was being asked to tell my favourite jokes and, having confessed to my love of ABBA, reinforced by last week's meeting with Björn Ulvaeus, to sing my favourite ABBA hit.
Another man, and two women (one blonde, one more brunette) volunteered from the audience, and so I made my ABBA tribute band debut, with Thank You For The Music. My heart slightly sank when I saw how many phones were in the air filming it, but then rose again when a woman at the table next to me came over to whisper, in a beautiful Irish accent: "You've a lovely singing voice, Alastair." I'm now wondering if Björn and co need a real human being to sing along with their avatars at their comeback gig on May 26, though I guess that might be pushing my luck.
---
Music was the order of the day in Glasgow, too, where I was invited by BBC Scotland's The Nine show to perform the Ukrainian national anthem with my friend and tutor, Finlay MacDonald of the National Piping Centre. This followed press reports on my suggestion that when Scotland play Ukraine next month in their World Cup qualifier at Hampden Park, a pipe band plays both anthems, not just Flower of Scotland.
The Ukrainian anthem, unlike many others, fits well within the bagpipe's single octave, and is actually really lovely on the pipes. It strikes me as a nice, cost-free way of signalling respect and support for Ukraine, without in any way endangering Scotland's chances on the field of play. As yet, however, I am hearing a lot more from the authorities about potential problems that prevent it from happening than the addition to the sense of occasion that it would hopefully represent.
---
I was in Scotland to record the first face-to-face episode of my podcast with Rory Stewart, The Rest Is Politics. Due to his currently living in Jordan, and both of us travelling a fair bit, we have until now done them on Zoom. Being in the same space definitely aids free-flowing conversation, and so did the room where we chatted, a cosy, lived-in study at the family home in Crieff. When we posted a picture of us recording the podcast, his bookshelves – and especially the ladder he uses to reach the top shelves, not to mention the claymore lying across the top of the biggest bookcase – attracted a lot of comment. It also led me to a whole subculture on social media, dedicated to photos of bookshelves. And I learned a new word … "ladder-envy".
---
I was alerted by SNP MP John Nicolson to what he considers may have been a libel on both of us by Nadine Dorries, laughably the secretary of state for Culture, Media and Sport. I say laughably because she is so clearly not up to the job.
So here are the comments, made to the Spectator, (who else?) that John Nicolson thought might interest m'learned friends. "I hate saying it because I hate playing the woman card. There are men, some men, with a woman from my background achieving, because they've come from a completely different background and haven't yet quite achieved or probably will never achieve. And so, I'm used to that. I do have to deal with that all the time. And, you have to look at the way Alastair Campbell has abusively tweeted about me over the years. And John Nicolson of the SNP. I can sit here and list off names for you."
I think we could probably have a decent argument about what constitutes "achievement" in life – I am not sure eating an ostrich's anus on telly and being prepared to defend her boss, right or wrong, until he is dragged kicking and screaming from the bunker really cuts it – but I am guessing it is the accusation of misogyny that John thinks may be libellous.
What is really interesting, though, is the victim mentality. I haven't abusively tweeted "over the years". I have tweeted about her on occasions when we have crossed swords in TV studios and she has talked nonsense, also when she was a mental health minister who did next to nothing to advance the cause, and since she was promoted to a cabinet position I sincerely believe she is not fit to hold.
Far from being driven by misogyny, I say the same about many of her male colleagues, including Johnson. My criticisms of her have nothing to do with her being a woman, and everything to do with her being hopeless, and dangerously out of her depth.
A culture secretary who thinks that Channel 4 is run on public money, Channel 5 was privatised, videos are downstreamed, tennis played on pitches, and Boris Johnson is brilliant at his job… being a woman is the best of her.
It's everything else I worry about