I took advantage of the recent hot weather to sit sipping coffee in the sun outside a cafe in York Rise, near Hampstead Heath, and chat to my friend Rachel Kinnock about how much better the world would be if these rancid Tories were somehow magicked out of government.
As Rachel (yes indeed, daughter of) will confirm, this sentiment was shared by several passers-by, including one who stopped, pulled AirPods from his lugholes and exclaimed: "Oh my God, I am listening to you on your podcast right now. This is so weird!" This is happening fairly regularly at the moment, The Rest Is Politics having been top of the UK podcast charts for several weeks on the trot. This too says to me that a lot of people really can't stand this government and enjoy listening to two people who seek to articulate some of the reasons.
Of course, Rory Stewart and I cover a lot more than the worst prime minister and the worst cabinet in history, and I think one of the reasons for the podcast's success is our focus on the world well beyond UK shores, at a time when most of the media – present company excepted of course – is becoming ever more insular. But I was particularly struck by the comment of another walk-by listener who said: "Most of the media pull their punches with Johnson, or worse, they are his propagandists. You two just call him out for what he is."
I am also happy to report that The New European's sponsorship of the podcast, and my blatant plugging of the paper to our listeners, led not only to a boost in subscribers but also a rush of people wanting to take a share in the paper's recently announced new ownership model. So the answer to the question recently posed on Twitter by the No 10 press office assistant Guido Fawkes, "would you buy shares from Alastair Campbell?" would seem to be Yes.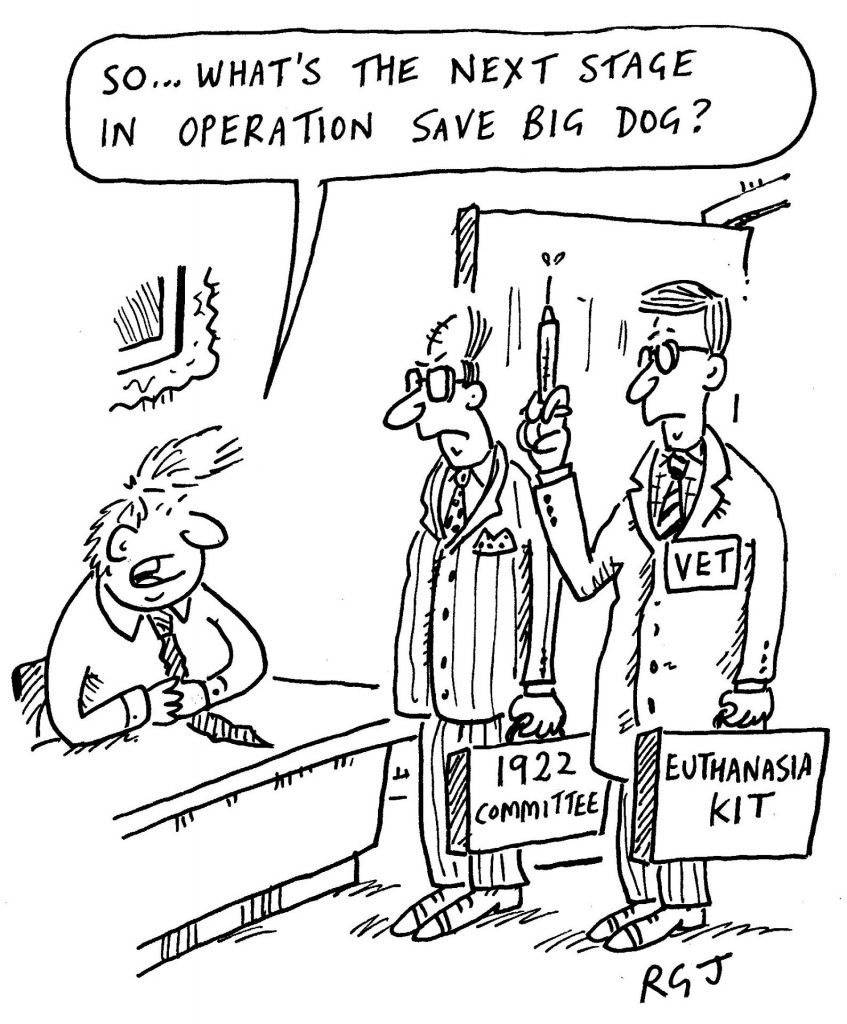 ---
Where was I? Oh yes, outside the cafe in the sunshine. As the discussion with Rachel moved to family matters, and our shared love of ABBA and whether it was OK to go and see the avatars again (and again), another man stopped to talk. He was on a bike and we had seen him ride by earlier. He introduced himself as Jack Mosse, said he had spotted me and cycled home to get me a copy of a book he had written. Unsolicited books and manuscripts are somewhat the bane of my life, and though I read a lot, many end up unread by my bed, a staging post to the Oxfam charity shop in Highgate.
However, I had a long journey to Shrewsbury later the same day and, the book still in my pocket, I started to read it. It is only 150 pages long and by the time I got to my hotel I had finished it, enjoyed it, and learned a lot.
Called The Pound and The Fury, and part of a series on capitalism published by Manchester University Press, it is subtitled "why anger and confusion reign in an economy paralysed by myth".
It starts with the anger as he talks to people on an estate near to where I live who report variously feeling alienated, derided and ignored, and who tend to gravitate to conspiracy theories, many rooted in a reality that the economy does not work for them, but for those who already have power and wealth.
Mosse exposes rather cleverly how government, business and media all benefit from enduring economic myths, chief among them that there is a limited "pot of money" and government is all about deciding who gets what.
He does his best to explain how finance works and, though it is not a polemic, it is clear he shares the view of his council estate neighbours that the system works better for its architects and practitioners than for broader society. I was shocked to learn – and rather ashamed I didn't know already – that only 3% of new money pumped into the economy is created by government, the rest by private banking.
Mosse traces the "pot of money" myth back to Margaret Thatcher's metaphor equating the government management of the economy with the running of a household budget (as if the average family can print money or raise taxes or borrow billions without worrying too much about actually paying it all back!)
And he states that the current chancellor, Rishi Sunak, was simply lying to us all in saying that the billions found to deal with the pandemic will all have to be repaid, and tax and borrowing are the only means of doing so.
This of course is all of a piece with the Tories' attack on Labour in recent elections for supposedly having a "magic money tree" to fund spending promises. Sunak found the real magic money tree for Covid, but wants the mythological tree back again for a political attack on Labour.
I hope Labour deal with it better than when they failed to hit back properly at the David Cameron-George Osborne line that they had to slash public services to deal with the so-called "mess we inherited" after the crash.
Their decisions, their austerity, followed by Brexit and Covid and the ineptitude and populism of Johnson, are the reason for much of the mess we are in.
The Pound and The Fury is far from a Labour propaganda tome. But it would be sensible for the party to take a look at it, and next time challenge rather than play into the myths that serve the economic forces in whose interests they have been created.
---
I was in Shrewsbury to film Make Me Prime Minister, a Channel 4 series going out later in the year, in which Tory peer Sayeeda Warsi and I try to find an alternative PM from amongst the general public. So we took our candidates to Shropshire, where they researched and launched a new energy policy in front of an audience of local people.
Inevitably, as TV cameras follow the candidates around, people gather to see what is happening, and when you explain we are on the hunt for an alternative prime minister, the reaction is almost always on the lines of "Well, anything would be better than what we've got." Indeed.
---
So Boris Johnson had an operation on his nose under general anaesthetic, and was out of hospital the same day, flogging himself to Tory donors while swilling booze at Rupert Murdoch's summer party that very evening.
I have had the operation he had on several occasions. I would also wager that I am physically a lot fitter than he is. Yet despite that, there was no way in the world I was up to socialising within hours of coming round.
All very odd. Makes me suspicious too about all that guff briefed out when he had Covid that he was close to death. We are living through a period of politics as theatre. Let's hope it ends soon.
---
Ukraine's president, Volodymyr Zelenksy, comes from a theatrical and comedic background, but unlike Johnson has developed into a leader of real substance. He is superb at finding new ways of communicating the same consistent messages, his video address to Glastonbury and then the G7 being just the latest examples.
But if, as is reported, the Tories seek to get him to address their party conference, the Ukraine ambassador to the UK should have a word… absolutely right to seize any chance to keep global public opinion broadly onside; wrong to be used as a tactic in Johnson's desperate battle for his own survival, about which he cares a great deal more than he does about the people of Ukraine.