Six years on from the act of economic, political, security, diplomatic and cultural self-harm for which the Number 10 Squatter will go down in history, there is plenty elsewhere in the paper about all that. For my own contribution to the anniversary, I have decided to mention neither him nor it.
Some weeks I – and maybe you – need a break from my pointing out the deficiencies of an odious (copyright Lord Geidt), lying, gaslighting, amoral, immoral, crooked, corrupt, narcissistic, philandering, inept, incompetent, unethical, unprincipled, unscrupulous sociopath rising to the highest elected office in the land, and staying there thanks to media owners and editors who have given up on journalism, and a ministerial team of nodding dogs who have decided that their place at the Cabinet table is more important than the rule of law or the upholding of standards to which they have committed. Let's just ignore him for a bit, and focus elsewhere.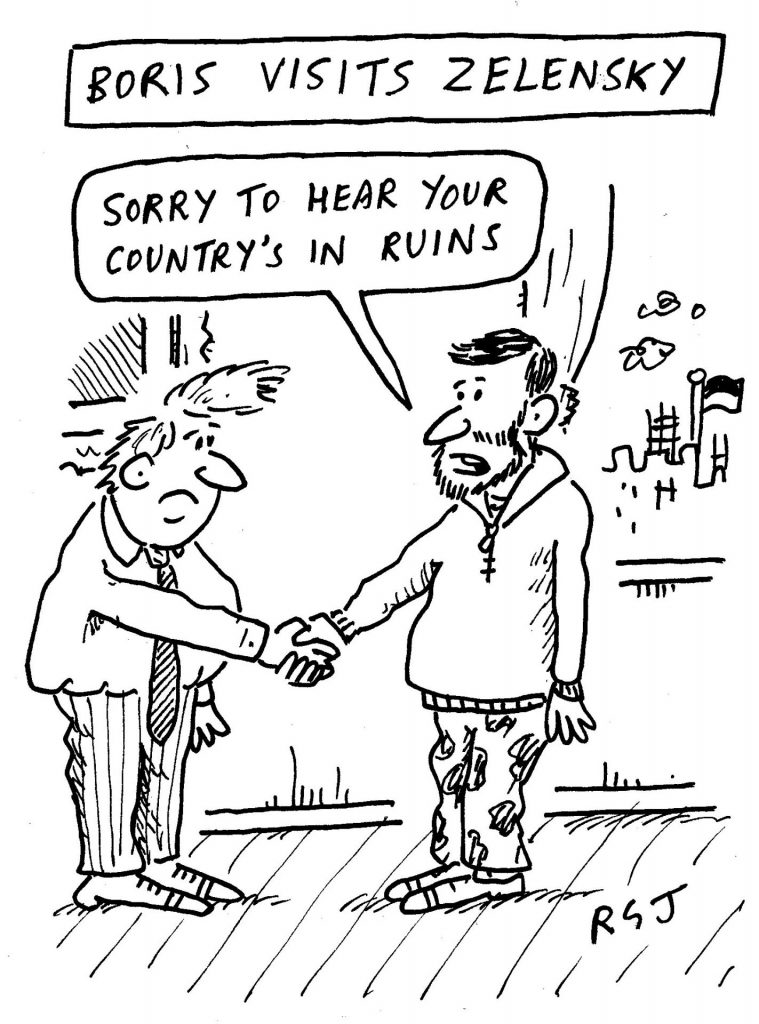 ---
I enjoyed my first journey on the new Elizabeth Line last week, and can confirm that it is a wonderful addition to London's already pretty impressive transport network.
However, later the same day I was at a meeting with former athlete-turned-broadcaster Ade Adepitan, who had a different take. He and I sit on a diversity and inclusion board for Pladis, the global snacking company which owns – among other brands – McVitie's. I am there because of my mental health advocacy, Ade because of his lived experience of disability, not to mention the racism that goes with being a Nigerian-born Brit.
Ade shared my view about the eye-popping splendour of the new line, which began life as Crossrail but took so long to build that by the time it was with us, so was the Queen's Platinum Jubilee, and so the renaming was a perfect fit. We were also both taken with the mind-blowingly clever architecture, archaeology, design and planning required and marvelled at the look of the stations as the train made its way. Whether visiting an old cathedral, or a new piece of modern infrastructure, I love to imagine stories of the thousands of people – 75,000 in the case of the Elizabeth Line – who actually brought it from brainchild to reality. It's why at the London 2012 opening ceremony, amid the many unforgettable moments, one was when the people who actually built the stadia were wildly cheered as they waved their hard hats to the crowd and the watching billions on TV.
However, there was one big, big difference between mine and Ade's overall impressions of the new line. Because, unlike me, Ade uses a wheelchair. And on his first journey, at Ealing Broadway and Paddington – both of them significant hub stations on the network – he found there was no step-free access from train to platform. Ade, an experienced, fit athlete with years of experience travelling to compete all over the world and negotiating the everyday hassles of life in a wheelchair, said he managed to get on and off fine. But for many others, it is back to the ramp and the help of London Underground staff. It's no criticism of those staff to say that if the new line really was all that modernity can bring, they and the ramps would not be required.
Mine really did feel like an exhilarating ride into the future. That was how it felt for Ade until the moment he was reminded that for all the progress made for people with disabilities, we still have a long way to go. Step-free access from train to platform so that a wheelchair user can disembark just as easily as the rest of us – is it really too much to ask, in 2022, given how many more years than planned it took to build, how many more billions it cost, and what seems to have been a blank cheque approach to getting every other detail right?
My son Calum has been part of a team which made an Emmy-winning film about Paralympic athletes, Rising Phoenix. It means he has got to know dozens of globe-trotting athletes from different parts of the world. Their stories about how much harder it is to travel when you have a disability should frankly make the rest of us ashamed, as we moan and groan about lack of leg room and someone else's elbow nicking our armrest.
Don't get me wrong. I stand by my view that the new line is spectacular. But I think if I did use a wheelchair, that single detail that confronted Ade at both ends of his journey would make me feel it is not quite as state of the art as the rest of us are saying. And, as Ade regularly reminds us in Pladis meetings, it is often the barriers in society that render a person disabled, rather than their impairment or difference.
---
Sticking with issues of planning, who could ever have imagined that a story about a grumpy urban planner in New York would make for my favourite theatre experience of the year so far?
I'll be honest, I had to rush back from a really busy, near sleepless two-day trip to Dublin to meet up with Fiona and a couple of friends in time to get to the Bridge Theatre down near London's City Hall, and having read a couple of lukewarm reviews of Straight Line Crazy, I was thinking I might be able to have a little doze while everyone else enjoyed the play.
There were two problems with that plan. First, we were in Row A, visible not just to the other two sides of the three-sided audience, but also to the actors. Falling asleep as Ralph Fiennes struts his stuff … not good.
The bigger issue was that from the opening scene, I was hooked. You know that feeling you sometimes get with a book – you're not sure about it, but then a few pages in, you can sense your mind moving to a different place; the writing style, a character, an emerging plot line, it has got you? Lovely feeling.
I had the theatrical equivalent as Fiennes drew us into the story of the character he was playing, Robert Moses. Some of you may have read the book on Moses by Robert Caro, author of a series of brilliant biographies of Lyndon B Johnson. I was gifted the Moses book, Power Broker, some years ago, but confess I had never opened it. Partly because it is so vast. But also … urban planning in New York, is it really worth that kind of tome?
Well, having seen David Hare's play, yes it is, and I shall definitely be reading it now. I can also perhaps forgive Hare for his harsh, and patronising, portrayal of Labour under Neil Kinnock in his play, Absence of War, written after he was given privileged access during the 1992 election campaign.
Fiennes' is one of several mesmerising performances in Straight Line Crazy. I confess I had never heard of Irish actress Siobhán Cullen, who is superb as Moses' long-suffering assistant. It is rare to see spontaneous standing ovations in a theatre these days. They got one, and totally deserved it was too.
---
In Dublin last week, I bumped into a UK lawyer with some experience of Attorney General Suella Braverman in her barrister days. She was at one stage on the Attorney General's so-called C-List – outside lawyers who get called in to advise the government on C-level (ie third rather than first or second order) legal issues. The Treasury Devil I mentioned last week is very much A-List.
"From memory, she was hired twice, by two different departments," m'learned friend told me. "She was never asked back by either."
To rise to the head of a department in which she failed so spectacularly … only in this government could such a thing happen … but let's not talk about the putrescence that appointed her. Happy Anniversary