At the Conservative Central Office post-local elections debriefing, where the Tories nursed their wounds and counted their substantial losses, there were two bright points on the horizon to ease their pain; first, they could still rely on the Pyongyang Daily Express to say their dreadful showing was a huge triumph for "Boris"; second, they were able to pat themselves on the back for having kept the Keir Starmer beer and curry story going for day after day after day, driving the cost of living crisis off most of the front pages of the papers read by the people likeliest still to vote for them. The bottle the Labour leader was snapped holding has become the best-known political beer since William Hague claimed to have swallowed 14 pints of the stuff; or the bottle of Beck's the Daily Mail doctored to make it look like John Prescott was swilling champagne.
On so-called Beergate, the Mail in particular had been coaxed into full Demented-Dacre mode, their "don't they know there's a war on?" dismissal of Johnson lies and law-breaking now double parked, because a Labour leader whose basic decency is becoming an asset has to be reduced to the same place of amoral venality.
So, when Durham Police announced that having previously investigated the incident and found no breach of the rules, now they were re-opening their inquiries, both Dacre Towers and Tory Towers were jubilant. The fact that the police told the right wing press ahead of anyone else did little to ease the suspicion that the move was a response to political and media pressure, or that the pressure was coming from a similar place to that which prevented action being taken against Dominic Cummings for breaches of lockdown laws as open and shut as the subsequent ones that have made 10 Downing Street the most Covid-fined location in the country.
Just as the right-wing media has given up presenting any positives about Brexit, so they have pretty much given up presenting any positives about Johnson, and the elections outcome ate substantially into his claim to be a "winner." Instead, they are hell-bent on seeking to persuade their readers that "they're all as bad as each other." Politicians, that is, not readers. They're not, as was made clear by Starmer saying he would resign if found to have broken the law, Johnson refusing to resign despite having done so. As we saw from their hypocritical coverage of allege hypocrisy, it won't stop them debasing media standards with the same zeal with which Johnson has debased political standards.
Just as Johnson is a post-truth politician, so his lapdogs in the media are post-truth journalists. Facts are sacred, so long as they are the facts the owners and editors have instructed their hapless hacks to find, to suit their personal and political agendas. It is worrying to see the police failing to see that for what it is, and a further sign of the Orbanisation of Britain under Johnson.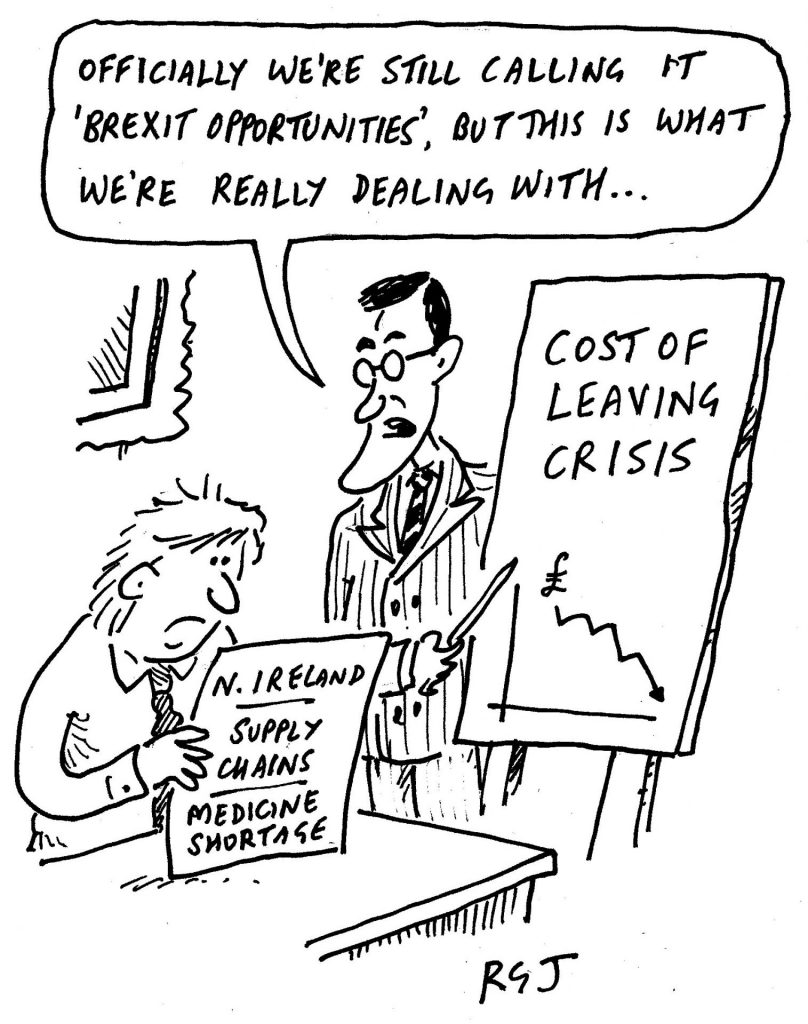 ---
The Pyongyang Express's sister paper, the Pyongyang Sunday Express, excelled itself post-election with its splash headline: "PM PROMISES 'BREXIT BILLS BONANZA!'", as it trailed the Queen's Speech with the "exclusive" news that it would "slash red tape, boost growth and make the UK thrive". I am all in favour of recycling, but for how many years can they recycle the same headline before recognising either that it is old news, or that maybe, just maybe, this here Brexit project is not going entirely according to plan?
Indeed, without the Mail/Murdoch-Express/Telegraph axis to keep him on political life support with their North Korean-style pro-BoJo propaganda, I suspect he would have been long gone. The same axis is now seeking to portray Johnson's Brexit partner-in-crime, Lord David Frost, as some great political thinker, the GCSE grade 3 essays he presents as speeches and articles covered with breathless excitement by the Tufton brigade, his role in the "brilliant" Brexit deal he helped to negotiate overlooked as he is given a free pass to criticise the government in which he failed, and the European Commission, which sees him and Johnson for what they are. That he is talked of as a rising Tory star underlines how low our politics has fallen.
Meanwhile, the really significant element of last week's elections was the result in Northern Ireland, and there, too, the role of Brexit in making it happen should not be overlooked. For all the DUP's bleating about the Northern Ireland Protocol, and the Irish Sea border Johnson assured them would be created over his dead body, they were cheerleaders for Brexit when the majority in Northern Ireland were not, went into a previous uncomfortable coalition when it suited them, as they propped up Theresa May's government, and are now but the latest in a long line of people and organisations misled and let down by Johnson.
He, and they, were warned about the risks, and cavalier about the consequences of ignoring them. If they believe, as they say they do, in the protection of the Good Friday Agreement, they cannot walk away from it now. That means engaging constructively in the talks ahead with a view to taking their place in the power-sharing executive and it means Johnson, for once, trying to address a problem rather than exploit it in order to keep pushing the myth that Brexit would be a huge success if only people would recognise it as such. He should leave the self-serving delusional bullshit to Frost, and get serious.
---
One of the few literary quotes I remember from my time at university was from TS Eliot, who defined wit as "the alliance of levity by which the seriousness is intensified". I love that, and often bear it in mind as I go about my business. It popped into my head last week when I got a message from the comedian Ross Noble, who told me he was enjoying The Rest Is Politics podcast, but wanted me to ask my co-podcaster Rory Stewart to stop describing Boris Johnson as a comedian. "He has no comic ability whatever," he wrote, "as displayed when he presented Have I Got News For You? He is a buffoon. People laugh at him, not with him. Even calling him a clown is an insult to the rich tradition of clowning.
"If a comedian stammered and fluffed like him at PMQs they would be heckled off in seconds. He may be a character but so is Mr Bean, and I don't want him running the country. For all his so-called Eton debating skills any hack comic could tear him to shreds any day of the week."
Ross was at pains to say "this is not a criticism of the podcast", and that Rory Stewart "seems like a decent bloke", but "it's just that my blood is boiling over how a posh voice can make people think Johnson is Oscar Wilde when he is clearly Benny Hill. Rant over."
Rant enjoyed, agreed with, and now shared more widely. Johnson uses humour to trivialise the serious. Ross's message meets the TS Eliot definition. Proper comedian.
---
Well chuffed is how I would describe my feeling on seeing the letter in last week's paper, from Oxford University German professor Jim Reed, giving me a "straight alpha" for the Deutsch version of my open letter to the Liverpool manager, Jürgen Klopp.
It told me I was on the right track in my attempt to reclaim the German I learned at school and university, and then lost through years of non-use. I never lost it fully, but until the recent courses I have done with the Goethe Institut, I would have struggled to get through a live TV or radio interview without looking and sounding as if I was constantly struggling to find a word or a sentence construction from the recesses of my mind.
So the day after Prof Reed's letter gave me a little boost, I happened to be doing an interview, and though I was less fluent than many of the Germans we so regularly see speaking in English, I got by pretty well. Afterwards the producer sent me a nice email to thank me for my contribution, and added: "Are you aware you speak German with a slight French accent?" I wasn't, but I am more than happy with that. So New European, don't you think?