It has been so long since Vladimir Putin rose to power that it was something of a shock, watching a profile of him on TV last week, to see pictures of his first-ever visit to Downing Street, late in the last century.
It was not just the inevitable ageing process, exacerbated by leadership and responsibility. Greeting him on the steps of Number 10, the pictures showed Tony Blair looking a lot younger too, though he has not had the extensive plastic surgery Putin is believed to have had to make himself look tougher and more dynamic, and sufficient Botox to earn the nickname botoksnyj – "made out of Botox".
It is more that Putin looked much smaller and more slight than he does now, less imposing, lacking in confidence. It was the same ahead of press conferences when we discussed what the two of them would say, what the questions were likely to be, and he tended to listen more than speak, defer more than control.
That all changed rapidly once we had met him a few times on his home ground, and by the last time I saw him in the flesh, in the spring of 2003, a very different Putin had emerged.
In late April, he invited TB to Moscow for a discussion on Iraq, which we half expected to be a bridge-building exercise, but which turned out to be the opposite. We flew in for a very tense meeting, a press conference where Putin proceeded to lay into TB and the West in a way that excited the media and shocked the diplomats, then the onslaught continued over dinner before we flew home.
"I am a Russian," he said. "I cannot agree with the Americans on everything. My public won't let me for a start. I would not survive two years if I did that… They [the US] think they can do what they want. Others have to operate by the rules – but not them."
The evident frustration as he went round the world's hotspots, lambasting US policy as he did so, was underlined by jowl-clenching, finger-jabbing, table-tapping, long periods of sulky silence, then at one point asking TB a question before shouting: "Don't answer. There is no answer. That is the truth. There are bad people in the administration and you know it."
Given where we are today, almost two decades on with Putin still there, and China so much more powerful, this extract from my diary of that day feels relevant. "China might feel it should be able to sort out Taiwan," he said. "But it feels constrained – by the UN, by international opinion." Time and again, he referred to Georgia and Chechnya and said, "why can't I go in alone? Because of international pressure. Yet there are people threatening our people, killing our people on the streets."
By then he had already launched a war in Chechnya, which left 50,000 dead, and an invasion of Georgia would follow in 2008, with his so-called "peace enforcement operation". The same playbook he is now using for Ukraine.
He accuses others of breaking rules as a way of giving himself permission to break rules himself. He accuses others of feeling no constraints as a way of signalling his refusal to accept constraints on himself. He makes claims of being under attack to justify attacks of his own.
If I reflect on how much he changed in just four years, and the pace and trajectory of that change, it becomes perhaps less surprising that he has become the monster the world now sees. It also becomes harder to the point of impossibility to imagine that he is capable of a change of course.
This time, he has to fail, and be seen by the world to fail. But how, and how long it will take, are both difficult questions. We should prepare ourselves, I fear, for a very long haul, and by modern European standards unimaginable horror along the way.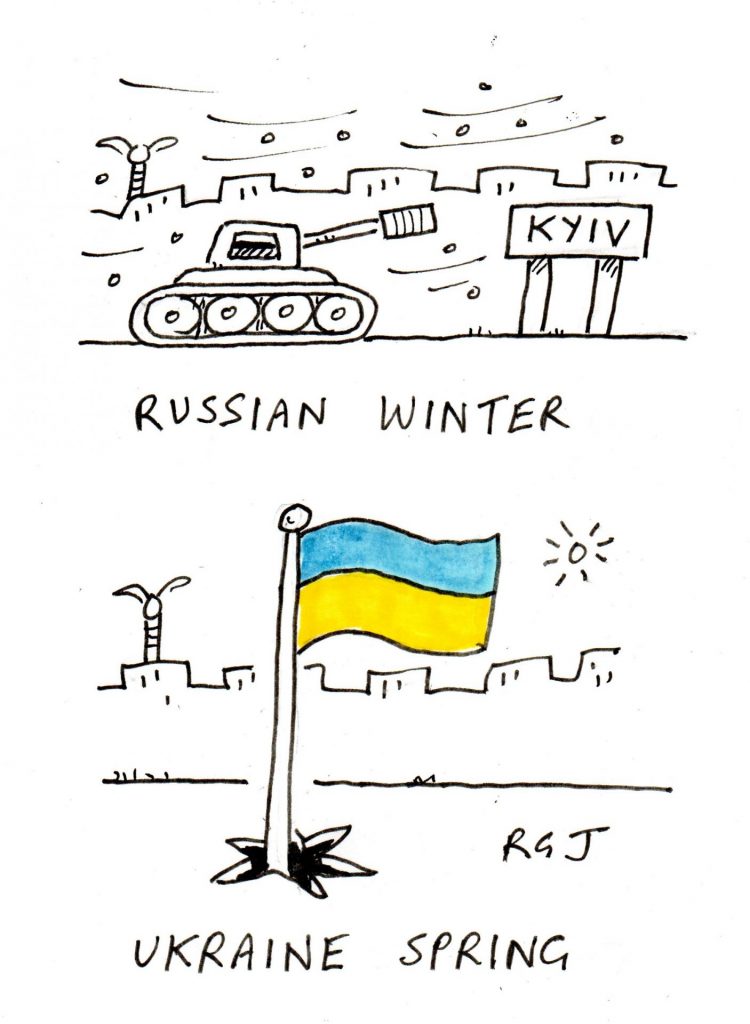 ---
Reliving Putin memories reminded me of what I regard as one of the greatest books never written, The Interpreter, from Stalin to Putin by Tony Bishop. Tony was the Foreign Office's main Russian interpreter for no fewer than eight prime ministers, as far back as Harold Macmillan.
He met Stalin. He interpreted for the Queen. On the famous "we can do business" 1984 summit between Mrs Thatcher and Mikhail Gorbachev, he not only sat in on their discussions, but acted as Gorbachev's interpreter for his entire trip.
In virtually every informal shot of Blair and Putin, there is Tony's kindly face, as he hangs on every syllable and tries to translate not merely words, but tone. I loved watching him in action, and tried to persuade him to write a book, even if just about the art of diplomatic interpretation.
He wrote a fascinating, now declassified, official account of his six days with Gorbachev, underlining his role as analyst, not just interpreter. It is a wonderful piece of writing, which makes it all the sadder that he never put his life down on paper.
Alas, Tony died in 2012, taking some remarkable experiences and stories to his grave with him.
---
Even walking the dog has taken on a geopolitical context, and before you cut that out and send it to Private Eye's Pseuds Corner, bear with me.
We live on the Gospel Oak side of Hampstead Heath, and Putin's invasion has made the massive houses on the far side of this vast and beautiful open space in north London all the more interesting, and the temptation to plant blue and yellow flags outside them all the more appealing.
So Fiona suddenly announced we should go on an "oligarch tour", armed with a copy of The Times, which had a two-page spread of who owned what where. Several are in grounds so vast you have to peer through mini-forests to glimpse the buildings. Others are right there in front of you, some looking like five-star hotels. Values range from £40m to £450m.
Now just because the owners are Russian doesn't mean they are all fully fledged Putin cronies, though since he took power, it has been hard to get super-rich without helping him to become even super-richer. It's how his kleptocracy has worked.
When MPs demanded of the foreign secretary, Liz Truss, tougher action against Russians who have used London as a dirty money laundromat, she apparently said it was hard because they have good lawyers.
Of course they do. But we all know what the government thinks of do-gooding lawyers who try to help refugees fleeing war and persecution. Not a lot. So why the reverence for the lawyers of the rich Russians?
Part of the answer goes back to the reality of today's Tory party. Its co-chairman, Ben Elliot, was the co-founder of "a luxury concierge company" – oh yes, called Quintessentially, with a staff of 50 based in its Moscow office – which acted as a facilitator to help the oligarch class get the best houses, cars, watches, concert tickets and the like, get their kids into the best schools, and find the best Russian-speaking nannies.
Elliot, the nephew of the Duchess of Cornwall, has at least condemned the invasion of Ukraine. It would be good if he could persuade the oligarchs with the big fancy houses to do the same.
---
German chancellor Olof Scholz is no firebrand orator. But three times his Bundestag audience rose to give him a standing ovation during his speech condemning "Putin's war"; the end; his praise for Russian protesters; and his commitment to spending at least two per cent of GDP on defence.
Truly times are changing.
---
I hope you already tune in regularly to The New European podcast, not least for my bagpipe rendition of Ode To Joy. I hope you will also find time to listen to The Rest Is Politics, a podcast I have launched this week with former cabinet minister Rory Stewart.
Lots to talk about, and as Tories go, he is a good person to talk about it with.