"We wouldn't have used Chequers much," remarks Lord Heseltine of the prime minister's country house, when I mention it as we tour his extraordinary arboretum on a cold bright February morning. "It is a much less dynamic place than Thenford and it isn't really alive." 
There is no prime minister who has owned such a large house since the last of the aristocratic Tories, Alec Douglas-Home and Harold Macmillan, who held office more than half a century ago. The fact that Michael Heseltine – Hezza to friend and foe – says this of Thenford, five miles east of Banbury on the Oxfordshire/Northamptonshire border, is saved from a boast by the fact that he so nearly became Margaret Thatcher's successor in 1990, and having visited both houses and their surrounding estates, I would say the comparison is fair. 
Thenford is the creation of Michael and his wife, Anne, since they bought the 18th-century manor house and grounds, with no gardens to speak of, shortly before he entered Thatcher's first Cabinet in 1979. The well-appointed mansion is as great in its own way as Chartwell, Hawarden and Hughenden, because of its huge collection of political artefacts. Room after room is full of paintings, busts, even silver salt cellars and comic pottery models of modern prime ministers, with the telling exception of Thatcher. Churchill, Gladstone and Disraeli are favourites, caricatured and lampooned as much in their era as Hezza and Boris Johnson in the latter day. 
The real excitement is a wall-to-ceiling display of cartoons, posters and pictures of Tarzan himself, adorning a back staircase from ground floor to second floor like the display in No 10 with its prime ministerial photos. It is thick with memorabilia of every part of the fiery politician's 50-year high-wire career at the top of British politics, from dramatic mace-swinging opponent of Labour's nationalisation legislation in the 1970s to indefatigable opponent of Johnson today, on the eve of his 89th birthday next month [March 21], bookending an 18-year Cabinet career forged first alongside Thatcher, then in bitter rivalry after dramatically walking out of her Cabinet in 1986, then at the right hand of John Major after he brought her down four years later in the depths of the poll tax saga.
Of all the Tory leaders of his lifetime, Harold Macmillan is the one he most admires. Prime minister in Hezza's politically formative years in the 1950s and early 1960s, Macmillan's "one nation" levelling-up Toryism was honed as inter-war MP for downtrodden Stockton-on-Tees in the north-east, much as was Heseltine's as minister for Merseyside in the aftermath of the Toxteth riots of 1981. When I pointed to a frame containing the certificate of the freedom of the City of London on one wall, he pointed, without missing a beat, to another containing the freedom of the City of Liverpool.
Hezza's upbringing was securely in what he describes as "the conventional middle class". But on his mother's side it had been a rapid social ascent: her grandfather was a dock labourer before entrepreneurially hiring others to unload the ships. His father, a structural engineer and company director, was an army officer in the war and recalled being the only member of his mess to vote Tory in the 1945 election. He sent Michael to Shrewsbury, a leading public school on the Welsh/English border, from where he went to Oxford. 
In extrovert style and sheer verve, Hezza is more Lloyd George than Macmillan, although "Super Mac" knew how to ham it up and his disciple does a brilliant impersonation. The cartoons are full of Tarzan, flowing mane and clunking fist, wreaking havoc all about. "Michael always knew what it meant to be dramatic," says Anne. 
No mainstream politician has made the party conference speech more demagogic, from his "left! left! left!" assault on Harold Wilson and James Callaghan in 1976 – "they are a one-legged army limping away from the storm they have created. Left, left – left, left, left!" – to his deliberately hammed-up 1995 riff on Tony Blair: "Left, Left, Left. That didn't work. About Turn! Right! Right! Right!", marching across the stage. He was at this level in the campaign against Brexit three years ago, haranguing hundreds of thousands in Parliament Square at the great marches for a second referendum, which so nearly succeeded. 
All this drama leaps off the Thenford walls – and from Hezza's conversation, which flits constantly from Thenford to Johnson, Brexit, "partygate" and the great political issues of the day. "I would jump back into politics tomorrow, in fact I haven't given it up," he says, when a twentysomething political adviser asks him at lunch whether he would do it again.  
It is the 70-acre arboretum that makes Thenford truly extraordinary. Taken on a riveting two-hour tour by the creator himself, bumping around in a golf buggy with three boisterous dogs, it is one surprise and marvel after another as we suddenly stop to walk around another of the "rooms" – I get corrected when I say "sections" – and Hezza explains the constantly changing panorama of trees, plants, water features and statuary. "Everything you can see, we created," he says, as I ask what was there before. It is a work in progress: the latest "room" is a Chinese garden, with dozens of plants and saplings being planted daily. I have little doubt it will be visited in 100 years' time like nearby Hidcote, and Wakehurst, the Royal Botanic Gardens' masterpiece near Haywards Heath in Sussex.   
There are water gardens and lakes; a two-acre walled garden including an aviary with a dozen types of colourful parakeets; a sculpture garden featuring stunning works by Elisabeth Frink, Philip Jackson and Michael Ayrton among others; the old parish church of St Mary's, enclosed by the arboretum, opening on to an avenue with a huge variety of yews. Suddenly behind a hedge you confront a huge bust of Lenin retrieved from the collapsing Soviet Union in the early 1990s. Then on to a fabulous rill with nine mini ponds resembling a network of interconnected canal locks; a "trough" garden with huge cattle troughs planted with three types of wisteria and a Mexican oak with the smallest oak leaves I have ever seen (quercus durata). Along one side of the walled garden is a broad herbaceous border with matching beech hedge at the same height as the wall, forming a stunning avenue.  
Of the sculptures, Frink's Standing Man – the grim-faced naked man's hands, folded behind his back, are cast from Frink's own – and Ronald Rae's monumental pathos-laden Wounded Elephant, kneeling down in the act of dying, made the most impression on me. And of course the nine-foot-high Lenin, which once stood on the roof of the KGB headquarters in Preili in Latvia, the only character in the entire garden more imposing, even menacing, than Hezza himself.        
The story of Thenford is as revealing of its creator as his political career. Or rather, it is another version of the same enterprising and artistic spirit.  
When Churchill learned to paint in his 40s, he engaged the greats as his mentors. No less than Walter Sickert, England's foremost early 20th century post-impressionist, became his personal tutor. So too with Hezza, as he set about creating his personal masterpiece, also in his 40s.
I had obviously heard of Quinlan Terry, the neo-classical architect, who designed a stunning summer house and other features in the Thenford gardens. The names of horticultural inspirers and collaborators didn't mean much to me as Hezza reeled them off, but looking them up afterwards I realise they are England's foremost of the last half-century. Lanning Roper, who helped to frame the original plan, was among the most famous postwar garden designers and gardening editor of the Sunday Times until his death in 1983. The plant schemes were inspired by Harold Hillier, known as "the walking dictionary of the plant world," whose Veitch nursery and arboretum, near Romsey, are pre-eminent alongside Kew itself. 
Hezza's head gardener, Darren Webster, who manages a team of 10, has been with him for 25 years and graduated top student in the National Certificate in Horticulture after three years at Kew. He lives in a restored cottage within Thenford's walled garden, and his loyalty to the whole project is as great as that of its creators themselves. 
Suffusing the whole Thenford project is the massive energy, ambition and entrepreneurialism of its creator. Thenford is run like a business. Not a day passes, whatever his other preoccupations, without some act of personal direction by Heseltine himself, and his wife is equally engaged. "Advisers advise, ministers decide"; at Thenford there isn't a shadow of doubt who are the advisers and who the deciders. It comes as no surprise to learn that most of the arboretum is now incorporated within Hezza's Haymarket publishing empire, because of its role in inspiring and promoting an expanding range of horticultural publications, including a successful new range in Germany.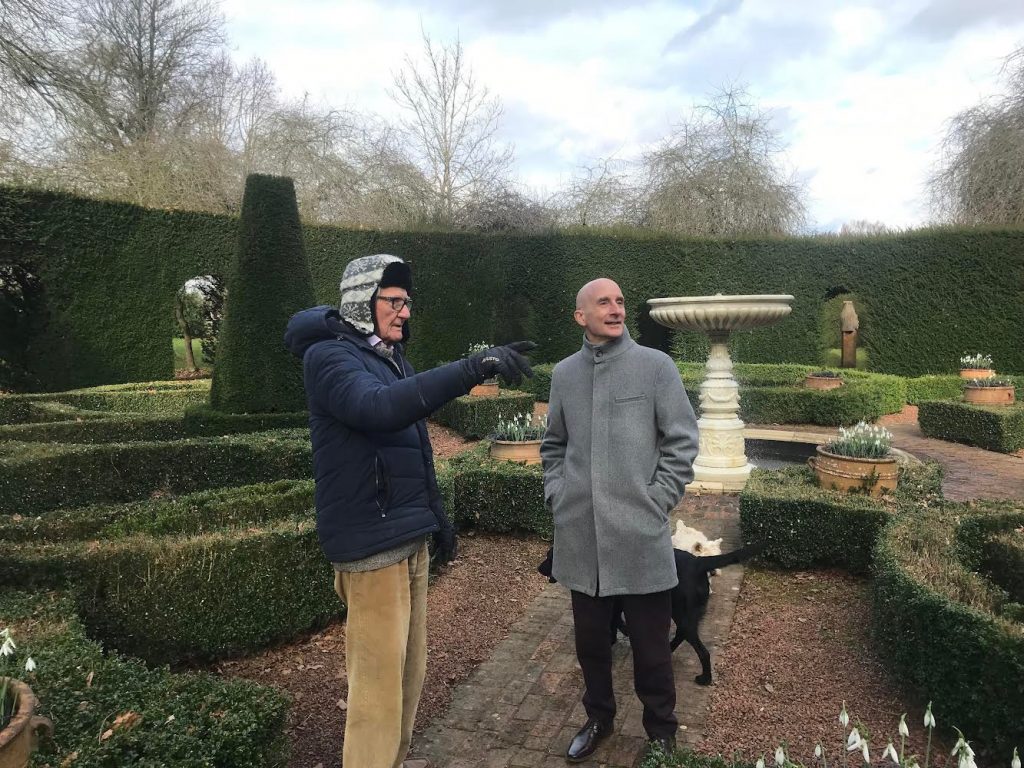 To an extraordinary degree, Hezza is master of his own universe, by means of intense and original action. "Leadership" and "entrepreneurship" constantly pepper his conversation. When I ask him which politicians most impress him today, he says it's the new metro mayors, Andy Burnham in Manchester, Andy Street in Birmingham and Ben Houchen in Teesside. "They are doing far more to lead England and its major places to a new and better future than any politicians in Westminster. They are real political entrepreneurs." I have little doubt that if he had his time again, his breakthrough would have come as mayor of London. As president of the European Movement he is always urging me, as chair, to think bigger and bolder. "Why can't we do a Festival of Europe in the Royal Albert Hall, or even a football stadium, to show that we pro-Europeans are back on the pitch big time," went a recent pep talk. I blanched, but he so gets what Tony Blair used to call "the big picture".    
The entrepreneur in him always wants to grow and create, in any situation. "I am first and foremost an entrepreneur. There are two approaches you can take to commercial crises: expand or contract," says Hezza. "I'm always for expansion, while doing it as efficiently as possible." Without this spirit there would be no Thenford; nor, in its national incarnation, would there be the new city of Docklands in London's East End, nor the first high-speed rail link from London to the Channel Tunnel, nor the renovation of Liverpool's waterfront, nor the success of council house sales, nor the myriad more regeneration projects he led in the 1980s and 1990s. No British politician since Joe Chamberlain, the creator of modern Birmingham, has so mastered business and politics and seen them as a single entrepreneurial tapestry to create a bigger and better country.    
The entrepreneurial gene was there from the start, he explains. As president of the Oxford Union, at the age of 21 in 1954, he turned its grand but unmodernised premises off Cornmarket in central Oxford into a thriving restaurant with a successful nightclub in what was previously a coal cellar. To finance it he raised £600 – a huge sum in those days – from schmoozing the corporate giant Sir Bernard Docker and his wife, Norah, who arrived in a gold Rolls-Royce, packing the new restaurant with students paying half a crown for a four-course lunch and three and six for a five-course dinner. Similarly bold initiative, pricing and marketing made him his fortune in publishing after Oxford, while in parallel he climbed the political greasy pole, fighting his first parliamentary seat at the age of 26 and getting elected as an MP at 33.
"Always expand, don't contract" also goes back to Macmillan, who used to say – popularising his contemporary and friend John Maynard Keynes – that his nurse at school used to tell him there were two ways to cure a cold. You can starve it, or you can feed it. "I have always believed in feeding it. Much less chance of the patient dying before he recovers." The seminal moment in Macmillan's premiership came a year in, when he forced the resignation of his first chancellor, Peter Thorneycroft, and junior Treasury minister, Enoch Powell, who proposed a version of Geoffrey Howe's hardline austerity of the early 1980s and George Osborne's of the 2010s. Macmillan's expansionist strategy worked, and he would have ended his government with the ultimate growth triumph of taking Britain into what became the EU but for President de Gaulle's veto.   
The other Heseltinian trait shining through Thenford – "you are always planting for the future as much as today" – is long-term seriousness about choices and challenges. The darling of the Tory party conference in the 1970s and 1980s was equally capable of imparting serious lessons, including those his audience did not want to hear, in stark contrast to today's populist cheapskates. Hezza's most searing Tory conference speech was his 1981 response to the Brixton and Toxteth riots. "We talk of equality of opportunity," he said. "What do those words actually mean in the inner cities today? What do they mean to the black communities? We now have large immigrant communities in British cities. Let this party's position be absolutely clear. They are British. They live here. They vote here. However tight the immigration legislation, there will be a large black community in this country tomorrow, just as there is today. There are no schemes of significant repatriation that have any moral, social or political credibility." 
It was his bravest speech, facing off against his own party, many of whom were still enraptured by the racist reincarnation of Enoch Powell of the 1960s, including ghost-at-the-feast Margaret Thatcher sitting behind him. It was, he says, the speech about which, above all others, he "anguished so long and so hard". 
Hezza's most recent political campaign was the resistance to Brexit after 2016. He notes that he was born two months after Hitler came to power in 1933, and as president of the European Movement, he is in the footsteps of Churchill, its founder. "I know what he would have thought about Brexit and its danger to European civilisation," he says. "This is no time for toy-town politics or ducking the big challenges." He hasn't remotely stopped. On the day of my Thenford visit, the Mail had run another of its "enemies of the people" diatribes to try and save Johnson, on the back of Hezza and me – "embittered Remainers" – saying repeatedly over recent weeks that "if Boris goes, Brexit goes". Hezza read the article just after I left and was on the phone on how we should follow up, while I was still on the train back to London. Watch this space.