When asked recently where she was planning to spend the evening of this month's German election, Angela Merkel had to grapple for words.
"Well," the chancellor stammered. "I certainly will be in touch with the party that I am close… that I am a member of!" That party, the centre right CDU, which has governed post-war Germany for 51 of 73 years, is facing its steepest decline in history. Veering around a mere 20% in the polls, the mood among its ranks is grim.
"We were the only stable centrist 'Volkspartei' (catch-all party) left in Europe", an MP mused darkly. "Now, with Merkel leaving, that may be over once and for all. That is not good news for our democracy, or for Europe."
Merkel was head of the CDU for a staggering 18 years. Her remark illustrated again the miracle that was at the core of the Merkel era: how a person who was in so many ways a total stranger, a freak really, not only to CDU traditions, but to much of Western Germany's culture and Weltanschauung (world view), could be its leader for so long.
An East German with Polish roots, a woman, a childless divorcee, a Prussian Protestant with a can-do attitude and a physicist with a strong belief in the rationality of markets – it is hard to think of a more alien persona to succeed her mentor Helmut Kohl.
True, her miraculous ascent was only possible because the old party establishment had irredeemably disgraced themselves, and only in a very small window of time in 1999. And yet, that it could be done was proof not only of Merkel's skills, timing and stamina. It also contradicted what the chancellor has disappointedly come to believe about her countryfolk over the course of her long reign: that the Germans are risk-averse, sluggish, and ignorant.
Merkel's legacy is spotty. "She started out as a chancellor for change," writes journalist and historian Ralph Bollmann in an excellent biography, "she became a chancellor of preservation".
When she first challenged her Social Democrat predecessor Gerhard Schröder in the early 2000s, Merkel's agenda was one of market liberalism. She was convinced that Germany needed to trim its welfare system and bureaucracy, simplify taxes and work longer to maintain its wealth in the onslaught of globalisation.
Comparing Merkel with Thatcher or Reagan doesn't quite hit it, though. Hers was not a neoliberal mission, but the Prussian-Protestant attitude close to her heart: thrift and hard work first, spending later.
She advocated deregulation, both in economic and in cultural terms. This did not go down well with the traditional social wing of the CDU/CSU. "That is just typical Ossi-liberal", scoffed former CDU general secretary Heiner Geißler. "Everything the communists fought must just be great, and that goes for rampant capitalism as well."
It was then, in 2005, that Merkel learned a lesson she has not forgotten to this day. Her ambitious reform agenda was not what voters wanted. The CDU/CSU almost lost the election that had seemed a safe bet only months before.
From then on Merkel, the 'Ossi' who had seen a whole system go up in flames, who had learned that nothing is guaranteed, not even democracy, never again tried to demand reforms that would have to be fought through.
She also gave up on changing the safety-oriented mindset of the CDU/CSU, that had begun with Konrad Adenauer and continued with Kohl. At the core of this mindset lay a dark conviction that stemmed from the war and is never talked about at party conventions: Who knows what the Germans are capable of when times get rough… To this, Merkel could always relate.
So the Merkel era was one of stability – but it was also lacking in agility and progress. The Covid crisis made this painfully apparent: Local health institutions exchanged data by fax machine, the government's Corona App failed on many counts and schools are still not generally safe for children to return.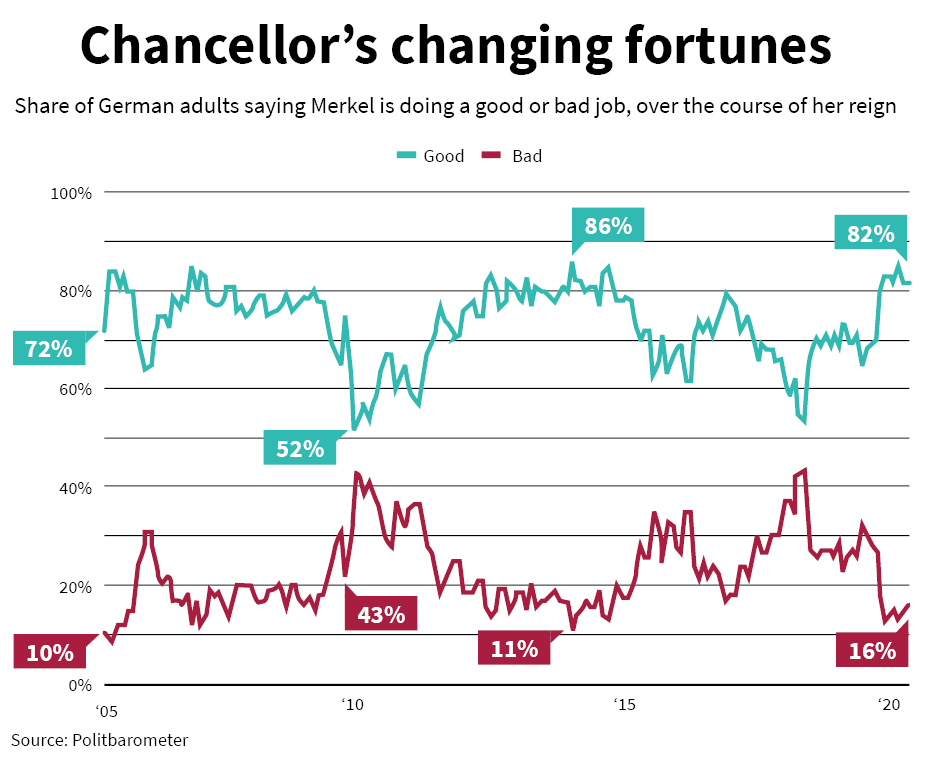 So when the chancellor complained early this year at the digital World Economic Forum that Germany lagged behind in digitalisation, ambitious projects and infrastructure – her accusations pointed back at herself, too.
Have women profited from a female chancellor? Merkel has always refused the label 'feminist', first impatiently and later seemingly out of modesty ("I don't want to assume…"). But in her first cabinet, she installed as minister of family affairs the physician and mother of seven Ursula von der Leyen who initiated paid family leave, encouraged fathers to take time off with their babies, and guaranteed childcare.
Catholic bishop Walter Mixa called working mothers "Gebärmaschinen" ("baby machines"). But Kohl had already started to put the church in its place when it came to women. He had also practically forced his minister for women, Angela Merkel, to agree to quotas.
Like many women who had grown up in the GDR, Merkel looked at West German feminism with more than a little disdain: too much pretentious theorising, too little practical results.
And she is right: when it comes to actual work-participation or the number of women in the upper echelons of politics or business, Germany is lagging woefully far behind most other European countries. Paradoxically, having children is also not necessarily encouraged as a joyful thing to do.
Merkel rarely let on what those first years as a woman in high office cost her. Photographers took pictures from under her desk when she wore a skirt, her sweat stains were commented on, just like her cleavage when visiting the opera. Behold: The chancellor has breasts!
Two-piece suits came to the rescue and have become her signature outfit ever since. After a couple of years, they helped Merkel and everybody else simply forget about the fact der Kanzler was female.
From then, she felt free to admit that she liked cooking cabbage rolls or plum cake. She was piqued when during the Covid crisis she was accused of ignoring the plight of children, even though some of her demands were really quite outlandish (children should only play with one other child). "I won´t be accused of such a thing!"
Some in her party argue that Merkel was strictly an Außenkanzlerin – an outward-looking chancellor focused on foreign policy – who didn´t give much on the fate of the CDU and focused instead on the four crises that history dropped on her doorstep: finance, the euro, refugees and the climate. She needed all her considerable resources to hold the EU together and to deal with the likes of Vladimir Putin and Donald Trump.
Now the CDU – the party she feels "close to" and is "a member of", as she so frostily put it – lags the Social Democrats for the first time in decades. It doesn´t really know what it is anymore, except for some vague ideas about "reconciling ecology and economy".
And yet the irony is that while her party may fail, her format may yet succeed. The SPD-leader and vice chancellor Olaf Scholz now has his one chance to get into office, even though there is no great love for his party either: he poses as Merkel the Second, holding his hands in the famous rhombus formation the chancellor practiced for so long. Currently, it looks as if his spiel might just succeed.
Mariam Lau is Die Zeit political correspondent