Like street hawkers, men and women with loudhailers are calling out for customers. In the land that makes everything, however, what these guys are selling is work.
They're barking out the requirements. "No one over 38 years old can apply," shouts one man. "And nobody over 1.75 metres." As job specs go, it's rather specific and you wonder what this gig could possibly involve.
"No tattoos, no earrings," barks another recruitment hawker, attracting a decent crowd. "No metal rods in your body. And no sitting down." Damn, I thought, that would rule me out of earning the advertised $2.29 an hour. Work Hard And Your Dreams Will Come True flashes up an electronic board. Better hurry up, I thought, if you've got to do it all before you're 40.
Forgive me for supplying the comments, but you will find none in Jessica Kingdon's remarkable documentary Ascension, in which these are the opening scenes. Viewers have to draw their own conclusions about the society this agglomeration of moving visual tableaux will depict over the next 90 or so minutes.
Gradually, the camera will move through many different scenarios (over 50 locations, in fact), from the factory floors of firms making spray nozzles and duck snacks, to etiquette schools for aspiring businesswomen, silver service classes for high-end restaurants and construction workers on breath-taking architectural wonders, risking life and limb to build an infinity pool on a billionaire's penthouse.
It's called Ascension because it travels up the ladders of this society, from the lowest shop floor workers to some of the richest people in the world. A film-maker can do it, and get access to all these secret and rarified spaces, but can a normal human being navigate such a climb up the capitalist tower? And, given that so much of the stuff we see being made, from binoculars to sex dolls, will end up in the hands and bellies (and other bits I don't dare mention) of Western consumers, you have to wonder about how similar this accelerating society is to our own?
Jessica Kingdon is a Chinese-American film-maker (her mother is Chinese), raised entirely in New York and yet she gained entry to all layers of modern Chinese society. "I was accused of being a corporate spy by one factory," she recalls. "It was a place that recycled plastic water bottles into carpets and they thought I was stealing secrets to make a rug."
She says her original idea was to make a film about production, consumption and waste. "I went in thinking about the environmental
consequences of the growth of capitalism," she tells me, "but once we were shooting there, and certainly once I got back home and started editing all the scenes together, I saw that it was more interesting to study the quest for upward mobility and the obsession with materialism, because that happens not just in China, but in every society around the world. I guess ultimately the film is about how capitalism has become the central force of human motivation, the aim of all work."
Ostensibly, that's a depressing thought, particularly when you watch Kingdon's cool yet beautifully detached images of workers engaged with their tasks, from testing nozzles to operating huge incinerators, to delicately painting on the nipples of latex dolls. And particularly when you get a kick from watching the smooth automation of some of the big industrial machines, the compressors and the conveyor belts and listen to the purr of their functioning, how all the parts of the process come together like some infernal choreography of progress.
"I certainly discovered a sense of awe in the machines," she says."There's wonder in it, in this industry and this economic miracle and yet within the same image there are many layers, this sense of mystery, sure, but also darkness and bleakness. An image can hold two truths at once."
---
There's inevitably a study of the relationship between man and machine here, certainly in the earlier part of the film before we move into the more socially interactive pursuits of the middle classes. As I say, Kindgon's film doesn't have scripted dialogue and any words we hear are as if overheard, like an eavesdropper. But I found one scene of a factory worker particularly poignant, as he tries to pass a sheet of material through some kind of pressing machine. "This fabric won't listen to me!" he complains, encapsulating the give and take of human and product, how it is, still, a two-way process where both play a part.
"My favourite shot of the film is one with a woman and her plastic bottle,"
says Kingdon. "It's so enigmatic, we can't know what she's thinking, but she's paused for breath, for air, and is caught in a sort of symbiotic moment with the very thing she's making, the very thing that pays her wage. In this automated cold system, I kept finding human poetry, human moments that can be tender and surprising. All of this made me question the nature of how a capitalist society functions."
I wonder what's different about China's capitalism compared to our own in Europe, or the factories and industrial complexes of the US. Some of Ascension's photography of the equipment and machines, after all, reminded me of the images taken 70 years ago by Maurice Broomfield, the father of documentary maker Nick Broomfield. Maurice's images from his career as a corporate photographer recently featured in an exhibition at London's V&A; stunningly composed pictures of workers and machines in Britain's post-war industrial boom at car plants in the early 60s and emerging technology leaders such as ICI or the Qualcast lawnmower factory in Derbyshire.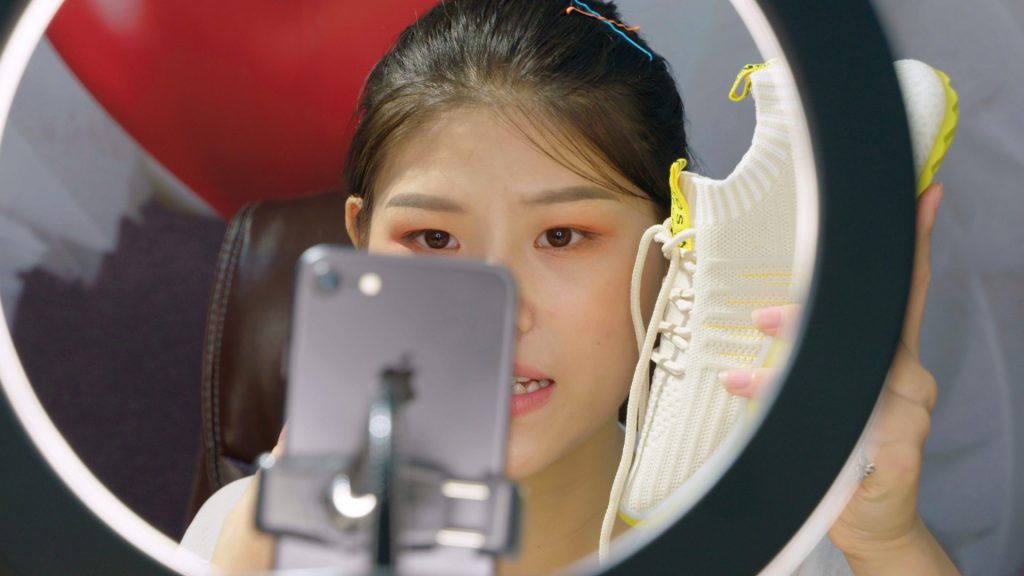 "China has lived on an accelerated timeline since the late 1970s,
when economic reforms suddenly allowed free trade and it so quickly transformed the whole of a society," says Kingdon. "So I felt that what was
happening there would be a way of magnifying universal truths. It's the best illustration of the paradox of progress – what does it mean, what does it look like, what is the fall-out from that – when the world's factory also becomes the largest consumer market, too. I felt the results there would be more marked than in societies that have evolved their industry over longer periods."
After hanging out on factory floors – and the very eerie yet curious experience in the sex doll plant, where women adjust the breast sizes, test the colour palettes of the areolae, trim the pubic hairs – the film moves to the service industries of the middle class, taking in etiquette lessons for women in business (module 3: how to hug with reciprocal affection), butler lessons and personal bodyguard training.
"Knowledge is useless unless it can be monetised," lectures the host of a
two-day workshop on growing your business to make $50million.
As wealth accrues, so too does leisure time, with the functioning of shopping malls, restaurants and water parks, all of which are pictured with the same detachment but with an eye for the beauty of their functioning.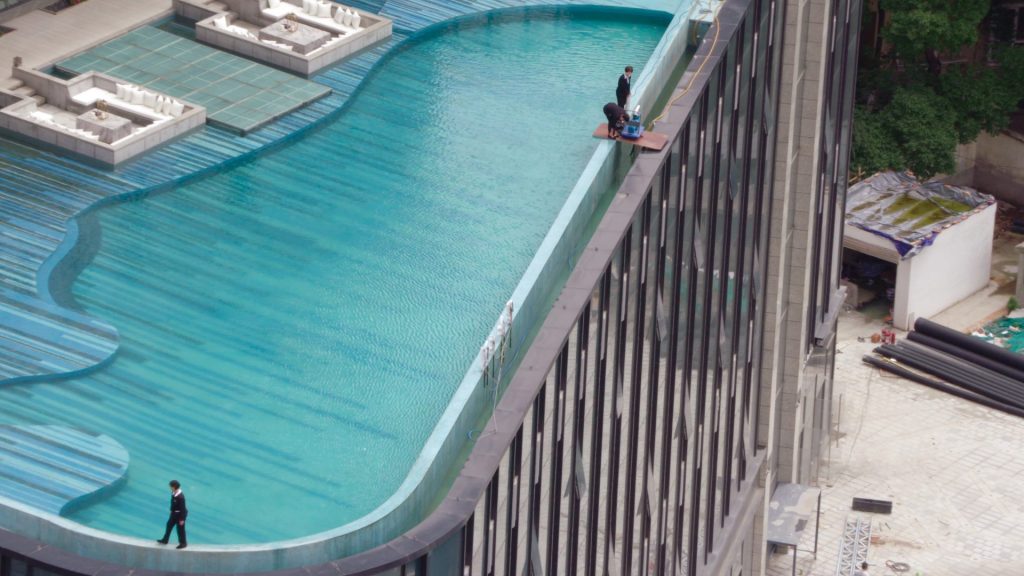 If she comments at all in the film, it's with her observations and edits. "I was struck by how the sounds of life change as you move up," she says. "In the factories, it's the hum of machines; in the leisure parks and malls, it's the chatter of phones and gossip and pop music."
So, I wonder, having so intimately observed the ultimate capitalist, consumerist system, has Kingdon an idea of where it is all leading us, if indeed China is leading the way?
"The Chinese Dream is a nebulous concept and it's certainly been popularised by leader Xi Jinping, who repeatedly tells his people that 'the system will reward you'. I was surprised to find that, apart from occasional suspicious factory bosses, people were so proud to show off their economy and progress.
"And, though the ruling CCCP is very different to the individual people, I did discover that the people's attitude to progress does have something to do with a collective rejuvenation of the nation, with a desire to really make a global impact.
"Wrapped up in the work, there's a sense of patriotism and duty. I mean, the fact that Ascension, this American film about the Chinese Dream, made it onto the Oscar shortlist, that was all over WeChat."
Technology is obviously a major part of this society, though by no means dominant in the film, despite a few disquieting surveillance shots, such as a large screen publicly shaming 'jaywalkers'. But Kingdon believes China leads the way in this aspect above all others, and it's here that it will have the most impact on the rest of the world's societies.
"I couldn't see that culturally it can oust the West but in terms of innovation its global influence is huge," she says. "This could be threatening for us, but I also see that, even while being the largest offender in terms of pollution and emissions, China is also the place most likely to solve the problem."
What I took away from the views afforded to us in Ascension was a certain human resilience, or a will to adapt around our own progress. Kingdon tells me an instructive story, one that didn't make it into her film, an example of how man and industry evolve together now, citing the creation of what she called a Taobao Village.
This is a small town sprung up specifically to service and manufacture for China's leading e-commerce site, Taoboa (its version of Amazon, if you will). And there are many such places, some of them for particular products.
In one that made the site's furniture, there has been a surprising by-product of the tonnes of leftover wood from the furniture production.
Says Kingdon: "We visited and they took us to a restaurant, where a whole new local cuisine has emerged in this village, specialising in wood-fired cooking, based on pancakes blasted in these newly-built wood ovens. It was delicious."
Ascension is in UK cinemas now