Monday, November 22
I woke up and can hardly believe it: the fourth lockdown begins today across Austria. We didn't think this would be necessary after we endured lockdowns in March, November, December 2020 and one "Easter rest" in 2021. Yet again, we are only allowed to leave the house for essential errands: for work (if it can't be done at home) and for physical and psychological recreation. Oh, and also for Covid-19 testing and vaccinations.

I won't miss shopping, sports classes or the theatre too much. But I remember Christmas and New Year's Eve 2020 when my partner Sigmund and I were all alone at home, trying to make it romantic. In truth, it felt lonely (at least there were two of us). So what I will miss: sitting at the dining table with friends and relatives, chatting, sharing life.

At noon, I had a meeting at the agency where I get my freelance assignments. I met two women and a dog. I showed my vaccination certificate and PCR test to the assistant when I entered the office and disinfected my hands.

The chief executive of the agency said t I could take off my mask. I was a little confused, though: how do I know she's got 2G+ status (recovered or vaccinated and PCR tested)?

Tuesday, November 23
I miss, miss, miss my friends so much already! And it's only day two of 20. I had to borrow a heater from my friend Bella, so I took our little car to drive from the 20th to the 6th Missed hugs and cookie dilemmas: Our Viennese lockdown diary district. There was less traffic than usual, but no comparison with the first lockdown, when you could have walked on the Gürtel (Vienna's inner ring road) which is infamous for traffic jams and fast drivers.

Seeing Bella and her son Lux "illegally" felt weird. They were waiting for me in front of their house with the heater, no hugs or "bussi-bussi" (kisses on the cheek), and after 20 seconds, once everything was packed in the car we parted. Little Lux asked what I was doing there. What he meant was: "Why can't you come up for a coffee?"

Wednesday, November 24
Our baby Emi turned 20 weeks old today. We went for a walk in the city centre in the late afternoon. It was somehow peaceful, idyllic, more Christmassy than usual. The Christmas lights on Kärnter Straße and Graben were already on, but all of the shops and little boutiques were closed, everything seemed slower and quieter. At 5pm it looked like the middle of the night.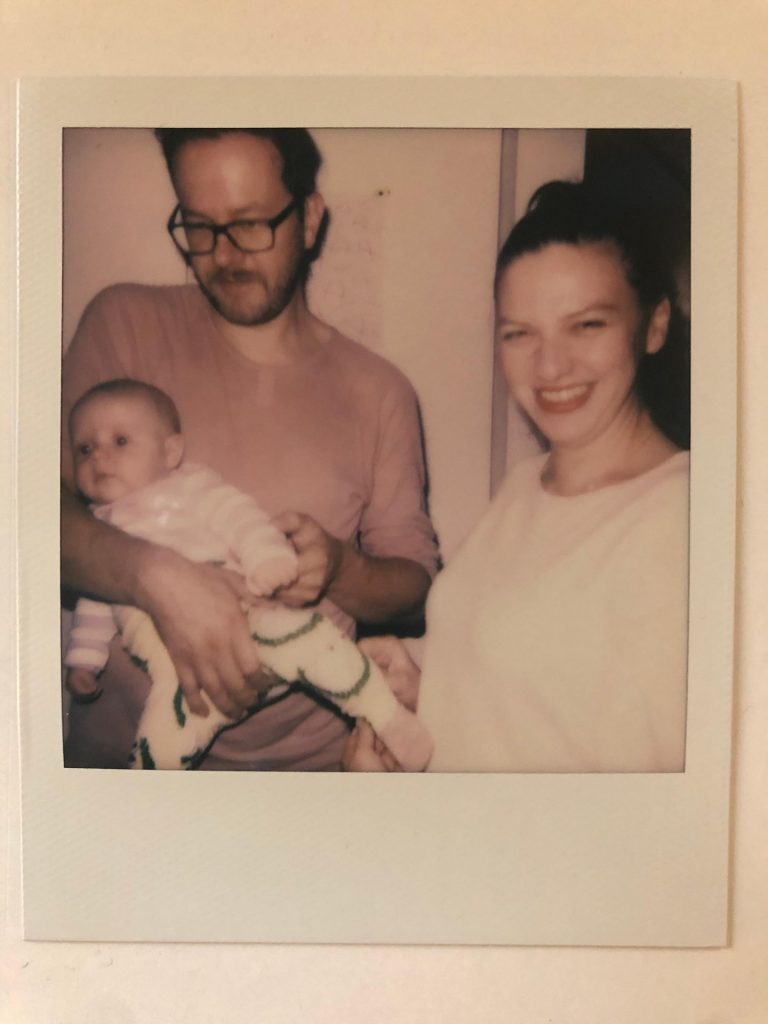 I concentrated on Emi in the stroller and the cold air in my nose and lungs, and for the first time in years I was enchanted by Vienna's first district: it was a little more magical than usual. I've lived here for 21 years and have, therefore, been avoiding the tourist spots for a long time. But to walk around the Stephansplatz with the stroller in this calm was something special.

There are these particular everyday moments that you remember for a long time. The Christmas lights seemed to have a new message this year: Not "buy!" but "take a deep breath".

Thursday, November 25
Sigmund was teaching today and I had a deadline. Which means Emi should have had a nice long sleep during the day so that I had the time to think and write. Of course, that didn't work! At 4pm the client called and asked when my work would be ready. I promised her 6pm. Just before that, Emi got hungry and wanted to be fed. So I wrote the last few lines with the baby on my breast.

I got a premonition of what working mothers describe as "eternal guilty conscience": when you work, you feel bad because your child needs you. When you are with your child, you feel bad because work gets left behind. Which made me think of the families with older children experiencing lockdown: how do you manage everyday life with one, two or three small children in quarantine? Our kindergartens and schools are open "for everyone who needs them", but because of the high number of cases among children and adolescents, 152 classes are closed in Vienna (last week there were only 93 closed).

The difficulties of quarantine life have also hit our architect friend Berkan, who is used to driving to the office in the morning like his girlfriend Nini, then picking up their son Gustav from kindergarten at 4pm.

He got infected meeting a friend from Salzburg in a bar, and after four days he tested positive. Both of them were double-vaccinated.

Which meant Berkan had to stay at home, but also Nini and Gusti had to be in quarantine too. They initially considered whether Berkan should move out temporarily, but decided against it because they live in a two-storey apartment with a guest room and second bathroom.

Berkan had no symptoms and kept busy in isolation, working from the guest room. When he cooked, Nini and Gustav went to the bedroom. Berkan didn't touch anything in the shared kitchen without gloves.

After a week, he tested negative, as did Nini and Gustav. How would that have gone in a smaller apartment? I get sad thinking about someone suffering from Covid spending most of their time in bed, trying to protect their family but who would probably infect their loved ones anyway due to the lack of space.

Friday, November 26
Johanna, Emi's grandma, ordered 4kg of Christmas cookies for us and 4kg for Sigmund's sister. We phoned about how the handover could take place tomorrow. Johanna wants to take a three-hour train ride to Vienna and back to Styria just to bring us her cookies. I suspect that handing over the treats is not as important to her as seeing her grandchild again, but she wouldn't say so. (My parents, 76 years old and vaccinated three times, are different, they clearly said that we would not meet again until after lockdown.)

I am split: following the lockdown rules, "contact with individual close relatives and important care-givers" are a basic need and therefore permitted. But the handover of Christmas cookies could wait.

I ask myself how my and our relationship with Johanna can be defined. Is she a close relative? Is she an important care-giver? Compared to the other grandparents or Emi's aunt? Compared to our friends?

According to the government, how many closest relatives and how many important care-givers are you allowed to meet? And what does "close" actually mean, how important is physical closeness?

My thoughts wander to the term "family": the government's wording puts relatives and care-givers on the same level, namely people from outside the household. I like this modern definition of family within.

Who is most important to me if I had to choose a single non-household care-giver? Oh, I miss inviting our friends over, visiting them, and feeling not only cosy but also safe in the company of my favourite people.

Today, 619 people are in intensive care units in Austria, suffering from Covid-19. Most of them are unvaccinated.

So far, the lockdown, which both the vaccinated and unvaccinated have to endure, shows positive signs: the hitherto rapidly increasing curve of new infections is stagnating, albeit at a high level.

The health system is overloaded and staff say they can't cope much longer. I hope that the 30% of Austrians who have only thought of themselves so far show solidarity and get vaccinated.

Because I suspect the staff in the hospitals would like to have a worry-free dinner with friends and relatives again.

And so would I.