Early December 2003. My girlfriend and I visit an exhibition called Santa's Ghetto, just off Carnaby Street in Central London.
I'd read about it in Time Out and had been drawn in by its promise of artwork from outside the mainstream, particularly pieces from the Mutoid Waste Company, Gee Vaucher (of Crass artwork fame) and 3D from Massive Attack.
Exhibition organisers Pictures On Walls had commandeered an empty double-fronted shop in Kingly Court and turned it into a kind of festive dystopia. Walls were draped in camo fabric, lit in red and green. Artwork was nailed haphazardly to the walls, grouped by artist. A Mutoid Waste Company cut-and-shut vehicle stood plonked in the centre.
Sure enough, there were 3D and Vaucher artworks dotted about, alongside work from a number of artists we'd never heard of. The whole feeling was one of outright rebellion; part squat rave, part anarcho-art installation.
Presumably in an attempt to appear au courant, sports clothing label Puma had donated a load of trainers to the show, and artist Jamie Hewlett had written 'Nike' all over them.
We paused to look at some stencil work. Cut-outs of rats holding ghetto blasters and brollies. Kids holding ice-cream cone bombs and heart-shaped balloons or hugging televisions, all rendered in splattery black spray paint, like a UK version of the French graffiti maestro Blek le Rat. Simple, powerful, socio-political and funny.
We particularly liked one piece called Barcode that showed a leopard bursting free from a cage made of barcode bars. After a while, we left and went home.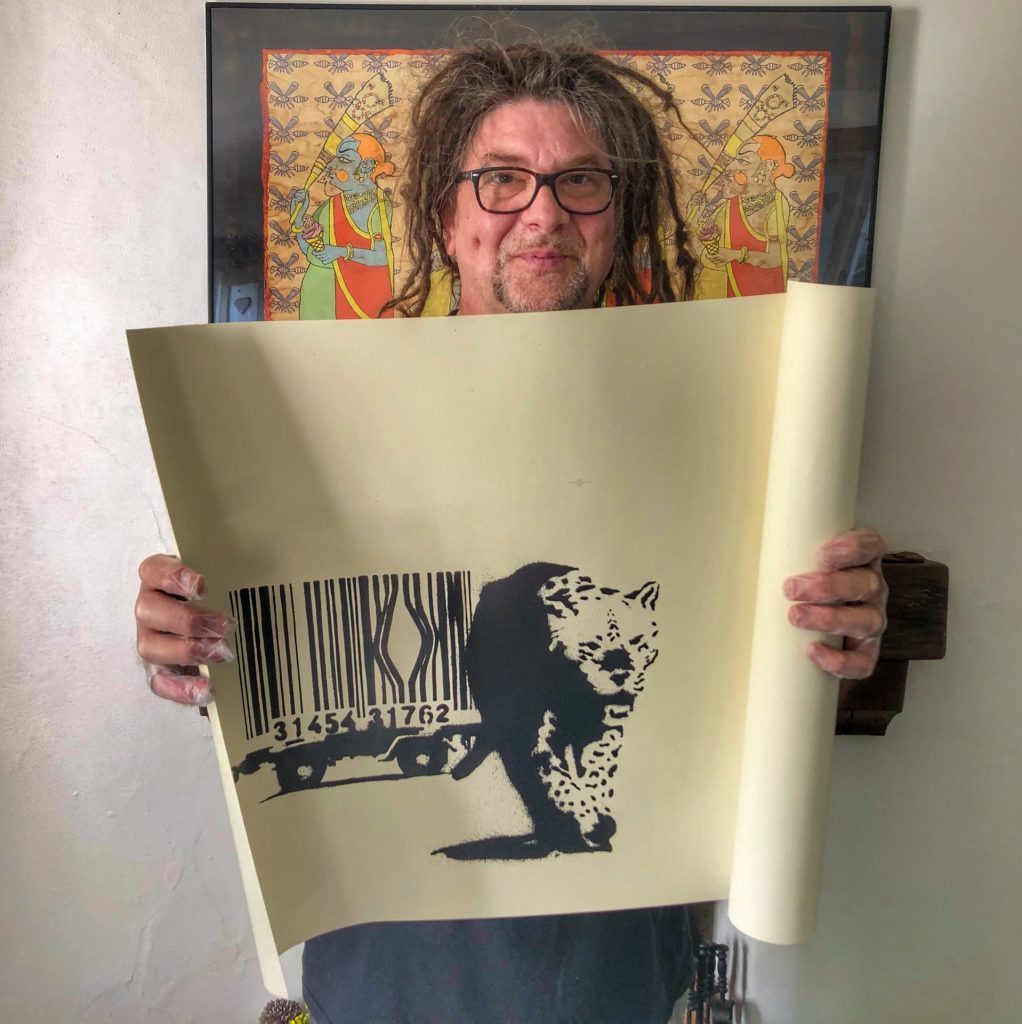 On Christmas Day a couple of weeks later, my girlfriend presented me with a numbered, stamped screenprint of the big cat/barcode artwork. After our visit, she'd sneaked back to the show and bought a copy. The cost: £44.99. The artist: Banksy. My girlfriend and I married the following year.
Of course, when we first put the Banksy print on our wall in 2003 we had no idea that its value would increase to current eye-popping numbers. We framed it in a cheap Ikea frame with a Perspex window and it took pride of place in the lounge of our London flat.
There was certainly a buzz about Banksy back then, but it was a quiet hum, rather than a roar. He'd provided the artwork for Blur's album Think Tank that year, and for the Badmeaningood CD mix series the year before. It had become quite normal to see his stencils pop up overnight on walls and street furniture around London, Bristol (his home town) and further afield.
I was working in the music business at the time, and Banksy had been adopted as the house artist for the cool kids. Very Hoxton, very Shoreditch. To know Banksy's work was to be in on the joke.
The demeanour of a slightly aloof partner of a friend changes markedly when he finds out we own an actual Banksy. Also, while there was a cachet in knowing his work, Banksy's egalitarian approach to art provided another angle. Here was someone making political points using the anonymous, guerrilla approach associated with graffiti artists.
While the tropes Banksy employed in his artwork may well have been simple – war is bad, cops are silly, be nice to each other – this was a simplicity rendered well, in an accessible, exciting way.
In his 2005 book, Wall and Piece, Banksy noted "people say graffiti is ugly, irresponsible and childish… but that's only if it's done properly." Much as the Situationist movement of the 1960s used graffitied slogans to help shine a light on the evils of capitalism, Banksy was using stencils and visual puns to highlight 21st century privilege, greed and corruption.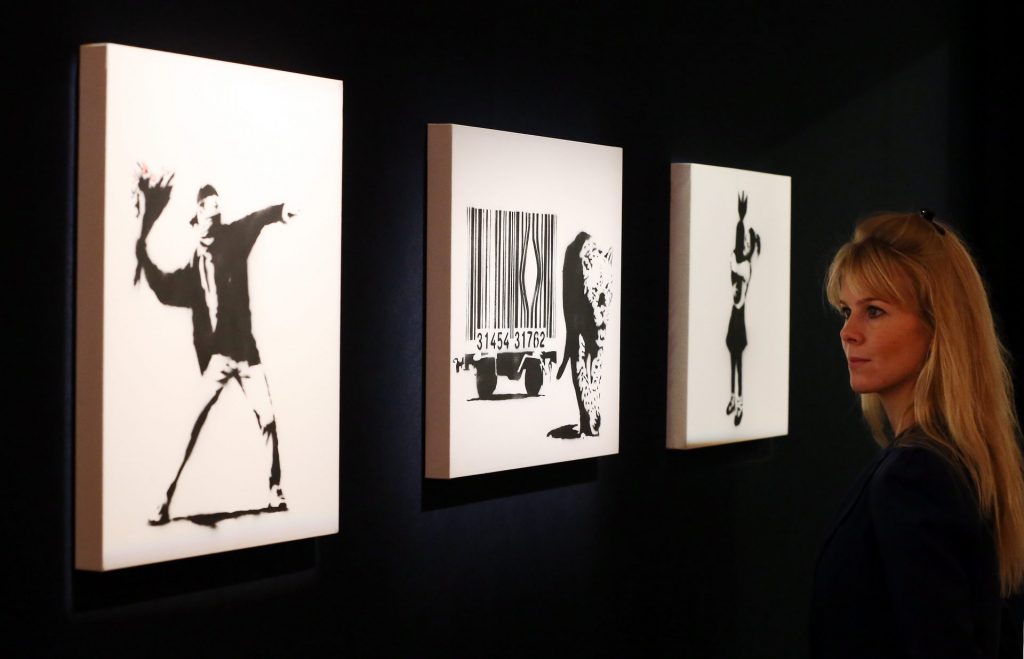 It's quite difficult to make sense of what happened over the next couple of years. We kept reading that Banksy artworks had been sold to an increasing circle of celebrity names. What was Christina Aguilera doing buying Banksy's Queen Victoria artwork in 2006? Why couldn't Brad Pitt and Angelina Jolie keep their noses out instead of splashing a million quid on a bunch of Banksy pieces in 2007?
Alas, Banksy had gone mainstream. At least, we assured ourselves, we'd been there for his early stuff. Well done us, for riding the early wave.
We even wondered if we should become art collectors. Our puritanical indignation at the adoption of our erstwhile anti-hero, however, came with a list of attendant dilemmas. Thanks to Brangelina and their ilk, Banksy artwork prices were heading skyward.
Was our own Banksy to be treasured and kept in the family to be handed down from one generation to the other for years to come? Or should we now view it as an investment? A pension, even? Discussions ensued.
If we did keep it and pass it on to the next family generation, who should it go to? On what merits? We were King Solomon, dispensing judgements both wise and educational. Not really. After a surprisingly short exchange, we agreed that no-one in our family deserved it.
Over the next couple of years, I used eBay as a litmus test. A huge increase in value of Banksy's artworks meant that people had started cashing theirs in, posting them for sale on the auction site. By 2009, original stamped and numbered Banksy screenprints were fetching around £10,000. More anguish.
Now, we weren't just stuck in theoretical territory, somewhere between the piety of the collectors who see that art has an intrinsic value that should not be translated into money, and the pump and dump cynicism of the cash-in merchants. Things had become serious. £10,000 was (is) a lot of money.
In 2011 we move to Dubai, taking our worldly goods with us. We settle in and set up home. Our stuff will arrive via freight, the Banksy print included.
A new friend tells us that the stuffed stag's head that he'd had shipped over to the Emirates had been pulled apart by customs on arrival, presumably in a search for contraband. UAE customs officials were known for having an uncompromising approach to pretty much anything entering the country, and were gifted with the power to confiscate belongings that they deemed culturally or socially offensive.
If they'd torn apart a stag's head, would they take umbrage at a picture of a leopard escaping a cage? Would they see it as a political metaphor for freedom and democracy? And, therefore, a comment on the UAE government?
We unpack and luckily all is in order. Unmarked and back in its Ikea frame, the artwork goes on the wall of our new apartment, and we knuckle down for life in the Middle East.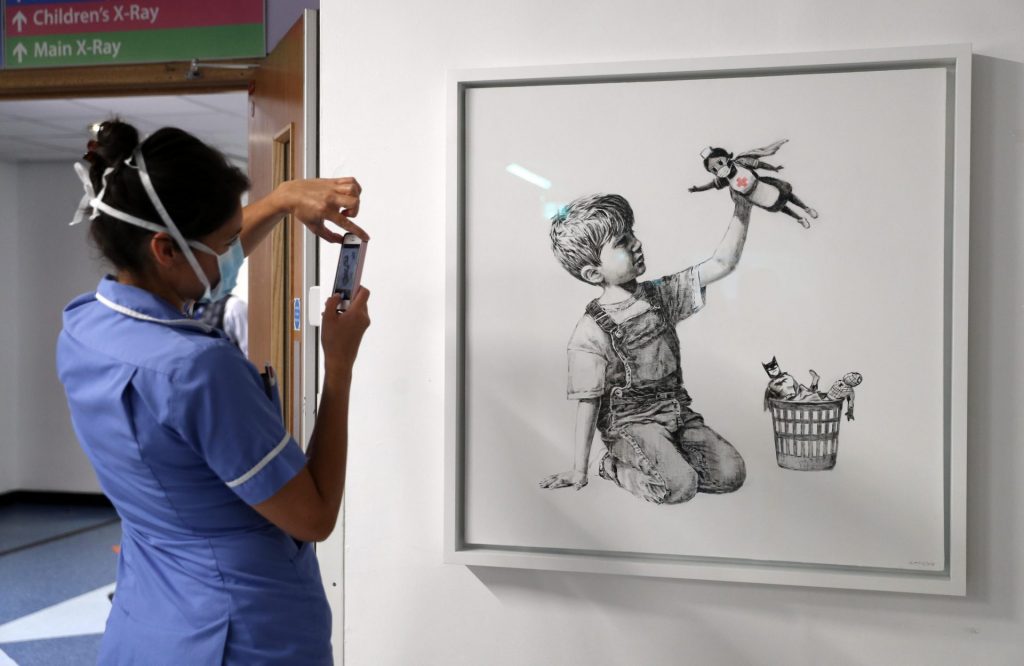 A couple of years in there's a minor earthquake in Iran. Aftershocks are felt in the UAE, and the print falls off the wall, the Perspex in the frame shattering as it hits the floor. At the time its value was around the £12,000 mark. The thing could have been seriously damaged.
We chuckle gaily at the close shave. After all, twelve grand is pretty much the cost of a pint of beer in Dubai. I don't replace the broken frame, though. Instead, I roll the print up and stash it back in its cardboard tube.
In 2017 we return to the UK for good. Again, all our gear – the Banksy included – is sent by sea in a giant freight container that takes six weeks to wend its way from the Emirates to the UK in all kinds of weather. Shudder.
Back in London, we decide we need to start treating our screenprint with a little more care. We'd checked the artwork's value and it was now at around £16,000. Banksy's Girl With A Balloon print had just been voted the UK's favourite artwork, beating the likes of Constable's Hay Wain and Antony Gormley's Angel of the North. As well as a mainstream artist, he was now a national treasure.
While we worked out what to do next we left the artwork under the bed in my mother-in-law's spare room. Friends and family had started enquiring after the piece as if it was a wealthy, slightly frail relative. "'And how's The Banksy?", they ask. Meaning, of course, "has it gone yet and how much did you get?" We add it to our home insurance as a separate item.
Time passes. People had stopped putting their Banksy artworks up for auction on eBay. Like us, they must have realised that they own pieces of considerable value.
The Banksy Value website appears in 2018, dedicated to tracking the selling prices of pretty much all available Banksy artworks. In 2019 the value of the Barcode print drops to around £12,000. Oh well, we laugh in a slightly forced way, maybe we should have sold the thing for £16,000 in 2018?
We're too aware of the print's value to have it on the wall of our London place. We've stopped mentioning our Banksy in conversation, for fear of being overheard by international art thieves. During relocation, we'd found the print's original cardboard tube from when it was bought in 2003. We know it's the right one as it has the artwork title written in marker pen on the side. We put the print in the tube and hide it.
My wife's mum calls, telling us that she's found black mould under the bed in the spare room. I feel sick. Wearing my wife's Marigolds, I check the artwork again. It's fine, but the big cat in the print must be on its ninth life by now.
Then, at the end of last year the value of the artwork sky-rockets. In December 2020 Bonhams sells a copy of Barcode at auction for the hammer price of £80,000. Sales of one-off versions of Banksy's work were reaching dizzy heights, with his painting Show Me the Monet selling for £7.5 million in the same year.
The My Art Broker website notes that almost £42.7 million worth of Banksy prints were offered for sale from January to December 2020, almost seven times more than the number of prints sold in 2019. Banksy had stopped making screen-prints some time ago, so any pieces coming to market were in a perfect storm of value, with demand outstripping supply. Furthermore, in donating proceeds from the sale of his Game Changer painting to the NHS, Banksy cemented his position as an artist working for social good.
I checked the value of Banksy's Barcode today. It's hovering around the £50,000 point, having dropped again since the beginning of 2021.
Still, from the original purchase price of £44.99 in 2003, even at £50000, the print's value has increased by 111035%.
So, what now? I'm not actually going to sell it. Not yet, anyway. Quite apart from its monetary value, owning an original Banksy artwork has given both me and my wife an enormous amount of pleasure, along with a certain amount of pain.
And when we finally do let it go, we're going to make sure we never buy one again.
THE MOST EXPENSIVE BANKSYS
Game Changer, £16.8m, March 23, 2021
Proceeds went to the NHS on the first anniversary of the UK's lockdown. Bansky originally donated the painting to Southampton General Hospital in May 2020
Devolved Parliament, £9.9m, October 3, 2019
Giant four-metre painting of the House of Commons invaded by chimpanzees, from 2009
Love is in the Air, £9.2 million, May 12, 2021
Classic 2003 canvas of a masked rioter (in mono) hurling a bouquet of flowers (in colour). The first painting to be bought at auction using Bitcoin
Show Me The Monet, £7.55 million, October 21, 2020
2005 Monet pastiche showing cones and shopping trolleys amid the impressionist's waterlilies
Forgive Us Our Trespassing, £6.3 million, October 4 2020
From 2011, this monumental work stands seven metres high and features a graffiti artist praying in front of stained glass windows which were tagged by 100 students at the City of Angels School in east Los Angeles