"Throughout our existence, we only ever wanted one thing – to make theatre. And for all of those years the Belarusian government has tried to
forbid it. But we're not ready to accept such interdiction, because it would
mean that we've lost our cause and yielded to despotism. Theatre is our right, and nobody can take it away from us."
So says Nicolai Khalezin, the artistic director and co-founder of Belarus Free Theatre, an underground troupe of dissident actors and performers that has been creating visceral, politically driven theatre in impossible circumstances since 2005. Khalezin founded the company in Minsk with partner and fellow human rights advocate Natalia Koliada as an outlet for expressing disgust at the despotic machinations of Belarus's president, Alexander Lukashenko, a man who derives a morbid pleasure from being
known as Europe's last dictator and who is currently playing a cameo role in Russia's invasion of Ukraine.
This March, Belarus Free Theatre bring their latest production, a stage interpretation of Belarusian writer and activist Alhierd Bacharevič's novel, Dogs of Europe, to the Barbican in London. Khalezin directs the production, which will be their first in exile, as their position under Lukashenko's regime had become untenable. Khalezin explains what happened.
"In a totalitarian regime, the desire to be independent of those in power is a criminal offence. And therefore, during the 17 years of Belarus Free Theatre's existence, we've had to go through imprisonment and incarceration, police beatings, dismissals from jobs and universities, all kinds of pressure on family members. And, as of late 2021, we found ourselves in the situation where it was impossible to continue to exist in Belarus – as it would have led us to incarceration of all the members of the theatre; therefore, we had to relocate out of the country."
Lukashenko has been in power in Belarus since 1994, his 28-year reign of terror underpinned by vote-rigging and the use of excessive force to
scotch protests and opposition.
In December 2021, Lukashenko's judicial system sentenced Syarhei Tsikhanouski, the husband of the opposition leader, Sviatlana Tsikhanouskaya, to 18 years in prison for daring to pose a challenge to
Lukashenko's position. After he was imprisoned in 2020, Sviatlana took over
Syarhei's role of opposition leader for last year's August elections.
The mass protests that followed the voting process – and Lukashenko's
bleakly inevitable win – were the worst in Belarus's violent history. Lukashenko's politicisation of migration across Europe has been well
documented, and throughout the past 12 months his government has
increased its actions against local dissidents, throwing Belarusian artists,
writers and politicians in jail under trumped-up and spurious charges.
---
Belarus Free Theatre has been labouring under these appalling conditions from the start. Their performance sites in Minsk were rented under aliases, with audience members often only told of the venue on the evening the plays took place, having been given a pre-paid phone number communicated via social media. BFT actors met audience members in person minutes before performances started to escort them to the venues' secret locations.
Attendees were strongly advised to bring their passports with them as a form of ID in case the shows got raided and they were arrested by Lukashenko's KGB for complicity. Members of the company were harassed and banned from holding public service jobs. What's life like right now for BFT, I ask Khalezin?
"It's an entirely new existence – the theatre is not underground anymore, but in exile. And we have to go through this, in order to be able to go back and work freely in new Belarus when the situation changes."
A take on Bacharevič's Dogs of Europe seems the perfect next step for the company. How did the team alight on the idea of an adaptation?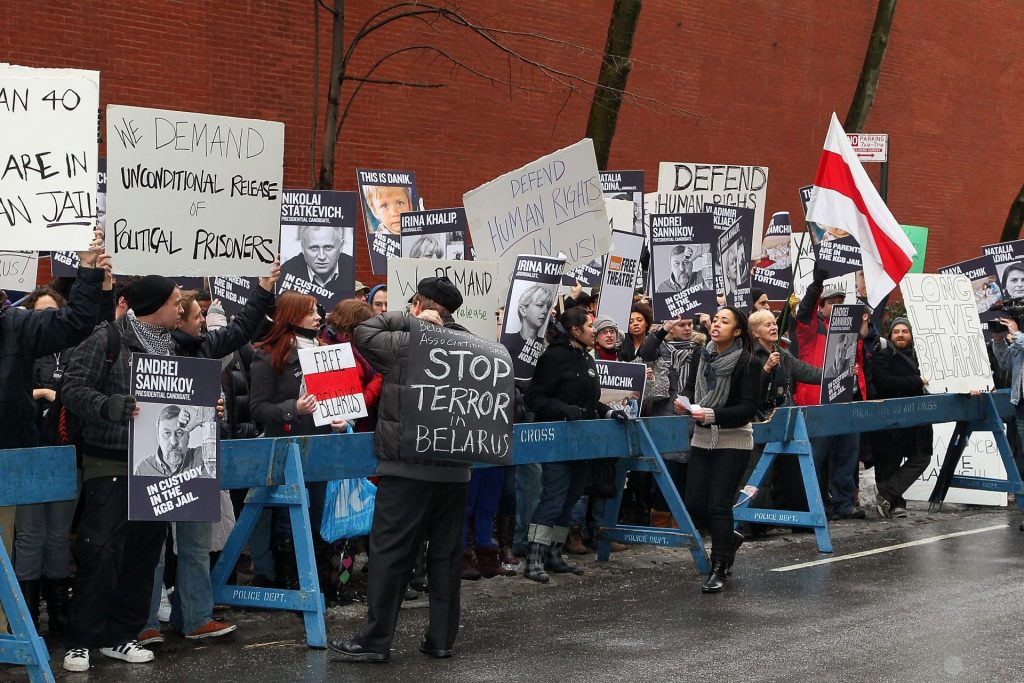 "Dogs of Europe, in our view, is the best novel written by a Belarusian author in the last 30 years. But it's not just that. It's a dystopia that depicts the worst-case scenario for our current global political situation. The novel was written in 2018, and yet a number of events predicted in it by Bacharevič have already – frighteningly – come true. Military escalation on the border of Ukraine. Concentration camps in Belarus. Cyber-attacks by Russian hackers on European and American government institutions. A hybrid migration war unleashed by the Belarusian regime on the border with the European Union.
"And now, just like in other historically difficult times, it's important to share this warning message, to wake up people and politicians, to compel them to reflect seriously on the future and the challenges the world faces today. For us, Dogs of Europe is as significant as the publication of Brave New World by
Aldous Huxley in 1934, or the publication of 1984 by George Orwell in 1949. For our staging, we'll be looking into the abyss of dystopia through the prism of theatrical language."
Quite rightly, there have been arts institutions outside of Belarus that have offered help – and theatre stages – so that BFT can continue their important work for some time. And overseas performances are always streamed online, so that their faithful Belarusian audiences can still view new productions. Dogs of Europe has been commissioned, in part, by the Barbican. How did that come about?
"Belarus Free Theatre has performed regularly in London on many of its renowned stages – from the Young Vic to the Almeida, the Globe to Soho Theatre – and it was always a dream of ours to present our work at the Barbican," Khalezin explains. "Colleagues there have followed our work over many years and so when we began to discuss the prospect of a collaboration, the idea to showcase a larger-scale production, such as Dogs of Europe, grew out of those conversations."
As befits its themes, Bacharevič's novel is a weighty tome, some 1,000 pages long. What were the challenges in adapting the book for the theatre?
"We had to focus on the essential – on the major message, the focal point of the novel – and so we chose two and a half parts of the novel as the foundation of the theatre production. The setting of the first act is in the New Reich spanning the territories of Russia, Belarus, parts of Ukraine,
countries of Central Asia. In the second act we're in Europe, which has survived consecutive wars, descended into depression and stopped reading books.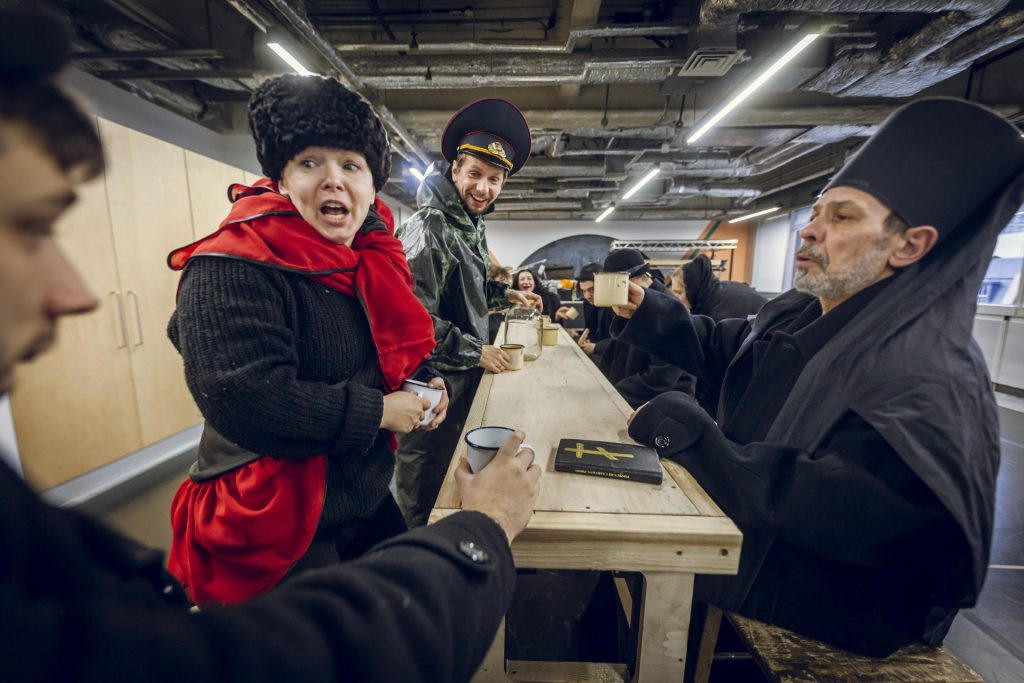 "It was essential for us to combine two different realities into one aesthetic platform: two different tones, verbatim, two different worlds. But the most difficult task when translating literature into a stage version is the literary pressure which resists the adaptation. This resistance led us to work on the adaptation for a whole year."
Belarus Free Theatre is supported by a number of important industry figures. Theatre director Michael Attenborough (son of Richard) is a BFT
trustee, as are actors Sam West and Jude Law. Václav Havel is an avid fan.
The company's work is an inspiration to artists and human rights activists alike. But what inspires the creative team? "Reality is our inspiration, and therefore, an article in a newspaper could offer the impulse to create a new performance, other times it may be the ever-changing political situation. At the moment, our creative work is greatly influenced by events in Belarus.
"Revolutionary events are incredible catalysts for social processes and reveal many human qualities that we rarely see in everyday life, such as courage, compassion, valour, betrayal, villainy. Each instance manifests real people and their stories, and very often those stories are Shakespearian in scale."
Despite leaving Belarus, life remains uncertain for the troupe. These are
resilient people, though, whose determination knows no bounds. So, I ask Khalezin, what's next for Belarus Free Theatre?
"We have a clear plan. Three brand-new theatre productions, two brand-new documentaries. We'll continue to stream performances for our audiences in Belarus, and much, much more. But it all depends on whether we can get the
necessary support.
"Right now we have our full ensemble, together with some of their family members, living outside their native country, which means serious financial
expense. But we focus, as ever, on survival and hope this situation will make us stronger than ever."
Dogs of Europe runs at the Barbican Theatre in London from March 10-12