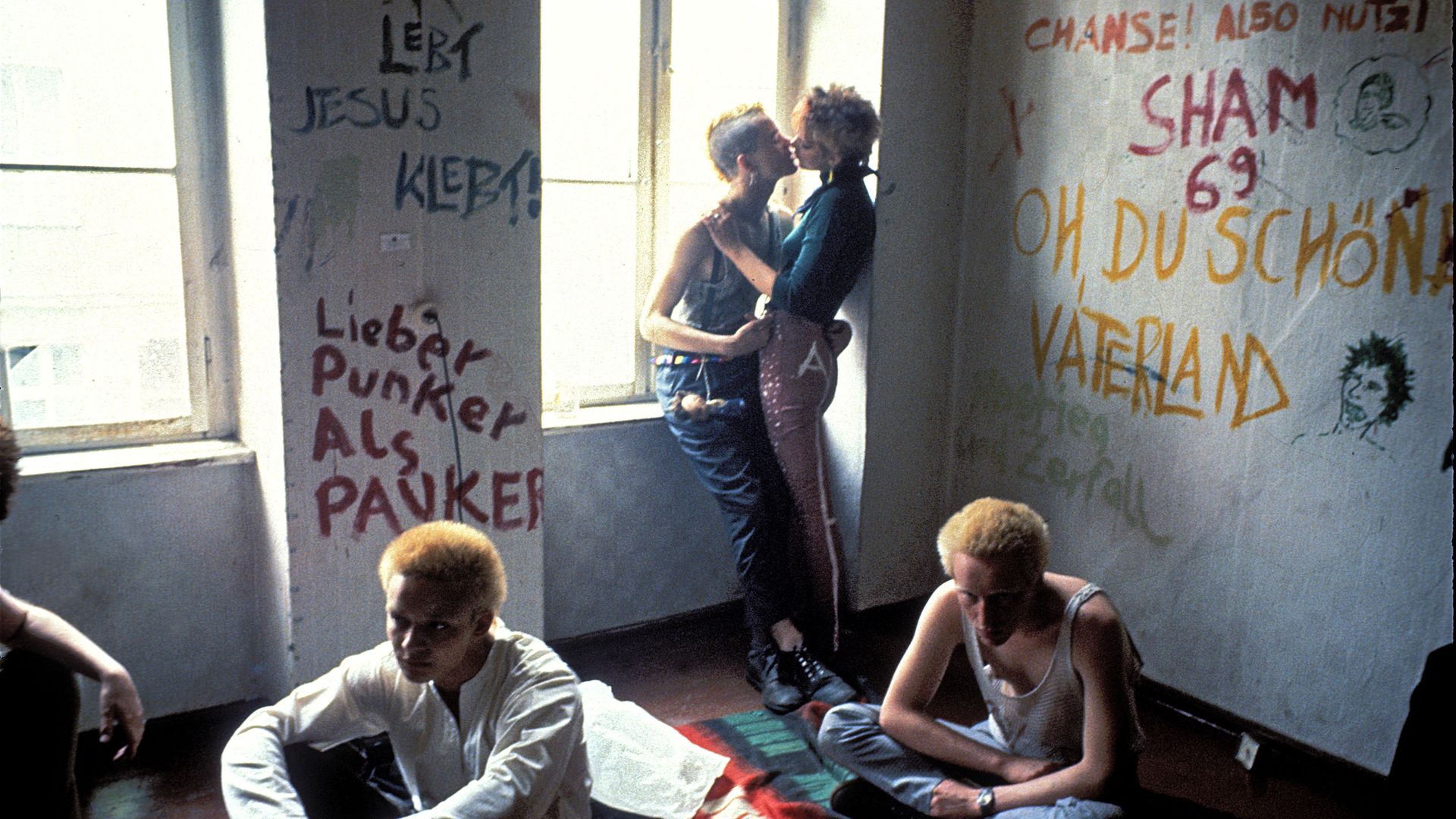 For many Europeans, Berlin represents the epicentre of youth culture: a beacon for outsider artists, for hedonistic partygoers, for punks, for ravers, for political dissenters, for the LGBTIQ* community. The alternative capital of Europe.
It's fitting then, that the Archiv der Jugendkulturen (Archive for Youth Cultures, AdJ) was founded here in 1997, gathering evidence of youth, pop and subcultural scenes from Berlin and beyond –  fanzines, flyers, badges, T-shirts, audio and video.
The library and archive was intended to fill a gap: With a few exceptions, despite Berlin's reputation as a city of youth culture and Germany's disparate young tribes, material from youth subcultures such as metal, techno, hip hop or graffiti was not commonly gathered by German state, municipal or university archives and libraries. 
This might have been that these scenes often did not have a particularly good reputation in the mainstream at that time – in the 1990s, for example, all skinheads were considered neo-Nazis, graffiti was usually only perceived as a form of damage to property, and the techno scene was mainly associated with drug use. Youth cultures were mainly perceived in the context of educational science or social work, but not so much as cultural and social phenomena with a value of their own. 
But that ignores the fact that youth cultures are a key part of political and social movements, often acting as a motor for social and cultural change. In the German context, one important starting point was 1955, when the movie Blackboard Jungle premiered in German cinemas and its title track, Bill Haley's Rock Around the Clock, popularised rock 'n' roll.
As also happened in Britain, German youth were ecstatic, while many grown-ups were appalled. A deep cultural and social change was set in motion and the success of modern pop culture was unstoppable from this point onwards. Influenced by this, young people began to create their own subcultures with specific tastes in music, fashion and style as alternatives to post-war German society. 
To raise awareness for the importance of these cultures, the AdJ was not only conceived as a carrier of an archive and a specialised library, but also as an educational institution that would organise exhibitions, workshops and lectures about youth cultures, then and now. 
Through the years, the AdJ has assembled one of the largest collections on youth, pop, sub- and club culture in Germany.  There are home-made and mainstream publications, clothing, stickers, posters, music and films, newspaper clippings and photographs and other clothing. Associations and individuals came forward with memorabilia, and we were also able to gather important material from the estates of now-departed scene activists.
The largest of these so far came from former PlanetCom manager Ralf Regitz, who died in 2011. It documents the first 15 years of the Berlin techno scene, spanning early Berlin techno clubs like UFO, Planet and E-Werk (including original club decoration from these clubs) to the Loveparade, which was organised by PlanetCom until 2003. 
Also focused on Berlin are the records of the former Berlin rock and pop archive (BRPA), which includes documents about Berlin bands, artists and venues beginning in the 1950s, as well as a large record collection.
There are also several large collections from the graffiti scene, including materials like photographs, magazines, stickers, black books and original artwork from graffiti artists like painted canvases or three-dimensional graffiti sculptures. 
A central part of the collection are underground publications from different scenes, especially (fan)zines. The association has the largest publicly accessible collection of zines in Germany with a total of more than 20,000 issues. 
The oldest originate from the German science fiction fan community and were published in the late 1950s. The largest number of zines come from the punk, hardcore and new wave scenes, beginning in the late 1970s – this part of the collection comprises around 8,000 individual issues from more than 50 countries (not only from European and North American countries, but also including individual issues from South American and South-East Asian countries) and shows that scenes can't be conceived as nationally confined cultures, but are transnational phenomena. 
Other scenes and contexts the AdJ owns significant numbers of zines from are gothic, alternative rock and pop, metal, skinheads, riot grrrl, comics, literature, skateboarding and football fans. There is also a collection of underground magazines from political movements like the squatters'  movement, the German youth centre movement, the right to the city movement or anti-fascist groups, all of which have close ties to youth and subcultures. And since the association tries to collect sources from a broad spectrum of possible manifestations of these scenes, it also has fanzines from right-wing radicals like neo-Nazi skinhead groups.
One important aim of the association is not only to preserve evidence of the more dominant currents within youth and subcultures, but also to document the activities of marginalized groups within scenes – girls and women, LGBTIQ* or people of colour.
Currently, the AdJ increasingly collecting zines from feminist and queer contexts. This field has probably produced the most zines recently, with publications discussing topics such as feminist self-defence or queer empowerment. Even though the number of printed zines – especially classic "fan-zines" with a focus on pop cultural fandom – has declined overall due to the spread of blogs and other social media, there still is a very productive and internationally networked community of zine-makers. 
Today, some zines can be understood as a kind of reaction to digitalization, as these zines act both as political medium and safe space. In the age of hate comments, people intentionally use DIY print media to communicate and express themselves without exposing themselves to the danger of online attacks. 
Besides collecting underground publications, the AdJ also collects sources from the mainstream of pop culture, especially German and international magazines about pop music and commercial teen magazines like BRAVO from West Germany, first published in 1956 and still in existence today.
Youth and subcultural phenomena are often discovered and commercially marketed by the culture industry in a very short time and the products of the culture industry are then again reappropriated by youth and subcultures. 
A clear separation between underground and mainstream is therefore seldom possible, as these two areas are always interdependent: BRAVO, for example, contributed to the popularization of rock'n'roll, punk or hip hop in Germany. Almost all scenes are therefore in a field of tension between popular culture and the "underground", a field of tension that can be expanded to include other dimensions such as avant-garde, art, fashion or so-called high culture. Another aspect is that scenes can be very different in their attitude towards mainstream and commercial interests. One example is the German techno scene of the 1990s. A significant part of this had no reservations about commercial interests and was open to cooperating with large companies.
This is obvious when it comes to magazines from this context: classic fanzines (in the sense of non-commercial underground publications) to be found in the archive's collection are limited to a handful of copies, the majority of the approximately 1,500 individual issues in the collection of techno magazines are advertising-financed free magazines.  An example of this type of publication was Frontpage, which was the best-known and most influential German techno magazine in the 1990s. In the mid-1990s, it was largely financed by the tobacco company R.J. Reynolds Tobacco – and had to be discontinued in 1997 after the company stopped sponsoring it.
However, there were and are always strong countermovements against this commercial orientation of parts of the scene, which already led to splits in the early 1990s.
Since the AdJ opened its doors, the general interest in youth, pop and subcultural topics has increased and scenes such as techno, punk or graffiti are taken more seriously by the sciences or established cultural and political institutions. Countless scientific papers are being written on sub- and pop-cultural topics, and the number of books and documentary films is constantly increasing. 
Museums such as the German Historical Museum, the Berlin Museum of Communication or the Berlin City Museum have featured exhibitions in which pop and subcultural topics figure. It's a positive development, but the museumisation of youth, pop and subculture brings its own dangers – the instrumentalisation of resistant cultures by established cultural institutions and the creation of false narratives, like rewriting transnational scenes like techno and punk as German cultural assets. 
And even though the AdJ benefits from an increasing interest in subcultures, is receiving support from established institutions such as the German Federal Archive and has become an important contact for academics, journalists and curators, it has to fight for its survival, like many other independent archives and libraries in Germany.
Most have sprung from protest movements such as the feminist movement, student movement, anti-fascist movement or the East-German oppositional movements, and like the AdJ, most rely on project funds, donations and membership fees. Some have established stable sources of income, but independent organisations tend to have a hard time because there is no proper funding structure for them in Germany.
So, like the subcultures it archives, the AdJ continues to work outside the mainstream as it safeguards the records of the many different movements that have built Berlin's reputation as Europe's youth capital.
For more about the Archive for Youth Cultures, visit  jugendkulturen.de