You might have thought it one of the scoops of the year – the allegation that when he was foreign secretary, Boris Johnson wanted to install his then-lover Carrie Symonds as his chief of staff on a salary of at least £100,000 a year, before senior colleagues made it clear that such a "flagrant abuse of ethics" would have been unacceptable.
Yet the story was turned down by one leading newspaper, then picked up and printed by another before disappearing altogether.
The Daily Mail was offered it, but turned it down, with the tipster being told it didn't accord with the newspaper's "general point of view". Rupert Murdoch's Times was next on the tipster's list. Their journalist, Simon Walters, was put on the story and he promptly identified four allies of Johnson who confirmed it to him.
The story got juicier still: Johnson was still married at the time to Marina Wheeler, but his staff became aware of his affair with  when he was caught with Symonds in his Commons office.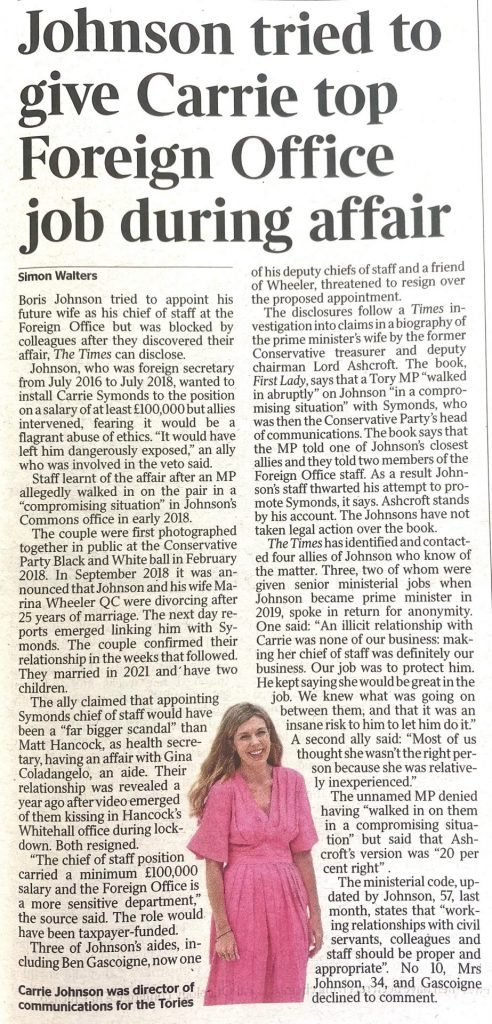 Walters quoted one of Johnson's senior foreign office staffers as saying: "An illicit relationship with Carrie was none of our business. Making her chief of staff was definitely our business. Our job was to protect him and we knew what was going on between them, and it would have been an insane risk to let him do it." Another staffer was quoted as saying that, apart from anything else, Symonds was "relatively inexperienced" and the feeling was she wasn't the "right person" for the job.
Walters stated that three of Johnson's aides – including Ben Gascoigne, now one of his deputy chiefs of staffs and a friend of Wheeler, threatened to resign over the proposed appointment. Walters got the story into the Times on page five. MailOnline, conscious that they couldn't ignore such a big story once it was out in the public domain, duly followed it up.
Johnson was in Kyiv when he heard that the story was about to break and quickly forgot all about his friend Volodymyr Zelensky's problems. He got his staff on the case and the story was dropped from later editions of today's Times and the story promptly disappeared, too, from MailOnline.
The ministerial code – which Johnson felt the need to update last month – states clearly that "working relationships with civil servants, colleagues and staff should be proper and appropriate."
Walters ended his piece by saying he had approached No 10, Mrs Johnson and Gascoigne, but all had "declined to comment".
If you value independent, fearless and honest journalism, you can help us do more of it by subscribing here.
Most popular