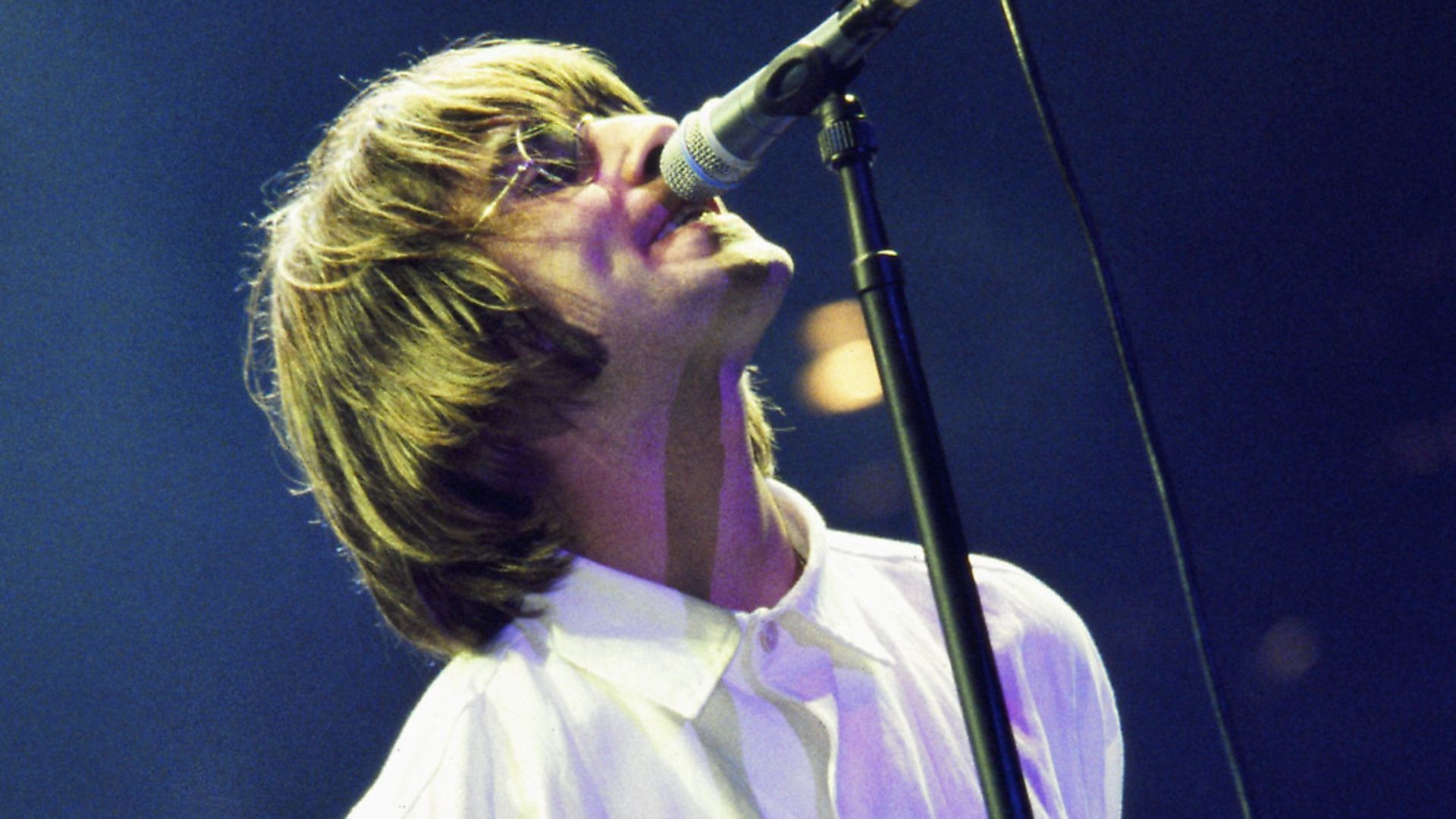 A self-confident Britain holds sway, with the Spice Girls and Oasis to the fore. SOPHIA DEBOICK reports.
Los del Río's Macarena was an unlikely smash hit, but it became the biggest single of 1996. The middle-aged Latin pop duo from Seville had been knocking about since the early 1960s, but when this rumba from an old album was remixed by Miami record producers, the Bayside Boys, the song – and its accompanying dance moves – swept the globe.
The single hit US No.1 in August and stayed there for a whopping 14 weeks. Like Frankenstein's monster, this record's power came from it being a composite of disparate parts, and as hypnotic vocals from The Farm's Higher and Higher, as remixed by house duo Farley and Heller, were joined by the much-sampled 'Moyet laugh' from Yazoo's Situation, this Spanish effort via Latino Miami wore very British colours. Indeed, even in the most unexpected places, Britain was the premier hit-making nation this year, and as Cool Britannia took hold, a new all-girl group took over the native charts and stood poised to take their home-grown sass to the world.
The Spice Girls were also a phenomenon that was far more than the sum of its parts, and they claimed the British summer of 1996 as entirely their own, ably keeping the Bayside Boys' uncontrollable creation off the top spot with their own collage-approach single. Wannabe – less a song, more a series of slogans that privileged personality over musicality – entered the chart at No.3 and sat at UK No.1 for seven weeks from late July.
It was the first of a record-breaking run of six No.1 singles, with Say You'll Be There and 2 Become 1, the Christmas chart-topper, following before the year was out. Wannabe would top the US chart in early 1997 and world domination followed – September's debut album, Spice, would go on to sell 31 million copies worldwide.
Like the early Beatles and their imitators, the Monkees, the Spice Girls' USP was their tongue-in-cheek sense of humour, but for a girl group, this made them unstoppable. Their apparent inability to take themselves seriously cut through their sexiness, making them relatable to a generation of girls whose other options were the implied seduction of boy bands or the turbo-charged sexual aggression of the likes of Madonna (Erotica was only just giving way to a cleaned-up image via Evita this year).
That their innate talent was questionable was of course of no consequence – they worked on force of personality alone – and although all five proved their ability to bother the top 10 as solo acts, nothing they did independently had the cultural penetration of what they achieved together.
The Spice Girls' assault on the charts was in defiance of the blokeish grip on record sales of Britpop. Still riding the wave from October 1995's (What's the Story) Morning Glory?, Oasis scored a second No.1 with Don't Look Back in Anger in March, and continued their epic tour of the album, playing huge open air gigs at Manchester City's Maine Road stadium in April, Loch Lomond in August, and crowning their year by playing to a quarter of a million people over two nights at Knebworth House, Hertfordshire, a week later.
Two and a half million people had applied for tickets, suggesting the arrogant bombast of their songs reflected the national mood, while the scale of the Knebworth concerts – a crew of 3,000, the biggest video wall ever constructed at that time, and full hospitality laid on for a guest list of thousands – represented a time of music industry extravagance now passed.
Albums from Sleeper, Lush, Space, Ash, Dodgy, Kula Shaker, Shed Seven, Babybird, Longpigs, Marion, The Bluetones, Ocean Colour Scene and Super Furry Animals made it a vintage year for Britpop, even if they made a shorter-lived impression than LPs from Suede, making a pop comeback with Coming Up, and the Manic Street Preachers, whose anthemic commercial smash Everything Must Go saw them go mainstream. Britpop names also found exposure through the release of Trainspotting in February. One of several notable Brit flicks that year, from Mike Leigh's multiple award-scooping Secrets & Lies, to adaptations of Jude the Obscure, Hamlet and Wind in the Willows, the drugs saga was that year's cornerstone of cool and was joined in the summer by a soundtrack album of unusual quality, featuring Primal Scream, Sleeper, New Order, Blur, Pulp and Elastica, among others, as Danny Boyle showed his fine-tuned feeling for using music to emote, later perfectly demonstrated in his Olympics opening ceremony.
Iggy Pop's Lust for Life was rediscovered and became ubiquitous thereafter, while Lou Reed's Perfect Day, Blur's Sing and Underworld's Born Slippy made for a trio of transcendent tunes that captured altered states of being.
All of this musical worthiness belied the fact that the Spice Girls' pop revival was supported by a vibrant array of British popular hits that year. Boyzone made a bigger hit of Words than the Bee Gees had managed in 1968, while Take That also covered a Gibb brothers song, as How Deep Is Your Love topped the chart before their split.
Robbie Williams, contractually obliged to hold off releasing solo material until the demise of his old band, had a No.2 hit with his Madchester-flavour cover of George Michael's Freedom. Michael himself made a comeback with the first No.1 of the year, the earnest Jesus to a Child, although follow-up Fastlove showed his pop sensibility was still strong.
Male solo acts did well for themselves as Babylon Zoo's Levi's ad-featured Spaceman spent five weeks at the top, and Peter Andre scored consecutive No.1s. The Prodigy's singles Breathe and Firestarter took big beat, techno and rave sounds to the top of the chart, and as Euro 96 gave the whole country a feel-good factor, Three Lions became the sing-along hit of the summer.
For the US's part, rap and hip hop was in the ascendant. The Fugees' The Score was a critical success and Killing Me Softly was an international smash. Debut albums from Jay-Z and Lil' Kim were joined by OutKast's breakthrough ATLiens.
Exactly two months after double A side How Do U Want It/ California Love topped the Billboard charts, and seven months after the release landmark double album All Eyez on Me, Tupac Shakur was fatally shot and became instantly transfigured as a legend. The wider hip hop influence could be heard on Beck's Odelay as he melded his lo-fi sound with the approach of Beastie Boys producers, the Dust Brothers. The Beastie Boys themselves, meanwhile, organised the first Free Tibet concert in San Francisco in June. Among the performers were Rage Against the Machine, whose rap metal LP Evil Empire courted controversy with its political polemic. For real controversy though, it was metal proper that triumphed, as Marilyn Manson released Antichrist Superstar and found his Dead to the World tour picketed by Christian protestors as the 'satanic panic' of the 1980s returned.
But even against the biggest American acts, the UK held its own in 1996. Alanis Morrisette's Jagged Little Pill had obscene commercial success, but Wannabe equalled the record of Ironic for making the highest entry on the Billboard Hot 100 for a debut act.
Jarvis Cocker's stage invasion at February's Brits, puncturing Michael Jackson's self-glorifying Jesus act, seemed symbolic of British invincibility against everything the US could offer.
Domestic strife during 1996 – royal divorces, the resumption of the IRA's bombing campaign, the horror of Dunblane, the BSE crisis, and England crashing out of the Euros via Gareth Southgate's infamous missed penalty – couldn't stop the feeling that Britain was on top of the world.
Cool Britannia would go lumbering on into 1997 to reach its peak, symbolised by that dress at the Spice Girls' Brits performance and Liam Gallagher and Patsy Kensit beneath Union Jack sheets on the cover of Vanity Fair. The Spice Girls' original reign took place in the atmosphere of optimism before the Labour general election victory – one later declared a false dawn by many, including one-time Downing Street guest, Noel Gallagher.
When they do their comeback tour of Britain in May and June next year, they will have the unenviable task – if Britain has left the EU as Theresa May plans – of trying to rediscover the confidence of times when a nebulous sense of future change made hope possible. The reality afterwards is always harder to bear.