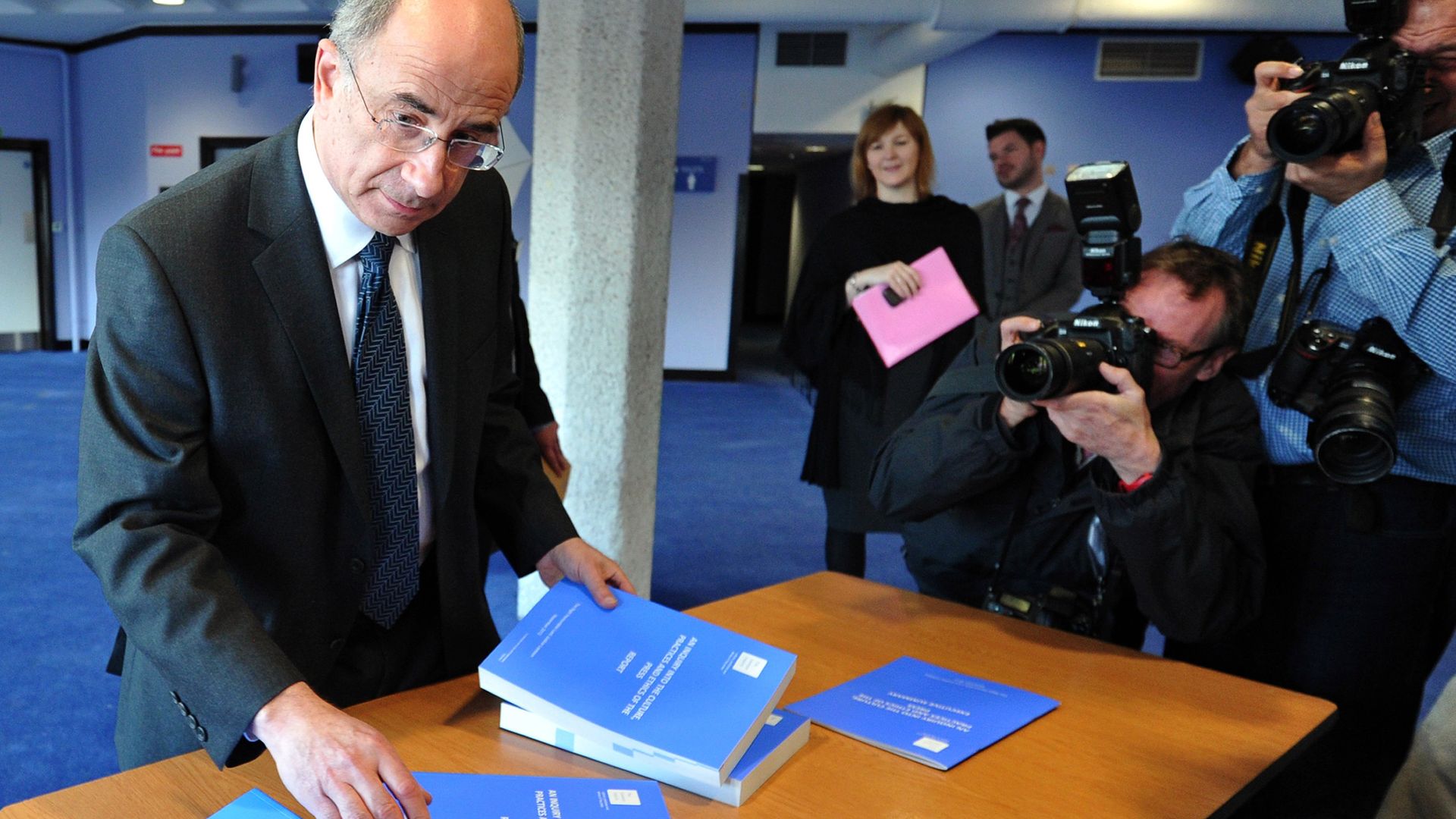 In these exclusive extracts from his diaries, ALASTAIR CAMPBELL describes the aftermath of the Leveson inquiry.
Thursday, November 29 
The Leveson report is published, saying the press should set up a tough new independent regulator, underpinned by statute. It found: no widespread corruption of police by the press; that politicians and press have been too close; and that press behaviour, at times, has been 'outrageous'
The media wall-to-wall with Leveson. I had a stack of bids and headed down to the QE2 [centre, in Westminster] to meet the Hacked Off people before Leveson was published. The core participants were in there reading it, and came out a bit disappointed, feeling that though he has called for statutory underpinning, there was enough in there for Cameron to wriggle out of.
I was surprised that Ed and Charlie both felt it was brilliant and that Cameron would find it impossible to turn down. They felt it was really clever, in that the statutory underpinning would be in part to guarantee free speech and self-regulation.
I went over to Millbank and did a round of interviews saying I could not understand why Cameron and Clegg could disagree. It was measured, sensible and proportionate and given he set up the inquiry, he could not really reject the main proposal immediately. But he did. I was in the 5 Live studio for his and Ed's responses and Cameron suddenly came out all man of principle against any statute – for the first time.
The Hacked Off press conference tone was disappointment and a sense of betrayal that Cameron had led them up the garden path. Did The One Show then motorbike taxi for Channel 4 News with Carl Bernstein [the celebrated American journalist known for his work on the Watergate scandal] down the line arguing against any role for the state. Ended the day feeling that because Cameron was a tit on the issue, the once in a lifetime opportunity to reform the press was not going to be taken.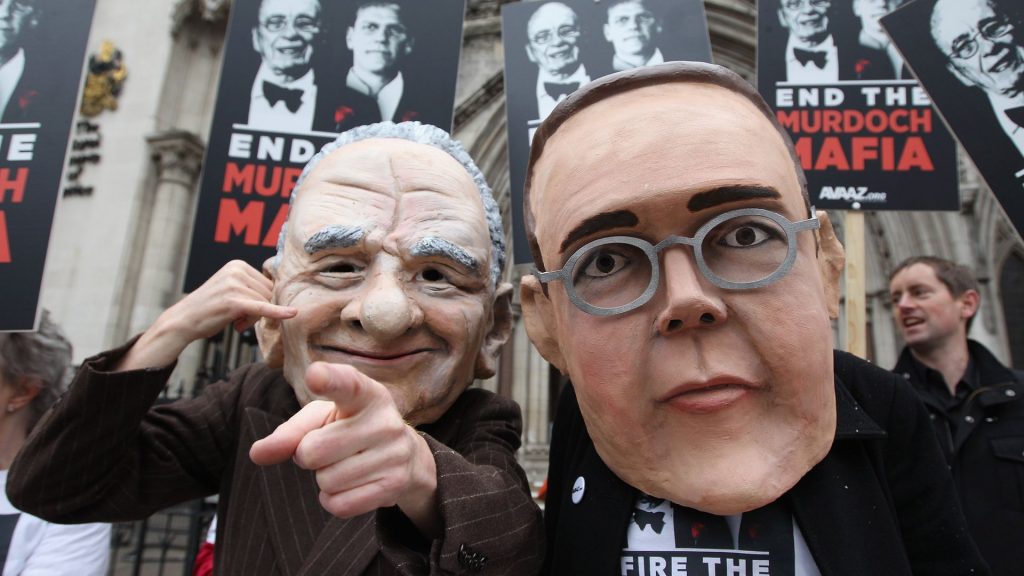 Friday, November 30
Still getting a lot of bids re. Leveson but decided to stick to a piece for the Guardian. [Lords] Hunt and [Guy] Black [former director PCC] were still out there talking up self-regulation and their role in it. Some of the victims were out criticising Cameron's speed in rejecting it. J. K. Rowling asked what was the point of her giving evidence? Gerry McCann [father of missing Madeleine] launched a petition to get all the party leaders to sign up.
Saturday, December 15
I did a blog on Gove based on the reaction last night, referring to [comedian and columnist] Frankie Boyle on the radio yesterday echoing one of my favourite lines – never confuse media opinion with public opinion. Not least because he is essentially the media's man in cabinet, as his outrageous undermining of the Leveson Inquiry showed, and because he is a journalist close to Rupert Murdoch, Gove tends to get a very good press.
But never forget that virtually all national newspapers editors, and a majority of the commentariat, use private schools for their own kids, and as a result not only know next to nothing about state schools, but have a vested interest in running them down. Gove is the same. Instead of supporting schools, he undermines. Instead of building up, he knocks down.
Monday, March 18, 2013
Woke to news that the main parties had done a deal on Leveson. Not helpful that Hacked Off were in the room till the early hours as the press would claim bias, but it did look like Cameron had caved because he knew he would lose the vote.
Ed called before leaving his house for a chat re. what he should say as he left, and how he should handle the statement in the House. No gloating, and don't just focus on the victims but what had happened before re. change of culture. The press continuing to mislead and distort and lie and exaggerate, as I said in a 5 Live debate with Neil Wallis.
Thursday,  November 14
Martin Moore of the Media Standards Trust [which had set up the Hacked Off campaign] sent through an analysis of IPSO [the Independent Press Standards Organisation, the body set up to replace the PCC following the Leveson report], showing how far it was from being Leveson-compliant, so I wrote a bit of that into the next Cambridge speech [Campbell was making a series of lectures at Cambridge University], including a prediction there would be a news blackout on it.
Went for dinner and there was a real Oxbridge t**t at the next table. Took me back. Chinless wonder. Loud and dim. Would be a bus driver if he was not from the pinkie-ring brigade.
Earlier popped into TB's office. Saw Catherine [Rimmer, TB's chief of staff] who said there were ever stronger rumours that Chilcot [the inquiry into the UK's role in the Iraq War, which launched in 2009 and was published in 2016] was going to go hard for TB. But they were still delaying because of the inability to publish the TB-[George W] Bush letters, and there were reports too – denied – that it was the White House who were preventing publication. Catherine said re. Murdoch that – privately – the divorce settlement was done [Murdoch and filed for divorce from Wendi Deng in June 2013]. They had a near-miss with the MoS at the weekend because they were going to run a story that TB was the cause of the divorce. TB had denied to her absolutely they ever had an affair.
Saturday, November 16
An OK reaction to Cambridge speeches. Needless to say zero coverage of Media Standards Trust analysis of IPSO not being Leveson-compliant.
Friday, November 29
The MoS were planning to do something on TB and Wendi Deng, and the buzz was that they had emails and texts that could be seen as incriminating. It turned out it was her saying to her shrink that she felt a real fondness for TB.
Monday, March 31, 2014
Lebedev [owner of the Evening Standard] party at his place in Portland Place. Tessa, Cameron, long chat with Vince Cable and his spad. Andrew Neil winding him up about the unnamed minister – thought to be [defence secretary] Hammond – who had said there could be a currency union. The papers had done stuff on Farage saying he admired Putin. Farage there and he seemed fine with it. Great laugh with Geordie Greig [Mail on Sunday editor] on how best to get rid of Dacre. He said that he hardly spoke to him. Also that when he left the Mail for Today as a reporter Dacre had accused him of unforgivable betrayal. Harriet H there and chatted re. Leveson. Ditto Hugh Grant. Kind of odd do.
Get a free, signed copy of Alastair Campbell's latest diary with the next 200 subscriptions to The New European. Sign up here from just £8 a month.
WHERE ARE THEY NOW?
TONY BLAIR
The former PM has made occasional interventions in public life over the past decade, including as part of the campaign against Brexit.
More recently, he has been vocal in the debate over how to tackle the coronavirus and was reportedly offering "strategic advice" to Matt Hancock.
REBEKAH BROOKS
Still serving as CEO of News UK, a position she took up in 2015, a year after she was cleared of all charges at the end of an Old Bailey trial prompted by the phone-hacking scandal.
DAVID CAMERON
Stepped down as prime minister in the immediate aftermath of the 2016 referendum, which he had called, and as an MP shortly after that. He then kept a low profile while writing his memoirs, which were released in September 2019, at the height of the parliamentary battle over Brexit. Reviewing them, Robert Harris said the timing was as if Stanley Baldwin "had published his memoirs at the height of the Blitz".
STEVE COOGAN
Revived his most famous creation, Alan Partridge, for a film in 2013. Still engaged in his campaign against sections of the UK media. Last week he claimed Piers Morgan was "symptomatic of the problem" with the tabloid press and criticised his "bullying behaviour" towards Meghan Markle.
ANDY COULSON
Works as a crisis strategy consultant having rebuilt his career after spending nearly five months in jail following his convicted for conspiracy to hack phones in 2014. He said he found prison life "profoundly depressing and mind-numbingly dull" and used his time helping fellow prisoners to get their CVs organised and doing mock job interviews with them.
PAUL DACRE
"Stepped down" as Daily Mail editor in 2018 and became chairman and editor-in-chief of Associated Newspapers. Repeatedly linked with the job of chairman of Ofcom.
HUGH GRANT
Starred as the villainous Phoenix Buchanan in Paddington 2 and as former Liberal leader Jeremy Thorpe in the BBC series A Very English Scandal. At the 2019 election he campaigned for tactical voting to stop a Conservative majority and to halt Brexit, and went canvassing with the Lib Dem candidate Luciana Berger.
GEORDIE GREIG
Now editor of the Daily Mail having taken over from Dacre. As editor of the Mail on Sunday he supported the UK remaining in the EU. He is credited with changing the tone of the Mail since replacing Dacre, who has publicly criticised him.
SIR BRIAN LEVESON
Retired as head of criminal justice and president of the Queen's Bench Division of the High Court in 2019. Later that year he was appointed as an Investigatory Powers Commissioner (IPC). In 2020 he was hired by clothes retailer Boohoo to oversee the overhaul of its supply chain, following allegations of poor working practices.
ED MILIBAND
Now shadow business minister. He resigned as Labour leader after defeat in the 2015 election and spent the Corbyn years as a backbencher.
PIERS MORGAN
After giving his testimony to the Leveson inquiry, Piers Morgan disappeared completely from the public eye and has rarely been heard of since.
RUPERT MURDOCH
Celebrated his 90th birthday this month, still leads his global empire, as executive chairman of News Corp, home to the Wall Street Journal, the Sun, the Times and the Australian, and co-chairman of Fox Corporation, broadcaster of Fox News as well as NFL games. Shows no signs of handing over power any time soon.