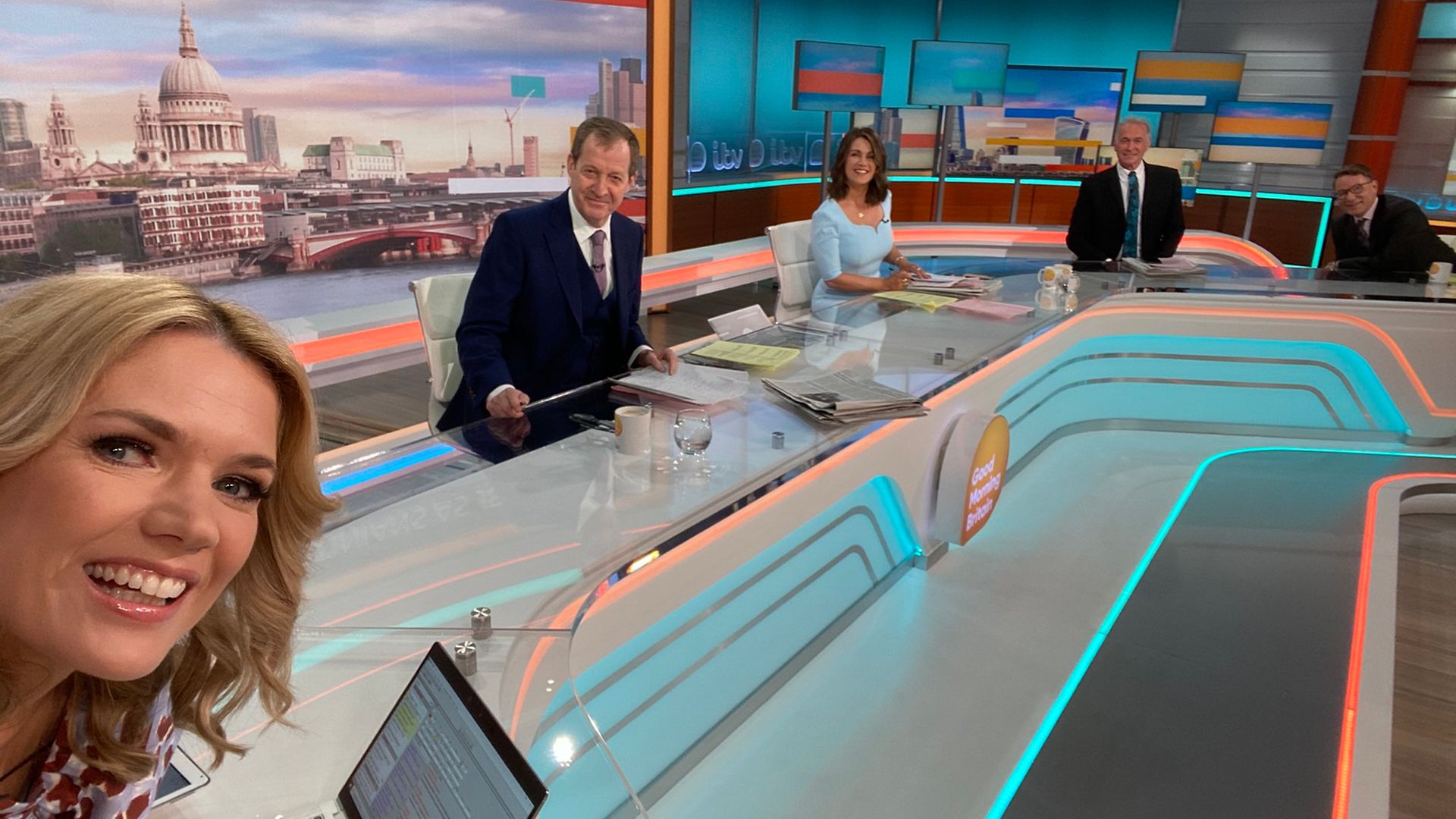 From his royal faux pas to his fury over the Queen's Speech, our editor-at-large Alastair Campbell on his week as a guest host on Good Morning Britain
The first thing ITV sent me, shortly after I agreed to guest present Good Morning Britain last week, was the Ofcom list of words you're not allowed to utter on breakfast TV. They must have worried I was going to go full Malcolm Tucker.
The swear words come in four categories: mild, medium, strong, strongest. Only three are included in 'strongest'; c-word, f-word, and the mother variant of the f-word.
F-word with an e rather than a u is deemed only to be medium, which struck me as borderline racist against the Irish, who often use fe** every bit as strongly as we use fu**. I was also surprised that arse was only mild, along with bloody, bugger and crap, not to mention minger and ginger! Nor can you say 'God' or 'Jesus Christ' unless you are actually talking about, er, God or Jesus Christ.
There was a word in the medium list I had never heard of, namely munter, deemed to be the same category as balls, bollocks, s**t and tits. I was surprised that dick and dickhead (I consider the latter to be less sweary than the former) were in the same section. Strong also had a new one on me – cl**ge – along with c**k, prick, b****r and t**t. How are we doing on the asterisks, editor?
The closest I got to uttering any of them – apart from when interviewing ministers on a Queen's Speech more noteworthy for what wasn't it than what was – followed my hearing the director's words in my earpiece: "Alastair, you just said the Queen was dead!" "Oh f**k,"'I thought, but held it in. I tried to concentrate on what interviewee Vinnie Jones was saying about the death of his wife Tanya, hence my reference to grief "following the recent death of the Queen" – and eventually said: "Vinnie I think I may have accidentally announced the death of the Queen. Of course I meant Prince Philip."
Thankfully he was amused in a way that Her Majesty might not have been. He also said I looked ten years younger than Piers Morgan. Piers is 56. I am 64 next week.
****
It is now close to 1450 days since Boris Johnson appeared on GMB, his avoidance strategy famously including fleeing into a fridge. It is not merely cowardly, but also in breach of three of the seven Nolan principles of public life – openness, accountability and leadership – that he refuses to subject himself to all but the absolute minimum of media questioning. The fact that he made a verbal promise to do the programme during the election breaks two more – honesty and integrity. That leaves objectivity and selflessness and he breaks those with every new lie and every free flat furnishing or helicopter ride.
However, as I pointed out to co-host Susanna Reid, it has done the Queen little harm that she has never done an interview apart from a horsey walk and talk with racing commentator Peter O'Sullevan decades ago. Susanna made the point though that we are seeing more of the Queen in a kind of interview mode because the Palace is releasing clips from online meetings. My highlight so far… when she was asked what astronaut Yuri Gagarin was like when she met him. "Russian." Good answer. Never use two words if one will do.
****
Take Back Control. Get Brexit Done. Build Back Better. Levelling Up. People's Priorities. This lot sure like their snappy three- and two-word slogans. The Queen's Speech showed however just how hard it is to turn snappy slogan into policy and law. People's priorities my arse, if I may use a mild word. Social care – more promises of action in the future. The promised post-Brexit employment Bill – nothing. The promised protection for Grenfell cladding type leaseholders – not important enough. Promised support for renters – nah. Promised efforts to heal the legacy of the troubles in Northern Ireland – too difficult.
Is there anyone outside the power grabbing Vote Leave cabal running the government who believes photo ID to vote, curbing judicial review and protest, changing the mayoral election voting system, and giving back control of general election timing to the PM alone are 'people's priorities'? They owe more to the politics of Putin and Orban than they do to Disraeli and Burke.
Johnson is a dangerous individual posing as a bumbling, cuddly celebrity. It's why I continually try to persuade journalists to stop calling him 'Boris', part of a shtick that has served him well as he has risen to the top.
Of the ministers we interviewed George Eustice was the most impressive in terms of fielding difficult questions. Matt Hancock is fine when at a podium telling us how to live and saying how well the government is doing when it's not, but gets quite peevish when anyone suggests things are not quite as they seem.
There was a lot of not as it seems in that Queen's Speech. As they defended their power grabs I was reminded of Madeleine Albright's book on fascism, which said that authoritarian leaders often justified authoritarian measures by giving them a stated intention opposite to the real one.
Voter ID is about dealing with electoral fraud, says the government. No. It is about stopping poorer people from voting. Change to judicial review is about stopping people abusing the system. No, it is seeking to bend law to politics. Former speaker John Bercow, who writes elsewhere in this week's New European, did not hold back, calling Johnson amoral, running through the PM's lies in the Commons in lawyer Peter Stefanovic's film, up to 17m views, and admitting he was now Labour not Tory.
When we chatted off air he had an interesting observation. "I can't decide if he is a populist authoritarian or an authoritarian populist. Either way people need to wake up."
****
"Fail to prepare and you're preparing to fail" – Benjamin Franklin. It is one of the motivational quotes on my office wall. If you follow me on Instagram you will know I was at the kitchen table before 4am to do my research and get my head in gear for the show.
The most enjoyable research was for with Goldie Hawn, the peg was mental health awareness week and her amazing global charity, Mind Up. But as I surfed on my computer I found myself watching There's a Girl in my Soup. It was my first ever 12-rated film – it came out when I was 12 – and led to my first experience of laughing so hard I slid from the cinema seat onto the floor.
She and Peter Sellers cavorting is the best mix I have ever seen of mildly arousing sexual tension mixed with pure comedic genius.
****
I was not immediately taken with the idea when the team asked if I could get Tony Blair as a guest. Would it not look a bit weird? They pointed out I had done him for GQ which hadn't come over as weird and I was due to interview him for the Hay Festival. So I asked him and he said yes, whilst admitting he was only doing it for me.
I don't think I have ever seen him quite so nervous before an interview as when he arrived on set. "Relax." I said. "We are going to start on your mullet, then whether you still have bad dreams about Gordon, whether you remember when we decided with Bill Clinton the Bulgarian foreign minister was the best looking politician in the world and then I'll ask you to name the Newcastle team that played Burnley in the 1974 FA Cup Final."
Though he knew I was joking I couldn't help notice him reaching for his phone and I am pretty sure his Google search record for last Wednesday will include 'Teams, Newcastle v Burnley 1974'. As for the interview I know I am a bit biased but he showed once more that he is still by far the best political communicator of modern times. I think the day's newsreader, Ranvir Singh, sitting to my right, agrees. As he spoke, I could hear a gentle purring sound behind me… "mmm, that's right … mmm, spot on … mmm…"
*****
Keir Starmer's media and communications strategy has been too small-c conservative for my tastes, so I was pleased to see the announcement that Piers Morgan's first major post-GMB foray will be an interview with the Labour leader for ITV's Life Stories. High risk, high reward, Keir!
Keir, my local MP, is actually not at all boring, yet that label is beginning to stick and will be harder to shift once it has. Rather like George W Bush, he is better in real life off camera than he is on TV or when performing. He has a great back story totally at odds with the 'Islington lawyer' attack from the Etonian Bullingdon Club charlatan. In any event, Keir doesn't even live in Islington, whereas Johnson did until he became foreign secretary.
Keir can be very charming when relaxed and has a nice smile we hardly ever see. He is a far nicer and better person than Johnson. But if he doesn't get a better narrative about himself and a clear direction for Labour soon both he and the party are in deep trouble.
The Life Stories interview is a great place to start with the former, but also to relate it to the policy and strategy landscape he hopes to shape for the latter. Most interviews do not matter. They come and go. This one matters because of the reach it can have into the homes of people who might not have politics as their main passion. 
****
When Ranvir and I were watching TB arrive into the studio during the ad break, I said the most worried I saw him ahead of an interview was when I persuaded him to do one with Des O'Connor in the mid-90s. It was so far out of the comfort zone for someone who can take on 'harder' interviews on Today, Newsnight or the World at One with ease. We really prepared for it. We made sure he landed real stories and talking points and many months later, people were still coming up to us on the campaign trail to talk about it. That rarely happens with the standard political interviews.
Last week in these pages I gave Keir my thoughts on the big picture. Here is my advice about dealing with Piers. He has to take it every bit as seriously as we took Des. Volume 1 of my diaries sets out the full story of just how nervous TB was. "Are you sure this is wise?" he asked dozens of times in the run-up, including as we arrived at the studios.
Keir needs to be himself, not trim on what he really believes. He needs to tell stories about childhood, parents, career, marriage and kids, funny events in his life. He needs to show warmth, character and values and relate them to why he is in politics, and how they are helping to shape the policies and strategies he hopes will take him to Number 10.
He needs to understand that his and Piers' interests are totally aligned. Piers is obsessed with ratings and media coverage. Keir needs to help him get them when they meet next week.
****
Lisa Nandy was the Labour frontbencher put up to explain what the hell was happening at the top of the party. Of all the interviews, it was the one where I felt most keenly, far more than with TB as it happens, the clash within me between presenter and political player. At one point I was literally on the verge of spinning into spin mode to say "Lisa, I get what you're trying to say but can I suggest you say it like this…"
As with the f-bomb and the Queen I held it in. But it is frustrating being a Labour supporter right now. And if Keir Starmer does not get a clear strategy and policy agenda to drown out the soap operatics PDQ, the Vote Leave power grabbers are in for some time. As I said to TB, this feels existential. I genuinely worry he could be the last Labour leader to win an election.
****
It is quite incredible how many newspapers file stories online even as GMB is being broadcast. My Queen gaffe went round the world judging by the messages I got from friends abroad. But they also get stories based on tweets from viewers… "Campbell slammed… Campbell attacked over…" and dozens out of body language. I lost count of how many "vicious spats" and "uncomfortable moments" I apparently had with Susanna.
She and the other female presenters have the additional issue of their hair and clothes coming in for massive scrutiny. It was bad enough getting in for 4.45am. She and Charlotte Hawkins had been in well before so as to look as viewers – and the ever watching media, notably Mail Online and their often vile commenters – expected them to. Charlotte's orange dress was my dress of the week. And I felt honoured that Susanna allowed me into her dressing room for the morning meeting, to see her in dressing gown and curlers. For the record, I wore a dark blue suit each day, a white Paul Smith shirt, one of Burnley manager Sean Dyche's claret and blue ties, and shoes with claret laces and a Burnley crest on the soles and the insides.
I can also reveal, if the guy who told me was keeping an accurate tally, that I mentioned Burnley a total of 27 times, and that Preston-supporting presenter Ranvir and I made history, the word "dingle" being used on the show for the first time. Check it out. Google Freddie Flintoff Burnley/Preston rivalry and it should come up. It should also be on the list Ofcom. Hey ho.
As I told DCMS minister Caroline Dinenage in a meeting on the Online Harms Bill, if the putrescence that is Paul Dacre is appointed head of Ofcom, then I really don't think I would be able to do an interview without using all three of the 'strongest' category. Vagina Monologue time.
P.s To the Mail "viewers switch off in droves" authors, you may want to know the ratings were higher on Tuesday than Monday, higher on Wednesday than Tuesday, and they have invited me back to do more. Now the news, travel and weather where you are…
Most popular