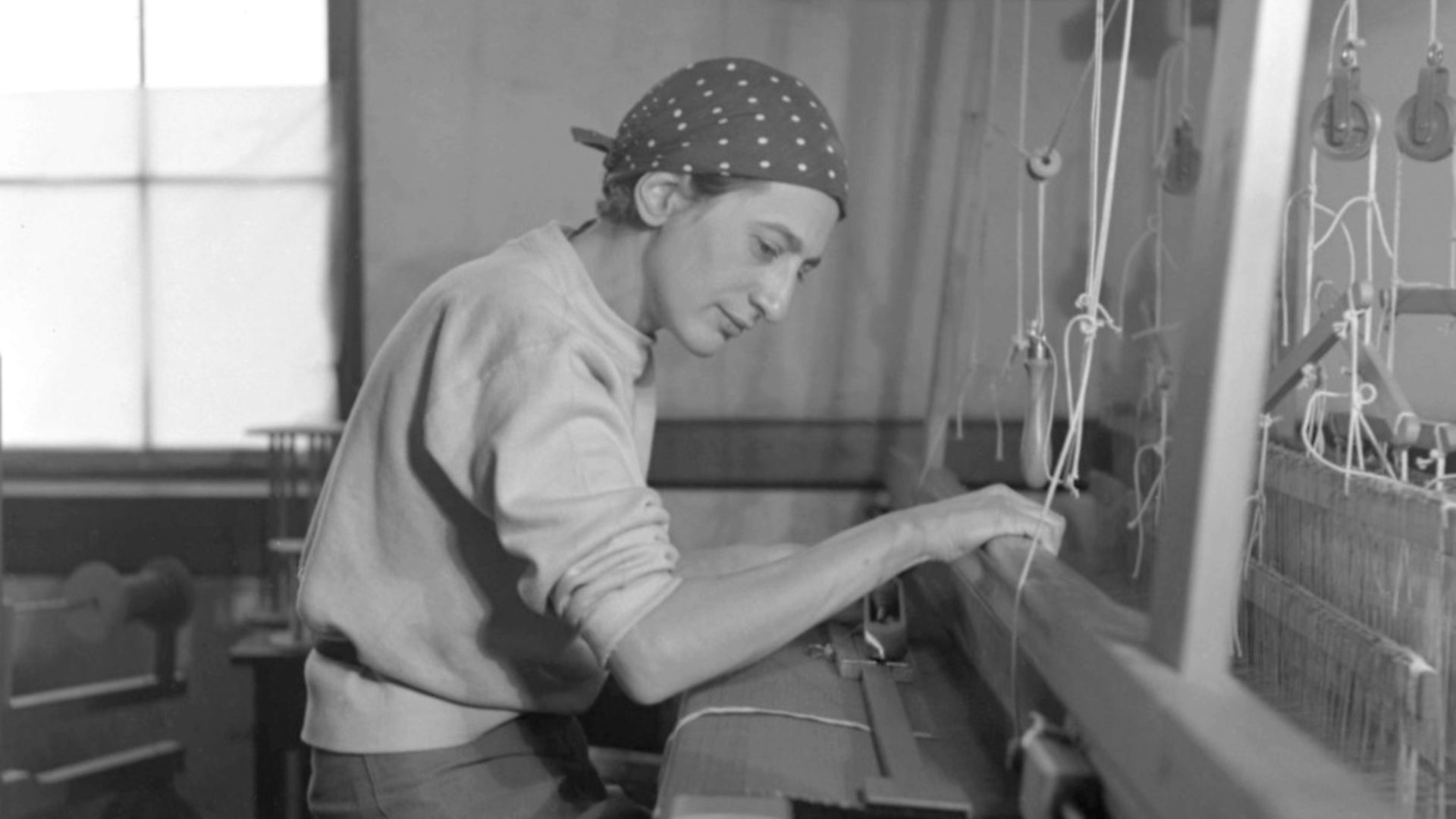 A new exhibition shows why the works of Anni Albers rank alongside the output of the greatest abstract expressionists. Claudia Pritchard reports
Under 'W' in the Encyclopedia Britannica of 1963 the long entry on weaving was written by an expert in that craft who made a point of attributing the greatest skill to people who had worked many centuries before and far away from her German birthplace.
'Practically all known methods of weaving had been employed in ancient Peru,' wrote the German-born artist Anni Albers, 'and also some types now discontinued.'
In the course of many visits to Peru and Mexico, Albers collected fragments of textiles dating back to as early as 500 AD. Some of these miracles of preservation are included in a show dedicated to the artist at Tate Modern, alongside scores of examples of her own work that are both influenced by ancient practitioners and strikingly modern.
From her formative years training at the Bauhaus in Weimar until into her 60s, Albers took the timeless elements of warp and weft and constructed with them not only functional textiles but also works of art intended to be hung as pictures. These powerful abstracts rank, in impact if not scale, with the abstract expressionists at work in her adopted home of America.
To traditional silk, wool and cotton she introduced unconventional materials – cellophane, Lurex metallic thread and man-made fibres such as rayon and acrylic.
Experimentation started early, maybe because she was a slightly reluctant arrival on the weaving course at the Bauhaus. This broad-minded institution expected students to study both an art and a practical craft, but even in this progressive institution there was a hierarchy that put fine art above craft. Among the teaching staff and of 
special influence on Albers was Paul Klee, whose intricate blocks of colour she echoed in yarn.
But the loom became the medium for her aesthetic ideas. An example of a loom such as she would have used stands sentry in the exhibition's first room, a great church organ of a beast, with its bench, pedals and uprights. And footage of the contemporary weaver Ismini Samanidou at the end of exhibition demonstrates the effort that goes into this laborious craft – and the clattering din that comes from it, so far removed from its often softly-spoken end product.
Albers was born Annelise Elsa Frieda Fleischmann to a wealthy family on June 12, 1899. At the Bauhaus she met art teacher Josef Albers, an artist 11 years her senior. They married in 1925, but their happy domestic and professional lives were interrupted by the reactionary clampdown of the Nazis. The Bauhaus was closed down in 1933, and husband and wife fled to America.
For her diploma piece, Anni Albers devised in 1929 an acoustically effective wall covering for the ADGB Trade Union School at Bernau, near Berlin. A length of this, re-made in 1999, reveals that the cotton and raffia on its visible side are shot through with cellophane that glistens, while on the reverse tufted yellow chenille soaks up the sound. The American architect Philip Johnson said this innovation alone was Anni Albers' passport to the United States.
At this time Albers was mastering and outwitting the structural rigour of the vertical and horizontal and enforced by the warp and weft of the loom. With ingenious use of colour she created illusions of depth, texture and colour changes, turning the limitation of perhaps only three colours to her advantage. So in Black White and Yellow it is lime green, formed by the black and yellow, that sings out. Josef Albers too was working on the influential colour theories that informed his Homage to the Square series in which shades advance or recede before the eye.
Anni and Josef settled in the liberal and forward-looking Black Mountain College in North Carolina, where both taught. Their new home made possible the 15 visits to travels to Peru and Mexico between 1935 and 1967, driving for days in search of imposing architecture with its distinctive geometry and buying locally-made crafts. Ancient forms of script were also absorbed into Albers designs that seem to write across the work. The word 'text' has its roots in the Latin textus, meaning 'woven', observes co-curator of the exhibition Maria Müller-Schareck.
The couple left Black Mountain College in 1950 when Josef went to head the department of design in New Haven, Connecticut. By now Anni Albers was producing pictorial weavings, her colour palette changing with the years from the early black white and red through earthier hues to vibrant green, peacock and lemon.
Dressing the loom – applying the vertical warp yarns – is time-consuming and exacting. If the same warp is used for more than one piece, variation can be introduced with the horizontal weft. A pair of weavings from 1952, Development in Rose, are thought to have been made on the same warp threads, but, subjected to different light levels over the years, the second remains rosier by far than the first. Finally Albers broke free of the grid altogether by introducing a second weft, free flowing motifs over the basic structure.
At the same time she was receiving commissions for essentially practical work. At Harvard Graduate Center she created a fabric room divider and chequered bedspread. For the Rockefeller Guest House in Manhattan, she devised hangings that were unobtrusive in daylight and which gleamed extravagantly at nighttime under artificial light. Perhaps the most flamboyant piece of all was in 1957 for the Jewish Temple Emanu-El in Dallas – eight 28ft-high panels in lustrous blue, green and gold.
Deeply affected by the plight of her fellow Jews – her fellow Bauhaus weaver Otti Berger had died in Auschwitz – in 1966-67 she created the dignified Six Prayers, long panels in which the solemn underlying black is slowly outdone by radiant gold.
In 1968 she made what she know to be he last weaving, naming it Epitaph. A congenital muscular disease that affected her hands and feet had made the intensely physical process so arduous that in 1970 she gave away her looms. From then on she designed for others, and this introduced her work to a wider audience through furniture company Knoll. Her 1974 design of parallelograms, Eclat, seen at the Tate in its six colourways, is still in production today.
She took to printing and after Josef's death in 1976 worked on for many years until her own death in 1994. She brought to this discipline her characteristic eye and meticulousness – and found the whole process less arduous by far than wrangling with the great looms.
'I find that, when the work is made with threads, it's considered a craft,' she said in an interview in 1985. 'When it's on paper, it's considered art…'
Anni Albers runs at Tate Modern until January 27