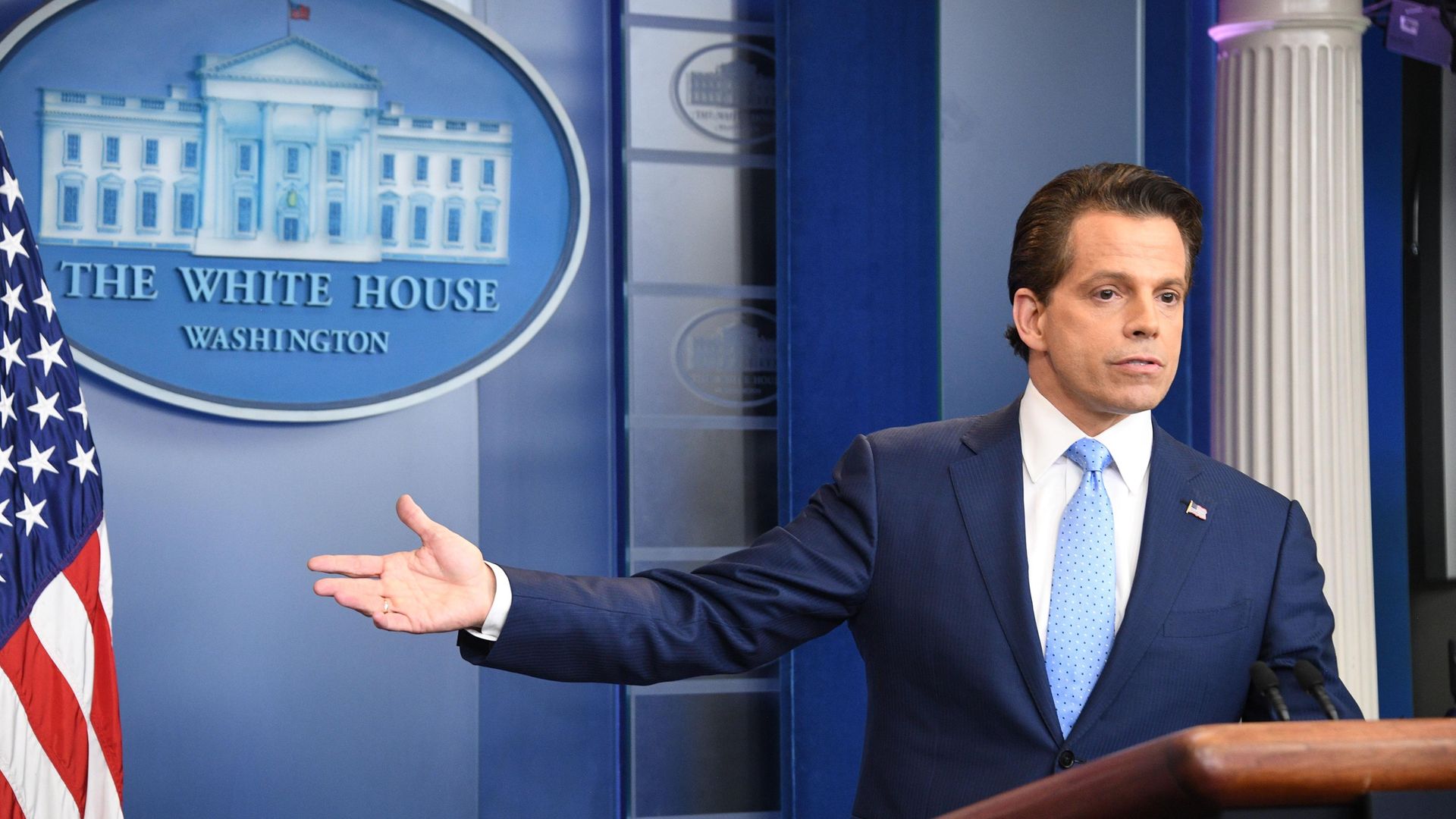 Anthony Scaramucci, former Trump aide turned foe, tells ALASTAIR CAMPBELL why Joe Biden does not want his predecessor in jail, and why the US might need an entirely new political party to repair the damage done by his former boss.
Working for Donald Trump in the first place almost cost Anthony Scaramucci his marriage. Turning on his boss after being fired from the White House has sparked death threats which are in the hands of the FBI. And yet … "How can I not be feeling great? Donald Trump is no longer president. If I helped swing even a few votes to that outcome, it was worth it."
When I spoke to Scaramucci before the election, he said one of Joe Biden's strengths was that he did not let Trump get inside his head. That same calm sense of self, he feels, means Biden has made "a great start".
"Things are calmer. He is doing things correctly, like a kind of anti-Trump, not out front and centre trying to control the news agenda, not a tweeter, but a professional with 47, 48 years career service, trying to do a good job, not overly ideological. People are just relieved."
Scaramucci, who several times calls Trump a sociopath or domestic terrorist, charges the ex-president with wilful negligence during the transition, when his focus was promoting false claims about a stolen election, not dealing with the pandemic. "He is malicious. He lost the election. He wanted to hurt the people for that and slowed down the vaccination mechanisms. Biden is doing a good job putting that right. Trump hated Anthony Fauci because he was so much smarter than him. Biden is letting real experts do their job, and leading."
Though American democratic systems just about worked Scaramucci, whose 57th birthday fell on the day of the January 6 insurrection, remains alarmed at just how close Trump got to succeeding. "If he had been more organised, and a couple of things gone his way… if [House minority leader] Kevin McCarthy – who is a traitor and a lowlife – had been speaker, if [Republican senators] Josh Hawley and Ted Cruz had been in positions of power, anything could have happened. Thankfully Trump is hopeless at organising anything… He was so manically insecure he could not have smart people near him."
Scaramucci has if anything even harsher words for Republicans who supported attempts to subvert the result. "McCarthy horrified me. He knows better because he is smart. He could have stood on principle and gravitas like Mitt Romney, who has 26 grandkids and wants to be able to look them in the eye.
"Kevin is so ambitious he will do literally anything to become speaker of the House. He is a year younger than me, and he looks 200… I mean, full disclosure, I've had a bit of Botox and my hair is authentically dyed Latin American dictator brown… I am admitting my weaknesses here, Campbell – but Cruz and Hawley are total opportunists! They thought they could ride the Trump train to 2024 but now they have a bear on their hands."
He asks me, an atheist, if I want to know why he believes in God. I do. "When I have my doubts about God I think of Steve Bannon. He is a brilliant guy, well-read, charismatic, intellectual, a seductive person when you listen to his voice, does a good job posing as anti-establishment when he is a full on cock of the establishment… but God made him so motherf**king ugly to save civilisation… I look at him and I say there has to be a God, because with a Bannon in Trump's position we have a real problem, because he is a smart guy. So that is my contribution to western civilisation thus far… as my suicide vest was going off I was reaching for that motherf**ker and he got blown out the door into Pennsylvania Avenue with me. General [John] Kelly [ex-Trump chief of staff] will always give me credit for that."
Bannon left the White House days after Scaramucci, in what a particularly chaotic period for the Trump presidency.
Scaramucci admits it was pure vanity that made him take the job as Trump's communications director, a post he held for 11 days before being sacked. "I created for myself a narrative, that I was a blue collar kid, I had never been close to real power, I could do something for the country, and it was too compelling, so I chose to overlook that he was a sociopath to feed my ego-based narrative. It was hubristic, wrong-minded, hurtful to me and my family.
"I was not smart enough to save myself, but the universe ejected me and saved me. I took my kicks, and it has made me more humble, but then I had to get up the stomach to go after Trump when it was clear he was planning to do something so malevolent against the country and the world."
When he first attacked Trump on air, over the "decent people on both sides" Charlottesville violence involving the far right in 2017, his former boss called him. "He said 'I wish you didn't say those things about me'. I said you cannot say nonsense like that." Again, his disgust for people like Ted Cruz kicks in. "Trump goes after Cruz's family, calls his wife ugly, and Cruz just lets him. Once he comes at me and my family, I'm after him with a hatchet."
Despite his full-throated support for Biden in the election, he remains at heart a Republican. "Biden has a radical flank he has to contend with at the same time as watching the radical right. He wants to be able to reach people who voted for Trump, and there is a risk his radical folks stop him doing that."
Scaramucci meanwhile, an entrepreneur by background, is exploring with fellow anti-Trump Republicans the possibility of setting up a new centre right party. "When Ross Perot stood the time Clinton won, the Republican-Democrat duopoly got together afterwards to make it it almost impossible to create a third party. But there are exhausted billionaires knocking on my door saying 'I am good for fifty million if you can break the Trump stranglehold and stop the right being a demagogic personality cult'."
Surely, I suggest, this nightmare only ends if Trump ends up in jail. "I know for a fact Biden does not want that," he says, "and he is right. Maybe he pays a big fine, or cops a plea to a felony that makes him unable to run for office, but I don't think it is a good idea to set a precedent of incoming presidents building a jail cell for the outgoing president."
As for his marriage… wife Deidre, who he says hates Trump "more than anyone apart from Melania", did file for divorce, but as Scaramucci versus Scaramucci opened in court on July 31, "I turn to my wife, I look at her right in the face, I say 'OK, I'm a f**ked up guy but you still love me, let's figure it out'. She starts crying, and the judge says 'go figure it out'. We went to counselling, also Tony Robbins [coach, motivational speaker] is a friend of mine, he calls and he says 'I am going to set you up with a life coach', then we went to see Tony and his wife Sage and we set to work on our marriage."
He's back running his business. His marriage is intact. And Trump is gone. Even as Scaramucci tells me his son Alexander's favourite tease – "The Republicans hate your guts because you attacked Trump. The Democrats hate your guts because you worked for him in the first place. EVERYONE HATES YOU!" – he does so with the relief of a man who had a brush with evil, but emerged much better known, much wiser, much more able to laugh at himself, and laugh even more at 'Donald J Loser Trump.'
The full interview can be heard on Alastair and Grace Campbell's podcast, Football, Feminism and Everything In Between, all usual platforms
What do you think? Have your say on this and more by emailing letters@theneweuropean.co.uk