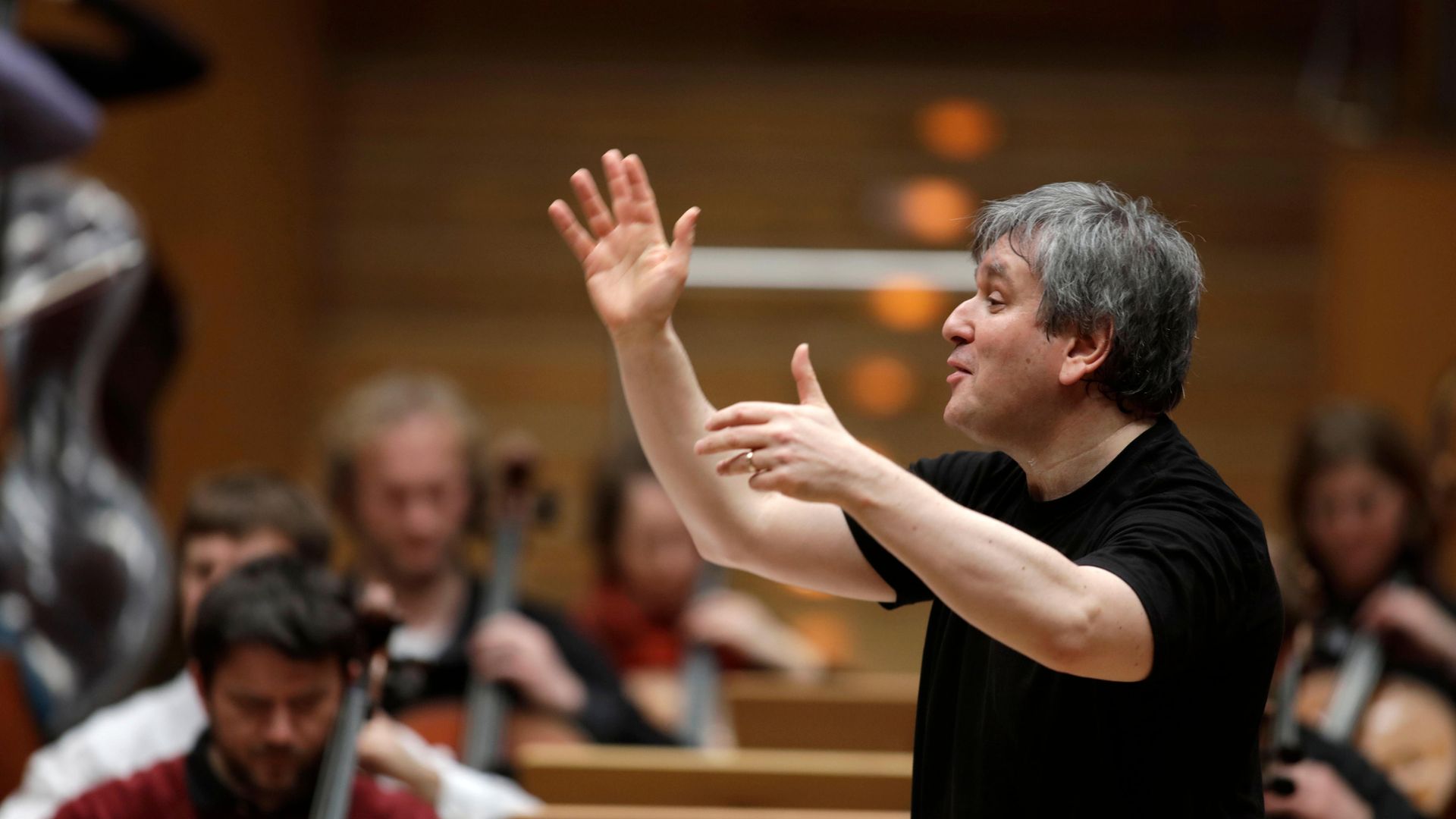 Will the loss of Simon Rattle be London's musical gain?
UK music critics have been gnashing their teeth at the news that Simon Rattle will leave the music directorship of the London Symphony Orchestra and beetle off to Bavaria. Heading to Germany to flee underfunding in the homeland is a tradition for money-conscious European musicians, including the late French composer-maestro Pierre Boulez.
Rattle has popped back and forth from music directorships in Berlin, London, and Munich with dizzying speed for someone who claimed upon accepting the LSO appointment in March 2015 that it would be his "last big job".
Fretting over whether cancelled plans for a new concert hall might have scared Sir Simon away, the Guardian adopted a Mrs Miniver tone of gallantry in February, with a consoling statement redolent of the Blitz spirit: "We will survive."
In fact, London's symphonic scene may well do much better than mere survival. Rattle will be replaced as LSO music director by Antonio Pappano, who has more than proven his abilities as music director at the Royal Opera House, Covent Garden since 2002.
Underrating Pappano has been a longtime occupation of UK critics, although in recent years he has focused increasingly on the symphonic repertoire while continuing to win plaudits as the longest-serving music director in Covent Garden's history.
Perhaps because of this dual preoccupation, his symphony concerts have expressed vocal and dramatic urgency, as heard in no-nonsense performances with the LSO of Vaughan Williams symphonies.
Released on the LSO Live label, these renditions join another LSO CD of Pappano leading the tenth symphonies of UK contemporary composers Peter Maxwell Davies and Andrzej Panufnik.
Pappano, born in Epping, Essex, somehow manages to identify with the Warsaw-born Panufnik's modernist idiom and offers a structurally more confident and lyrical reading than rival performances by astringent Teutonic new music specialists.
In recent music, Pappano's heartful lyric instinct is a spoonful of sugar that helps the medicine go down, just as his sincere, direct public statements are in distinct contrast with Simon Rattle's typically ironic, flippant press interviews.
The gracefully singing musical lines Pappano achieves through mutual cooperation with orchestras includes even once-distinguished ensembles such as the Concertgebouw, which has produced some rough-sounding recordings under recent leadership.
In a March broadcast concert with the Concertgebouw of music by Schumann and Beethoven, Pappano and the orchestra were decidedly on form, despite an uncharacteristically wan performance by the pianist Igor Levit, apparently suffering from a pandemic hangover.
Such obstacles clearly do not deter Pappano, who has a way of finding logic and intelligent structure even in Romantic fustian, another legacy of his years with opera.
Last year Pappano led the Royal College of Music orchestra in a performance of the hoary Saint-Saëns Symphony no 3 (Organ Symphony). As one might have hoped from a student ensemble, this was a sprightly and youthful reading, free of oppressive French cathedral doldrums.
But then, in past recordings Pappano has found intellectual coherence and validity even in such hackneyed works as the Anvil Chorus from Verdi's Il Trovatore.
And as an orchestra builder, Pappano has managed to revivify groups that were comparably old hat, like the Orchestra of the Academy of Santa Cecilia, Rome, of which he has been music director since 2005.
At the London Proms in 2013, he conducted the Santa Cecilia musicians in Rachmaninov's Second Symphony, in which an Italianate aura prevailed. By contrast, in 2018 when he performed the same work with the Staatskapelle Dresden, a German ensemble, a starker, more northern ambiance was created.
Italianità was certainly evident in a 2012 version of Elgar's First Symphony with the Santa Cecilia musicians, available on ICA Classics, and the same group's Mozart Haffner Symphony has nothing of the anemia of purported original instrument accuracy; instead, this is full-hearted Mozart in the tradition of the Hungarian maestro Sándor Végh.
Not everything Pappano conducts is equally memorable. A 2017 rendition of Sibelius's Oceanides with the LSO might have benefited from more Nordic secrecy and thorniness, as opposed to a candid, heart-on-sleeve approach.
Similarly, Pappano's gusto in music-making lacks the desiccation ideally needed for interpretations of the ethereal, ultra-Parisian wanderings of Lili Boulanger's Spring Morning, which he performed with the RCM Symphony Orchestra last August.
Yet the sheer range of musical opportunities that Pappano has carefully opened for himself in recent years says much for his brilliance at career-building, doubtless assisted by sage advice from his wife Pamela Bullock, a renowned American vocal coach.
His timing for taking on the LSO in 2024 is perfection itself; post-Brexit casting of operas will be a nightmarish impossibility due to ongoing visa impediments against essential last-minute replacement singers.
Singing ensembles will suffer, just as stringently cut budgets will reduce the range of works staged at Covent Garden. Although not without financial risk, new or unfamiliar orchestral works necessarily cost less than putting an opera onstage.
No matter how tough the going gets in the UK, Pappano is unlikely to scarper. He plainly loves Italy, the land of his ancestors, but musical life is sure to be even rougher over there.
As someone who has triumphed over the British class system, emerging from a council flat in Victoria, London, Pappano will remain to relish his victory. Instead of the usual path of winning conducting competitions or attracting agents merely by being photogenic, Pappano advanced through talent so obvious that a wide range of listeners were obliged to acknowledge it.
A quarter-century ago, on a BBC Music Matters broadcast just before Pappano's arrival at Covent Garden, I told a politely skeptical Humphrey Burton that UK music audiences would soon have cause to be ever-grateful that Pappano was not diverted in his career path by other opportunities.
As his music directorship of the LSO approaches, I can only offer a similar suggestion, that the loss of Simon Rattle may be an opportunity for a golden era in LSO music-making, perhaps the best since the glory days 60 years ago of the venerable Frenchman Pierre Monteux.
What do you think? Have your say on this and more by emailing letters@theneweuropean.co.uk
Most popular