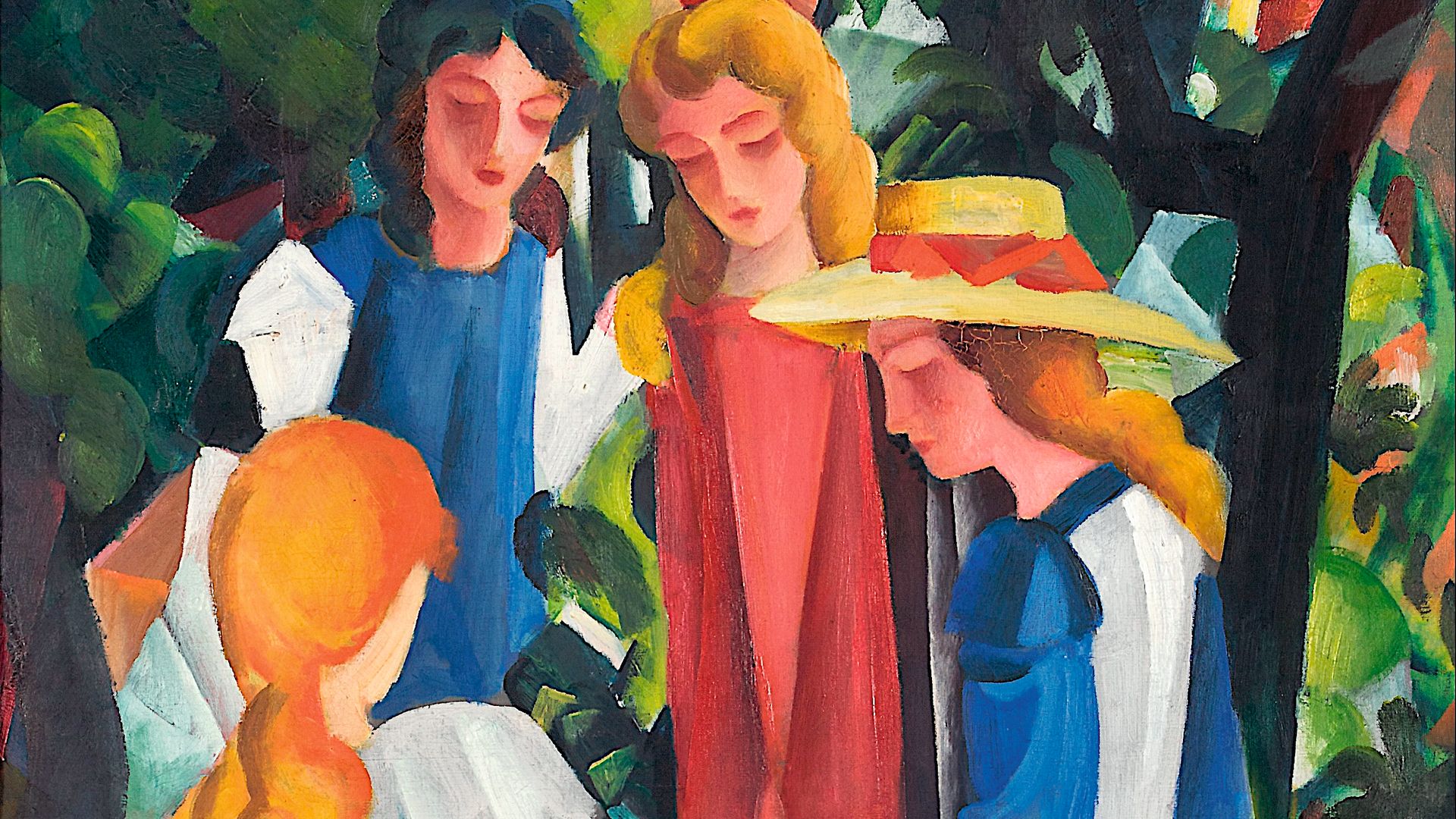 A fascinating new book focuses on the works of artists who died under the age of 30. Some are households name, but many more are those who would have been if only their lives had not been cut so tragically short
The heavy thump of another coffee table art tome being delivered by the postie can evoke groans – and not just from Royal Mail's delivery workers. Many of these behemoths are designed to be displayed rather than read, chic decorations as favoured by high end house-and-garden magazines.
And then the occasional effort arrives that actually demands hours spent on the sofa studying both the images included and reading the text.
Such an effort is Desperately Young: Artists Who Died In Their Twenties. Admittedly, the title made me – initially – wince. Was this, I pondered, yet another homage
to the live-fast-die-young cult? The '27 Club' – a grim list of music icons who have died at this age (from Robert Johnson and Brian Jones to Kurt Cobain and Amy Winehouse) – has attracted feverish attention in recent years.
Although the British appetite for young, dead creatives has likely existed ever since Thomas Chatterton and John Keats became icons for Victorian romantics.
Desperately Young, with its cover image of Egon Schiele's Self-Portrait with Chinese Lantern Plant, initially appears to be playing to this audience: all gaunt cheekbones,
Schiele's self portrait resembles many a wasted rock icon (imagine a less brutish Sid Vicious. Or Pete Doherty without the gormless, smack-addled posturing).
But, hey, a book needs to find an audience and Schiele will certainly attract eyeballs. Indeed, for browsers who are only interested in the hot-and-the-dead there are a handful of artists here who will satisfy, most notably Jean-Michel Basquiat (dead from a heroin overdose aged 27 and thus the Chatterton of our age – his 1982 painting of a skull Untitled sold for $110.5 million in 2017, setting a new record for a price paid for an American artist).
Not quite so lauded but surely more artistically notable are Henri Gaudier-Brzeska (aged 23) and Aubrey Beardsley (25) and, for those who still pay attention to Renaissance arts, Masaccio (26).
Indeed, the authors' – Angela S. Jones and her father Vern G. Swanson – note of Tommaso di Giovanni de Simone (Masaccio was his "tag") being "the most superlative artist discussed in this book" whose influence across the early and High Renaissance means he impacted "the entire subsequent course of Western painting".
What makes Desperately Young an engaging read is the artists' discussed: 109 in total, most of whom aren't household names, from Europe, USA, Australia, Japan (Latin
America, Asia, Africa and Polynesia get short shrift).
Jones/Swanson run the chronological age gamut (19-29) with each artist portrayed by a single work and brief, incisive biography. Beyond the iconic figures I recognised only Charlotte Salomon (the German Jewish artist who had had no opportunity to even exhibit before she was murdered in Auschwitz aged 26) brought to my attention by a New European feature that coincided with an excellent 2019 exhibition at London's Jewish Museum.
Its a testimony to Desperately Young's worth that I was often engaged by remarkable talents I knew absolutely nothing about.
The biographies never glamourise, instead offering insights to several remarkable individuals while historic events (primarily war) weigh heavily on the pages. Amongst the previously unknown (to me) included here are the following talents…
Nikifor Stepanovich Krylov began as a poor village icon painter but his talent found patrons bringing him to St Petersburg. Here he developed into a hugely promising painter until consumption killed him in 1831, aged 28 or 29.
John S. Jameson was a promising New York landscape painter who fought for the Union during the US Civil War. The 22-year old Jameson was captured in 1864 and sent to the infamous Andersonville stockade in Georgia where he and more than 13,000 Union prisoners died (28% of the prison populace) due to brutal mistreatment. His painting Grazing Sheep at Headwaters of a Stream sold for $250,000 at an auction in 2018.
Maurycy Gottlieb was a master of monumental paintings of Poland's Jews but pneumonia (or, possibly, suicide) swept the 23-year old tyro away in 1879.
Katia Murayama was a pioneering Japanese modernist painter and writer who died of TB aged 22 in 1919.
Everett Ruess appears to have been a proto-Kerouac, wandering across the rural US in his teens, penning poems and reports on his travels, writing "I prefer the saddle to the streetcar and the star-sprinkled sky to a roof" while also finding time to make impressive drawings, prints and watercolours. He vanished after leaving Hole-in-the-Rock Trail in Utah in November 1934, aged 20, his burros being found alive (some believe Ruess was murdered by a rancher).
Bob Thompson was a noted African American painter who, shades of Basquiat, died of a heroin overdose in 1966 aged 28.
More recently, Belgium's Ilse D'Hollander created sublime colour field landscapes before taking her own life aged 28 in 1997.
Desperately Young ensured I determined to learn more about the aforementioned artists and their art. As many featured here exist only in the margins of art history, I wondered how the authors' came upon them and what inspired a book that celebrates these brief lives. Thus I contacted Angela S. Jones in Dallas, Texas.
"Really the desire to understand how these artists could reach such a level of proficiency, and in some cases genius, in such a short life span was a major motivation for writing the book. We are in constant awe at artists like Fyodor A. Vasilyev (1850-1873) who gifted so much to artistic culture in only 23 years of life. Once we recognised that there was a rather large group of artists that fell into this category of genius-cut-short, we began to formulate the plan for a book. Being art historians, my father and I have spent a lot of time together visiting museums, galleries, auctions, and libraries through the years."
TB is the number one killer here. Suicide and war claim near equal numbers, with the First World War being a charnel house for Europe's young modernists: Henri Gaudier-Brzeska, August Macke, Hermann Stenner, Brian Hatton and Antonio Sant'Elia all feature here (while such fatalities as Franz Marc are absent due to dying in their thirties).
While the Second World War was far more destructive in terms of body count, I wondered as to why it was the earlier conflict that is forever seen as the reaper of artists.
"Europe by the turn of the century (1890-1915) was experiencing the moving from the Renaissance paradigm to the Modernist Paradigm," says Jones. "This was done by the younger artists of course, those of military age.
"So art history has plucked these artists to idolise and not the myriads of Soviet artists who died during the Second World War – because those artists, for the most part, were not harbingers of the avant-garde future they receive less recognition.
"In this question, it comes down to 'who' was killed in first war as compared to the second, rather than numbers: Franz Marc and August Macke's studios by the end of the war were already being 'discovered'."
Alongside Charlotte Salomon, Desperately Young does highlight a remarkable array of women artists who died too soon: Lucia Anguissola, whose death at the age of 28 in 1565 marks her as one of the first women to enter art history; Elisabetta Sirani, a Bolognese baroque painter, died aged 27 in 1665 and, the authors suggest, was "after Artemisia Gentileschi probably the strongest female artist of her time in Europe"; Marie Konstantinovna Bashkirtseff was a Ukrainian/French painter who exhibited at four Paris Salons before TB ended her life in 1884 aged 25; Jeanne Hebuterne has entered art history previously as a tragic footnote to Modigliani's story – she was his muse/partner who, aged 21, threw herself from a fifth-floor apartment window just 40 hours after his death in 1920 – but here Swanson/Jones argue she was a gifted painter in her own right; while Pauline Boty, 28 when cancer carried her away in 1966, has recently been celebrated as a pioneering British pop artist.
"We were focused on helping bring them to light," says Jones. I mention how the likes of Eva Hesse and Philip Clairmont (both 34) aren't here but rank amongst many gifted artists who died before they fulfilled their huge potential and Jones agrees. "Some even greater artists died in their 30s. At some time in the future, we would
like to do this second book on them: Raphael, Caravaggio, Keith Haring, and Van Gogh doesn't make a bad book either!"
Beyond discovering overlooked artists I wondered what Jones had taken away from the more than a decade she and Swanson spent working on the book? "Personally, researching and writing the book reaffirmed that life is precious. If you want to leave your mark or do something positive, do it now. Make the moments count. These
artists certainly did."
Desperately Young: Artists Who Died in Their Twenties is published by ACC Art Books
Most popular