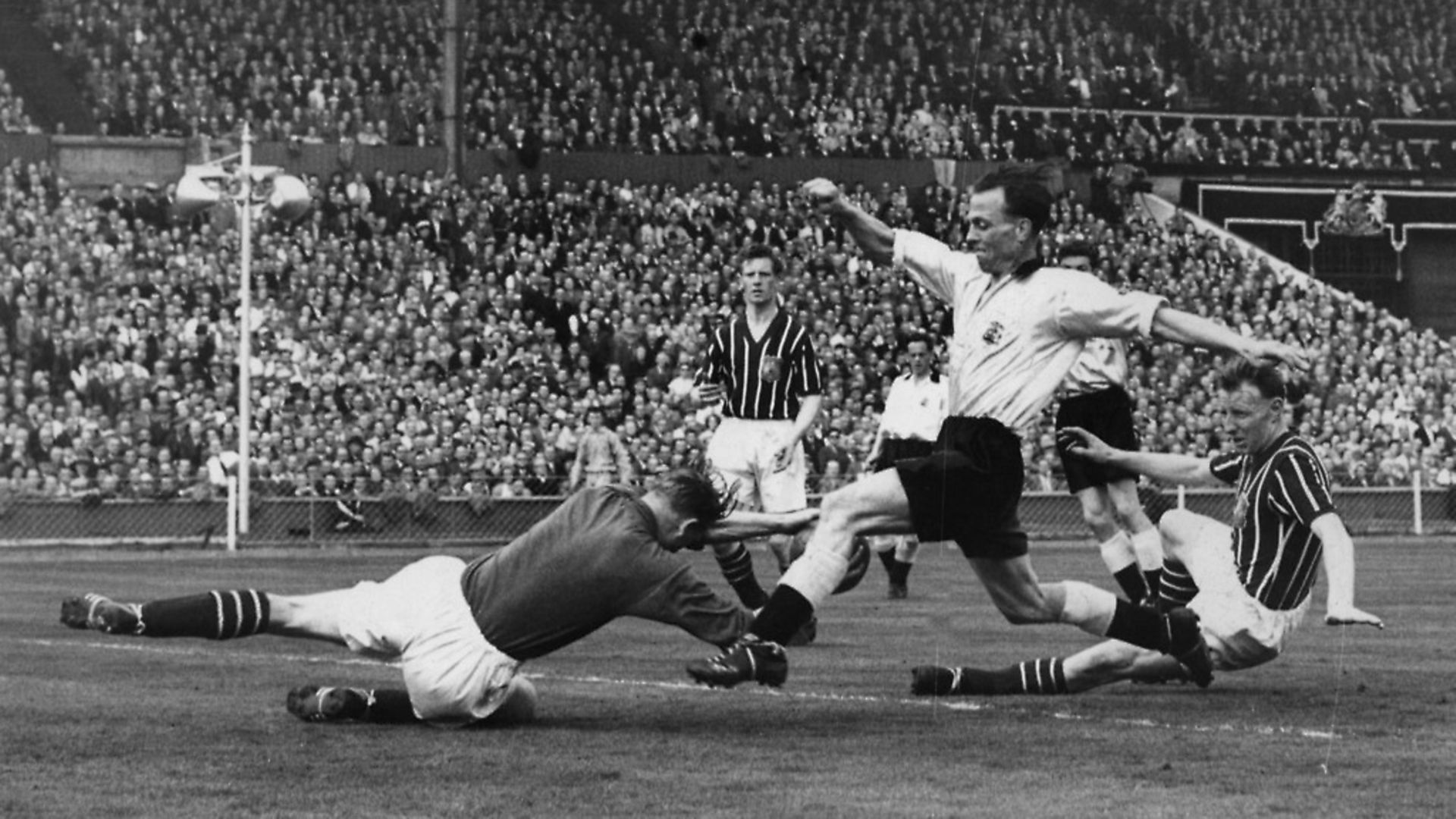 JASON SOLOMONS on a new film about the remarkable life of Bert Trautmann, the former German paratrooper who became a British hero.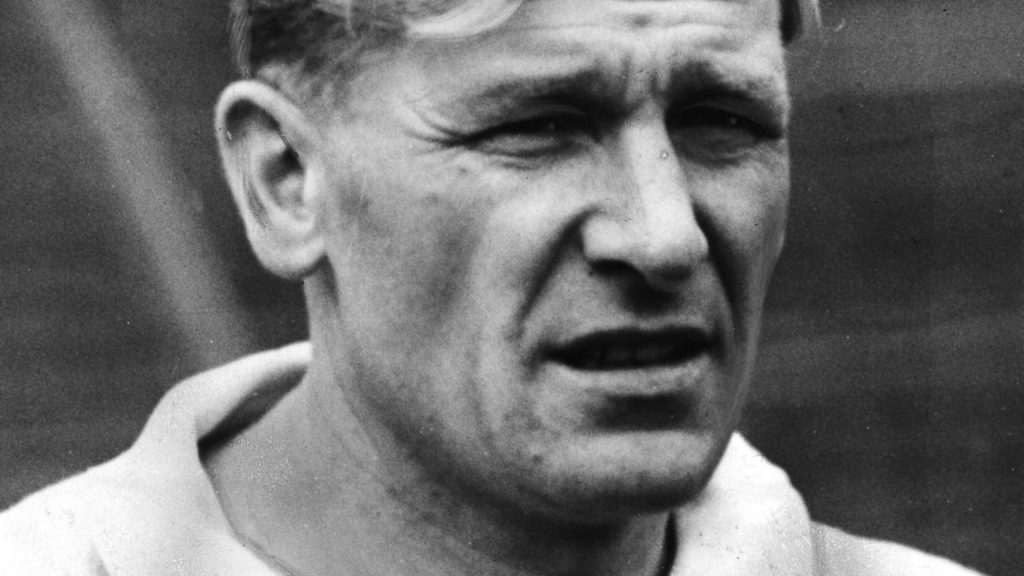 If you've heard of Bert Trautmann, it's perhaps more as the answer to a football trivia question than as a real person.
He was the Manchester City goalkeeper who broke his neck during the FA Cup final but played on and won the game.
That was in 1956, when City beat Birmingham 3-1 at Wembley, thanks to Trautmann's saves, particularly during the last 17 minutes after he'd crunched his neck with a typically brave bit of keeping, diving at the feet of striker Peter 'Spud' Murphy.
Not that, as Trautmann often admitted afterwards, he remembered much of those final minutes himself. Presenting him with his winner's medal, Prince Philip even remarked that Trautmann's neck was looking a little crooked. Many years later, that save was voted the greatest ever in an FA Cup final.
Bert is now the subject of a new film, fittingly a German-British co-production, starring young German actor David Kross (an apt name, in a way), Freya Mavor, John Henshaw, Gary Lewis, Dervla Kirwan, Harry Melling and Dave Johns. Here in the UK it's called The Keeper; in Germany, it's known simply as Trautmann.
'He is actually much less known in Germany than in England,' says the film's German director Marcus Rosenmuller. 'He became forgotten so this film is the chance to make his name famous again.'
Manchester City fans will need no reminding of the name, however. For all the Premier League champions' new wealth and success, he is still considered one of their greatest players, notching up more than 500 appearances for them in 15 years at the club between 1949 and 1964. But, as the new film reveals, his life was far more interesting – and tougher – than a broken neck in the cup final.
At the film's start, Trautmann is a POW in a camp in Lancashire, forced to do menial tasks even as the war has ended. He undergoes a 'denazification' process along with many other prisoners, some of whom cling to the ideology of their former Führer more than others.
Trautmann, known as Bernd, shows remorse and regret for his actions in the War, despite having won an Iron Cross for bravery on the battlefield.
But the film takes on a warmer tone when, during a delivery round to the camp, a local shopkeeper, businessman and manager of the local football team Jack Friar (comic actor John Henshaw) spots Trautmann saving penalties in a bet for cigarettes.
'That blond lad in goal, he's not half bad,' he mutters before enlisting him – persuading the camp sergeant with an extra ration or two – for a big relegation match at the local ground, St Helens. Wary of turning up with a 'kraut', Jack tells the boy to say nothing and introduces him as Bert, from Bradford.
Despite the local lads' scepticism, Bert's display helps them to win, of course, and the tale of gradual acceptance and reconciliation begins. Bert even works his way into the admiration of Friar's pretty daughter, Mary, even if she does first accuse him and the Germans of 'robbing us of our youth'.
The film spends its first half with this early set-up, introducing Gary Lewis as the Man City scout who spots Bert's potential and wades in with the offer of a contract, a move that will mean the German boy will have to win over a whole new public, indeed an entire nation.
As the actor who plays him, David Kross, tells me he struggled to get inside the head of young man faced with such a daunting task. 'My challenge was to actually play the development of his character because I had no idea what it must feel like to be a man of that generation – the war, being forced to be a Nazi, being imprisoned and to have all those terrible images of war in your head,' he says.
'It was crucial to me to find out that Trautmann himself was trying to wipe away all that and start again. In fact, he said his education as a man began in England.'
Kross is perhaps best-known to international audiences as the boy who starred opposite Kate Winslet in The Reader. He's also appeared in War Horse and as celebrated German long jumper Carl 'Luz' Long in Race, the excellent film about Jesse Owens' triumphs at the 1936 Berlin Olympics.
'One of the keys for me to get into [Trautmann's] mind was to get his physicality right,' says Kross. 'I had to do a lot of training as a goalie, to get the catching and the throwing until it was second nature, like dance moves. I went to Bayern Munich training and got tips from [Bayern and Germany goalkeeper] Manuel Neuer, although for me Trautmann was more like the former German and Bayern keeper Oliver Kahn, who was my hero when I was younger, such a strong personality on the pitch.'
Kross adds that Trautmann was one of the first keepers to start moves with a throw. 'He'd played a lot of handball as a kid, so he had this very precise and powerful throw which became a tactic for Manchester City, so I practised this a lot.'
Trautmann was also known for his fearlessness on the ground, diving at attackers' feet to claim the ball. He later claimed his paratrooper training had taught him how to land correctly, without getting hurt but it was this signature bravery that led to his most famous moment, the neck break during the cup final, a moment impressively, and painfully, recreated by this film.
Football is notoriously hard to capture on the big screen, especially old-fashioned football, which had a different pace and rhythm, as well as kit and boots.
'I think we recreated all the goals very faithfully,' says the director Rosenmuller. 'We are lucky that there was always footage of the cup final in England and we had it on YouTube and we spent hours getting it right. I even used my old football trainer, Peter Wagner, from my little team, SG Hausham, to come and train the actors.'
While the film's early scenes – it was partly shot in Belfast – are important to re-create a period of Britain after the war, with village hall dances, rationing, and a sense of loss, they also set up the climate of suspicion and racism that Trautmann had to overcome. First, in gaining the affections of actress Freya Mavor's Mary and her family, but then later, the whole British public.
As Kross says: 'He lived a symbolic life but it shows how much of a struggle it was to achieve peace. It's such a shame that with the current politics, we might throw that away. Because the story of Trautmann shows you have to look at every individual and see them for what they are, who they are as a person, because you don't know just by looking at them.'
Trautmann, as this very enjoyable movie shows, met with hostility from Man City's own fans, many of whom couldn't abide their team signing a 'Hun'. It took several fine displays in goal for him to start to win them over, but he was also helped by a letter to the Manchester papers written by the influential leader of the city's Jewish community, Rabbi Altmann, who pleaded for understanding and forgiveness.
'That was a huge gesture,' comments Rosenmuller. 'It was a key moment for my drama and key for Trautmann becoming a local hero. It saved him and, as Trautmann himself told me when I interviewed him all those years later, if the Jewish community could forgive him, he was going to do everything he could for those fans, to repay their faith – which ultimately included risking his life in that cup final.'
Rosenmuller also sees Trautmann's broken neck not just as physical self-sacrifice but as symbolic of another break. 'For me, Bert's real bravery was in saying 'I don't want to be in a society where I have no choice'. He'd lived under a dictator, felt forced to serve in his army and do things he regretted, and he swore to himself he wouldn't live like that again. That led to him staying in the UK.'
The current political climate and Brexit loggerheads can't fail to chime with anyone who watches The Keeper, especially in the final credits which reveal that Trautmann was the first foreign player – and first keeper – to be named Footballer of the Year, was voted Manchester City's most popular-ever player in 2004 and was awarded an OBE in the same year for his work in Anglo-German relations.
There's a lovely story, possibly apocryphal, that when the Queen (who had attended the 1956 final) presented him with his OBE, she said: 'Ah Herr Trautmann, I remember you – do you still have that pain in your neck?'
'When I started this project it was nearly 10 years ago,' says Rosenmuller. 'So the political angle of it wasn't something I thought about – it certainly was not as relevant as it is right now. But we can see through Trautmann how dangerous it can be, all those nations who want to be separate. So while we were making the film it definitely came to be about that level of symbolism, about being together, being a team and supporting individuals.'
For Kross, the more he found out about Trautmann, the more of an honour it was to play him. 'I was planning to meet him but he died, in 2013, before I could arrange it. That was a shock because although he was 89, he was very fit still. So I don't know how close I got to being like the real Bert. But I was at a screening in Bremen last week and a woman came up after and said she was a niece of Trautmann. She asked me to sign a
photo of him, so that's a sort of approval.'
But the greatest praise could only come from a football fan, and, at that, one who watched the real Trautmann play. Actor John Henshaw, a very familiar face to us from his roles for Ken Loach and on British television, grew up as a Man City fan and, apparently, went to see Bert many times as a boy.
'He told me this like a warning when we started,' reveals Kross. 'Then one day on set after we'd been filming a match, he came up to me and, in that very rough, northern English way I was getting used to on the shoot, he just told me: 'That's it lad, now you're looking just like Bert did in that goal'.'
The Keeper is now on release in Germany, and in the UK on April 5
Most popular