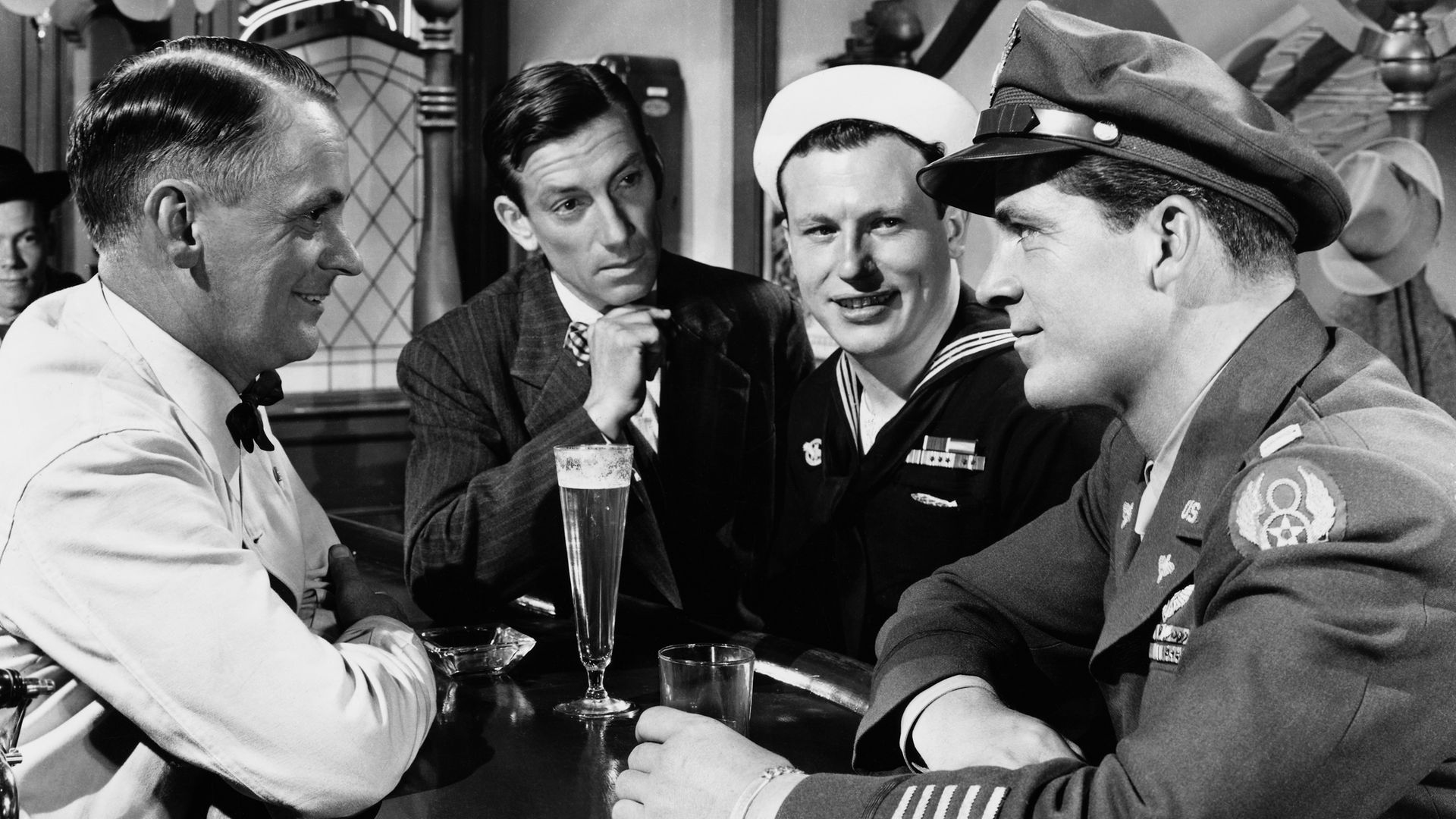 Few years produced as many great films as 1946, the first year after the end of the Second World War, says BONNIE GREER. Might 2021 produce a similar post-pandemic glut of classics?
1946 is a year when most of us humans were not even alive. And of those who were, the majority experienced it as children.
So our idea of that year is largely taken from archives or memoirs, or other things that give us a glimpse. From those, we form our conclusions, our ideas and conjectures.
As far as movies from 1946 are concerned, looking back on them from 75 years on, the one that overshadows them all is It's a Wonderful Life. But that gets enough discussion at around this time of year. Besides, when it was released in December1946, it didn't make much of a splash, getting mixed reviews and disappointing audiences.
One of the reasons for this, is the sheer number of other great films in the cinema that year. One – released the same month – was  A Matter of Life and Death, known as Stairway to Heaven in the United States, for its daring and spectacular central visual.
This film features the ultimate special relationship: a British bomber pilot, played by David Niven, and an American radio operator, played by Kim Hunter, fall in love after he bails out of his burning aircraft without a parachute. He should have died but does not, due to a combination of eternal love and a mistake in the afterlife.
The film, directed by Michael Powell and Emeric Pressburger, does something that no US production would have done at the time: it shows African American GIs, like my late father, as an integral part of the Allied fighting force.
Viewed today, the film's colour is still radiant and beautiful. Another 1946 film, Green for Danger (another December release, though it was later in the US), represents the flipside to Powell and Pressburger's Technicolor dream.
Sidney Gilliat's detective thriller, set during the recently-finished conflict, was delayed by the censors for a few months because it was so real. The authorities were frightened that the audience might not want to see their wartime lives played back in front of them. But they loved it.
We admire it now for the director's use of sociological detail: you can sense what it must have been like living under what we now call 'food insecurity'. And you can almost smell the damp manor house atmosphere of the old Tudor mansion which serves as the wartime hospital.
The gallows humour, the sinister shadows – it is a masterpiece because it is not just about a murder and a dogged detective attempting to solve it. It is also about the opposite of the 'finest hour' vibe that has echoed through the decades and still permeates Brexit and the whole notion of 'taking back control'.
Green For Danger shows a nation on its knees, attempting in fact to keep control. This is the reason the film worried the censors: they were concerned about its impact on morale on the still-recovering country. But the bravery of Sidney Gilliat, his complete control of all of the elements of the reality that he wanted to show, is one of the many reasons why Green for Danger is one of the greatest ever British films.
In France, there was La Belle et la Bête, Jean Cocteau's masterful retelling of Beauty and the Beast. He had the audacity to open a film, in October 1946, just two years after the Nazi occupation of France, with the words: "I ask of you a little of this childlike sympathy and, to bring us luck, let me speak four truly magic words, childhood's open sesame: 'Once upon a time…'"
How could anyone dream in France that year? But Cocteau insists, demands it. And dreaming is necessary in order to take in the baroque opulence; the breathtaking visuals, and also the sheer nerve of the artist to think that France could take in a fairy tale.
Similarly ambitious was My Darling Clementine, also released in December 1946. While John Ford's The Searchers, from 1956, is considered the greatest Western ever made and an undoubted masterpiece, this earlier film of his showcases the beginning of his great poetic style.
There is Wyatt Earp, played by Henry Fonda, an actor from whom Ford could always unearth the best; John Wayne, an icon even then; there's the town of Tombstone; and the Ok Corral.
Nobody knew it at the time, but after My Darling Clementine, if you made a Western with any seriousness, you had to first of all confront the beauty of this film. The things that it made that we now consider to be the essence of the American West were really the vision of an Irishman who had fallen in love with his own dream.
Then there is Notorious, from summer 1946, and if you want to understand why Cary Grant was, and still is, the greatest male actor to grace the cinema, the evidence is here. As a US agent pitted against a Nazi spy ring, he is a study in dark and light, of hatred and love, and disgust and redemption.
Even at the end, when he rescues Ingrid Bergman, you are never quite sure what he will do with her or to her. In this movie, and in others, the director Alfred Hitchcock thoroughly understood what Grant could do and be in films, and he pushed every button that the actor had available, including ones that he didn't know that he had.
The list of masterpieces released 75 years ago is long. But the film that won all of the awards everywhere, including a basket of Oscars, and broke all of the viewing records, is one that we barely remember today: William Wyler's The Best Years of Our Lives.
It is the story of three men returning home to America after the war. That, and one of the greatest of Hollywood directors teamed with the equally great Gregg Toland as director of photography, is the headline. But what this film is about, and why it is important in our pandemic world, is healing. Not only does it feature an actual disabled actor playing a disabled sailor, it gives us what we need now: how to rebuild and mend our lives.
This was a film that spoke to and of its age, in that first year after the end of a war that had been unspeakable, that had brought death and suffering to countries around the world, featured genocide of unimaginable proportions and an atomic bomb released with devastating consequences. The Best Years of Our Lives, with its ironic title, was what people needed. Before they knew that they did. They needed healing. And redemption. And hope.
The great films in the coming years will not be about car chases, nor super heroes, nor crazy comedies. The great ones will have found the spot like Wyler did, at the end of his picture, when one of the soldiers, a suffering from PTSD, walks over, during the wedding of his disabled comrade, to the woman he loves. It is a reunion after much strife. He tells her how hard it will be, how awful and dark and long. She looks at him and smiles. And he smiles back.