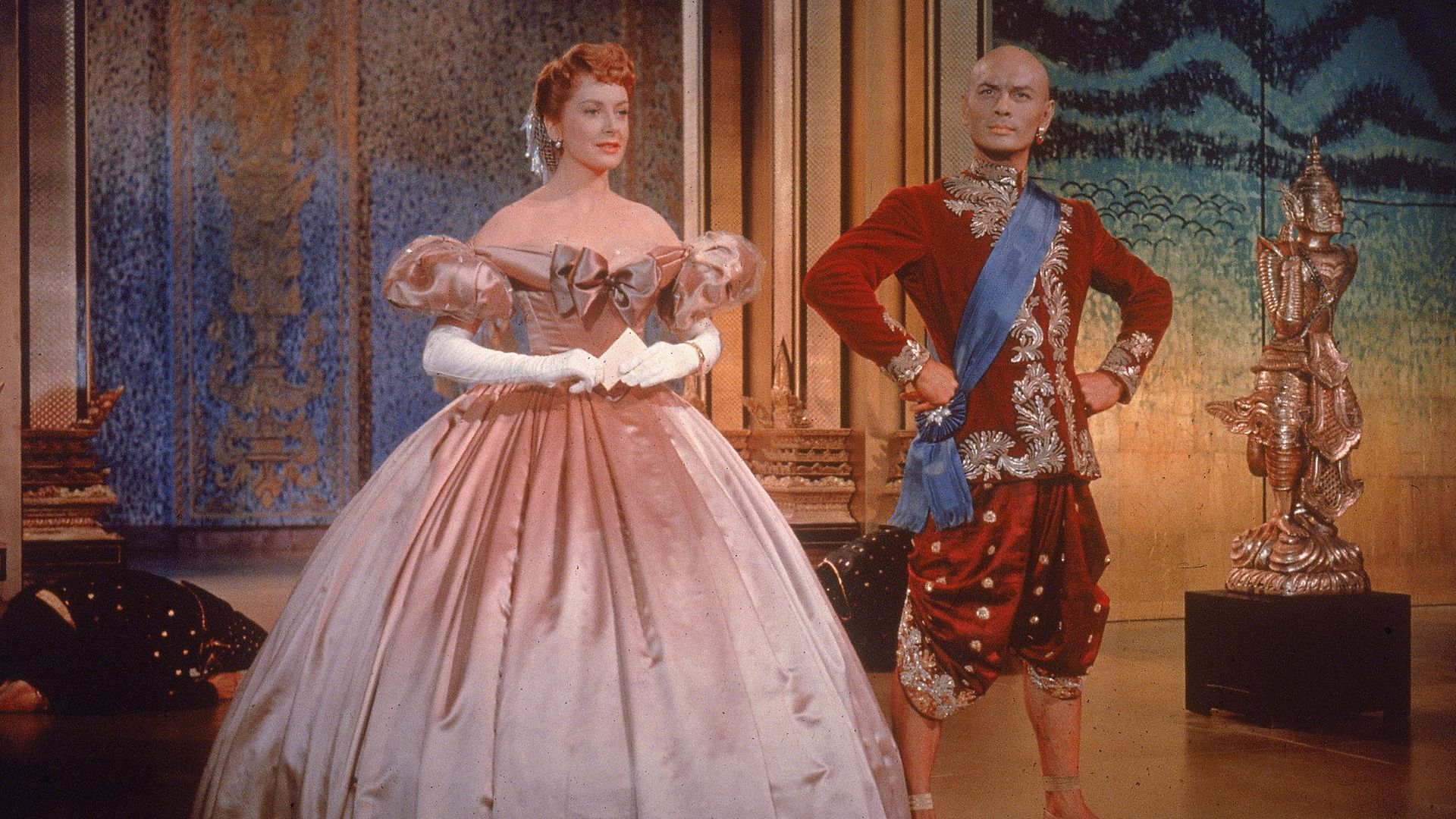 A recent decision to remake The King and I musical is a striking one, given the production's politically incorrect undertones and unpopularity in Thailand.
Just in time for the 70th anniversary of the Broadway premiere of the Rodgers and Hammerstein musical The King and I later this month, Paramount Pictures revealed it had purchased the rights to create a new screen adaptation. It was an announcement that suggested that perhaps political correctness is finally dead in la-la land.
After all, the latest restaging of the 1951 Broadway show, which transferred to the West End and was filmed in 2018, caused the Independent to complain of a "smack of imperial condescension to this story of a widowed, well-bred Victorian governess who… gives a funny foreign despot… a stiff dose of Western values". While the Guardian fretted that the show "seems to endorse the idea of the civilising influence of the west on the barbaric east".
The tale of how Anna Leonowens, governess to the children of King Mongkut of Siam in the early 1860s, supposedly civilised the monarch and his court, was always a conscious fabrication by the show's creators, and even by some participants in the original events.
Yet the intensely charismatic performance of Yul Brynner, an actor of part Buryat (Mongol) ancestry, drew audiences, as did a succession of charming Annas, including Gertrude Lawrence in the first production and Deborah Kerr in the 1956 film. And there are the lilting Rodgers and Hammerstein melodies which audiences hum on their way into the theatre. So where is the problem?
Turns out that King Mongkut was the opposite of a barbarian who needed to be schooled by an English governess. He was a brilliant original thinker who mastered English well enough to correspond with Queen Victoria. He had innovative ideas about astronomy and correctly predicted eclipses.
On a personal level, King Mongkut could be surprisingly modest and thoughtful, having spent 27 years as a Buddhist monk. After he inherited the throne, when called upon to ensure the posterity of his dynasty, he fathered more than 82 children with more than two dozen wives. He had no romantic interest in Anna Leonowens, and unlike the monarch in The King and I, never touched her, let alone danced with her.
Concentrating on loftier matters, King Mongkut was a wise negotiator who established the diplomatic groundwork that allowed Siam, renamed Thailand on the eve of the Second World War, to be the only nation in Southeast Asia not to experience colonisation by European powers.
This was no accident, but the result of canny and astute negotiations. Yet despite such accomplishments, King Mongkut did not strut about bare-chested as Brynner and subsequent Mongkuts have in endless stagings of the musical. (In the West End, these included Herbert Lom and Peter Wyngarde; the former production was memorably slated by the Daily Express as "this treacle-bin Mikado.")
As his biographer Abbot Low Moffat wrote, Mongkut was a "charismatic and gifted leader, a loving and indulgent father, a brilliant scholar and religious reformer – and a notable wit. In fact, the style of King Mongkut's wit was often one of amusing self-deprecation".
In 1858, Mongkut wrote a letter to the Siamese ambassador in London, wrily explaining that a common misconception had it that he was "aged to the point of imbecility" and a "decrepit old man, so weak and thin and stupid as to be entirely incapable of conducting any official business… really so ancient that [my] power of speech is now restricted to only 'ohs' and 'ahs,' punctuated by meaningless nods of the head".
The monarch is understandably revered in his homeland as a modernising spirit with divine status. To diminish him to the level of a stage buffoon is misguided. For all its tunefulness and typical Yank naiveté, The King and I should be considered a joke in bad taste not just to Thais, but to anyone.
The material is so radioactive in its essence that when Western producers with a bit of information about the actual historical facts have tried to update the musical's optics, they failed miserably.
The role of the King, portrayed by Brynner, was modeled after a 1946 Hollywood film, Anna and the King of Siam, where Mongkut was played by Rex Harrison, whose naturally hooded eyelids were exaggerated slightly by the make-up department, which was considered Asian enough for audiences of the time.
Rodgers and Hammerstein tried to get Harrison to star in the stage musical, but he sensibly abstained, at which point they offered the part to Noël Coward, to reunite him with his Private Lives costar, Gertie Lawrence.
Coward turned down the musical, for fear of being chained contractually to a long-running production. But as he aged, Coward would later claim to have acquired an Asian appearance, once declaring, "I look like Yul Brynner's aunt".
Later generations of casting directors have tried to show comparative enlightenment by choosing Asian actors to play the King. Jeremy Sams' limited engagement staging in 2009 at the Royal Albert Hall, featured Daniel Dae Kim, an American actor born in Korea, as the King.
In 1999, Hollywood attempted to make amends by remaking The King and I without the music as Anna and the King, as a Jodie Foster vehicle. Her costar was Chow Yun-fat, a burly Hong Kong martial arts star. Thai censors deemed the results even more insulting than the Rodgers and Hammerstein musical, and banned the movie from public screenings.
Of course, there are ways for Westerners to be inspired by Asian tradition, but it takes extraordinary talent and originality. Even amid the inaccuracies of the 1946 film Anna and the King of Siam, the soundtrack music is surprisingly authentic. Composed by Bernard Herrmann, later the go-to composer for Alfred Hitchcock, the Anna film music authentically reflects Thai classical ensembles in the Mahori style, traditionally played by women in the courts of Central Thailand.
Herrmann even incorporated the ranat ek or xylophone, a Thai percussion instrument consisting of wooden bars suspended by cords over a boat-shaped trough.
Compare this ingenious fidelity, faithful and yet inventive, to the hodge-podge of dance styles in the original stage production by choreographer Jerome Robbins, who deliberately refused to learn about Thai traditions.
Dance historian Stephanie Prugh notes on ballet-dance.com that Robbins found books about Cambodian and Laotian dance more readily available than anything about Siam, and threw in a bit of Japanese Kabuki for good measure.
Robbins even wanted to include trained poodles to represent bloodhounds pursuing Eliza in a ballet spoofing Uncle Tom's Cabin, but an assistant trained in Cambodian classical dance balked, claiming the result would be sub-music hall prancing.
To be fair, Richard Rodgers had instructed Robbins not to allow "concern over the authenticity of the [dance] movements cripple him," since he and Hammerstein did not plan to reproduce anything authentically Siamese anyway.
By doing so, they were following the precedent of Anna Leonowens, a chronic liar in memoirs which inspired the musical. Recent biographers convincingly argue that, in contrast to her own self-descriptions, she was likely of partial Indian ancestry, born Ann Edwards in Ahmednagar, central India.
She married Thomas Leon Owens, an Irish paymaster's clerk, in Poona. On the marriage certificate, perhaps straining for refinement, her husband merged his second and last names to become LeonOwens, and Anna used this new name to sign books such as The English Governess at the Siamese Court (1870), an error-ridden account of her work as teacher to Mongkut's children.
Leonowens fulfilled King Mongkut's principal criterion for employing a foreigner, that unlike most Westerners who previously lent a hand to modernise Siam, she would not try to convert Buddhists to Christianity.
However, Margaret Landon, a Presbyterian missionary, later seized on Leonowens' already distorted account and added further fabrications in the grotesque novel Anna and the King of Siam (1944), from which all later adaptations for stage and screen emerged.
Is there any remedy for the persistent popularity of The King and I? Can anything prevent it from being an ongoing insult to a nation and its people? Paramount Pictures might consider involving Thai creative talents in the new project, although the national taboo of representing a king in any dramatic context remains.
Hiring Thai actors for principal roles, or the internationally acclaimed directors Apichatpong Weerasethakul, Pen-Ek Ratanaruang, or Aditya Assarat would likely provide eye-opening perspectives on the subject matter.
If so, Western audiences might finally experience something about Thai history and tradition that could really be called 'Getting to Know You', as the title of one of Rodgers and Hammerstein's apparently immortal, if saccharine, ditties states.
ELEPHANT DIPLOMACY
A persistent myth surrounding King Mongkut is that he offered US president Abraham Lincoln a herd of elephants to be used in battle against the Confederates during the American Civil War. The apparent gesture is referenced in a scene in The King and I, where the monarch dictates a letter to Anna of his desire to do so.
It is not true. He did, however, offer to send some domesticated elephants to James Buchanan, the president before Lincoln, with whom he had been engaged in a correspondence and exchange of gifts. King Mongkut suggested the animals might be released in the wild in the US, where they could ultimately be used as beast of burden.
His letter took some time to reach Washington DC and by the time it did, Buchanan was no longer in office. Lincoln replied – still before the war had broken out – politely declining the offer, explaining that the climate might not be suitable and that steam power was sufficient to meet US needs.
What do you think? Have your say on this and more by emailing letters@theneweuropean.co.uk
Most popular