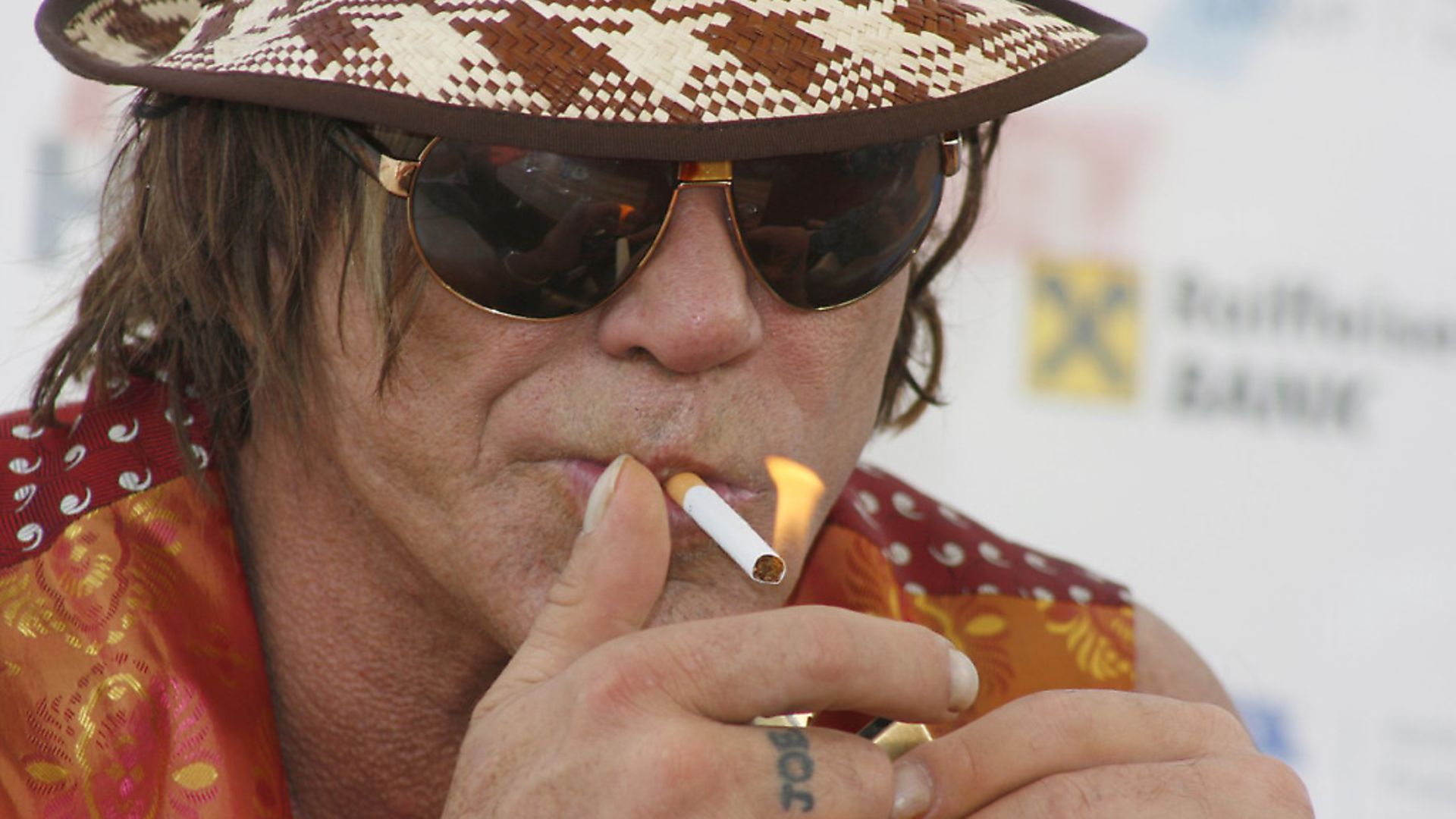 As the Cannes film festival opens, RICHARD LUCK explores its unlikely love affair with the American actor
The French adore Mickey Rourke. They love him every bit as much as Jerry Lewis. That the talented but resistible comedian is considered on a par with Chaplin and Keaton across the Channel has long caused consternation. Still, thanks to his superb work in Martin Scorsese's The King Of Comedy and the impressive scale of his output, one can sort of understand how a country could embrace Lewis' idiosyncratic talent.
On the other hand, Mickey Rourke's appeal is more elusive still. Sure, he's a gifted actor. Indeed, go back to the very start of his movie career and you can understand why critics drew comparisons between him and the young Marlon Brando. And on those rare occasions when he can be bothered, he can still deliver the goods, as anyone who caught his Oscar-nominated turn in The Wrestler can confirm. For every nuanced turn, however, there's been a half-dozen acting disasters. And the contrast between the handsome, soft-voiced star of Body Heat, Diner and Rumble Fish and the rasping, battered Rourke of today couldn't be more pronounced.
And yet still the French love affair with 'Le Mickey' will not die. So devout is it that it's a rare May that passes without Rourke being flown by private jet to the Riviera in time for the Cannes Film Festival. Though he's only ever had three films in competition at Cannes, Mickey has become synonymous with the festival; just as his appearances there are invariably associated with carnage.
His first major assault on Cannes occurred in 1987 when he was in town to promote Barbet Schroeder's Barfly. Written by the infamous Charles Bukowski and inspired by the author's colourful life and exploits, Barfly called on Rourke to look like he slept in his clothes and didn't have the money for a razor. The crueller among you might observe that said costume all but became the actor's uniform throughout the 1990s.
The Rourke that arrived on the Riviera that year was positively dapper. No, it was his mouth that was as filthy as a brothel's utility room. With little to say about the Bukowski movie, Rourke set about lambasting producer Sam Goldwyn Jr. And by lambasting, we mean calling the son of the legendary studio boss a c**t and a liar.
The reason for Rourke's ire was that the younger Goldwyn had interfered with the making of A Prayer Before Dying, the Mike Hodges movie about the Irish Troubles. A long time supporter of the Republican cause, the actor's interest in the IRA would provide the background for his next great Cannes calamity two years later.
With Francesco, director Liliana Cavani had called upon our man to essay St Francis of Assisi. As casting decisions go, it was the furthest thing from an obvious choice, and likewise the way in which Rourke banged the drum for the film came straight out of left field. For what better way could there be to blow the trumpet for a motion picture about the original Dr Dolittle than by boasting about how you'd donated your fee for the film – a cool $1.5 million – to Joe Doherty, a Provo seeking asylum in the US while accused of involvement in the murder of a member of the SAS. That the actor would later retract his statement was neither here nor there for Rourke had returned to Cannes and pandemonium had reigned once more.
Following the Francesco debacle, fully 16 years would pass before Rourke had another film in the running for the Palme d'Or. Mind you, a little thing like not having a film in competition couldn't keep the hell-raising Angel Heart star away from the Croisette. In the spring of 1994, he showed up to publicise his unwatchable vanity project FTW (aka The Last Ride), and proceeded to host the most eccentric of press conferences. Kicking things off by leaving the marquee to pray on the beach, Rourke proceeded to voice his disdain for the festival, the movie industry, film journalists, Kevin Costner, women with large backsides; pretty much whatever came to mind. All this while wearing a jacket held together by safety pins and surrounded by Stetson-sporting bodyguards – your average Q&A this most certainly wasn't.
Equal parts boring and boorish, Rourke's behaviour received short shrift in his homeland. On Comedy Central's Politically Incorrect, host Bill Maher took great pleasure in laying into the actor: 'When Mickey Rourke stopped acting – you know, right after Diner – he skipped off to France, where his five-day stubble and silicone-implanted cheeks apparently looked sexy instead of stupid. Then he took up boxing – a sport where the term 'class' refers only to your weight.'
Of course, not all of Rourke's idiocy could be laughed off; he was arrested for spousal abuse in 1994, although the charges were later dropped. But even his most wretched excesses can't dent his popularity in France.
Writing about the country's infatuation for Rourke in 1990, the New York Times' Alessandra Stanley was struck by how many of the actor's films were then airing in Parisian cinemas. 'Nine 1/2 Weeks… played for two years on the Champs-Élysées. The movie which opened in 1986 has been showing continuously at different theatres ever since. Angel Heart… has been showing once a week at the same art house in the 15th arrondissement for three years.
'In any given week,' Stanley continued, 'there are almost always two and sometimes three Mickey Rourke classics showing simultaneously somewhere in the city.' The writer also commented upon 'Le Look Rourke', 'a state of fashionable abandon – faded jeans, dirty hair, two-day stubble – that in Left Bank cafes, fashion magazine and subway ads, stands for everything that is cool.'
From cultivating his 'style' to devouring his films, the French have dedicated a lot more to their obsession with Rourke than merely their time. Film producer Douglas Zwick is of the opinion that France likes the BAFTA-winner because he's not out to impress anyone. As he explained to Stanley, 'Mickey Rourke is the kind of guy who could go into someone's living room, drop a cigarette on the rug, grind it in, and everyone in America would think, 'What a pig!' The French would think he was cool.'
A nation that has never given a s**t what foreigners think of either it or its behaviour (Bill Maher: 'Don't forget, this is a country that used to be called 'Gaul"), there can be no argument that the Rourke obsession is in part fuelled by the cool that comes from being contrary. 'One thing you must understand is that we like to like movies that the Americans despise,' Lionel Chouchan once remarked with more than a smidgen of pride. The director of Deauville's American Film Festival added that: 'We like to show we are more cultivated and cleverer than Americans, that we liked the movie Heaven's Gate' – a three hour-plus picture that Rourke appears in for all of a matter of minutes, which was long enough to ensure the movie became a fixture on French television and Parisian picture houses.
Whether we're talking sincere admiration for an unsung talent or a practical joke that's got out of hand, one person who hasn't got a clue why the French love Mickey Rourke is the man himself. In the past, the Sin City star has said that it might have something to do with his mother's French heritage, her regard for which led to her son being given 'Andre' as a middle name. No matter the truth, the erstwhile bad boy of American cinema has come to embrace his Gallic appeal. To see him signing autographs and taking selfies on the streets of Cannes is to witness a man who appreciates his fans and the role they've played in salvaging a career he's worked damn hard to wreck.