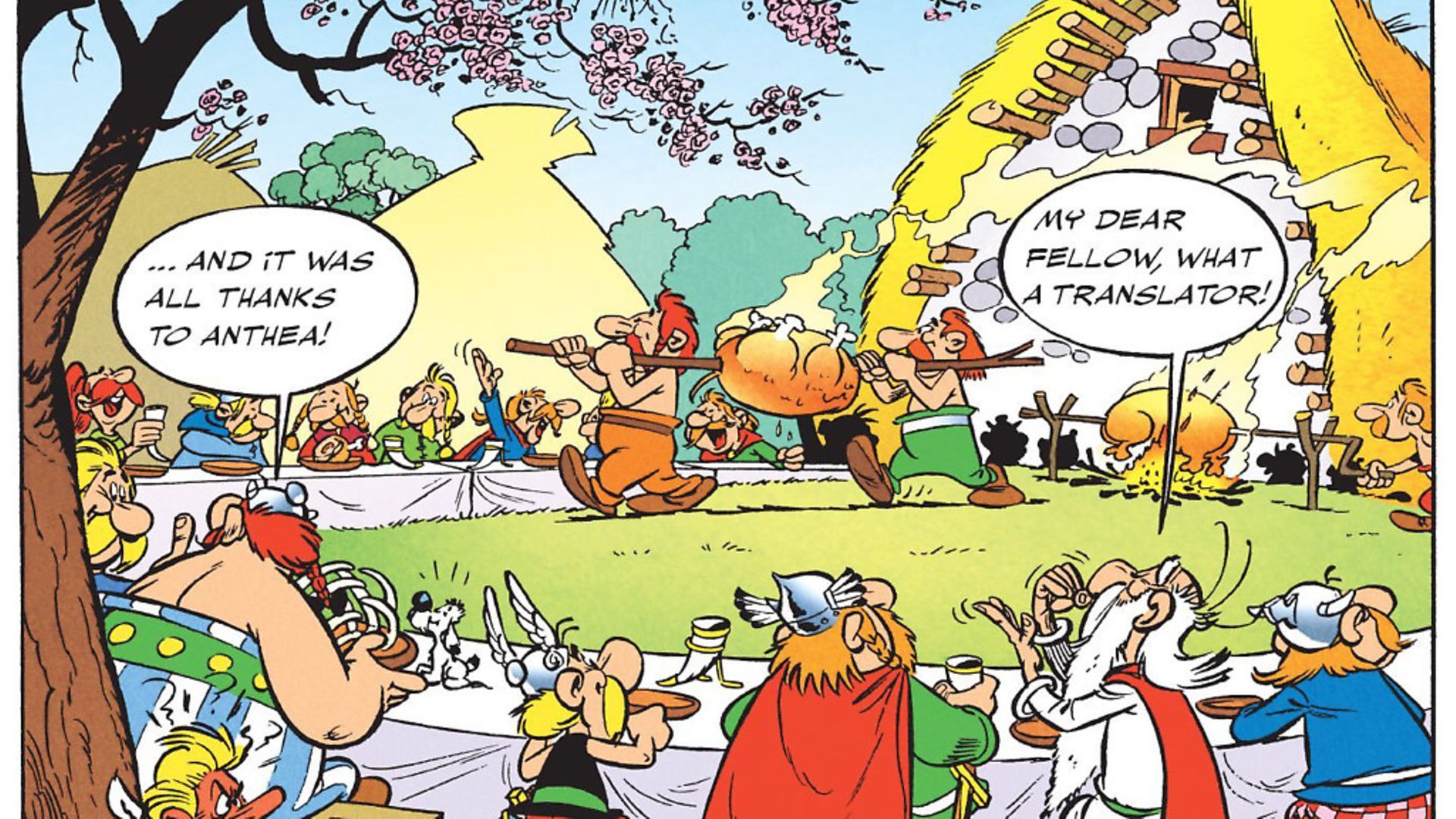 Anthea Bell, who died last month, deserves to be remembered as one of the continent's literary greats, says CHARLIE CONNELLY
In Asterix the Legionary, where the eponymous hero and his sidekick Obelix travel to north Africa posing as Roman soldiers, there's a scene in which the crew of a wrecked pirate ship find themselves stranded on a raft. In one panel the pirates and their makeshift vessel appear exactly as in Géricault's painting The Raft of the Medusa in order to set up what is a pretty good joke. As he ponders the loss of his ship the pirate captain muses, 'je suis medusé' ('I am gobsmacked'), an ingenious interplay between words and imagery by creators Goscinny and Uderzo that rendered directly into English would make no sense.
When the English version was published, however, the captain's speech bubble contained a line equally as good, if not better. Chin in his hand like his equivalent in the Géricault painting, the pirate captain complains, 'We've been framed, by Jericho!' Sonically resonant of the artist's name and turning on the dual meaning of the word 'framed' it was as if the panel had actually been devised with that zinger in mind all along.
The joke was the work of Anthea Bell, who with the academic Derek Hockridge translated all but one of the Asterix books from French to English, doing so in such a skilful and sensitive way it was almost impossible to believe Asterix wasn't created on this side of the Channel.
Bell's death on October 18, at the age of 82, deprived the world of one of its greatest literary translators. Her work on the Asterix series captivated generations of children but Bell also introduced British readers to a range of brilliant and occasionally challenging European literature. As well as writing whizzbang gags for the moustachioed Gaul she produced works by Franz Kafka, Sigmund Freud, Cornelia Funke, E.T.A. Hoffmann and W.G. Sebald and was in a large part responsible for the current revival of interest in Stefan Zweig, one of Europe's most famous authors between the wars but a man all but forgotten until recently.
Bell's literary career spanned more than 250 books mainly translated from German and French, although she once taught herself Danish over the course of a single Christmas holiday in order to produce a new translation of Hans Christian Andersen's stories.
'All my professional life I have felt that translators are in the business of spinning an illusion,' she told a trade conference in 2004, 'the illusion that the reader is reading not a translation but the real thing.'
Bell managed to combine an easy fluency in her chosen languages with an acute ear for style, rhythm and nuance, meaning she was equally comfortable translating Freud or scholarly entries for the New Grove Dictionary of Music and Musicians as she was writing gags for Asterix. This egalitarian attitude to genre allowed Bell to leave us with traces of her touch and influence across the literary spectrum from Asterix to Zweig, a one-woman A-Z of literature in Europe.
'I think of Asterix as a comic version of wily Odysseus,' she said when asked what lay behind the extraordinary appeal of the books, and this openness both to language and a rattling good yarn is what made her stand out.
'I would call the comedy [of Asterix] not solely French but European,' she said. 'All of us in Europe enjoy making anachronistic fun of the past.'
At the end of the 1960s British publishers had passed on Asterix despite the series' previous decade of huge success in France, considering the stories untranslatable, but Bell relished the challenge of turning a distinctly French creation into one plausible and appealing to an English-speaking audience.
'You have the situation, the facial expressions of the characters and the size of the speech bubble, and you must devise a new pun to fit,' she said of the boundaries within which she had to work, restrictions most translators would have found stifling. For Bell they were liberating. To begin with there were the names of more than 400 characters in the Asterix series, nearly all of them based on French wordplay and puns. Only a handful, including the two main characters and Julius Caesar himself, retained their originals and Bell's nomenclatural inventions were a key factor in the books' success.
Among the Gauls was the portly village chief Vitalstatistix for example, who in Bell's translations would greet visiting dignitaries with an informal 'wotcher'. There was Cacofonix the musically-challenged bard, Obelix's irascible terrier Dogmatix and the fishmonger Unhygienix with his wife Bacteria. The village druid with his white robes and flowing beard was Panoramix to French readers but rendered as Getafix by Bell, a reference to, she would claim with a twinkle in her eye, his ability to 'get a fix' on the stars at night and certainly nothing at all to do with substances he might have put into his famous magic potions.
Among the Romans there were Crismus Bonus, Surplus Dairiprodus, the boozy Tremensdelirius and the architect Squareonthehypotenus, not to mention the double act of legionaries from Asterix the Gladiator Sendervictorius and Appianglorius.
These ingenious inventions – and they were inventions, not translations – were all shining examples of what Bell called 'invisible translation', a method that was as much adaptation as straight interpretation and one requiring much more than a knowledge of grammar and a dictionary the size of an illuminated medieval bible.
The gift for the lateral thinking that made her work exceptional was, it seems, inherited from her father. Adrian Bell was a countryside columnist and author of nature classics like Corduroy and Apple Acre, evocative records of rural life in the pre-war Suffolk where Anthea Bell was born in 1936 (her brother, the former BBC correspondent and independent MP, Martin Bell appeared two years later). Adrian Bell was also the first crossword compiler for the Times, devising the kind of cryptic clues that demand an oblique approach to language interpretation. Many of his clues were tried out first on his children at the breakfast table.
Anthea Bell read English at Somerville College, Oxford, where she met her future husband the publisher Antony Kamm, and although she would have liked to take her academic studies further she bowed to the mores of the times by taking a secretarial course at the behest of her mother and in-laws. 'I loved her dearly but we didn't understand each other,' she said of her mother while her husband's Jewish parents were equally expectant of a conventional wife for their son. 'It must have been a shock to them that he married out,' she recalled, 'and they were so nice to me that I went off like a good girl and did my Pitman's Secretarial Diploma.'
Dictation's gain could have been literature's loss were it not for an assignment that arose by chance. Bell's husband was asked by the publisher Klaus Flugge whether he might know someone who could translate a children's book by the German writer Otfried Preussler called The Little Water Sprite and Kamm suggested his wife.
'It was my first translation and I did it with my first baby in a carrycot by my side,' she recalled.
When her marriage broke down in the early 1970s Bell's first thought was to go back to secretarial work. By then, however, she had produced a handful of well-received translations, including the early Asterix books, and realised she had the opportunity to make a living in a manner that left her both financially independent and intellectually fulfilled.
A huge range of work followed, underpinned by her 35 Asterix books but encompassing children's fantasy titles and some of the most complex literature in the modern European canon. During the 2000s she translated Cornelia Funke's Inkheart trilogy for young adults ('I felt slightly miffed when the Times reviewer commented that the story lacked humour 'unless it has been lost in translation',' she said. 'She had not, presumably, read the original to see whether it was meant to be funny, and it isn't'.)
She also tackled E.T.A. Hoffmann's challenging satire Lebens-Ansichten des Katers Murr nebst fragmentarischer Biographie des Kapellmeisters Johannes Kreisler in zufälligen Makulaturblättern originally published in two volumes between 1819 and 1821. Bell's The Life and Opinions of the Tomcat Murr together with a fragmentary Biography of Kapellmeister Johannes Kreisler on Random Sheets of Waste Paper captured the style, atmosphere and narrative of a book many critics identify as post-modernism decades ahead of its time and another title that many had dismissed as impossible to translate.
More conventionally Bell translated the memoir Until The Final Hour by Hitler's private secretary Traudl Junge, on which the film Downfall was later based, and In Times of Fading Light by Eugen Ruge, a novel that told the story of East Germany through three generations of the same family. Such wide-ranging contributions to German literature in English earned Bell Germany's Cross of Merit in 2015 to add to the OBE she had received five years earlier. Arguably her greatest success came via her rendition into English of W.G. Sebald's daunting novel Austerlitz at the turn of the millennium.
Sebald had lived in England for 30 years when he wrote Austerlitz and was a fluent English speaker and writer himself but his fictional depiction of the Kindertransport was written in German, mostly in long, stream of consciousness sentences and paragraphs that could go on for several pages.
'It was a great privilege,' recalled Bell of the experience, 'and fascinating because his own English was so good that he could have written it himself. It was a very, very dense work. He wouldn't use email and said he'd never unwrapped the computer in his office. I would draft out a passage and send it to him and he'd send it back while I did the next one, so we were working together on it all the way through.'
The book contains a passage describing the concentration camp at Theresienstadt in a single sentence that runs in Sebald's original German for nine pages, the kind of authorial device that would defeat many translators or at least tempt them into heavy-handed intervention.
'An English translator's instinctive reaction to such a lengthy sentence is to break it up,' said Bell, 'but as soon as I had done that in my first draft, adding a full stop two pages in, I knew it was wrong and took it out. The convolutions of that mighty sentence are there on purpose to convey the busy, pointless activity of the Nazi authorities preparing for a visit to the camp by a Red Cross delegation.'
Is there a finer posthumous tribute to Bell than her greatest literary achievement effectively coming down to a toss-up between one of the most difficult and cerebral European novels of modern times and a series of wisecracking cartoons about a rebellious Gallic village in the Roman Empire? It's a choice I wouldn't like to make, but one wholly representative of an extraordinary
career.
Bell is rarely mentioned when it comes to discussion of the most influential figures in European literature and that's probably the way she'd like it. The fact that news of her death was greeted on social media with a flurry of 'I never knew that was her' responses from generations of Asterix fans suggests that she didn't just succeed in providing 'invisible translations', she was effectively an 'invisible translator' responsible for the dissemination of a huge amount of European literature and culture among the Anglophonic world.
Bell is one of the most important European literary figures of the modern era, certainly in terms of the English language, but has always been a presence barely visible thanks to her combination of professional confidence and sensitivity and personal modesty.
'I have two large panes of glass at the bottom of the window above the desk where I work,' she told that 2004 conference. 'One has little distorting flaws in it, the other, probably a modern replacement, allows an undistorted view of the garden beyond. In presenting a foreign text in English I would wish 
to be like that perfectly transparent pane of glass, but I'm well aware that the slightly distorting pane is probably the one I resemble.'