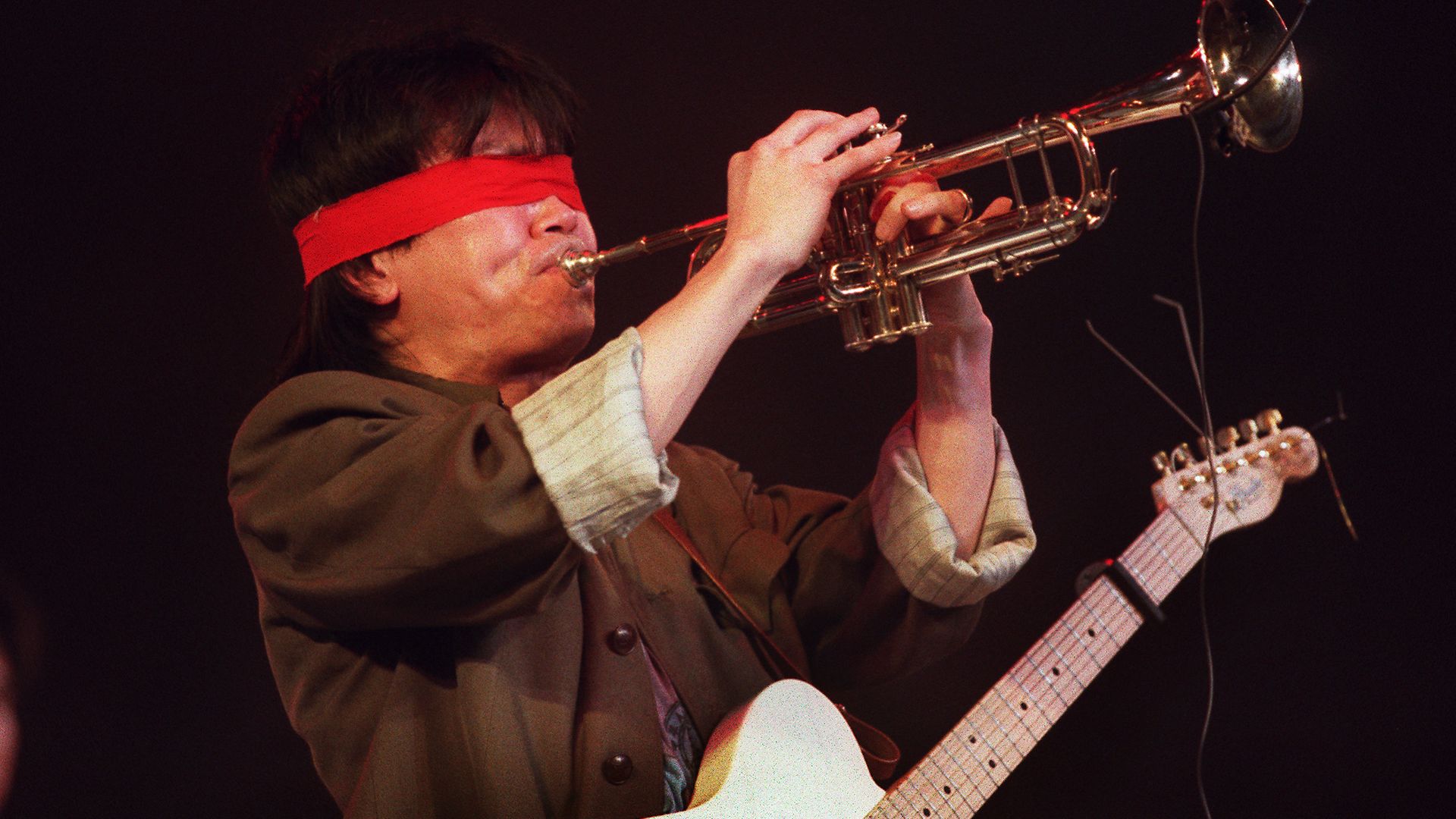 The Chinese state has had an overbearing, stultifying effect on the country's musical expression. Yet there have been acts who have pushed back. SOPHIA DEBOICK reports.
Confucius said "Music produces a kind of pleasure which human nature cannot do without", and as Chinese New Year is celebrated this week, the singing of songs associated with the occasion (Gongxi, Gongxi – 'Congratulations, Congratulations' – is just one such now traditional tune) will bear that out.
But Confucius also knew the political relevance of music: "The music of a peaceful and prosperous country is quiet and joyous, and the government is orderly. The music of a country in turmoil shows dissatisfaction and anger, and the government is chaotic." Mao may have militated against Confucianism, but China's communist authorities have always feared music as a means of expressing discontent and enacting change and have tried to control it.
Beijing – a city of three thousand years' history that was the seat of emperors but today strains towards the wildest possibilities of the future – has been at the centre of the policies of control that have defined the country's modern musical history, but it is also the place where battles against state authority have been fought.
Cui Jian did not seem destined for rock stardom. Born in Beijing in the midst of the Great Leap Forward, he was in his mid-teens when Mao died in 1976 and the Cultural Revolution came to an end. He would not hear the Beatles and Stones until he was in his twenties, by which time he had followed his father's footsteps into a career as a trumpet player with the Beijing Philharmonic. Cui's story would illustrate the changing face of music in Beijing over the last 35 years.
Popular culture began to change in post-Mao China as tight central control gave way to the encouragement of market forces, and Western music slowly began to make an appearance, albeit illicitly. "In '85 I first heard rock music, and I knew immediately that it was my kind of music," Cui has said. "Few Chinese, myself included, really knew what rock 'n roll was back then, but we knew it was something that gave out energy. It was music with a message."
1985 had indeed been a key year. That April a milestone was reached as the pop sounds of Wham! beat out rock giants like Queen and the Rolling Stones to become the first Western act to perform in communist China, with shows in Beijing and Guangzhou. The following year Cui, who had already formed a rock band and released an initial tape of material, bagged an appearance at the International Year of Peace concert at Beijing Workers' Stadium, where pop music was given an official platform for the first time.
When Cui took the stage and sang his ballad Nothing to My Name, the melody drawing on Chinese folk music and the lyrics in its poetic tradition, but his delivery passionate and Springsteen-esque, it was the first time rock had been widely heard. Cui became both an instant star and China's original rocker.
Three years later, pro-democracy protests had been going on in Tiananmen Square for over a month when a 28-year-old Cui again sang Nothing to My Name on a makeshift stage for the demonstrators in May 1989. The lyrics "I want to give you my dreams/ And give you my freedom/ But you always laugh at me/ With nothing to my name" echoed the sense of frustration and disillusionment many felt with the government and it became the anthem of the protests.
Despite also singing the more obviously political A Piece of Red Cloth at Tiananmen – "You put a piece of red cloth over my eyes/ To block the sun and cover up the sky" – Cui later said that day in May "felt like a big party". It was the calm before the storm, and two weeks later hundreds were dead.
Cui had left the Square before the violence began but was tainted by his association with the protests. Then, his donning of a red blindfold during his performance of A Piece of Red Cloth during his 1990 tour was viewed as a subversive act, and Cui faced 10 years in the wilderness, a persona non grata in Beijing and only able to play small gigs elsewhere.
A raft of rock acts had emerged from Beijing by that time, including singer-songwriters Zang Tianshuo and Zhang Chu, metal band Tang Dynasty, and rock band Black Panther (fronted by Chinese alternative music legend, Dou Wei), but less threatening pop was favoured by the authorities.
While Cui came back into favour in the 2000s, he was repeatedly affected by censorship. In 2006, he was the cover star of the first issue of Rolling Stone China, but the magazine was immediately shut down. When Cui appeared on stage with the Rolling Stones when they played China for the first time that same year, singing Wild Horses, it was one of the few songs that had escaped being struck off the set list by the censors, and the gig took place in historically freer Shanghai – such an event was unthinkable in Beijing.
Booked to perform on the state broadcaster's New Year gala in 2014, Cui pulled out when he was told he could not perform Nothing to My Name. He has kept going only by keeping his lyrical provocations metaphorical, maintaining a strait-laced image, and not speaking directly about issues like Tiananmen in public.
The 2014 New Year incident was typical of the increased turn to control of culture since Xi Jinping's rise to power in 2013, which has seen an effort to encourage nationalistic "positive energy" – Xi's nebulous buzz-phrase – and the elimination of "vulgarity".
References to sex or drugs in songs have been targeted, and in 2015 the Ministry of Culture published a list of banned songs for the first time. The 120 titles included a preponderance of hip hop, including eight songs by Beijing act Xinjiekou Crew. Meanwhile, overt support for the key causes of Tibet, the oppressed Falun Gong movement, Taiwanese independence or exiled artist Ai Weiwei have seen Western acts barred by Beijing from playing in the country.
Today, Beijing has designs on a future as an 'international music capital', even if Xi's policy approach means it will not be one that grows organically, challenging Hong Kong and Shanghai, the respective homes of Cantopop and Mandopop. Proposals unveiled by the Beijing municipal government last year will see the building of small venues for live music and investment in digital music to build Beijing music into a 120 billion yen industry by 2025.
In reality, Beijing has long been the hothouse of China's biggest stars. Beijing-born Faye Wong, who made her name in Hong Kong Cantopop before shifting to her mother tongue of Mandarin, has been a dominating presence since the 1990s, but has also found room for less mainstream experimentation, such as writing with Scottish dream pop act, Cocteau Twins. National treasures like Song Zuying, Wei Wei and Tan Jing, associated with the Beijing-based state song and dance troupes and latterly co-opted into official political roles, show how music and politics can be completely intertwined in contemporary China.
Song, Wei and Tan all featured in the 2008 Beijing Olympics ceremonies, which were symbolic of the direction of both Chinese music and China itself. Several stars of Hong Kong's Cantopop scene, which has made increasing inroads on the mainland since 1997, appeared and the theme song for the games, You and Me, was less than subtle in its message that China is open and ready to present a friendly face to the world.
Performed at the opening ceremony by Sarah Brightman and king of Chinese TV historical drama theme tunes and lecturer in music in Beijing, Liu Huan, the anthem emphasised "You and me/ From one world/ We are family". But while Confucius' saying "We are all brothers in this world" was also used in the ceremony, as long as Chinese musicians are constrained, they may meet the rest of the world as brothers, but not as creative equals.
PEKING OPERA
Emerging in the eighteenth century, when Beijing was the seat of the Qing dynasty, Jingxi (Peking or Beijing opera) is based on just four archetypal roles – the Male (sheng), the Female (dan), the Painted Face (shing) and the Clown (chou) – and is rich in its symbolism. Make-up, costuming and acrobatics make it an intensely visual spectacle, but it is its strongly percussive, sparse musical accompaniment, dominated by the various forms of the huqin bowed lute, that provides the clear emotional cues for the drama.
What do you think? Have your say on this and more by emailing letters@theneweuropean.co.uk
Most popular