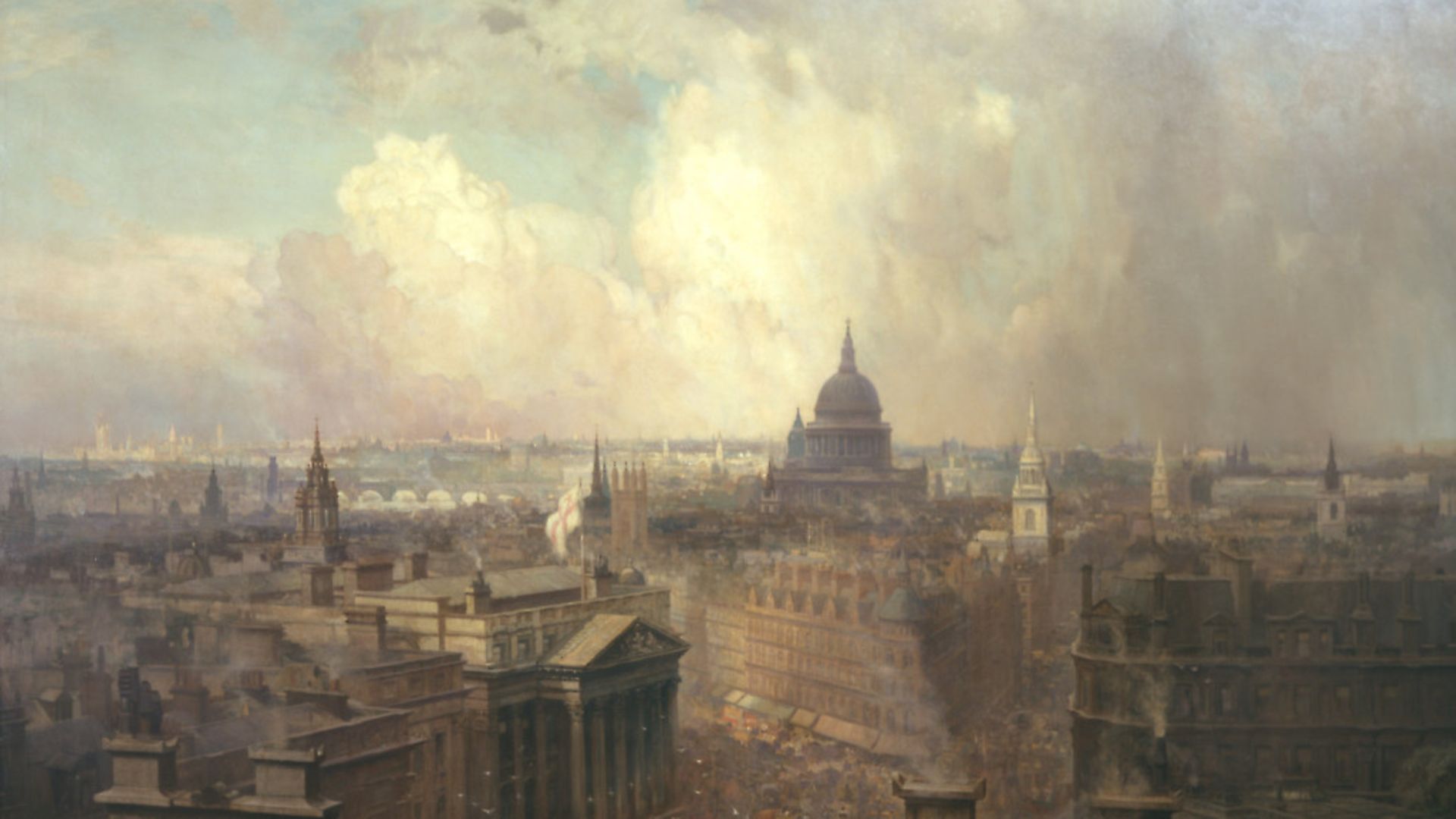 Claudia Pritchard looks at the Guildhall Art Gallery's Architecture of London exhibition
Fire and water, riots and war, need and fashion, demolition and construction. The forces at work on the architecture of London come from all sides, never letting up, as an exhibition featuring 400 years of the capital's depiction in art shows. And it often takes a new arrival to see the familiar through fresh eyes.
Architecture of London at the Guildhall Art Gallery opens the city's story with the arrival of Flemish painters, bringing their tradition of meticulous topographical painting, in celebrations of a similarly mercantile society.
London had already attracted and kept the great Dutch maritime painters Willem van de Velde the Elder and the Younger by the time their countryman Jan Vorsterman decided to solve his financial difficulties with a trip to Britain, where work such as his was now in vogue. His London from Greenwich Park (1678) shows a view that many would recognise today, but for the absence of the city skyscrapers, with promenaders to the left, the river winding west, and building projects in the foreground.
A restless theme that runs through many artists' work, as the city is constantly taken apart and reassembled, right up to a south London tower block still undergoing its 20-year reconstruction. In David Hepher's Albany Flats (1977-79), homes on the Aylesbury Estate in Southwark, one of the largest housing estates in Europe, fill every centimetre of the canvas, only ornaments, greetings cards and furnishings personalising each rigidly uniform frontage.
Tony Blair made his first speech as prime minister on the Aylesbury Estate in 1997, a demonstration of his New Labour government's commitment to the poorest in society. A visionary view of architecture as societal indicator was nothing new. In 1616, in a rare, three-panelled "book", John Gypkin's Old St Paul's Diptych illustrated the dream of his patron, Henry Farley, a legal clerk. On the 'cover', a prospect of the City from Southwark, with Farley meditating on a cloud. Inside, on the left 'page', old St Paul's, in a state of disrepair; on the right, a gleaming fantasy of what it could be.
The Great Fire of 1666 put paid to such dreams, claiming 87 of 109 parish churches, 13,000 houses, 43 livery halls, the Royal Exchange – and St Paul's. It also prompted a new way of building, as dictated partly by the City & Country Purchaser & Builder, a compact volume published the following year. Here are written down the specifications for a house with a modest frontage. They sound generous: 29 window frames, 13 chimneys, five pairs of stairs…
New London was built on classical principles favoured by the wealthy who had been on the Grand Tour in the late 17th and 18th centuries, absorbing the architecture of, in particular, Italy, and then encouraging in the capital's rebuilding the columns and pediments of Rome.
Cue an Italian painter, also in fashion, and one who could bring a languid splendour to London under reconstruction. Giovanni Antonio Canal (1697-1768), known as Canaletto, travelled from his native Venice to London in 1746, remaining until 1755. In the capital he was rubbing shoulders with those who had developed a taste for his decorative art on their own travels, and he gave his London landscapes a Venetian spin, blending the elegant with the everyday. In his View Through an Arch of Westminster Bridge (1747), a bucket hangs prominently in the foreground, from wooden scaffolding, while the Thames yawns beyond, and Sir Christopher Wren's neo-classical St Paul's, rather different from Gypkin's vision, points heavenward.
Canaletto spawned many imitators, among them William James, active from the 1750s to 1770s, whose Westminster Bridge with Houses painted in that period has the busy vessels and fine facades of the Grand Canal. But the 18th century brought many setbacks, and ever more Londoners to witness them. William Marlow's The Waterworks at London Bridge on Fire (1779) shows a plume of flame shooting into the night sky, observed from the safety of the river by boatmen. A year later, Francis Swaine showed bystanders watching London going up in smoke again with the incendiary Gordon Riots protesting at new anti-Catholic proposals.
By the 19th century, industrialisation prompted rebuilding to cater for modern needs. J. W. S. Cox's The Demolition of London Bridge (c1832), records the taking down of the medieval bridge as the new bridge of 1831 opened alongside. Recycled, the stone was floated down river to Greenhithe to build the 18th-century iteration of Ingress Abbey, in Elizabethan style. The stone balustrades popped up again at the pier of Herne Bay. Down too come St Olave's, Tooley Street, Waterloo Bridge, everything around St Giles, Cripplegate. Some of the sites are bomb-damaged; others merely get in the way of progress.
Churches are particularly vulnerable, many not rebuilt after the Second World War. John Piper, an official war artist, in 1941, with characteristic skill to make something dignified and lovely out of desolation, memorialises Christ Church, Newgate Street. Never restored, today 
its refurbished tower is an office space, and workers eat their packed lunches in the rose garden where the nave once stood.
Into the 20th century and beyond, London is re-invented, new materials allowing new forms, European influences changing taste. Now out of favour, Aylesbury Estate was built in good faith in the modernist European tradition.
So too the Brecknock Estate in Islington, north London, designed to both mirror period property around and encourage a communal new way of living, and
vividly painted, as if from the fast-moving car in the foreground, by Karen Raney. Bold experiments, but British families seem happier in the townhouses of Frank Auerbach's Mornington Crescent, north London, or suburban calm of Spencer Gore's Cambrian Road, Richmond.
When Uzo Egonu arrived in Britain from Nigeria in 1945, he made London his home until his death in 1996. This 50-year association gave birth to a style that incorporates both bird's-eye view perspective of the city's landmarks and the decorative forms of his Igbo art tradition of today's south-central and south-eastern Nigeria. In his views of London, every nook and cranny is filled, and that, says Catherine Yass in her 
film Last Stand (2019) is why greedy 
eyes are on the new building plot, the sky. Yass comes to the defence of the air above us. For when all points of the compass have been exhausted, the only way is up.
Architecture of London, Guildhall Art Gallery (www.cityoflondon.gov.uk; 020 7332 3700), until December 1