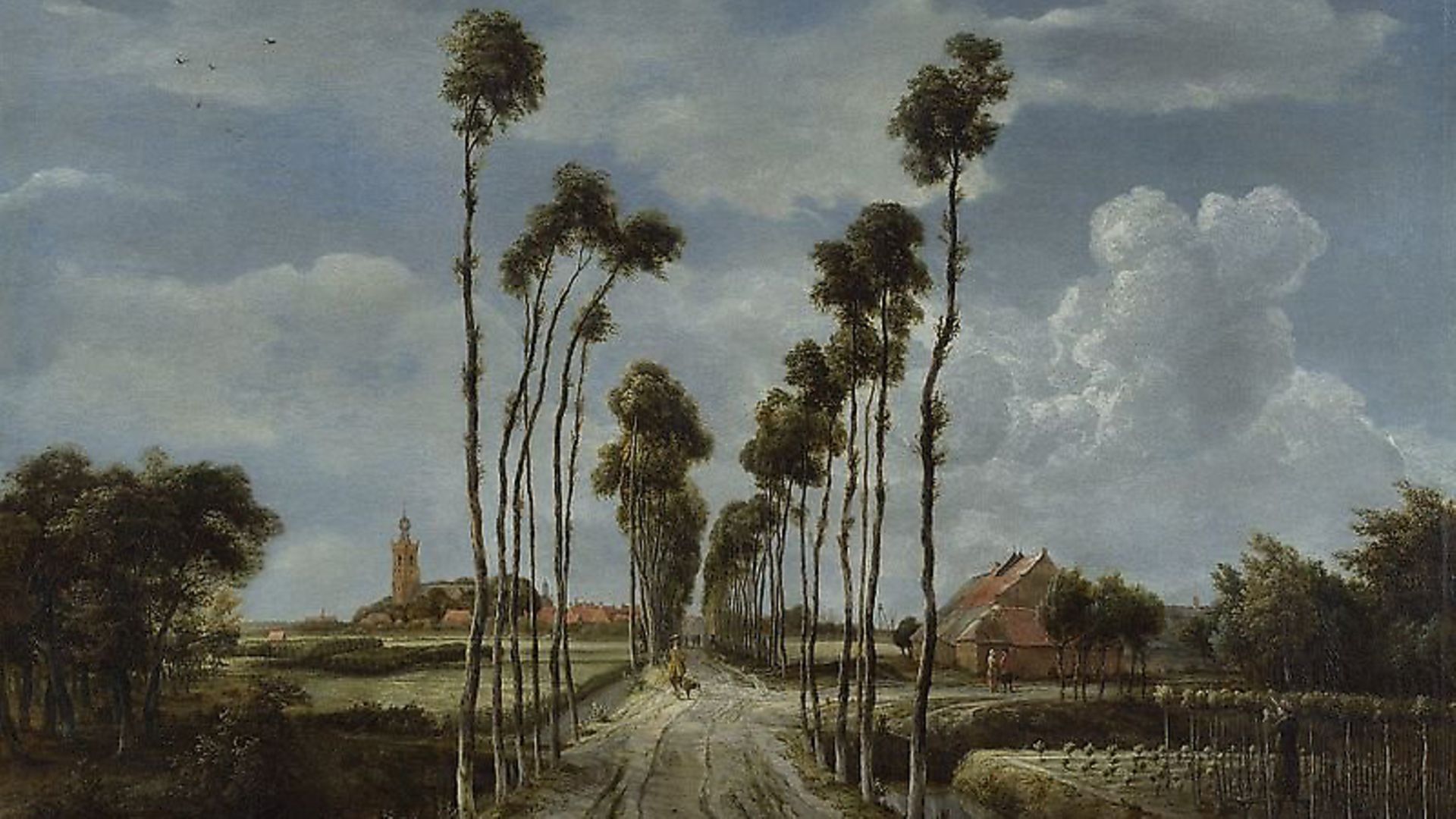 Of two major new exhibitions dedicated to Vincent Van Gogh, one focuses on the artists he admired at the beginning of his career, while the other looks at an artist who looked up to him.
With its neat fields and slender trees that pierce a heavy sky, a single picture plays a pivotal role in two complementary exhibitions inspired by the short life and abundant work of Vincent Van Gogh.
One of the shows, in Amsterdam, finds a special bond between the Dutch painter and the living British artist David Hockney. The other, at Tate Britain, considers Van Gogh's early years in London, when he worked in art sales but did not paint himself, preferring to study the British masters, who he admired greatly. At the heart of this cycle of the influential and the influenced is the 17th century artist Meindert Hobbema, whose landscape The Avenue at Middelharnis (1689) informs both shows.
Van Gogh had been enthralled by the painting, which he saw while living in London. He arrived in the city in 1873, at the age of 20, where he earned four times a labourer's wage as an assistant at the art dealers Goupil. With comfortable lodgings in south London, he was content to walk along and across the river Thames, soaking up art on public view at the National Gallery, including the Hobbema's landscape, acquired two years before his arrival in the capital. 'Look out for the Hobbema,' he later advised his brother Theo in one of the illustrated letters on display at the Tate Britain exhibition that shed so much light on Van Gogh's vision and processes.
Many of the picture's key elements would appear in Van Gogh's own work, when he finally embarked on a painting career in his late twenties: the deep view, the attention to natural details, the small figure in shadow, a distant building.
Some 140 years later, the picture exerted its power again, this time over Hockney, a huge admirer of Van Gogh, who fragments its clouds, tree-lined avenue and agriculture into six separate and shaped canvases in After Hobbema (Useful Knowledge) (2017), on display in Hockney – Van Gogh: The Joy of Nature at the Van Gogh Museum in Amsterdam.
The unashamed passion of Van Gogh and Hockney for the Old Masters and for modern landscape is reflected in the colourful abandon with which they both plunge into nature, rejoicing in the seasons, seduced by the rival attractions of each in turn.
Spring exerts a powerful hold over Hockney, his vigorous blossoms and pushing shoots so limb-like that at any moment a head might pop through and the whole creature stride down Woldgate, the East Yorkshire lane that he depicts repeatedly.
But then there is broiling, abundant summer, both artists raising the temperature with hot reds and oranges against cool blue skies. Juxtaposed in the Amsterdam show, Hockney's bountiful Kilham to Lantoft II (2005) is dominated by the modern, cylindrical bales that earlier farmers would not have known; the magnetic centre of Van Gogh's agricultural scene, The Harvest (1888), is a huge cartwheel. Neither man can resist a circle, or the gold and copper maturity of autumn.
'Van Gogh was the first great colourist,' enthuses Hockney, whose own love affair with painting seems never to wane, but rather to lead to ever larger and more dazzling images. Notwithstanding the two artists' similar passions, their careers took very different trajectories. At 80, Hockney has been working for six decades; Van Gogh managed just one before he took his own life at the age of 37.
Nothing in Van Gogh's London years, so rewarding fiscally and intellectually, would suggest this early and distressing demise. The popular image of the artist as a distressed loner is challenged by the Tate Britain exhibition, Van Gogh in Britain, which introduces us to a well-read young intellectual – speaking four languages, he devoured Dickens and George Eliot – who is intensely interested in the plight of his fellow man. A favourite book, placed on the table at which his friend Marie Ginoux sits in L'Arlésienne (1890), is Harriet Beecher Stowe's anti-slavery novel Uncle Tom's Cabin. The prints he admired most included Gustave Doré's scenes of labourers, dockers, the poor, in or out of work, and a view down into the grim exercise yard of Newgate Prison. Similar inmates trudging in a grim, green circle appear in the only picture of London he made himself, The Prison Courtyard (1890).
Van Gogh was intrigued by the craft of weaving, depicting weavers and often re-reading Eliot's Silas Marner. He also followed other contemporary artist's innovations, notably Whistler, whose atmospheric, riverine Nocturnes he got to know when his own intensely observed cityscapes in views in giddying colours, notably Starry Night (1888), loaned to Tate Britain, were yet to come.
After two years at Goupil, Van Gogh was recalled to Paris, where he lost his art sales job altogether, returning briefly to Britain to teach, and embarking on a religious ministry which he soon abandoned. It was his brother Theo who suggested that Vincent make a career of art.
His rapidly evolving style is illustrated at Tate Britain with much-loved works including Sunflowers (1888) and also with a look back at a landmark exhibition at London's Grafton Galleries in 1910. That exhibition, Manet and the Post-Impressionists, 20 years after his death, amazed the city he had loved, but which had not loved him back enough to buy any of his work during his short lifetime.
In 1924, the National Gallery, whose collection he had so admired, acquired Sunflowers (1888), one of many Van
Gogh works that spawned countless imitations, as the artist exerted the influence that artists such as Hobbema had once exerted on him. Many are shown in Tate's exhibition, but despite the many attempts of admirers to emulate the innovative domestic scenes and landscapes, the Amsterdam show proposes persuasively that it is not until Hockney that an artist can get close to the sheer passion for painting of Vincent Van Gogh.
• Hockney – Van Gogh: The Joy of Nature is at the Van Gogh Museum, Amsterdam (vangoghmuseum.com/hockney), until May 26; Van Gogh and Britain is at Tate Britain, London (tate.org.uk), until August 11