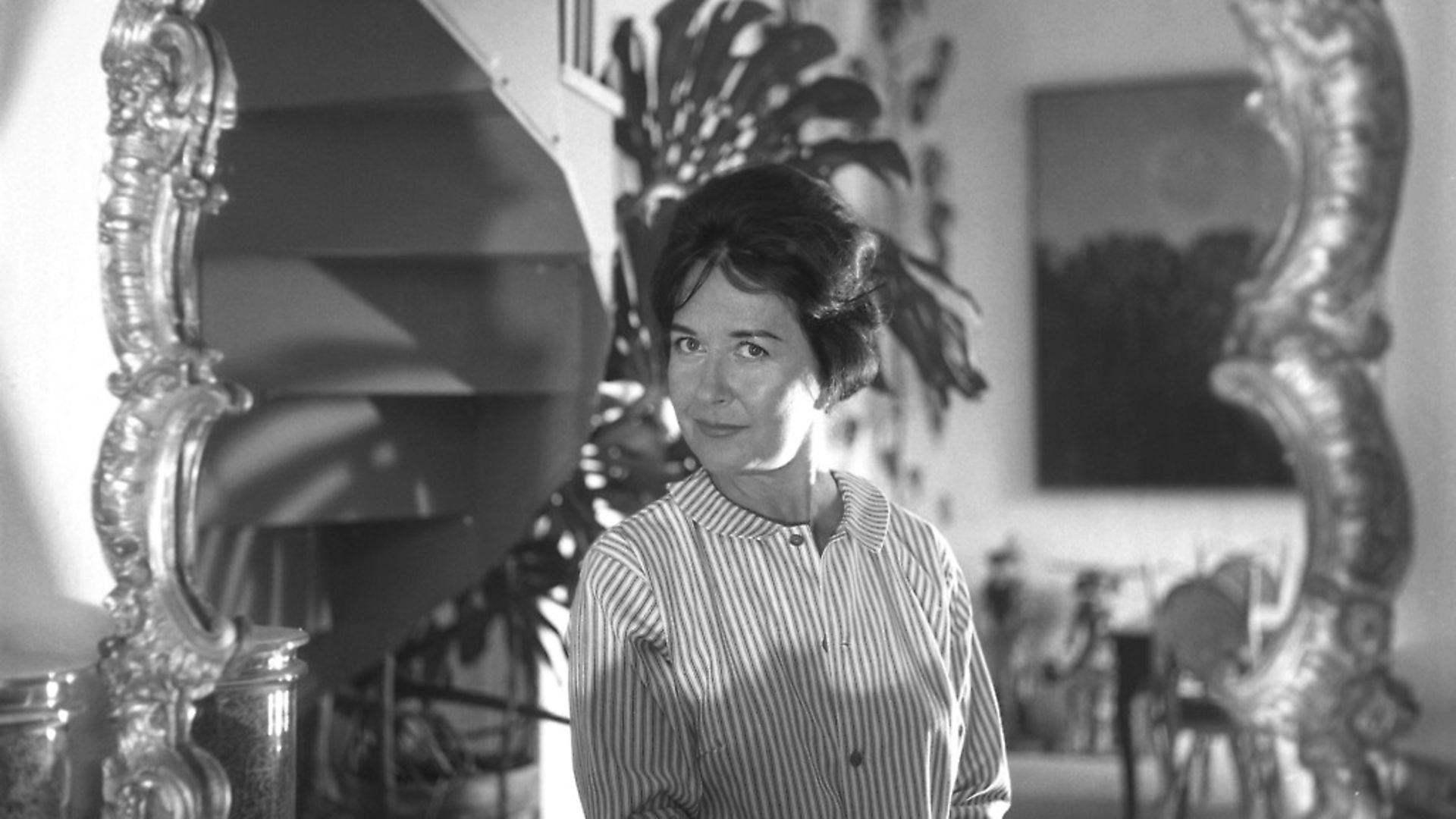 Dorothea Tanning was a rare female protagonist of surrealism and bridged many art disciplines and movements. A new exhibition pays due tribute to this pioneer, says CLAUDIA PRITCHARD.
One door opens and another door opens in both the life and the art of Dorothea Tanning. A surrealist painter and sculptor, designer and writer, in her six-decade career she progressed through many media and fashions. And, as if reflecting those unfolding opportunities, in her images doors constantly lead to new possibilities too.
For Birthday (1942), with its endless doorways, the artist herself poses, bare-chested, in baroque ribbons and lace augmented by green tendrils. The picture, part of a revelatory exhibition at Tate Modern, marks her arrival in the surrealist circles of Paris to which she had long aspired.
The painter Max Ernst visited her at her studio, saw the painting on its easel, and gave it its title, to acknowledge her 'birth' into the surrealist world.
Her real birth in 1910 had been in Gatesburg, Illinois, where, she said, 'nothing happened but the wallpaper'. Educated at a liberal arts college in the town, then briefly in Chicago and New York, she immersed herself in Gothic novels and poetry, so that on seeing in New York the 1936 exhibition Fantastic Art, Dada and Surrealism she had the visual vocabulary and the mindset to enter into the surrealist world of impossibilities and juxtapositions.
Repeated motifs – Lewis Carroll's Alice and other doll-like children, those ever-present doors, mythical creatures – give a unity to her six decades of work and illustrate her immersion in the surrealist world. Tassels that could be key-holes, bunched hair or clinched evening gowns float in Love Letter (1948) like the objects of Rene Magritte. Walls and arcades lead to the metaphysical world of Giorgio di Chirico.
Ernst, who had married collector Peggy Guggenheim months before meeting the artist, left her for Tanning. They set up home in the Arizona desert, and their marriage in 1946 – a double wedding in Beverley Hills with Man Ray and Juliet P Browner – lasted until his death in 1976.
But despite the male-centric nature of the surrealist movement – one of the few other women artists was Leonora Carrington, with whom Ernst had lived before marrying Guggenheim – Tanning developed a distinctively feminine vision and style, demonstrated early in her commercial fashion drawings.
And the props in her hellish domestic scenes reveal their artistic lineage: an immaculate white, unfolded, tablecloth straight out of a Last Supper; the chess set, totem of the surrealist movement, on the deck of Max in a Blue Boat (1947), in which Ernst holds a ball of flame, as the vessel sets out under a sail of ectoplasm.
In Family Portrait (1954), Tanning takes a swipe at male hierarchies with the relative size of the household members. At the table a vast, expressionless man dwarfs a young woman, and the housekeeper is puny beside the substantial family hound.
Living creatures abound in Tanning's work – especially Ernst's dog, a long-haired lhasa apso called Katchina. In Birthday, a winged beast lurks at Tanning's feet; the fish is so fresh in La Truite au Bleu (1952) that it arches on the plate in its death throes, while the rest of the shoal dart under the table.
The sunflower in the Tate's own nightmarish Eine Kleine Nachtmusik (1943) and the work for which Tanning is probably best known today, slumps like an octopus from the landing where two girls are frozen in alarming poses.
One leans in a doorway, half-naked; the other, with ripped clothing and her hair standing on end, confronts the creeping stalk. Have they come out of the last doorway in the corridor, leading to a lit interior, or is that their place of safety?
Such ambiguities abound as, over the decades, Tanning leaves behind the tightly structured paintings of her early years, and adopts a looser style and finally changes medium altogether. Transitional were the costume and set designs for four ballets by Balanchine, and later for John Cranko, whose The Witch with music by Ravel was staged at the Royal Opera House in 1950.
Tanning travelled to London for opening night and, dissatisfied with the fabrics the wardrobe department had chosen to interpret her designs, rapidly remade some pieces. The ballet was a flop, and some performances were cancelled. Nonetheless Tanning was impressed by 'the earth-shaking event of taking a bow on the stage of Covent Garden!'.
Her experiments with textiles drew on a feeling for fabrics honed during her early days designing advertisements for Macy's department story. It was Macy's art director who had introduced her to the gallerist Julien Levy; he showed her work and gave her solo exhibitions in 1944 and 1948. With the help of her old Singer sewing machine, in the 1960s she started to create often headless figures, some in embraces hard to entangle, that would be more disturbing were it not for their delicately pointed 'feet', legacy of her refined drawings of dancers.
Fleshy pink and bear-brown, smooth or woven, these bulbous forms erupt throughout the exhibition, freestanding or, as in the case of the virtuosic Chambre 202, Hôtel du Pavot (1970-73), bursting through the wallpaper, erupting from the furniture. Or perhaps the transformation is the other way round, the organic forms being devoured rather than extruded.
Tanning may have complained of her wallpaper-dull upbringing, but here she puts wallpaper at the heart of unexpected drama. And for all the unease of the tweedy desk and the human-legged chair, there is a sort of companionableness about these grotesques. One on its own would be horrific and vulnerable; this 'family' of oddities at least have each other.
Tanning and Ernst had no children, but she portrays parenthood with insight, from the straining belly of the mother-to-be to the solemn, classical, quasi-religious madonna and child in Maternity (1946-47), a rarity on loan from a private collection.
Towards the end of her most creative years, Tanning, who by the late 1970s had bridged many art movements, even briefly caught the wave of performance and interactive art. When she first showed her velvety, seal-like Pincushion to Serve as a Fetish (1979), dotted with pearl-headed pins, the tools of her trade as a textile artist, she invited viewers themselves to poke in the pins.
She continued to paint into her old age, her now trademark tangle of limbs dissolving on vast canvases, every undulation as far removed from the rectilinear structure of those many opening doors as it is possible to imagine. And then she embarked on a new career, devoting herself to the writing she had always enjoyed. When Ernst died, she returned to New York, where publications included a first memoir in 1986, called, like that pivotal self-portrait, Birthday. Her last collection of poetry was published in September 2011; she died four months later.
Dorothea Tanning runs at Tate Modern, London, until June 9.