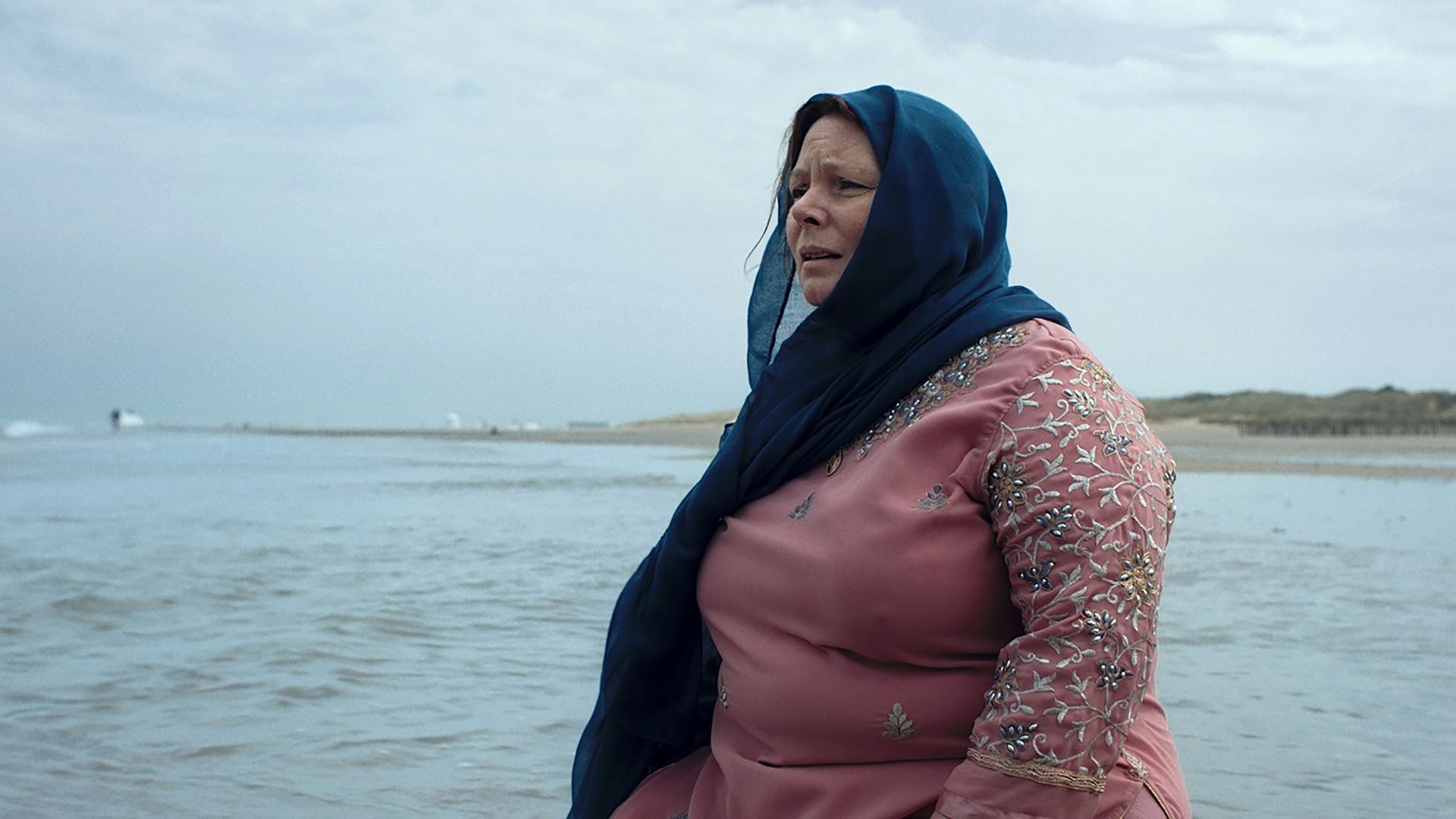 The story of two places, and two women, linked by fate and separated by a body of water.
Calais has always had a special place in British culture. We owned it from 1347 until 1558 after all, even if now it's mainly known for booze cruises, Channel swims and the first trip abroad for so many school children sampling their first cigarettes, cheap wine and the noisy joys of firecrackers.
Very rarely, however, does anyone spend much time there, let alone see it on screen, which is what makes British film-maker Aleem Khan's debut feature, After Love, so intriguing. It's the story of Mary, a Kent woman who has converted to Islam for her husband, Ahmed, but who goes on a journey to Calais when she discovers something curious about him after his sudden death, a secret lurking just 21 miles away over the sea.
On her journey from Dover on the ferry her husband used to pilot, Mary (played by the remarkable Joanna Scanlan) turns back to look at the white cliffs, only to spot a landslide as she realises the foundations of her life are crumbling.
It's a powerful image, one of many that recur throughout Khan's film, and one that speaks volumes through the painful silences. And while some of the symbolism may appear neat at first sight, for Khan this story and this setting are very real and everyday aspects of life.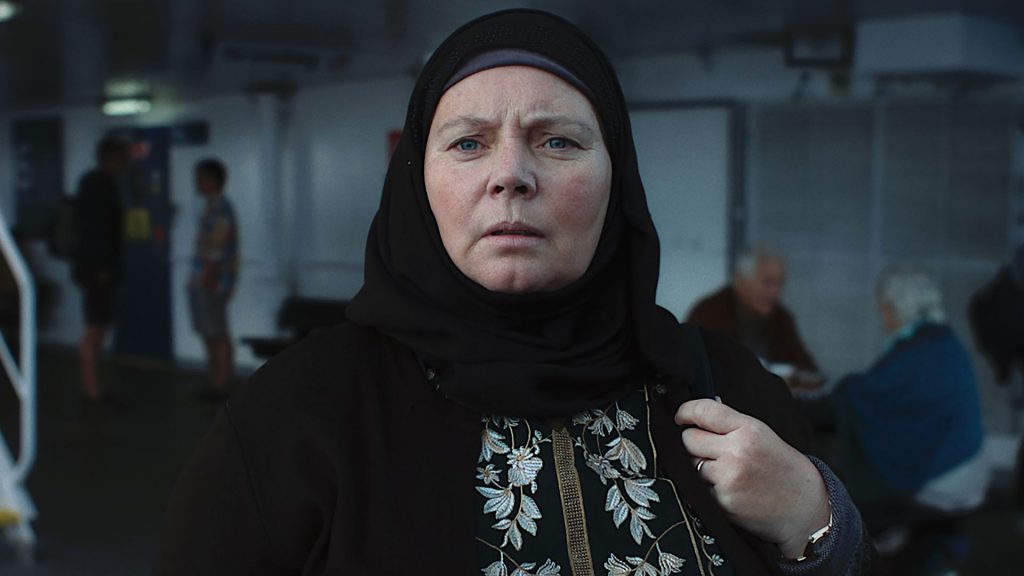 "It's partly autobiographical, but also very much not," he tells me. "For example, my Dad is very much alive, thankfully."
Khan's white mother, however, did convert to Islam in her 20s to marry his father and into his large Muslim family. She wore shalwar kameez, learned Urdu, cooked Pakistani food but also remained very close to her own parents, though, who lived in Folkestone and where the young Aleem spent much of his summer holidays, playing on top of the cliffs he would eventually picture in his first movie.
"I would gaze out over the sea to Calais all day," he recalls. "I could track a ferry from right underneath me, all the way across and then watch it return. My mind would travel with it, wondering what was over there, what sort of adventures lay across the sea. Sometimes it was so clear you felt you could touch France.
"And yes, we would take the ferry over quite a lot, just for a day out. Although my favourite was the hovercraft, when that was still going. What great fun that was."
But this is a powerful, emotional drama set in both Dover and Calais, two neighbouring cities linked perhaps more than any other two cities in either the UK or France. For Khan, they are twin sisters facing each other with historical and economic connections that were ripe for dramatic exploration.
"But I've always felt they both have an identity crisis, constantly evolving and being re-seen and rediscovered, both places where the chief activity and energy is arrival and departure. That gives them a unique position and feeling in the air and they both occupy very specific spots in their own cultures and countries."
After the Hundred Years' War, the Siege of Calais, the famous Rodin sculpture Les Bourgeois de Calais (of which one of the 12 permitted casts stands by our own Houses of Parliament), the German occupation and pounding of WWII, the construction of the Channel Tunnel and all those day-tripping Brits loading up their cars, of course, now Calais is synonymous with refugees. Dover is still held as the gatekeeper of Britishness, the last bastion of national identity as well as the protector and defender.
That image of Nigel Farage on the cliffs, keeping watch, is one of the most ridiculous photos of recent years yet one so typical of the sour Brexit debate. "I know that spot well, where Farage was keeping lookout," agrees Khan, "but I've also always known that the cliffs there are always compacting and shifting and that the tiniest fissure can bring parts of it crashing down to reveal a whole new layer – the facade is very fragile and is repeatedly renewed by something cleaner and purer. That's what I wanted to explore in my film."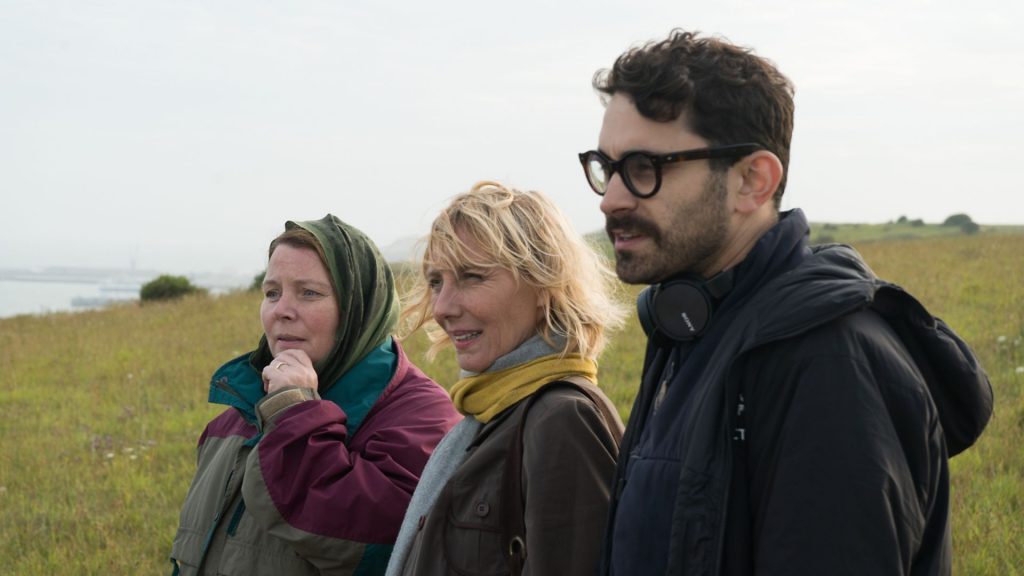 After Love is very much not about refugees and although it was shot while the so-called "jungle" was still occupied in Calais, it doesn't feature in the film at all. However, the spectre and spirit of the debate haunts the movie. Says Khan: "I wanted it to be a film about perspective, about looking at something from another side. It's only when you have distance on something and step outside to see it from another angle that your perception can change and you see it for what it really is."
Now we're a bit deeper into the article, I will reveal that Mary's trip to Calais reveals that her husband had another family there, a woman called Genevieve and a 13-year-old son, called Solomon. Arriving to confront them and impart news of Ahmed's death, Mary finds herself mistaken for the cleaner and is set to work tidying the small, terraced house up for an impending move.
"Genevieve sees Mary in her veil and makes an immediate assumption," says Khan. "She sees the headscarf, not the person. Mary keeps the pretence going, though, so she can rummage through this lady's things. So everyone is participating in a the lie, although not everyone knows the truth.
"Everyone is a victim and a transgressor, but nothing is fixed. They have shared a man without knowing it. Mary has ironed a shirt in the morning that Genevieve has washed later that same evening. I wanted to show that everyone is fallible."
Shooting the film did involve driving past the refugee camps every day. So while his film subtly challenges notions of identity and race and nationalism, it doesn't need to mention the desperation and suffering that was going on just minutes away.
"Calais has been used to ignoring the issue," says Khan. "You get off the ferry, turn left and drive past the barbed wire and you're at a beautiful beach, where everyone is white and at leisure, a contrast to the squalor and insecurity next door. and that separation, that ability to compartmentalise it collectively blew my mind and I think that discomfort fed into the film."
It's also something that seeps into Michael Haneke's 2017 film Happy End, a film about a wealthy local construction family which employs some migrant workers and which features scenes of homeless refugees in the town and, eventually, crashing a wedding. 
It's typical Haneke, to hone in on an outside threat to make his character – and his audience – shift uneasily in their seats. Happy End starred Isabelle Huppert and Jean-Louis Trintignant but also featured actress Nathalie Richard, who plays Genevieve in After Love. She tells me that filming in Calais gave her a surprising edge to her character.
"Look, this film is absolutely about not making snap judgements and assumptions and most of the time I was working hard, you know, in the little house where we filmed but, I did get to the beach and went swimming in the sea twice and it was lovely, not too cold but that was when I sat on the sand and I noticed all the boats coming and going and that helped me remember what the purpose of this town was and I could just see the barbed wire and I thought of all those people who have dared risk their life to get here and now risk it again to cross this little bit of water, you know, to swim, or to find a little boat.
"And I found myself thinking what it must be to search another life somewhere and thinking of all the dead people in this water. I know it became something I put into the character of Genevieve somehow."
We also discussed if this double life that Ahmed leads would be possible post-Brexit. Richard has worked extensively in French film  – working with leading directors including Jaques Rivette, Olivier Assayas and Michael Haneke – but has also appeared in UK works such as 2010's Never Let Me Go, with Carey Mulligan and Keira Knightley, which shot in Kent. 
"I remember seeing Calais then, shimmering like a mirage in the distance,  and it was the first time I'd seen my own country like this, and I remember how it really gave me a whole new perspective on France that moment. I could see how it could appear like a dream to people.
"I hope we can still collaborate, the two film industries," she says when I ask about Brexit. "Because, it is only my meeting other people that you can see yourself. I liked to work with Joanna Scanlan very much on this film, because we had very different styles of acting and I think we helped each other because of this.
"But the only thing I don't know if this man, Ahmed, could have lived in France and Britain if Brexit existed. Ha! This whole film would not be possible, so it is lucky we made it just in time, I suppose. But you know, we will all still have multiple identities within us and it's when you meet a stranger that you really reassess yourself and that is what I loved about this film."
Khan wrote the film during the entire Brexit process, even during some time spent working with refugee charity L'Auberge in the Calais jungle, typing at the script in the evenings when not volunteering and distributing aid.
Genevieve and Mary don't become best friends. That would have been too pat, too corny. Nor do they shout and scream at each other but arrive at some kind of balance, find some connection. They do, after all, share much common ground even if there is a constantly shifting uneasiness between them, like Dover and Calais.
"Neither of them have the moral high ground, really," says Aleem Khan. "Life is messier than we'd like to admit so it all depends on where you're standing and what you want to admit to seeing. I've long felt torn between identities within myself and making this film, using the extremes of Dover and Calais as connected opposites, has allowed me to examine that.
"Like in the cliffs, I could see the layers under the skin and I wanted to ask who we are when we look in the mirror – do we see the real self or do we focus on what's missing, what's not there?"
After Love will be in UK cinemas and streaming from Jun 4
What do you think? Have your say on this and more by emailing letters@theneweuropean.co.uk
DOVER AND CALAIS
The shortest distance across what we call the Dover Strait (the French call it Pas de Calais) is just 33km (20.7 miles). Both the famed (to us) white cliffs of Dover and (to them) Cap Blanc-Nez were formed after erosion wore away land between the Weald and the Boulonnais around 425,000 years ago, or 4,000 years ago if you are new DUP leader Edwin Poots.
Though damage from Brexit is still being assessed, the Calais to Dover link used to handle nearly 3 million lorry crossings per year, accounting for 17% of trade between the UK and EU. In 2018, then-Brexit secretary Dominic Raab was ridiculed after telling a conference: "We are, and I hadn't quite understood the full extent of this, but if you look at the UK and if you look at how we trade in goods, we are particularly reliant on the Dover-Calais crossing."
Most popular