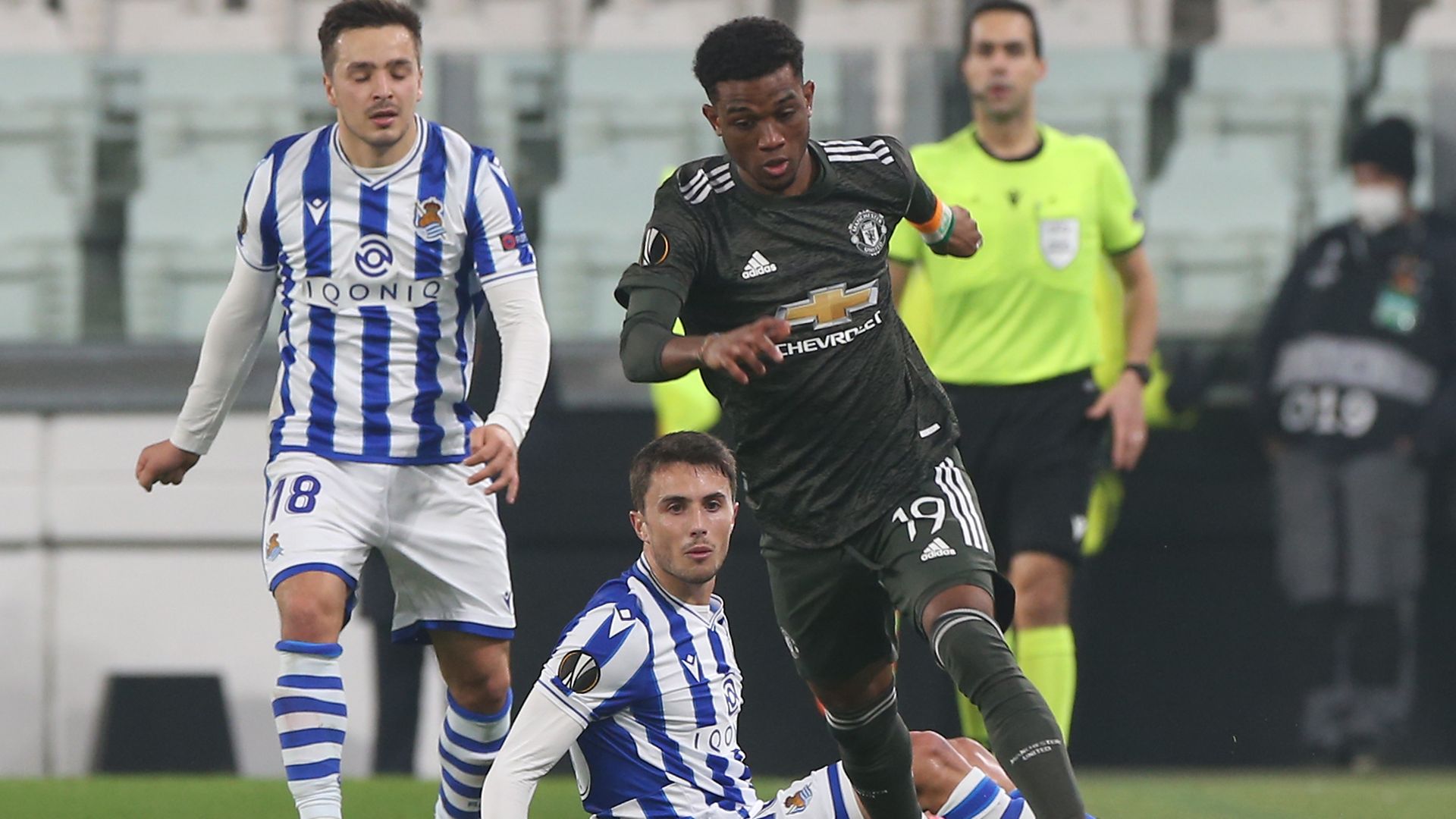 The case of Manchester United's talented young winger Amad Diallo highlights awkward questions for football about the way it procures young players from abroad, says ROB HUGHES.
Bill Shankly, the sage of Liverpool FC, once corrected a misconception of mine. "Listen son, coaches do not make good players," he said in that familiar rasping Scottish pitch. "Mothers and fathers make good footballers."
That was so long ago that I am extremely eager to emphasise he called me "son".
Shankly's point was that when he scouted a player he was more interested in the parentage, even grand-parentage, than where the boy (in those day it would just be boys) learned the drills and disciplines of the game.
I thought again of Shanks when Amad Diallo, the 18-year-old Ivory Coast winger signed by Manchester United, made his debut in the Uefa Europa League against Real Sociedad earlier this month. So direct and daring, so free of mind and so finely balanced of body.
However, we may never know who his real parents are, or maybe what his exact age is.
Immigration officials believe Amad and an older boy Hamed, entered northern Italy on a fictitious family visa when Amad was about 12. The Parma prosecutors office is considering whether to charge five adults, including two who claim to have been the parents, with "facilitating and favouring illegal immigration".
In effect, child trafficking; in this case for the purposes of profiting from gems of football talents to sell on the European club markets. The prospect has to grow, coaches have to develop their God-given, or parental, precocious skills.
Amad, now a well built teenager, has now dropped the surname Traorè given to him by the couple accused of faking his entry papers. Two Italian clubs have profited. At 12, he joined a junior team Boca Barco and from there Atalanta accelerated him into their first team before selling him to United for a sum that could reach €42.6 million (£37.2 million).
A lot of clubs wanted Amad. Ole Gunnar Solskjaer is now charged with nurturing him into first team activity. From everything we have seen, that will be sooner rather than later, and quite likely end United's £100-million interest in Borussia Dortmund's English winger Jadon Sancho.
So long as Solskjaer survives the managerial merry-go-round, one assumes he will take care of the young boys aspiring to be the next Ryan Giggs, or Cristiano Ronaldo at Old Trafford's Theatre of Dreams.
Thus far no-one knows whether the grown-ups in this alleged scam, known as Operation Baby Elephant, will face due punishment. We do know that Amad, or agents on his behalf, made a plea bargain after which the Italian football federation fined him €48,000. That's £42,000 for a teenager who should surely be regarded as the victim in this exploitation.
He may take that in his very rapid stride as he earns the big money at United. But this is murky business of touting talents emerging in lands that are often poor and not so rigid in the ways that modern club academies 'develop' talent.
Mothers and fathers, as Shankly said, rather than coaches. Another great football philosopher, the Dane Nils Middelboe put it another way: Children should be given full rein to explore their imagination. Middelboe, a banker, an Olympian and a Chelsea player before the First World War, wrote "To systematise is to sterilise".
Enough of the scholarly stuff, more of the skulduggery.
FIFA have had, minimally, 50 years to police the situation of child exploitation. It might be harsh – a little – to suggest that under the presidency of the Brazilian Joao Havelange, followed by Sepp Blatter, FIFA was more interested on feathering their own nests rather than taking care of minors.
Even today, even with all the ongoing court cases over bribery and corruption by the sport's global ruling body, the welfare of players plays a very minor part to raking in the profits.
Politicians court the popularity of 'the global game' but often run a mile from imposing regulation. The trading of emerging talents follows a familiar and predictable path.
The lands of football plenty are European, and the exploited regions are the obvious, Latin America to Africa. As far back as 1992, Carlos Saúl Menem, the populist president of Argentina, assured me in his office in the Pink House – the presidential mansion in Buenos Aires – that he would stop the traffic of minors from Argentina to European clubs. He vowed to prevent any child under 15 from being sold abroad. It never came to the statute books.
Towards the end of the 1990s, the Brazilian football federation, identified more than 300 youths sold to European clubs – 88 of them to Germany. Again, hot air and pious promises, and no follow through.
The 'breeding grounds' for talented kids remain the South American and African nations. The buyers remain Germany, Italy, France, Spain, England, the Netherlands and Portugal.
And the biggest reported scar on the whole process is probably the flight from Brazil in 1999 crammed with adolescents who believed, and whose parents believed, they would be guided to the promised land of football riches. The boys landed in Belgium, but there were no agents waiting to drive them to clubs, no future, no payments.
It was a scam, a crime on children who were left to wander the streets of Brussels and make what they could of life. If ever there was justice in that case, I never heard it.
I suspect that investigating this criminal practice, whether by parental consent or not, is clouded by the stories of the few who make it rich. Like Amad Diallo, I hope.
But the very notion of a child of 12 being traded between clubs, let alone nations, is iniquitous. Some may say that it is life, that a gifted young violinist will graduate to the Yehudi Menuhin school, that a dancer will find the doors to the Royal Ballet or the Bolshoi school.
Their gift is their fortune, possibly. But it is unlikely those little geniuses will break a leg or simply outgrow their precocity the way that myriad football starlets do.
What do you think? Have your say on this and more by emailing letters@theneweuropean.co.uk
Most popular