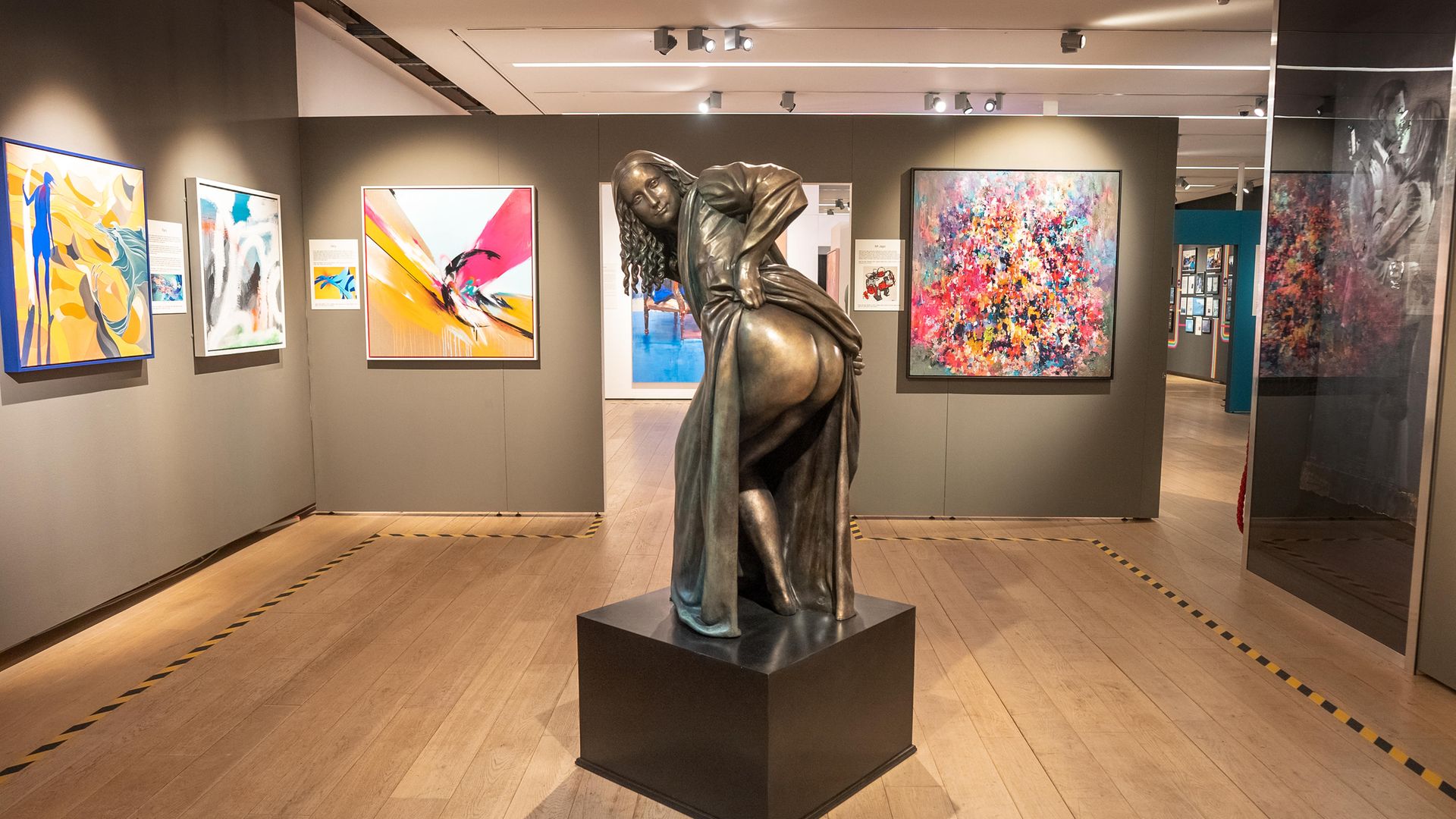 A lone figure in 18th century clothing sits on a chair, his upper body enveloped in a Union Jack flag, whilst an EU flag is draped on the edge of his desk. On the floor, two megaphones lie abandoned. The Union Jack bleeds into its surroundings, suffocating an otherwise calm scene.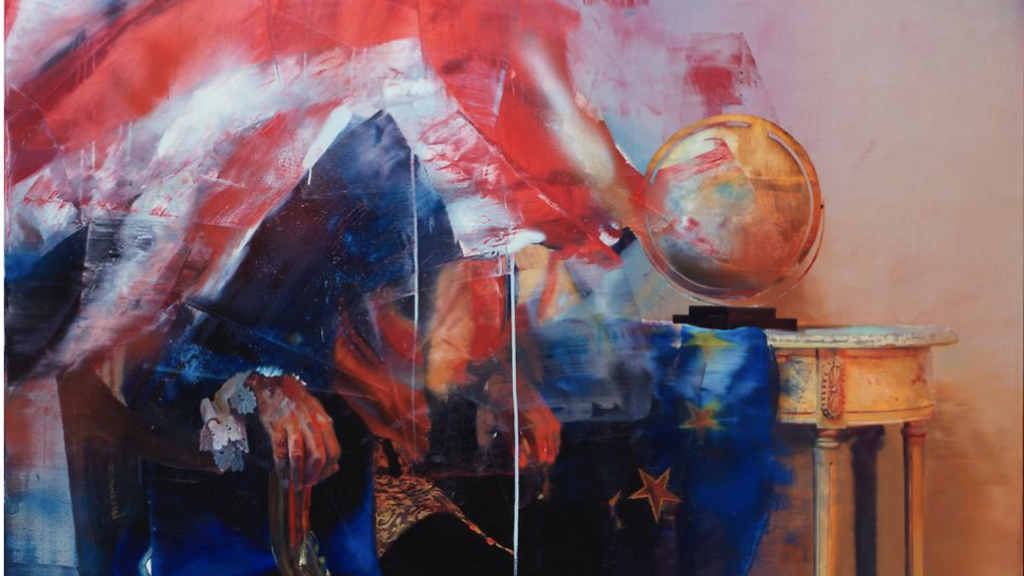 This is The Blind Exit (2020), a painting by Irish artist Conor Harrington, describing what curators call the 'dangerous nostalgia' of Brexit. Harrington's large-scale murals on masculinity and militarism have graced walls in Sao Paulo, Miami and Warsaw, but here he's at the M Shed, a museum in central Bristol, where a major exhibition (Vanguard | Bristol Street Art: The Evolution of a Global Movement) explains Bristol's role in global street art.
Harrington arrives late in this chronological exploration of graffiti, but you might recognise his city centre mural, The Duel of Bristol (2012), painted at the See No Evil festival which turned dull brick and concrete into outdoor galleries with a social conscience. Many of Harrington's contemporaries are linked to Upfest, Europe's largest street art festival, held in Bristol every two years and attracting the likes of Matt Groening, creator of The Simpsons.
This is a city where all styles are valid, and where artists demand social change, whether depicting Greta Thunberg or, as seen in the Art of Social Change section, the Seven Saints of St Paul's by Michele Curtis, heralding Black British heroes in the St Paul's neighbourhood and displayed here amidst similarly inspiring global wall art. Vanguard | Bristol Street Art spans the history of graffiti in Bristol and beyond, back to Banksy's stencilling, '90s rave culture, and raw '80s documentaries.
"The spray can is a medium – it's our tool," says Tom Bingle, a.k.a. Inkie, one of Bristol's most successful art exports and a consultant on the exhibition. "Bristol was mixing it up from an early age, not stuck in its own styles like some other cities."
Bingle's crisp black-edged style, loved by a celebrity fan base, has an Art Nouveau feel thanks to his love of painters such as Gustav Klimt. He discovered street art at Bristol's Barton Hill Youth Club, where youth worker John Nation's Aerosol Art Project, in 1984, encouraged club members to try out graffiti in a safe space. Bingle and his peers also absorbed the hip hop music that often went alongside graffiti.
The first exhibition room, Origins draws on the connections between sound and graffiti (there's also an exhibition-exclusive compilation album of songs connected to street art). In fact, two exhibition rooms are linked by the recreated Alterior shopfront, a Bristol store selling art, clothing and music. Robert Del Naja, a.k.a. 3D, widely considered to be Bristol's first graffiti artist, went onto be a member of the band Massive Attack (he continues to design the band's album covers). His influence is everywhere, but a previously unseen monochrome side-profile portrait of Del Naja, by photographer Henry Chalfant, draws your eye with its simplicity.
Street art has long generated interest, but also controversy. In 1985, the Graffiti Art exhibition opened at the Arnolfini Gallery, giving a seal of approval to many artists including a 20-year-old Del Naja; conversely, Vanguard: Bristol Street Art also shows arrest papers for Del Naja from that same year. A major police crackdown on graffiti artists in Bristol, Bath, Cardiff and Exeter under Operation Anderson in March 1989, saw 72 suspects' homes raided, including those of Nation and Bingle.
The exhibition timeline shows that legitimacy and public appreciation came slowly, starting in the Noughties. Now it's more common for businesses and councils to commission rather than condemn artists; Nation leads local street art tours for WhereTheWall, whilst Bingle says that friends' children studied his work at school.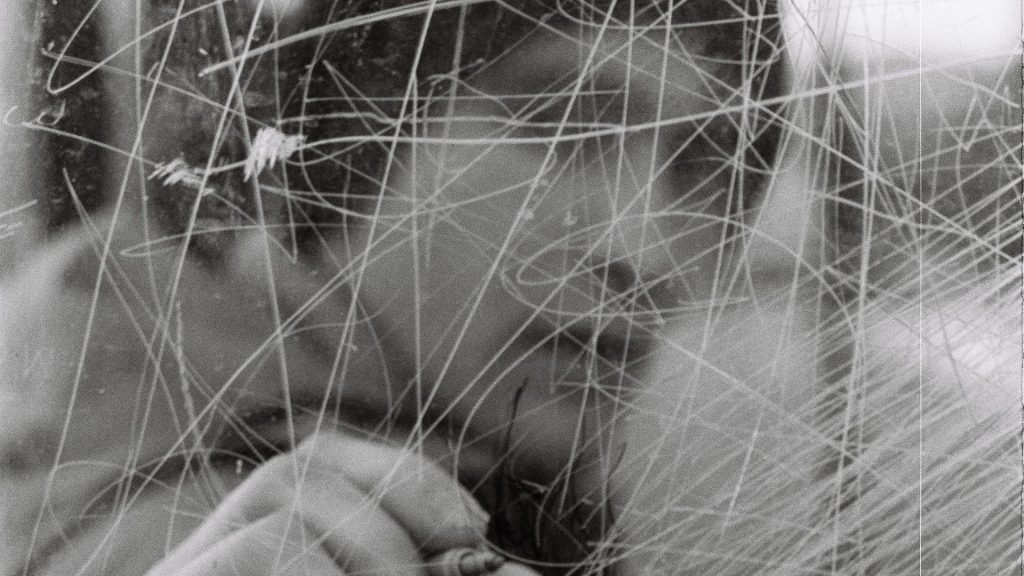 Perhaps the best depiction of the vandal-or-artist dilemma is a monochrome photograph, Xenz Scratches (1999), by Karen Dews, a.k.a. K148. It shows artist Xenz scratching into a glass panel, with the viewer on the other side. Xenz's face is blurred by the focal point, but also the depth of scratches; he is deliberately anonymised.
Whilst Bristol's best-known (and most anonymous) street art export is Banksy, part of the second wave of artists in the Nineties, this show emphasises he is part of a much larger movement. There's enough Banksy artwork to placate fans here, without overshadowing other artists; a vital consideration in this supportive social movement, where display text often describes artists collaborating, joining crews and collectives or exhibiting together.
The standout Banksy piece, Mobile Lovers (2014), contains his typically wry humour: a man and a woman stare at their phones whilst half-heartedly embracing. However, another work dominates this area: Moona Lisa (2021), by Nick Walker, Banksy's contemporary, exploring bronze sculpture for the first time. Here, a Mona Lisa figure lifts the folds of her dress to show what the Daily Mail might call "her peachy derriere". There's a thematic connection to Marcel Duchamp's Mona Lisa pastiche, the readymade L.H.O.O.Q (1919) which sees the painting defaced with a beard and moustache and the letters L.H.O.O.Q; this clever French title, when read aloud, translates as "She has a hot arse". 102 years later, I think Duchamp would appreciate Walker adding to the joke.
A room called Then and Now shows how the artists' work has evolved over the years, using different media. Xenz, seen earlier in Karen Dews' photograph, produces idyllic cartoon-like landscapes and soft-focus cityscapes, seen everywhere from Miami to Oslo. His painting, Morning Light (2020), blends Disney-esque woodland with a graffiti twist: dappled rays of light sprayed onto canvas.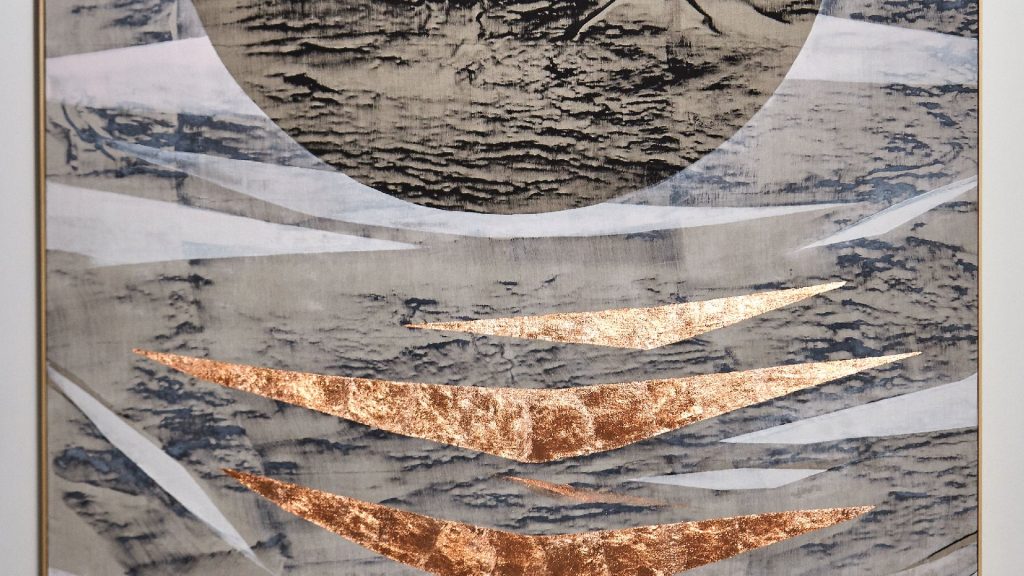 Meanwhile, Lucy McLaughlan's Three Gilded Sides of Losiny Ostrov (2018) is a vast stretch of geometric shapes in acrylic on linen, accentuated with copper leaf; it was made in the Losiny Ostrov National Forest for a Moscow art biennale. McLaughlan's street art murals have appeared in Cologne, Ghent, Rome and many other European cities. Whilst the street art archives are male-dominated, the exhibition highlights women when possible.
Full departures from paint, seen through video installations on climate action and Bill Posters' chilling deep fake technology, are less compelling – perhaps because they don't have that handmade focus woven into the other exhibits. Street art's popularity shows no sign of waning, and this exhibition distils its global appeal without brushing off the grit and ingenuity the artists need to succeed.
Vanguard | Bristol Street Art: The Evolution of a Global Movement is at the M Shed, Princes Wharf, Wapping Road, Bristol, until 31 October 2021. Tickets are £8 (adults), £7 (concessions); half-price entry for those aged 16-24; under-16s go free; pre-booking is advised.
Most popular