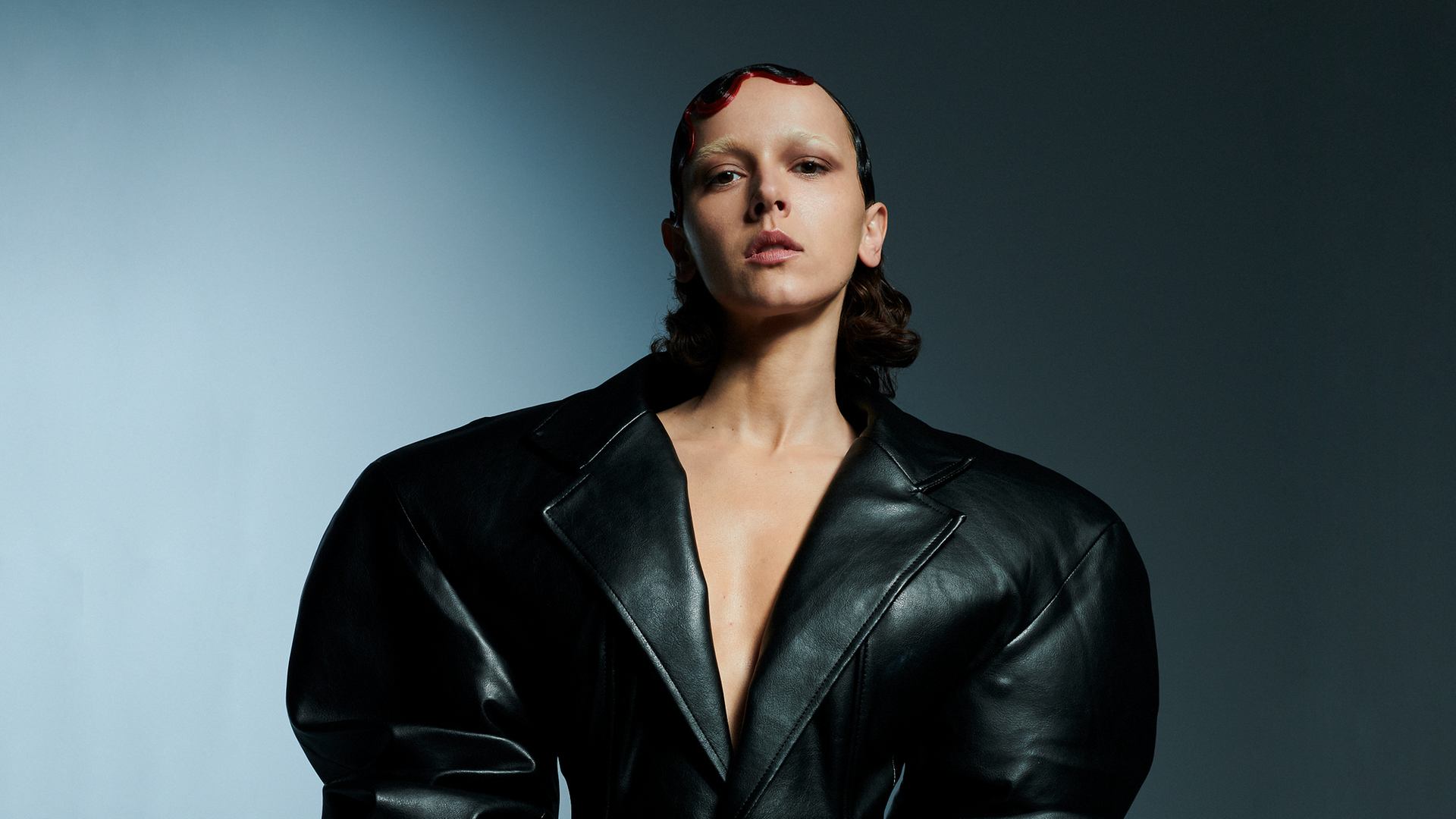 Taking the brutalist architecture that is synonymous with Poland's Communist past as a symbol of urban alienation and the beauty and controversy of difference, the album is concerned with society, gender and the outsider – all powerfully relevant themes for a country where the ruling Law and Justice party has made a sustained attack on reproductive and LGBT rights in recent years.
An intensely visual musical artist, Brodka's self-directed videos make as much of a statement as her music. The video for BRUT's lead single Game Change engages with authoritarianism and androgyny as female dancers in oversized suits shuffle through a drab Soviet-era administrative monolith, while Hey Man uses imagery of female dominance, inverted retro-sexism and reversal of men's and women's roles in sex and society. With such material, Brodka is making a strong claim to being placed alongside other female alternative geniuses like Bjork, PJ Harvey, Alison Goldfrapp, Róisín Murphy, St Vincent, and Robyn.
It comes as some surprise that this is the same artist who began her career by winning the Polish version of talent show Pop Idol 17 years ago. "I think they were expecting another pretty face with a good voice," Brodka has said, but the 16-year-old quickly defied expectations.
The video for her debut single Ten – effortless, R 'n' B inflected pop which quickly topped the Polish charts – found her sporting a moustache as she played the violin atop a moving car. This was hardly the standard fare of the Britneys and Christinas dominating the charts at the time, and her debut album included covers of Marvin Gaye's socially conscious Inner City Blues and Kris Kristofferson's inappropriately grown-up Help Me Make It Through The Night. Moje piosenki (My Songs) followed in 2005, offering more laidback, soulful and funky pop, showcasing her delicate, bewitching, often jazzy vocals.
But a four-year absence took Brodka into very different territory and 2010's Granda saw her break out of the prevailing pop modes. With writing credits on all bar one of the tracks, she fused electronica and occasional punk energy with the highlander folk culture of her upbringing in Żywiec in the mountainous south of Poland.
Her father Jan played the highland bagpipes and trombita shepherd's trumpet on the album, while the cover image by Warsaw-based artist Bartek Arobal of a ribbon-bedecked stag was suggestive of the deep mysteriousness of Eastern European folk culture. Granda earned Brodka multiple nominations and two wins in the 2011 Fryderyks, the premiere Polish music awards.
Another long hiatus – six years this time – brought another startlingly new Brodka, as she left Sony BMG for Belgian independent label Play It Again Sam and released Clashes, recorded in the US entirely in English ("The Polish language is beautiful, but unfortunately we are the only ones in the world who speak it").
While the album had its more energetic moments, including the retro soul of Up in the Hill and the dirty garage rock of My Name is Youth, Brodka's attempt to capture 'Slavic melancholy' was evident on other heavily atmospheric and ultimately unnerving tracks. The tense and ethereal Santa Muerte, reminiscent of the Southern Gothic sensibility of Lana del Rey, had appropriately discomfiting accompanying visuals, the video featuring a grey, dusty figure apparently straight out of Japanese horror stumbling through a desolate forest.
Brodka's emergence as a true alt-pop artist on Clashes was just the latest word in Poland's rich history of alternative music and inventive pop. The producer of Brodka's first two albums was no standard pop Svengali but Bogdan Kondracki, who started out in 1990s Warsaw experimental metal band Kobong. That decade had also produced indie acts like Hey, whose singer Katarzyna Nosowska has gone on to become one of the country's foremost alternative musicians for her inventive electronica.  Her contemporaries Maria Peszek and Kasia Stankiewicz have also provided models for Polish female solo artists who push the boundaries of pop.
Brodka's line of descent from the Polish alternative acts of the past was underscored by her unsettling, industrial cover of 1980s rebel rock singer Izabela Trojanowska's Wszystko, czego dziś chcę (Everything I Want Today) for the 2018 soundtrack of the bleak 1980s-set crime series Rojst (Swamp – currently on Netflix as The Mire), otherwise made up of classic alternative tracks of the era.
With tracks like BRUT's You Think You Know Me and this year's collaboration with British act Scottibrains Wrong Party, Brodka has demonstrated how well she can do 1980s-style post-punk and in fact BRUT's political thrust is a continuation of the anti-establishment impulse of the Polish bands of that era.
The likes of Warsaw punks Kryzys and Wrocław new wave group Klaus Mitffoch targeted the Communist authorities in their lyrics, while the more mainstream Republika's Nowe Sytuacje (New Situations) in 1983 was the angry and confused sound of Poland in the wake of the Martial Law crisis. BRUT has come at another crucial social and political moment in Polish history.
BRODKA IN FIVE SONGS
Ten (2004)
Brodka's Latin-flavoured debut song, it was the first of a run of singles that topped the Polish charts.
Znam cię na pamięć (2006)
The chart-topping I Know You By Heart, with its soulful sound and laid-back feel, typified Brodka's second album Moje piosenki (My Songs) (2005).
W pięciu smakach (2010)
On In Five Flavours, inspired by trips to the Vietnamese food stalls at Warsaw's now-demolished 10th Anniversary Stadium, Brodka adopts Southeast Asian musical motifs against frantic electronic beats.
Horses (2016)
The goosebump-inducing lead single from Clashes had visuals that were no less startling, the video finding Brodka cast as a broken-down android.
Game Change (2021)
Cool, brooding and slightly queasy electronic pop, Game Change has a message of female empowerment: "I will be the one to fool/ Look who's in charge/ The new entourage."
Now listen to the playlist. Search Spotify for New European: Brodka or go direct to https://tinyurl.com/TNEBrodka
Most popular