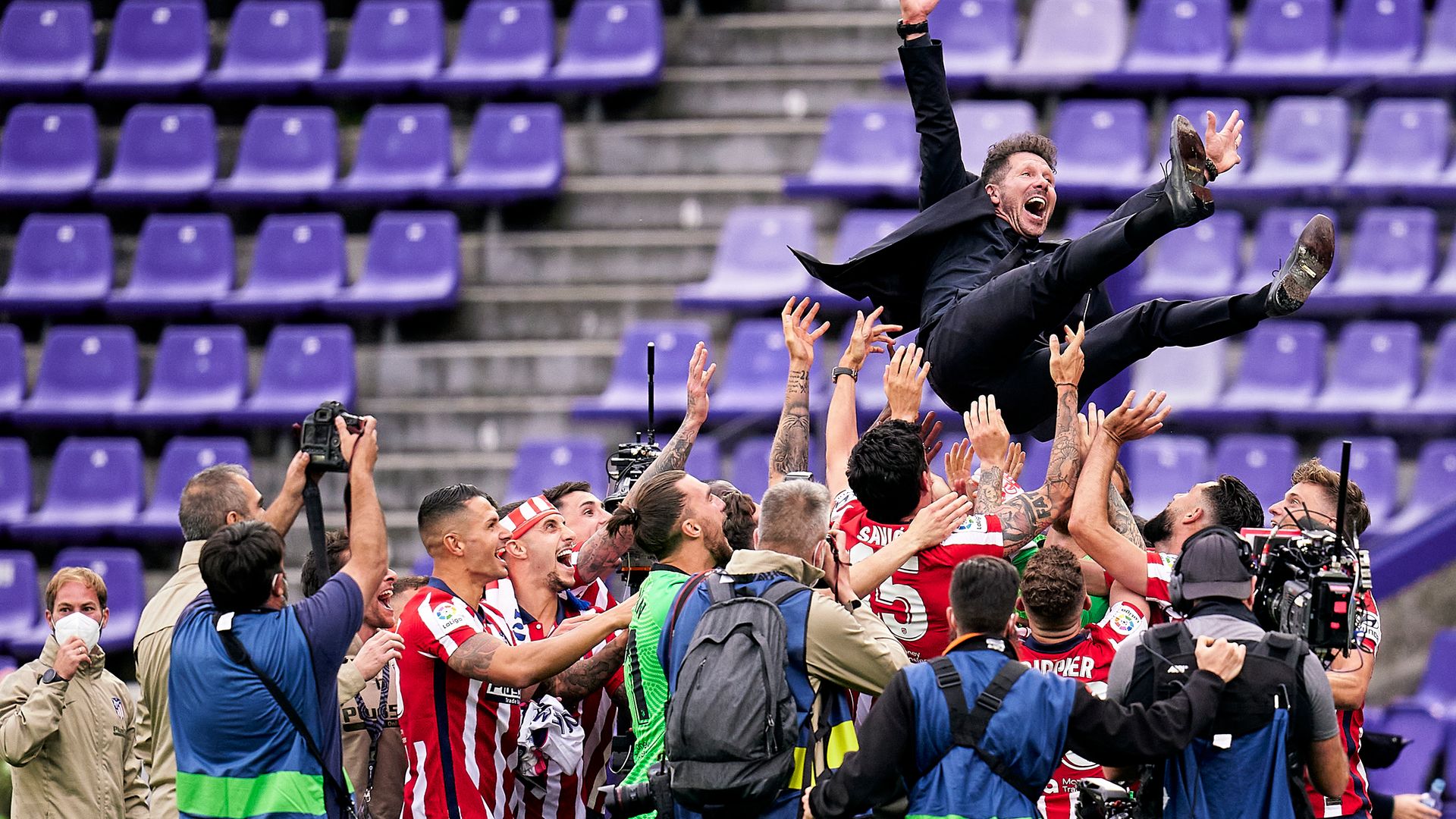 Nothing will better define this European club football season than Diego Simeone's Atlético Madrid upsetting Real and Barcelona to win La Liga
When we come to analyse the European club season that ended with Chelsea's deserved victory in the Champions League final, nothing will better define the fight against adversity – the empty stadiums, the pandemic, the rich clubs attempting to betray meritocracy – than Atlético Madrid winning La Liga.
It took until the final quarter of the final game for Diego Simeone's team to break the duopoly of Real Madrid and FC Barcelona, who act as if the title belongs to them simply because of their wealth.
Simeone, the Argentine coach dressed from collar to shoes in black is crafty, cunning, conniving. He, too, has a presumption of entitlement. He trains as he played, working, running, closing down the flow of the game until opponents wilt.
"The history of this club is based on effort, endurance," said Simeone, 51, after his players tossed him into the air, at one point dropping their coach. "That we are champions this year has more value. I remember my words when I arrived in 2011 — I want people to feel identified with the history of this club. Always fierce, counterattack, let collective work prevail."
There was a time when Atlético was the poor relation, the blue collar club in the shadow of the aristocrats Real. The almost demonic work ethic was imbued by Luis Aragonés, the only other Atleti man to win the Spanish championship both in playing kit and managerial clothing.
Their paths never crossed, but Aragonés, four times the Atlético trainer, pushed their players (and during his spell as Spain's national coach) to their limits of guile and stamina. Madrid born Aragonés harnessed the working class ethic of the club and used the resentment it felt towards the "royal" neighbours; but his football was never as dark as Simeone's, and he left the club shortly before the Argentine arrived as a box-to-box dervish in 1994.
All's fair in love, war and football when the wealth is as loaded as Real and Barça had it. Ironically, Covid-19 and mismanagement of their fortunes drastically levelled out that playing field during the past year. Real Madrid and Barcelona are both more than a billion pounds (€1.16 billion) in debt. Atlético is not far off that, yet after selling Antoine Griezmann for his €120 million buy-out clause to Barcelona two years ago, Atleti recycled the money to sign the latest Portuguese prodigy João Félix.
Now, thanks to Simeone's relentlessness, there are three big clubs fighting for the Spanish crown, and beyond. Atleti even has a grand new stadium, the Wanda Metropolitano, part-financed by the Dalian Wanda Chinese conglomerate who are – for as long Chinese diversion into global football lasts – major backers.
Today, Miguel Ángel Gil is the majority shareholder, along with Israeli shipping billionaire Idan Ofer and Enrique Cerezo a cinematographic producer. Gil acquired his shares, but presumably not the controversial ethics of his late father, the Franco-loving Mayor of Marbella, Jesús Gil, who was jailed after a complex built by his construction company, collapsed in 1969, killing 58 people.
Gil's son has different interests. He studied as a vet and his main passion outside of Atlético is stock breeding. Where he matches his father is a willingness to pay what it takes to hold onto a coach who will do whatever it takes to chase down the super-rich, and eclipse them where he can.
Simeone is paid a world-leading €32 million gross per season. He took a voluntary pay cut during Covid – but his achievement this season came after he tested positive for Covid-19 last September, and at the turn of this year 21 of his 23 first team players all contracted the virus.
His 2021 team is perhaps slightly less talented, less attritional, than Simeone's first La Liga champion winning side in 2013-14. Then, the defence built around the imposing Miranda and Diego Godin squeezed opponents to submission. But the link between then and now, apart from the coach, was Jorge Resurrección. Better known as Koke, a player whose passing ability was recognised at Atlético, he now captains the club he joined at the age of five.
Behind Koke were suppressors. In front of him was, and is, a striker with gun-slinging mentality. In 2014 it was Diego Costa – abrasive, combative, opportunist.
Today, the biter is Luis Suárez. Any follower of Liverpool, of Barcelona, of Uruguay will appreciate his end game: The ball in the net. Barça last season abruptly dispensed with Suárez, upsetting his mate Lionel Messi by the manner it was done. Simeone persuaded Atlético that Suárez, even at 33, was good value at €200,000 a week.
"He's different," Simeone said. "A goalscorer, an animal, a killer, a winner. I told him 'you know what this is about, you have to transmit that to the rest.' He came to rebel."
To rebel against Barcelona. To rebel against the insinuation that he was past tense. Simeone did something he seldom did before: He suggested that Suárez run less, press less, spare his energy for goalscoring opportunities.
That resulted in 21 Suárez goals in 32 La Liga games. The last of those won the match on the final day in Valladolid. Typically, Atlético came from a goal down to win the hard way, and win the league title.
I'm not sure that we have seen from either man – goalscorer or coach – the emotions that poured out afterwards. Suárez sat on the turf, staring at his mobile phone, listening to his wife and children, and crying. "I've been in football a long time and this was the hardest year for them," he explained. "It's a special title for everything I had to suffer. The way they (Barcelona) belittle you. Atlético opened their doors and allowed me to prove I was still valid. I'll always be grateful."
And Simeone? "I'm very hard-headed," he said. Moments later, the hard-headed trainer was coaxing his four-year-old daughter Francesco through the victory chorus of the Atlético anthem on national TV.
Even the hard men of football are as soppy as the rest of us when a beguiling child sings for them.
BREAKING THE BIG TWO
La Liga champions; last 15 seasons
2006-07     Real Madrid
2007–08    Real Madrid
2008–09    Barcelona
2009–10    Barcelona
2010–11    Barcelona
2011–12    Real Madrid
2012–13    Barcelona
2013–14    Atletico Madrid
2014–15    Barcelona
2015–16    Barcelona
2016-17      Real Madrid
2017-18      Barcelona
2018-19      Barcelona
2019-20      Real Madrid
2020-21      Atletico Madrid
What do you think? Have your say on this and more by emailing letters@theneweuropean.co.uk
Most popular