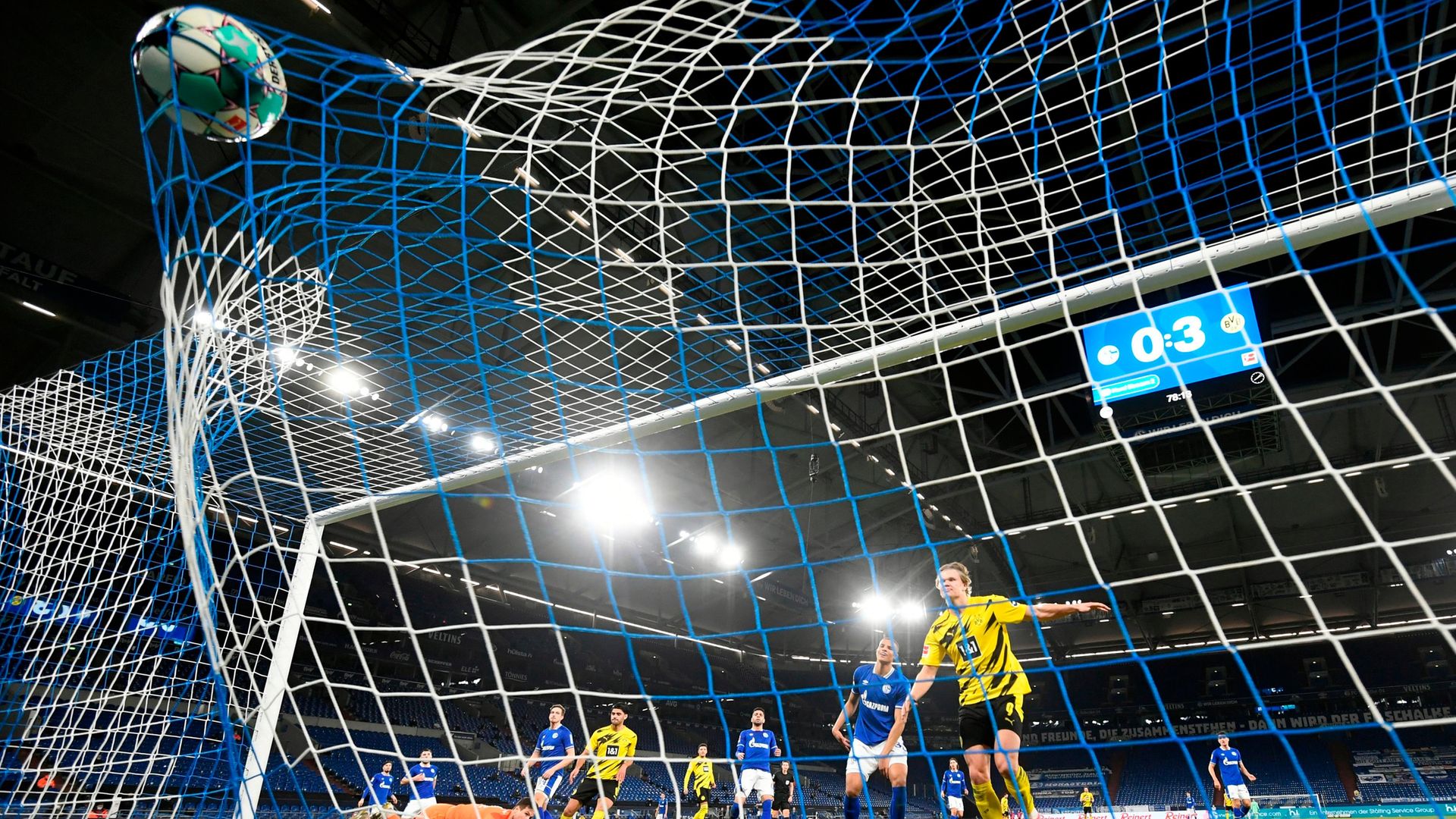 ROB HUGHES on the very different goalscoring talents of Kylian Mbappé and Erling Haaland and whether Premier League transfers lie ahead for them.
No-one knows how Covid will drain the finances of football, but everyone rates two talents that Europe's richest and most powerful clubs will scramble to buy.
They are, of course, goalscorers.
Kylian Mbappé was a World Cup winner at 19, and has a turn of pace that possibly only the Jamaican sprinter Usain Bolt could summon, at his peak. The difference is that Mbappé, 5ft 10 (1.78m) does his quickstep with the ball, and with goals that Bolt could only dream of shooting.
Erling Haaland, 20, is not that rapid, he has unsuspected dexterity despite the brute strength of his 6ft 4 (1.94m) physique.
And while Mbappé came from the suburbs of Paris, where Thierry Henry and others emerged as street players, Haaland was born in England when he father, Alf-Inge Haaland, was a Leeds United player.
Their fathers inspired and managed their early careers, but their mothers contributed to the gene pools too. Mbappé's mother Fayza Lamari was a handball player of similar Algerian Kabyle origin to Zinedine Zidane. Haaland's mum, Gry Marita Braut was a pentathlete, and the men in her family were footballers.
As different as they are, Mbappé and Haaland know no fear. When you see the young Frenchman burst through entire defences, his stride and hypnotic balance swaying out of reach, you understand why the Qatari prince who owns Paris St Germain instructed the club to pay whatever he wants to keep him from the suitors in Madrid, Manchester, Liverpool or London.
Similarly when Haaland Jr. scored forceful goals twice in the first eight minutes against Bayern Munich last Saturday, you could see the Bavarians (world and European champions though they are) resort to foul means to stop him.
"The Beast" was disabled by simultaneous cynical hacks from behind from Jérôme Boateng and Joshua Kimmich, two experienced German national team players.
Haaland tried to play on, but his manager withdrew him aware that Dortmund faced the second leg of their Champions League fixture against Sevilla three days later. And while football pros almost always claim that they do not mean to harm opponents, I was reminded of the malicious foul that effectively ended the prime of Haaland's father, Alf-Inge back in 2001.
At the time, Haaland had moved to Manchester City and in the derby against United Roy Keane fouled him with a high boot on the knee. As Haaland lay on the turf, Keane bent over him mouthing abuse. Later, in his biography, Keane did something that professionals seldom do: He admitted intent to harm.
"I'd waited long enough," Keane wrote. "Take that you c***!" 
There were more foul words, but in deference to any young readers, we should skip those.
Suffice to say that the Haalands know full well that there is malice in the game.
When Bayern's manager Hansi Flick made a point of walking over to Haaland (the younger) where he sat with ice on his heel, we might assume that there were good wishes for his recovery – especially given that Herr Flick said on television that he would not rule out Bayern bidding to sign Haaland when his Dortmund contract runs out.
Munich, for the moment, has the most prolific striker in the world in Robert Lewandowski. But he will be 33 years of age in August, the future is Haaland or Mbappé. And day by day, goal by goal, the agents, the clubs, the media are racking up the numbers that might tempt them away.
One of the more fanciful rumours is that Liverpool could sell both Mo Salah and Sadio Mané to finance the deal for Haaland. Another is that a group of Merseyside fans are setting up a £250 million "Go Fund Me" attempt to buy Mbappé. Or that Ole Gunnar Solskjaer has  an insider's chance to get Haaland because he managed him as a teenager at Molde in Norway.
I would find it hard to choose between either player. Mbappé with his grace and movement, and his apparently innate sense of time and place, has already shared advertising platforms with Pelé and I get the distinct impression that it is the Brazilian, now 80, who gets the greater commercial kick out of those meetings.
Yet Haaland, with a lifetime's apprenticeship under his father and the ability to mix brute force with sometimes exhilarating athleticism, might be the more reliable catalyst around whom to build consistent fire power.
Football, like every other industry, is supposed to balance the books and work to a budget, pandemic or no pandemic. But Europe in general teaches us that football breaks the fiscal norms where extreme talent rises.
Mbappé's father Wilfried, born in Cameroon, helped to organise and coach kids from the immigrant community in Bondy, one of those Parisien suburbs where street football has long been a gold mine to French football. The 1998 World Cup winning team had Henry, Zidane, Thuram, Desailly and Vieira; everyone the son of migrants.
Lilian Thuram, Marcel Desailly and Patrick Vieira were actually born abroad in countries that came under French rule in the past.
That, surely, was good for France, good for diversity, good for those who believe sport transcends prejudice. Alas, even as we drank in this beauty among the million and more who filled the Paris boulevards that night of their victory, the political extremist Jean-Marie Le Pen attacked the multiracial make-up of the team for whom the press and fans had coined the slogan "Black, Blanc, Beur" – black, white, Arab. Le Pen's was a slur on a par with the Aryan policy Hitler preached during the 1936 Olympics in Berlin.
Hitler was ridiculed by the black American Jesse Owens winning four gold medals at those Games. Twenty years after the World Cup in Paris, Didier Deschamps, the worker in that fine 1998 team, managed the second World Cup triumph for Les Bleus in Russia.
Paul Pogba, N'Golo Kante, Blaise Matuidi, and Kylian Mbappé were in that line-up.
Black, Blanc, Beur… the world is at their feet. And billionaires will always buy them.
What do you think? Have your say on this and more by emailing letters@theneweuropean.co.uk
 
Most popular