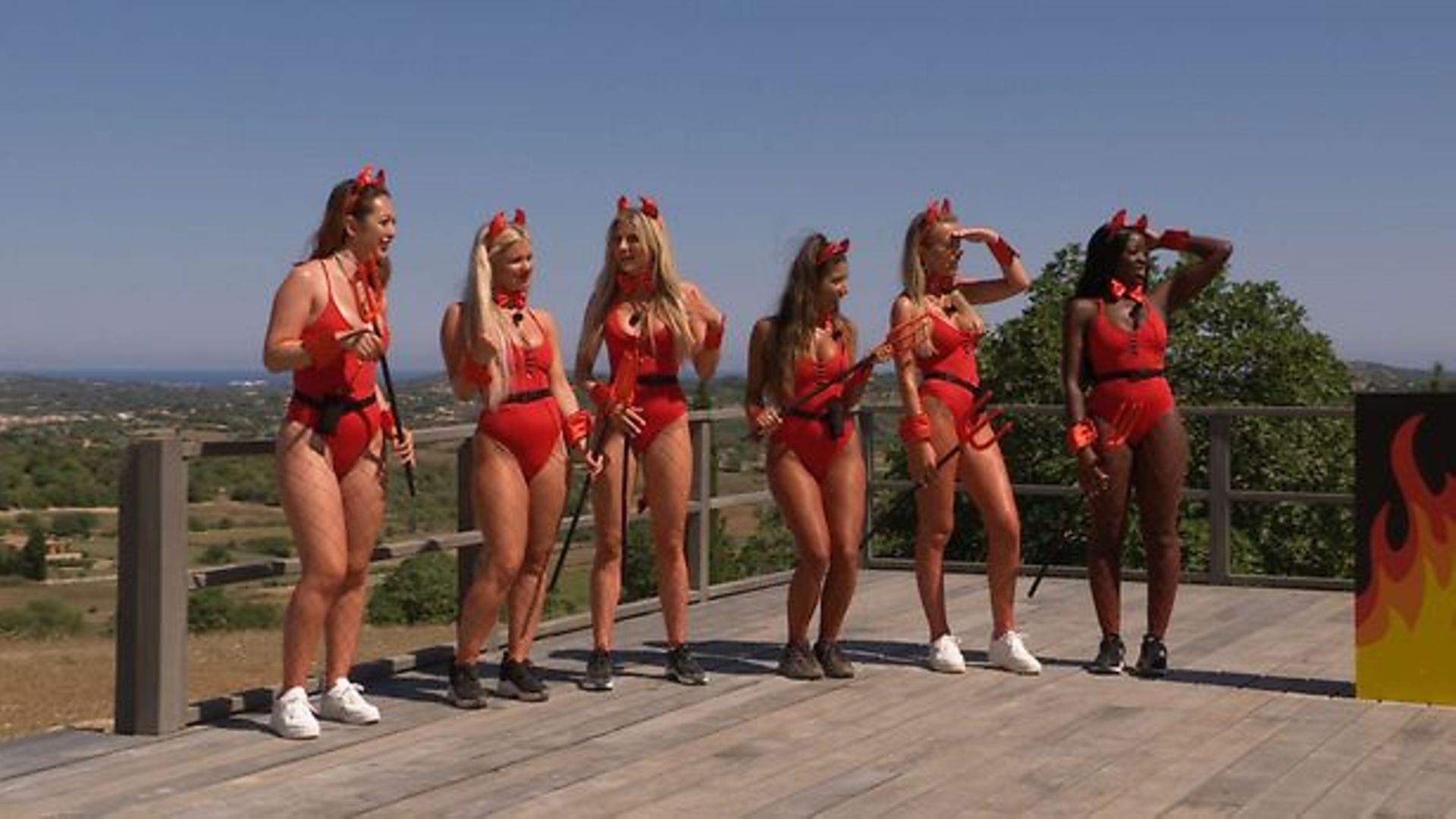 MEGAN NOLAN on how the show has moved from frivolous, enjoyable time-waste to water-cooler emblem of national interest
ITV's reality dating show behemoth Love Island is back again, improbably, having weathered multiple genuine tragedies, a smattering of controversy, and the interruption of a plague year in which kissing was illegal.
Our contestants have quarantined and are ready to dive back into it, sliding slickly against one another's oiled glistening bodies for the gratification of the nation. They're raring to go, but how do we feel? Have we been changed at all by the interim, the strange hinterland time in which all the fripperies of life were pared away until only the bones remained? Or are we as keen as ever, perhaps for that very reason, to semi-ironically (and then eventually not ironically at all) scoff, ogle, and shout at some very hot, very silly people get off with each other?
One thing to note about Love Island is that for such a wilfully ridiculous programme, it has attracted a substantial amount of serious discourse over time. Almost every major outlet dedicates substantial coverage to it, from the Guardian to gal-dem to the LRB.  Sometimes this has been to do with an incident of villainy on the show which veers over from pantomime into a potentially serious violation – see Adam Collard of 2018's cast who was brought to task for his gaslighting and other emotionally manipulative behaviour in a public statement from Women's Aid. But often it is done in the spirit of validating the writer's choice to watch the thing, a showily defensive rebuttal to the idea that everyone who watches reality television is vapid and stupid. 
Now, I watch more hours of reality television than I feel comfortable admitting – it pads out all the semi-vacant hours, the time I spend putting on makeup before going out or chopping veg for a dinner – so I naturally don't think Love Island viewers are inherently stupid. Hell, I've been one myself at times. But that doesn't make the show itself intelligent or worthy of incessant intellectual dissection. It's entirely possible for a smart, interesting person to watch the stupidest garbage on earth in their down time. We need not elevate it beyond its intentionally tacky register, and it is not all that remarkable any more to point out that high and low culture can mix, that LRB critics can stick on the telly as well. 
The repositioning of Love Island from frivolous, enjoyable time-waste to water-cooler emblem of national interest has brought with it demands for demographic representation.  On the face of it, equitable representation in whatever major cultural sphere appears to be a fair request.
In practice, attempts toward this can play out in some quite grotesque ways. On Real Housewives, my primary reality television indulgence, the 2020 Black Lives Matter protests in response to the murder of George Floyd left behind an atmosphere producers felt they had to address. New black and Asian cast members were introduced to the Beverly Hills and New York franchises, and are frequently involved in stilted episodes of education, trying to enlighten their elite white counterparts on the finer subtleties of racial microaggressions, often to baffled or bored response. It's all a little much and far, far too little at the same time, like watching someone try to mop up the ocean with kitchen towels. 
On Love Island, black women who are objectively movie star beautiful get habitually get picked last because the contestants choosing them are subject to the same racist beauty standards the rest of us are. This year Shannon Singh, one of only a few South Asian women to have ever appeared on the show, seemed an exciting prospect and drew out several articles written by women of the same ethnicity glad to see a beautiful woman who looked something like them on screen.
But then she was ousted unexpectedly within less than a week. Apart from the continuously uncomfortable race politics at play, the other glaring issue is the uniformity of body type. Every woman who has ever appeared on it has conformed to the most singular and standardised thin-but-curvy-in-all-the-right-places sort of body, every man slim and rippling with abs.
This is indeed comically unrepresentative of the population at large. That such bodies are the norm on television and in the images we absorb every day, when most of us look entirely different in a hundred various ways, has been no good for our collective psyche. A body which would look entirely usual or desirable to us in our real lives – a body which is soft or ample or shaped in a non-Kardashian mould – can appear foreign and freakish to us when inserted into the surreal hellscape of telly. Even or especially when it resembles our own, the one we encounter every minute of the day.
I don't want to be witness to the producers' of Love Island trying to introduce divergent bodies into this scenario, because I don't want to see a cast of the usual islanders gawping in horror at a body not like their own, or politely ignoring its owner until they go away. It's no good to crowbar flimsy attempts at inclusion and diversity in which merely replicate the worst prejudices we see in the outside world. Let Love Island be as shallow and vapid as it was made to be, take it for what it is, or shut it off forever. 
Most popular