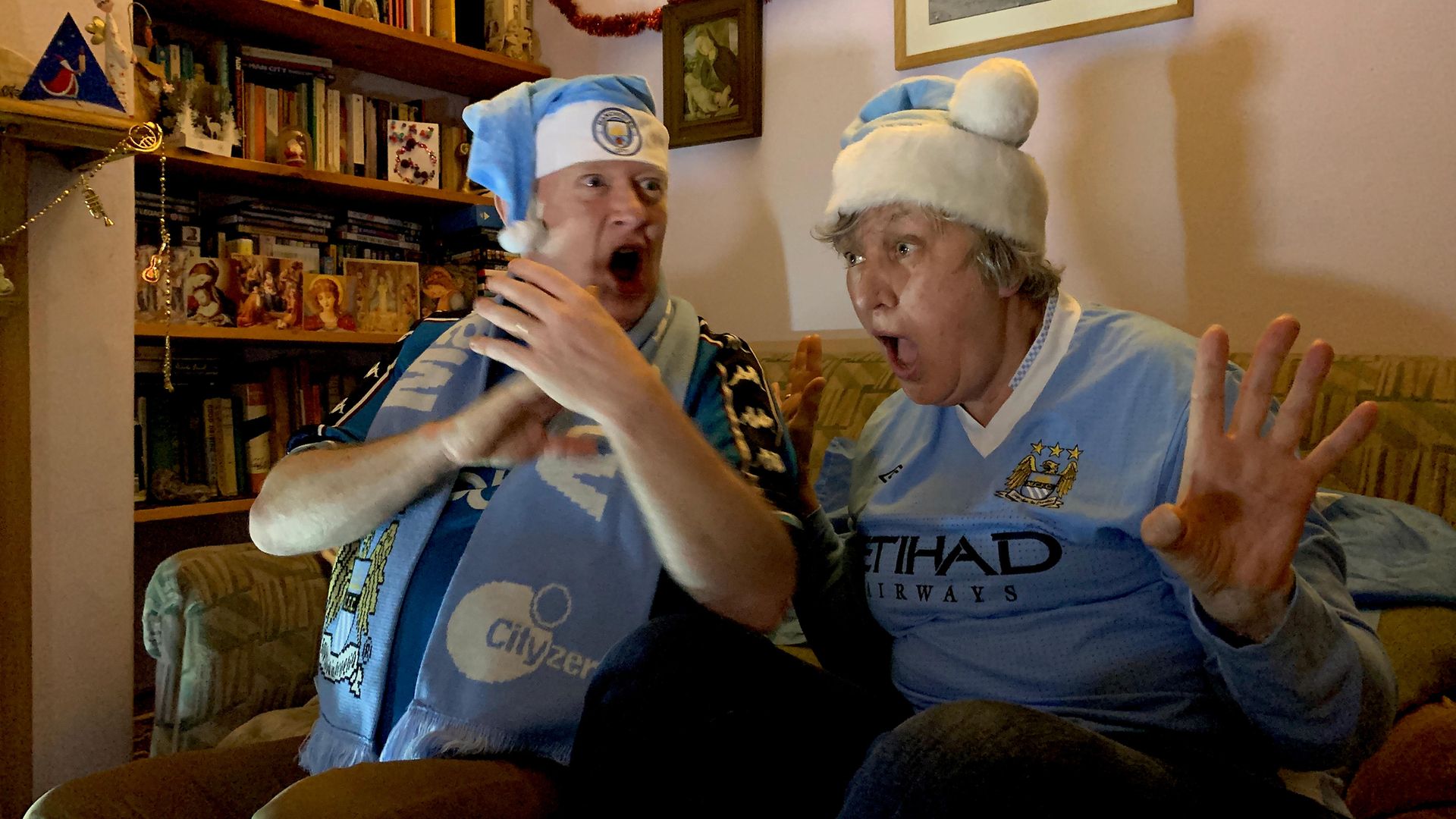 As club football's strangest season comes to an end, photographer Stuart Roy Clarke shares images of fans taken during the pandemic
I started The Homes of Football photography series more than 30 years ago as a love letter to this country, yet I knew that the Germans and Scandinavians and latterly the Americans revere our game. I realized that two hundred countries in the world tune into England's Premier League, the global pinnacle.
But my love affair with football is with the entire thing. The pyramid. This structure of association so wonderfully inclusive (7000 clubs) which thrives on promotion and relegation.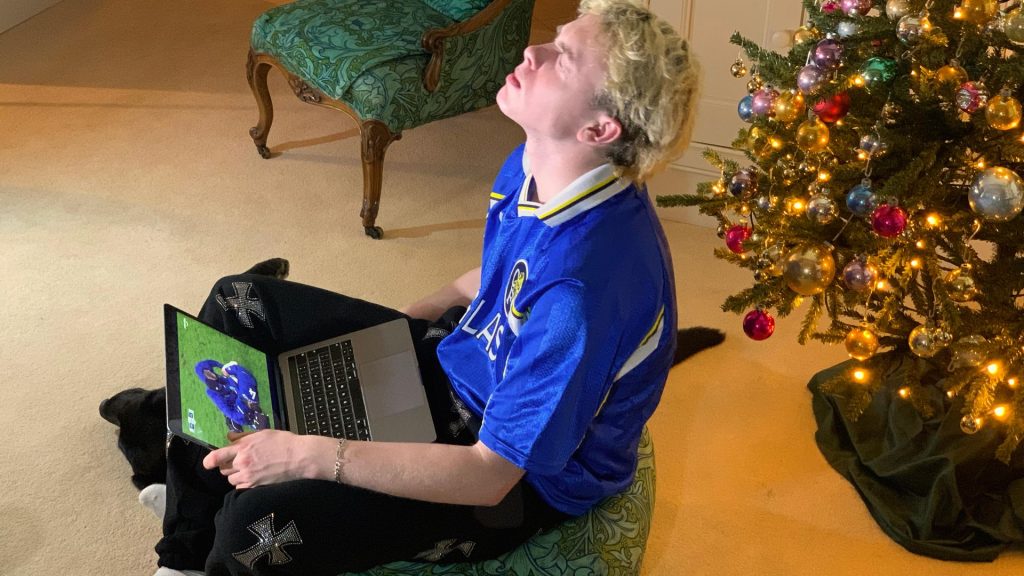 When in October 2020 Amazon Prime Video asked me 'to do what I do', but focusing entirely on the Premier League, I still ran into the street, punching the air. I had become almost unemployed during Lockdown, save for social media offerings. Photographing people is my thing.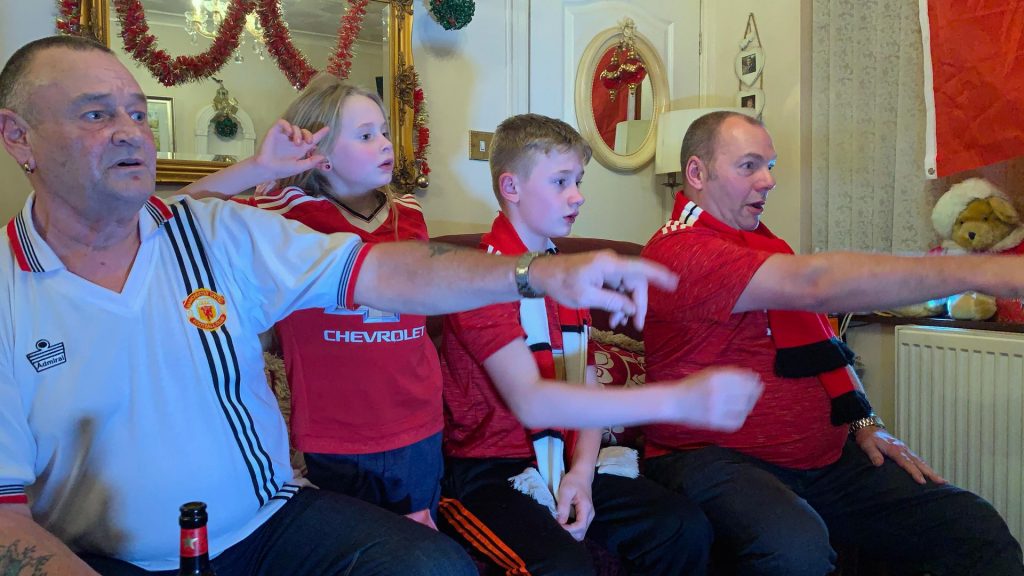 The commission was to be in the middle of Lockdown, with football struggling, soldiering on – without crowds, the game's lifeblood. It would take me into the homes of the fans of all 20 Premier League clubs on the run-up to Christmas, tinsel and trees in many of the pictures, at a time when the mental health of the nation was stretched to its limit.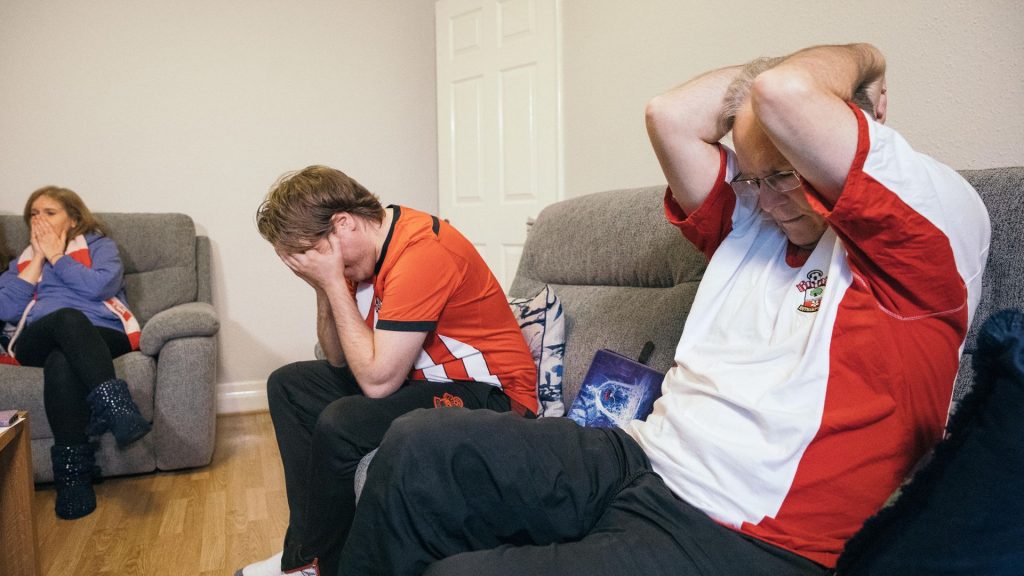 Football was surely a saviour. Football-on-tv was the way fans were receiving the game now. The new norm. 
I had never photographed armchair football, having instead chosen to attend all four thousand matches which constituted my cultural mission: 'The Homes of Football' had to be 'live', as it had been my life.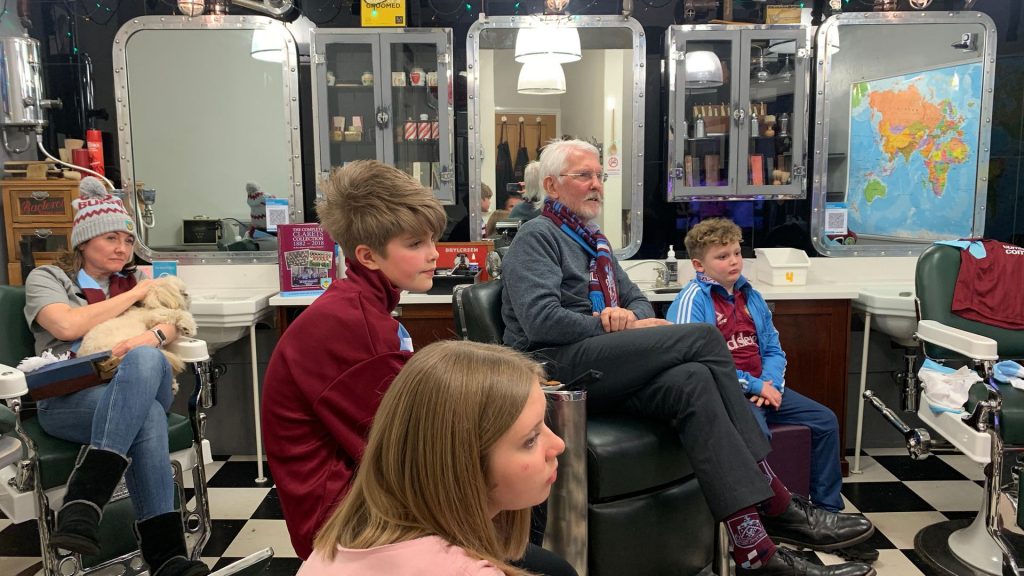 The people to be photographed for Prime Video's fixtures, just sort of materialised. Almost by magic. I had found some via social media and others were flagged to me by friends of friends. To complete the shoot I got some colleagues to do the houses I could not get to in the timeframe : Amy Drucquer, José, Nick, Jeff, Dan – what an international cast!
Would fans/families sing in their living-rooms? I wondered. Would dogs howl and would cats tear down the curtains? Would folk hide behind the sofa? At football grounds folk nipped off to get a tea or Bovril. Would folk 'have a few' or even a few-too-many in the comfort and isolation of their own homes?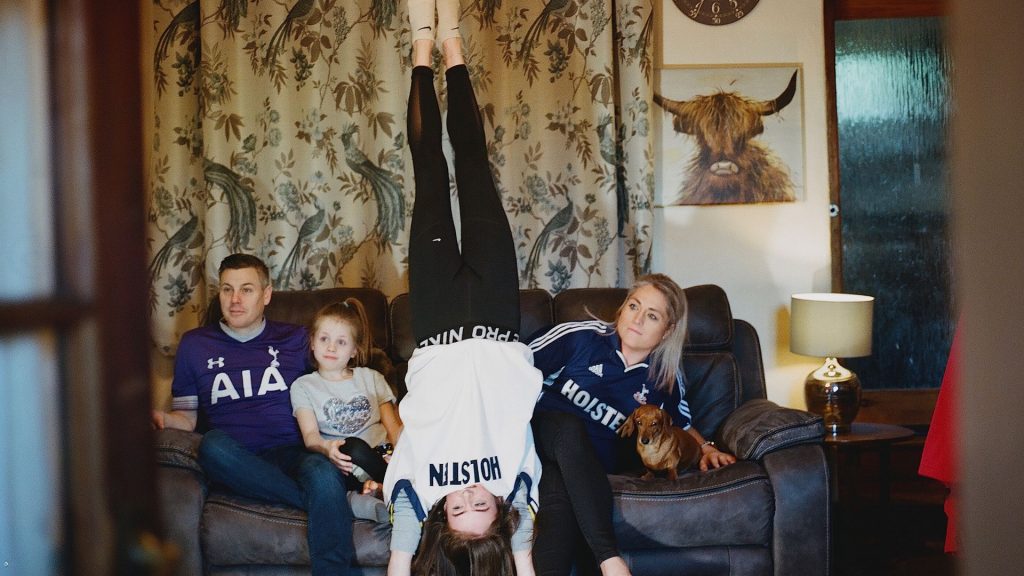 Or elsewhere? Because In the Lakes under stars of an open sky as 2020 made way for 2021, Jem and Rowan watched Liverpool (then top of the League) on a laptop. The players taking the knee – we rubbed ours to keep warm, much like being at a match of auld.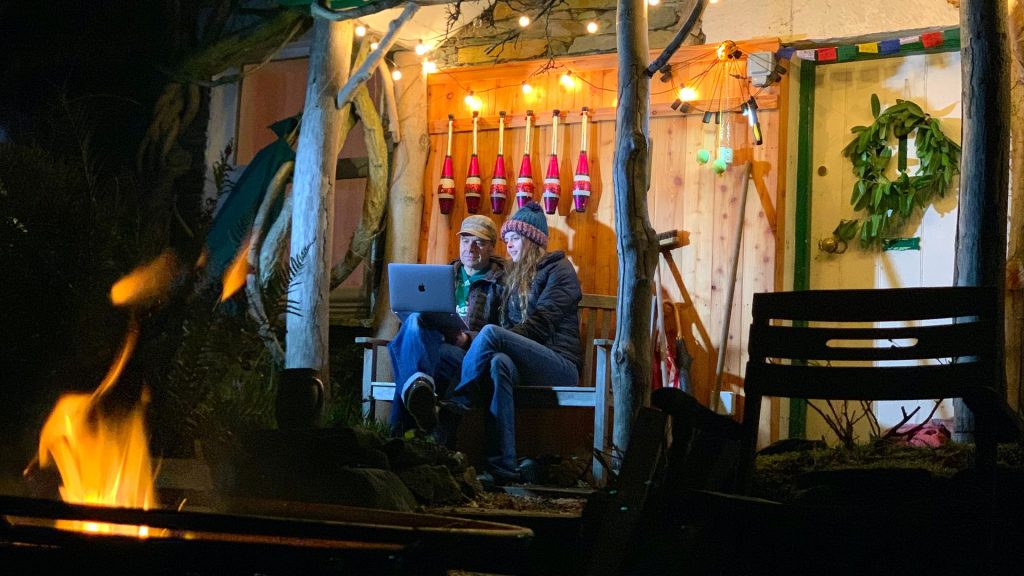 In a house near Wolverhampton, with son & father on the edge of their claret sofa (of an Aston Villa fan wife's choosing), the biggest Wolves match of the season, versus Chelsea, was tensely tied at 1-1 approaching final whistle, I managed, penned into a corner, accidentally to pull out the TV plug.
The big screen goes silent (takes minutes to reboot). In a whisker, son whips out his mobile to receive Amazon Prime on a small screen. Son and dad huddle around that but wait a moment HEY, WHAT'S GOING ON? WE HAVE SCORED, IN INJURY TIME!!!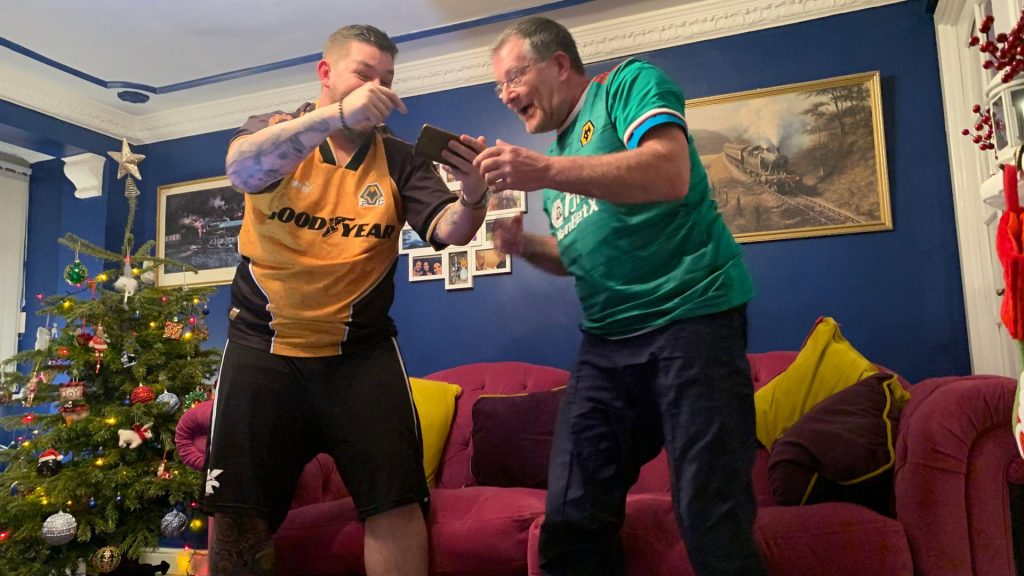 I was mortified by my plug-pulling; the Wolves in the room were dancing.
Every house I went to felt warm, as if a shrine to family and to football, the TV always centre stage. The commission was a dream; the exhibition & book we are now delivering are proof that it really happened. 
Football did get locked down, lost its crowds. (Even during two World Wars fans could turn up at friendlies).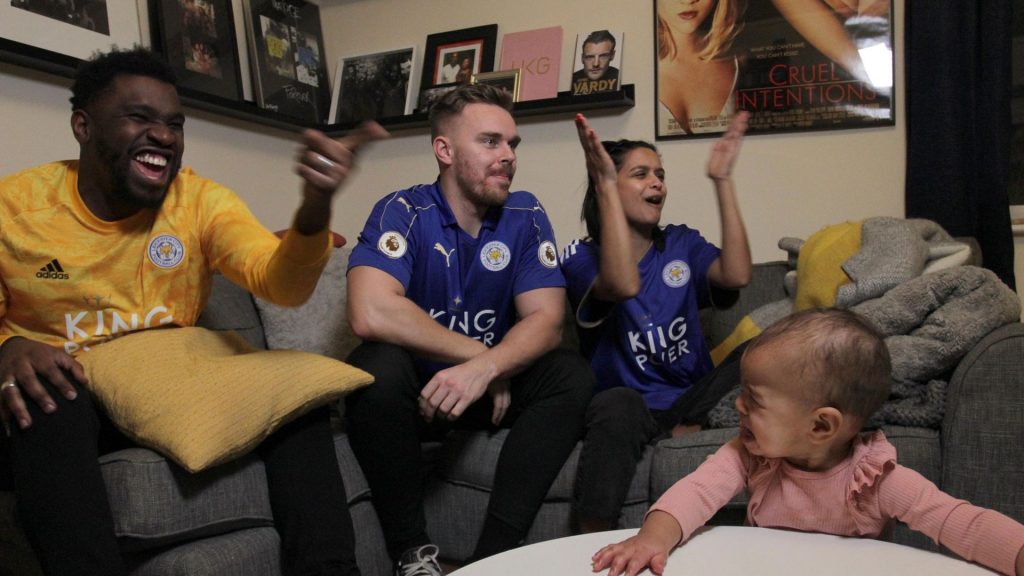 As in wartime, pandemic football played a huge part in preserving a nation and its sense of well-being.
The Homes of Football, presented by Amazon Prime Video and Stuart Roy Clarke, is showcased as a free outdoor public exhibition at National Football Museum in Manchester (running 27th May – 12th June).
Most popular