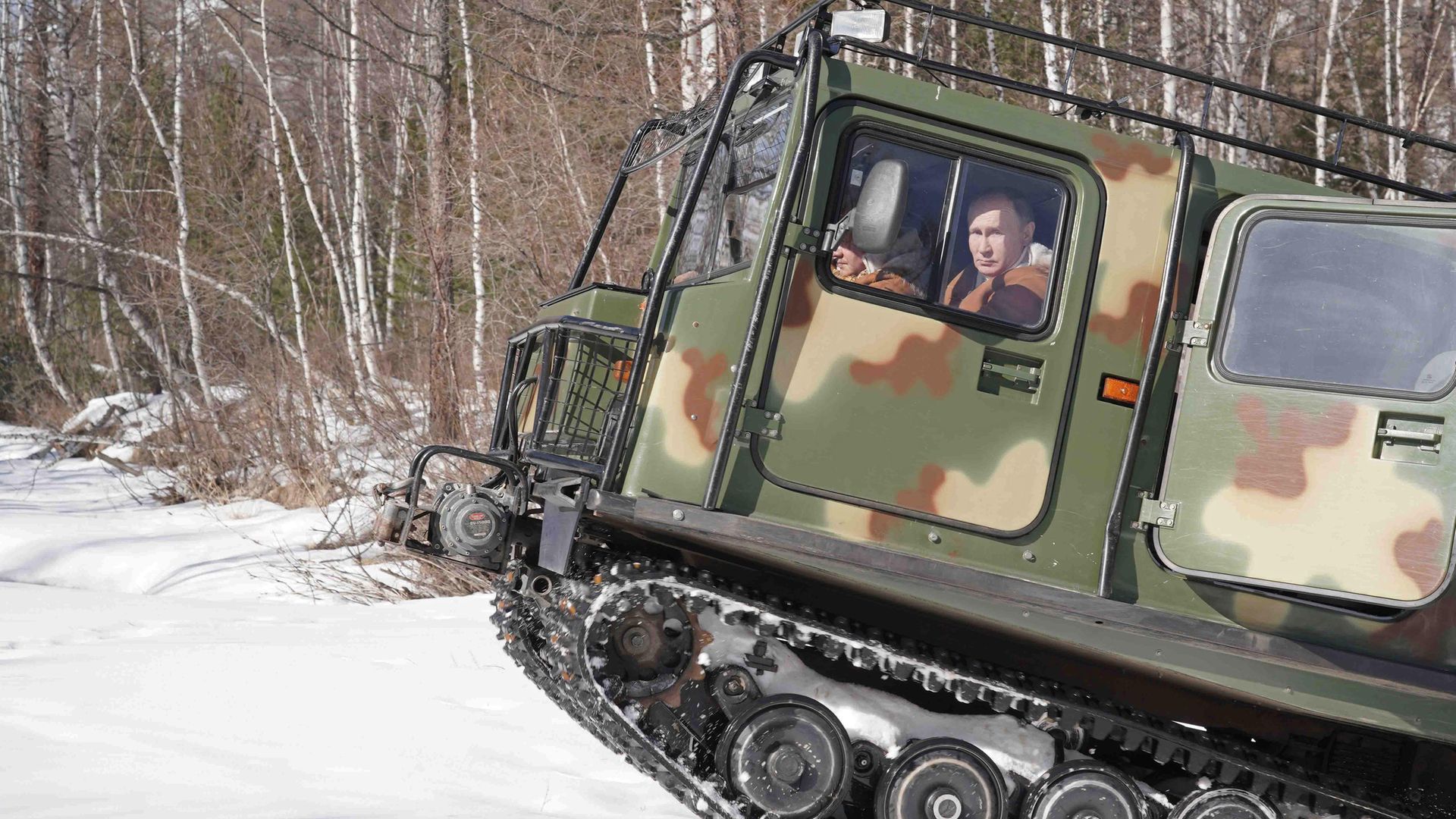 The Russian president is currently embroiled in a bewildering array of crises, yet seems impervious to everything his opponents can throw at him. So how should the West respond?
It's one of the TV moments of 2021. Good Morning America, March 17. The host is George Stephanopoulos, former communications director under Bill Clinton and one of the best in town. He is reminding Joe Biden that a few years back he told Vladimir Poot'n (as they are wont to pronounce him over there) that he had no soul.
So, he asks the president: "is he a killer?" Watch it for yourself as much for the body language as the words. "Mmm-hmm," comes Biden's reply. "I do".
There is so much in this delicious exchange to unpack. Five US presidents have had to deal with Putin. Not one has got his measure.
Clinton had it easy. He had only a year with him, and the new man in the Kremlin was on his best behaviour. George W Bush famously declared that he had looked into Putin's eyes and concluded that he did have a soul – hence the question – only to fall out with him after Afghanistan and Iraq. Barack Obama upset him by calling Russia a regional power. And we know all about Donald Trump. But, actually, we don't know the most important thing. Why did he desperately curry favour with Putin? What did Russian intelligence have on the president?
Biden is the first not to even try to get along with him. Which begs the following question: what do you when the person you are confronting is impervious to everything you throw at him? Putin genuinely believes he can do what he wants because he has factored in the worst criticism and knows it won't affect him.
It is salutary to count the number of crises Putin is embroiled in – just this month. His arch enemy, the only man who appears to have rattled him and who he wanted poisoned, Alexei Navalny, is close to death in prison.
Two military intelligence officers suspected of poisoning Sergei Skripal in the UK stand accused of attacking a weapons factory in the Czech Republic. That attack and last December's cyber hack on US government installations have led to a series of tit-for-tat expulsions and further economic sanctions.
Oh, and Russia is threatening an escalation of its proxy war in eastern Ukraine.
Any one of those emergencies might destabilise a more typical government. For Putin, they are part of what he does all the time, which makes any effective response to him fiendishly hard. So, what can Biden do? With China by far top of his foreign policy priorities, how much energy is he prepared to devote to the irritant that is Russia?
The United States, as former White House strategist Fiona Hill points out, is engaged in "the grind of conflict management". This first skirmish was predicted. Biden had to do something following the SolarWinds cyber hack, which was uncovered shortly before Trump left office.
The most brazen yet, it penetrated at least nine federal agencies and 100 companies. Announcing measures on April 15, treasury secretary Janet Yellen declared it to be the "start of a new US campaign" against Russian malign behaviour. She formally blamed the SVR, the foreign intelligence service.
The Americans expelled 10 operatives, imposed sanctions on 38 individuals and companies and banned Russians from operating in certain US financial markets. The Russians did what they always do – they smarted with both contempt and indignation and reciprocated.
Biden said he could have gone further but wanted to avoid escalation in the interests of a "stable and predictable relationship". He then offered Putin a summit, which had Russian commentators singing the praises of their leader. Once again, it seemed, the Kremlin had got what it wanted.
The backdrop for the escalation is Ukraine and the biggest build-up of Russian troops, tanks and missile launchers on the border since 2014, when Russia annexed Crimea and helped insurgents take over eastern Ukraine.
Last week, Washington said it was sending two US warships towards the Black Sea. Russia's foreign ministry warned them off "for their own good" and the Americans held back. The cycle repeated itself again. Did Biden blink first? That's how it looked, which is all that matters.
Hosting a virtual meeting of foreign ministers on Monday, the EU's foreign policy chief, Josep Borrell, estimated the number of Russian forces at 100,000. Russia, he said, was deploying "all kind of materials" on the border including "field hospitals".
He also updated them on Navalny. At the time of writing, Russia's opposition leader had been moved to the hospital wing of the prison camp east of Moscow where he has been on hunger strike and is seriously ill. US national security adviser Jake Sullivan declared there would be "consequences" if Navalny dies. Russia would be "held accountable by the international community".
Navalny assumed that on his return from Berlin in early January he would be taken into custody. He had vowed to carry on the fight, knowing that opposition leaders in exile – the likes of Mikhail Khodorkovsky and Gary Kasparov – immediately lose what little political influence they might otherwise have. He was taking the ultimate risk.
Is Putin prepared to have Navalny die? A decade ago he tried to dismiss him. Then he decided to take him out. Navalny has been poisoned not once (famously with Novichok injected into the seams of his underpants in a Siberian hotel last August), but twice. On the first occasion in 2017, unidentified men flung green dye in his face. He lost partial sight in one eye. He has had everything thrown at him by an all-powerful system.
What Putin did not reckon on was Navalny's chutzpah. The video he made about the president's billion-dollar secret palace has now been seen by well over 100 million people around the world, including an estimated 70 million in Russia. Pretty much the entire adult population has been invited to revel in Putin's humiliation.
The next few days and weeks will be crucial, with all eyes on Navalny, popular protest, Putin's annual state of the union address and Ukraine. Longer term, however, events in central Europe might provide help determine the strength or otherwise of Putin's politics of disruption.
At the start of March, on a chilly air strip in the Slovak provincial town of Kosice, a Russian military cargo plane was unloaded. These were the first crates of 'Sputnik V', the Russian coronavirus vaccine.
Slovakia's showman prime minister Igor Matovic staged a press conference in front of the plane to make his surprise announcement: 200,000 doses – with another two million on order. Within minutes, the foreign minister, a former ambassador to the US, attacked the stunt, denouncing Sputnik as "a tool of hybrid war". Use of the Russian vaccine, particularly prior to approval by the European medicines' regulator "divides us here at home, it divides us abroad, it questions processes in the EU."
Within days of the delivery, Matovic was demoted. The vaccines were not used.
The Slovakians' erstwhile compatriots, the Czechs, said they had found "unequivocal evidence" that Russia's military intelligence, the GRU, had been behind an explosion at an ammunition depot in the east of the country back in 2014.
This, the Czechs say, was the same unit said by the UK to be behind the attempted murder of Skripal in Salisbury in 2018. The Czechs – like the Ukrainians and the perpetually threatened Baltic states – are upping the ante.
They are seeking a tougher response from the bigger EU states, such as France, Italy and Germany who they say have been too indulgent of Putin and too mindful of narrow business opportunities. Borrell himself seems to have moved more towards that camp, having been woefully unprepared and publicly humiliated by Russia's foreign minister during a recent visit to Moscow.
Russia, like China, but on a smaller scale, was looking to individual European states as bridgeheads in its combination of cyberattacks and "soft power" wooing. The pandemic, and the EU's woeful early vaccination response, gave the Kremlin a golden opportunity.
Now, with tension greater than it has been for several years, might that chance be slipping away? It would be tempting to think so – if only Putin had reason to care.
What do you think? Have your say on this and more by emailing letters@theneweuropean.co.uk
Most popular