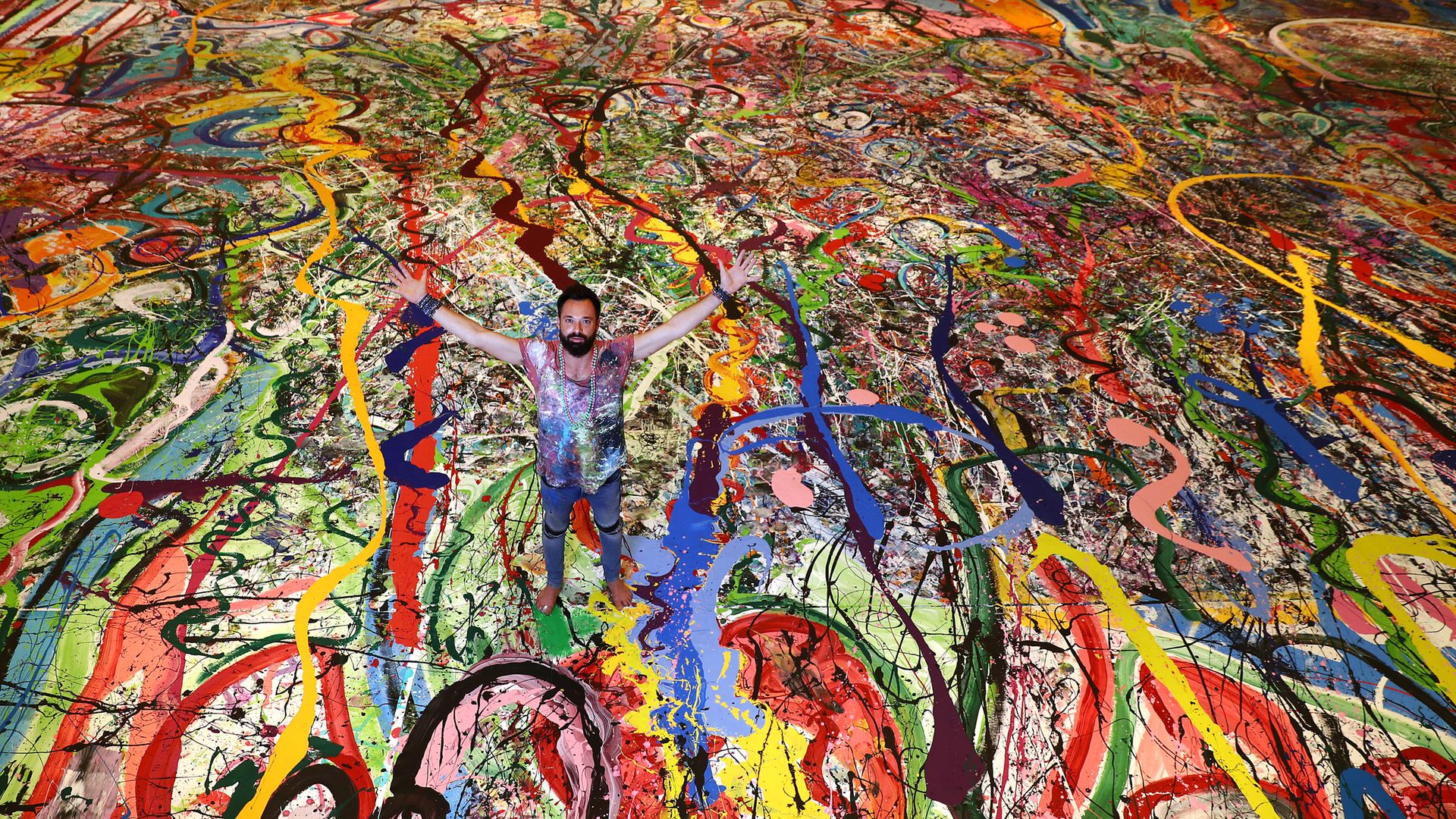 Sacha Jafri's The Journey of Humanity – the world's largest painting on canvas, which sold for $62m – is a prodigal waste of paint.
Whatever else we may wish to say about The Journey of Humanity – the world's largest existent painting on canvas, which sold at auction last week for $62m – one thing's for certain: it's shit.
Don't get me wrong, it's not particularly bad as an image: its painter, the British artist Sacha Jafri, knows how to ply a brush (or possibly a hose), and has managed across an area of some 17,000 square feet to swipe, drip and jet a colourful splatteration, strongly reminiscent of Jackson Pollock's oily extrusions, although not nearly as good. Hitherto notable as a society painter, whose previous high-selling daubs have included portraits of luminaries such as the Indian cricket player Virat Kohli, Jafri is a man who knows how to manipulate money quite as much as he does paint. 
Jafri is now resident in Dubai, that haven of artistic – and social – liberty, where indentured labourers from Baluchistan and the Horn of Africa slave to build timeshares for internet influencers swollen with pelf and Botox. He eructated his great oeuvre at Atlantis, aka the Palm Hotel – that absurd artificial palm-shaped island, gouged out of the shallow waters off the coast of Dubai that is perhaps the world's greatest monument to the unsustainability of the fossil fuel economy that built both the UAE and the UK. If the journey of humanity is indeed construed as this: an extraordinarily lurid and wasteful enterprise, conducted in order to enable a tiny number of individuals to become hyper-wealthy, then Jafri's painting is a well-named depiction of the shit we're in.
And for that matter: not as large as it seems. After all, as Claude Levi-Strauss sagely observed, the archetype of the artwork is the miniature, and it's a scale not even Michelangelo's frescos for St Peter's Basilica can transcend, since the subject they portray – the origin of the universe, no less – is so much bigger. But if The Journey of Humanity really is a picayune affair, it's by no means as insignificant as an NFT, or non-fungible token. These are mere strings of machine code that have no real artistry about them at all, save that they encrypt on a blockchain an artist's name, together with their authentication of the digital artwork within which they're embedded. 
NFTs are in the news because one attached to an artwork called Everydays: the First Five Thousand Days, sold at auction last week for $69m, the highest price ever paid for one. And by 'one', I do mean the NFT rather than the artwork itself – which is where media attention on the event has concentrated. Michael Winkelmann, aka 'Beeple', the artist who made the work, may have executed many of the 13,000 individual drawings constituting it by hand, but since he uploaded them all to the web – and the form the final artwork takes is digital – it cannot be in the images themselves that its value lies. Rather, it is at the interaction between the security of the NFT's encryption and the work's uniqueness that some sort of numinous quality is generated, such that Everydays: the First Five Thousand Days looked like a great investment for some billionaire with more crypto-currency – by a factor of millions – than aesthetic sense.
It was the art critic Clement Greenberg who furnished abstract impressionists such as Jackson Pollock with their aesthetic credo: in an age when plastic artworks were technically reproducible, they could no longer be concerned with depicting reality; rather, Greenberg averred, they must become that reality itself. A painting should be about the properties of paint – while a sculpture could be 'about' stone, or wood, or bronze.
In one direction Greenberg's theorising marked the way to such large-scale institutional works as the Reichstag-wrapping Christo – and Jafri's for that matter – which are clearly 'about' the resources embodied in their conception, rather than any autonomous subject. But in the other, his formalism implied the abstraction of artworks from the material realm altogether, since if they were to be about themselves, while that quality-of-being-an-artwork no longer resided in its correspondence to anything else, they might as well be an idea, or the undiscoverable factor of a prime number.
I said Jafri's painting was shit, then, not only because it's about a prodigal waste of paint made possible by profligate use of resources in a city-state built on gross peculation – but also because it, too, has sold for a prodigious amount of money to a crypto-currency millionaire: in this case, one called Andre Abdoune. Both Jafri and Abdoune have been waxing virtuous about how half the money generated by the sale will in fact go to help poor children, whose lives have been still further blighted by the Coronavirus pandemic – but $30m is pocket money for those global elites who invest in contemporary art, while it's a mere drop siphoned from the ocean of immiseration their own money-making activities depend upon.
It was sometime in the mid-1970s, around when Warhol's first retrospective was held at the Tate Gallery in London, that the total value of the contemporary art market began to exceed that of all preceding art ever marketed. Some might argue that it's around the same time the works also began to be such…
What do you think? Have your say on this and more by emailing letters@theneweuropean.co.uk
Most popular