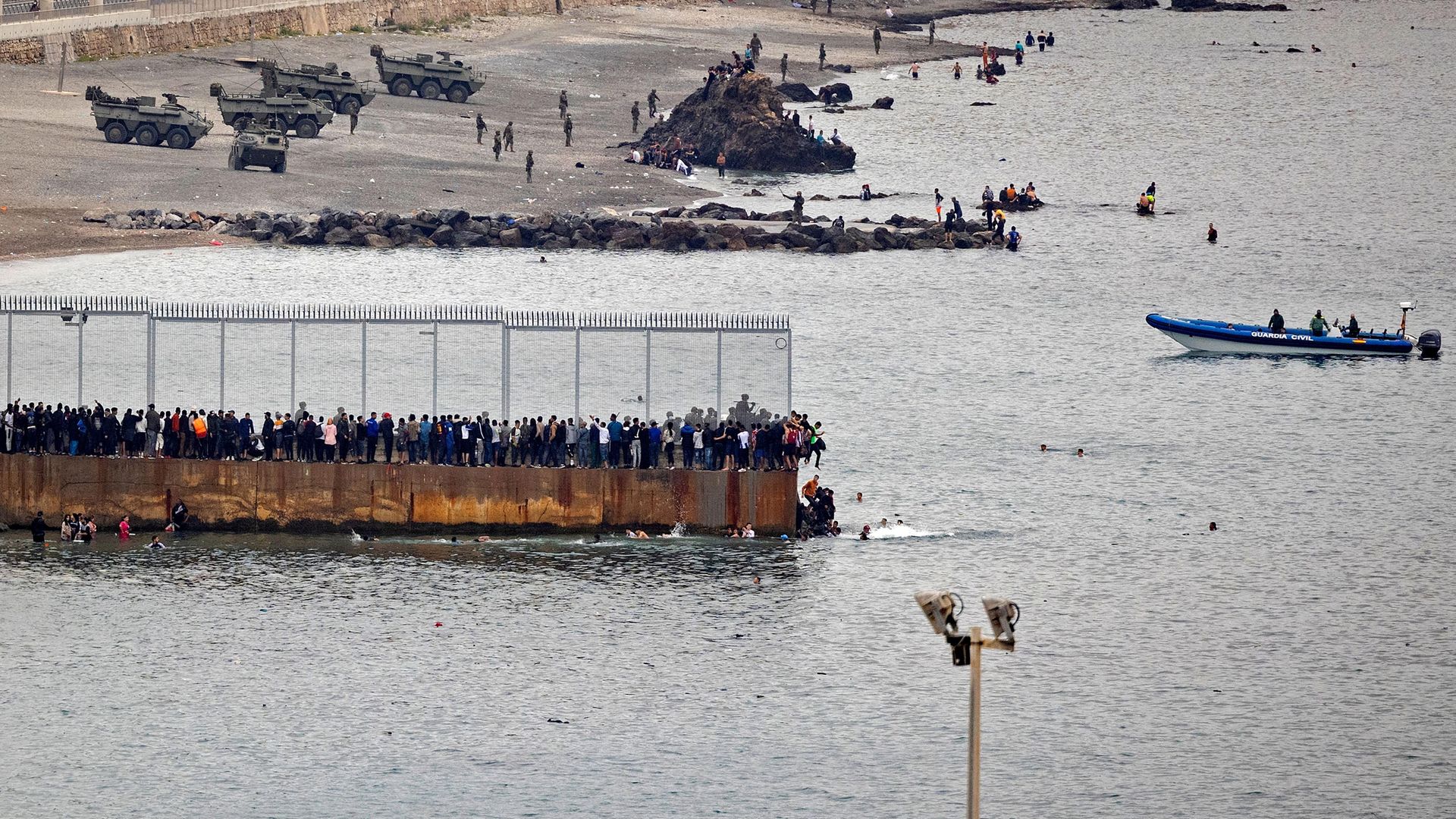 Dotted along the north west coast of Africa, the residue of Spanish empire – two sizeable cities – lies at the heart of a summer of high tension
Monte Hacho, the hill that rises above the Spanish city of Ceuta on the North African coast, is often cited as one of the Pillars of Hercules that guard the entrance to the Mediterranean. Like almost everything to do with Spain in North Africa, the claim is a source of dispute; Jebel Musa, just a few miles west in Morocco, is seen by many as an alternative location for Abila Mons, as the southern pillar was known in classical times.
Ceuta is one of two autonomous Spanish cities on the African coast, along with Melilla, that are in a constant state of tension with Morocco, which surrounds them both, and which argues that their location makes them theirs.
Like Gibraltar across the straits, the city of 85,000 people occupies a strategic military and commercial location at the entrance of the Mediterranean. It has been part of Spain in some form or other since as early as the 10th century when it was part of the Moorish empire that occupied southern Spain.
Melilla, located further east, near the Algerian border, came later. It was invaded by the Spanish in 1497 as part of an expansion in the region following the defeat of the Moorish empire.
Spain's claims on the cities is no different to the US claim on Alaska, Madrid argues. Moroccans think differently, and tensions flare up intermittently. They reached their worst moment in almost 20 years earlier this summer when as many 10,000 migrants from Morocco and sub-Saharan Africa poured into the two cities, apparently aided by Moroccan authorities, who allegedly rounded up children from the surrounding villages and encouraged them to swim on to the beaches on Spanish territory.
Not since Moroccan troops briefly occupied the Spanish-owned island of Perejil near Ceuta in 2002 have tensions been so high. The events triggered a temporary migration crisis on the shores of the Med, but they were really the result of a conflict that has been simmering for decades some 1,200 miles to the southwest, in the Western Sahara. This disputed territory, covering some 103,000 square miles, was a Spanish colony until 1975 and is now claimed both by Morocco and the region's Sahrawi people.
The dispute has been given fresh impetus by the breaking of a 30-year ceasefire between Morocco and the Polisario Front, a Sahrawi independence movement. Moroccan officials have effectively admitted that the encouragement of migrants to head to Ceuta and Mellila was a response to Spain allowing Polisaro Front leader Brahim Ghali to be treated in a Spanish hospital for Covid-19.
The other factor which has rekindled tensions in the Western Sahara – and therefore the Spanish enclaves – was a Tweet from Donald Trump last December, shortly before he left the White House, backing Morocco's claim. His message, describing Morocco's proposal of the creation of an autonomous region similar to the Spanish colonial model as "serious, credible and realistic", upended, in less than 140 characters, decades of delicate geopolitical diplomacy.
Trump's backing came at a price. In exchange, Morocco has normalised its relations with Israel, a move backed by few of its citizens. Yet, emboldened by
Trump's support and anxious to get something in return after expending so much political capital backing Israel, Rabat has sought to push its agenda in Western Sahara. In this, it has been frustrated by Spain's reluctance to take sides and its insistence on following diplomatic protocol.
The Moroccans feel that Spain isn't reciprocating the efforts Morocco puts into helping control migration, extremist terrorism and narcotics trafficking in the Mediterranean, says Jose Ignacio Torreblanca, head of the Madrid office at the European Council on Foreign Relations. "They have a sense of grievance and injustice and don't understand that Spain can't behave like the US and ignore international rights."
The use of civilians to put pressure on Spain recalls the 'Green March' of 1975 when about 300,000 Moroccans, orchestrated by the government, marched into Spanish-occupied Western Sahara. The march caught the Spanish in a moment of crisis; Franco was on his deathbed. The acting government was in no mood for a colonial war and negotiated an exit with Morocco and Mauritania (Mauritania later gave up its claim). The Polisario Front, which had been fighting the Spanish over the territory, then trained its weapons on Morocco.
The territory has existed in a legal limbo ever since. The UN considers the Green March occupation an act of colonisation. A proposed referendum (that would include the Green March Moroccans) agreed by the Polisario Front as a condition of the ceasefire has failed to materialise.
Morocco insists the solution lies in creating an autonomous state ultimately controlled by Rabat. The events in Ceuta and Melilla have pulled together almost all of the intersecting threads of Spain's complicated relationship with North Africa, where its adventures in empire-building began and ended.
Morocco's designs on Ceuta and Melilla ebb and flow as regularly as the waves that lap on their Mediterranean shores. Tensions had already begun escalating before Ghali arrived in Spain. Morocco closed the borders with Ceuta and Melilla in March 2020, ostensibly because of the pandemic. The result has been a build-up of pressure as thousands of Moroccans who rely on trade with the two enclaves have been denied their only source of income.
While Morocco has previously been able to count on the support of France in its diplomatic skirmishes with Spain, this time King Mohammed VI's government seems to have underestimated European unity on migration.
Morocco appears to have used unaccompanied minors to pile more pressure on Spanish prime minister Pedro Sanchez. The NGO Fundacion Raices says children as young as six from Moroccan villages surrounding the enclaves and teenagers from West African countries and as far away as Yemen were among those who crossed over.
Many are reported to still be hiding in the hills surrounding the cities. Spain. for its part, has been criticised for practising what's known as devoluciones en caliente, in which the migrants are sent back without first being processed.
Ghali, 71, arrived in Spain under a false name and using an Algerian passport on the Algerian presidential plane. He has been accused of torture at Sahrawi refugee camps in Tindouf, a town in western Algeria, in a case brought by a Polisario dissident. He also faces allegations of war crimes brought by a dissident Sahrawi group in Spain. Ghali recently testified in court via video conference from his hospital bed in Logroño before returning to Algeria after the judge said he saw no justification for remanding him.
Morocco has drawn comparisons between the Western Sahara and Spain's recent clashes with Catalan separatists. Morocco deferred to Spain's wishes when Catalan leaders weren't given a full diplomatic reception when they visited Rabat. Spain insists Ghali was taken in for humanitarian reasons and that it is following due legal process. Morocco needs to keep the momentum going on its bid to claim the Western Sahara. But it's unlikely to get the help it hoped for from Europe. A ruling by the European Court of Justice, expected shortly on whether Morocco should be allowed to export goods from Western Sahara, is unlikely to please Rabat.
Meanwhile, relations show no sign of easing, with the prospect of a summer of simmering tensions and another long chapter in the long story of Spain's African entanglements.
Most popular