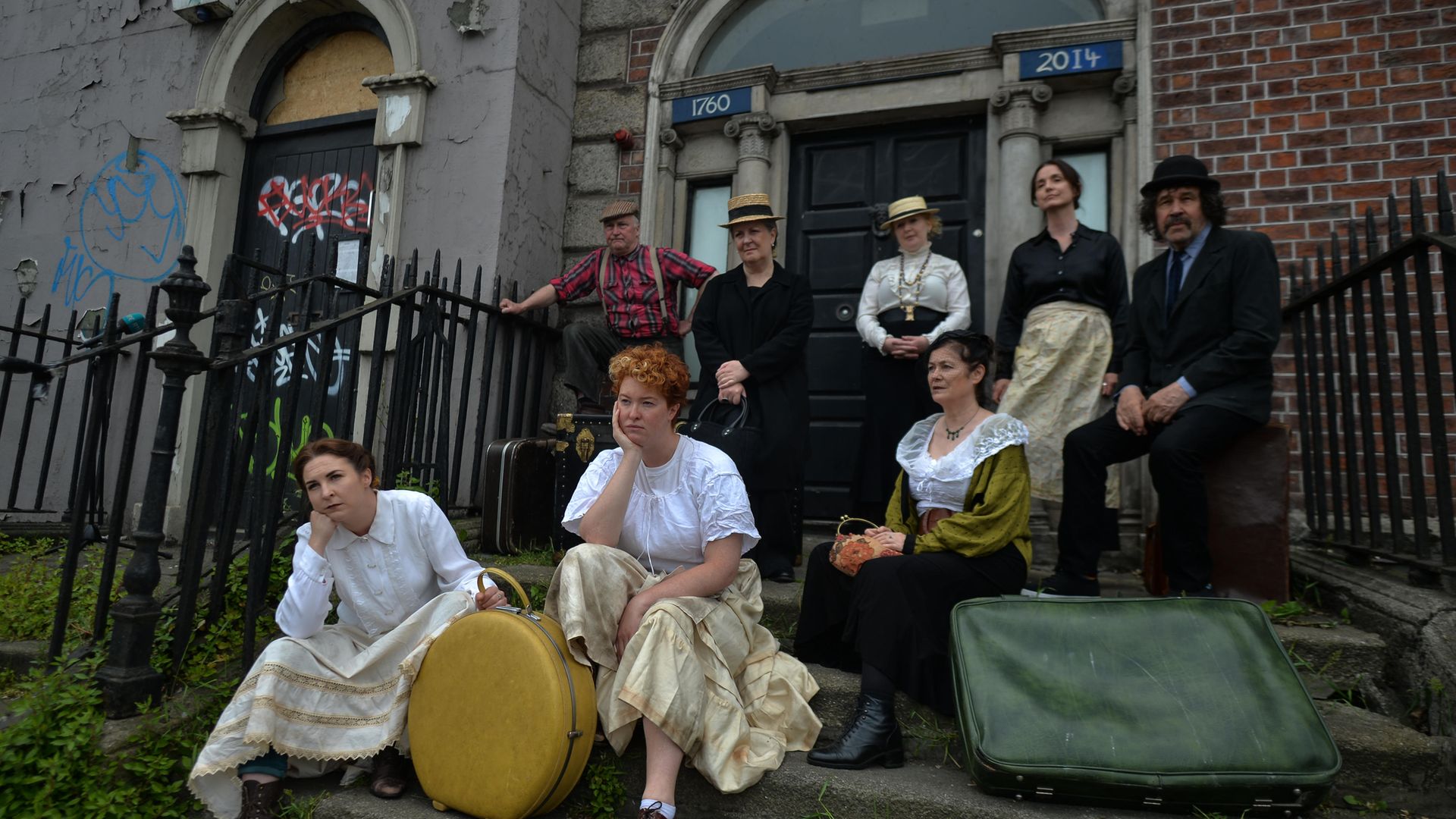 The fate of a Dublin building which was the setting for a James Joyce story raises interesting questions about property closely associated with literature
There are few cities that come to literary life in the manner of Dublin on Bloomsday. June 16 every year, the date in 1904 on which the events of James Joyce's Ulysses unfold, sees the Irish capital hosting a range of events, from performances of and readings from the text, to walking tours, to folk just having a few pints in Davy Byrne's watching the world go by. St Stephen's Green is filled with promenading people in period costume, men in black suits and matching bowlers like the eponymous Leopold Bloom or replicas of Blazes Boylan's straw boater, women in petticoats wielding parasols and channelling Molly Bloom.
Earnest looking folk with well-thumbed copies of the notoriously challenging novel can be seen riffling through the pages and squinting up at buildings as they attempt to pinpoint locations used in the book. Less earnest people can be seen carrying pristine, unopened copies, just purchased in a burst of enthusiasm fostered simply by being in Dublin on Bloomsday, books destined inevitably to remain on the shelf unread.
This year's event, like the 2020 version, was held mostly online thanks to coronavirus restrictions, although these did permit a few walking tours and other events to take place: such is the association between Dublin and even the finer details of Ulysses that at Deansgrange cemetery a gathering of Joyceans unveiled a headstone on the grave of boxer Myler Keogh, mentioned in passing in the text, the first time since his burial in a pauper's grave in 1916 that his final resting place has been marked.
On June 15, the evening before Bloomsday, another Joyce-related event took place with a less celebratory feel. Outside 15 Usher's Island, a Georgian house looking onto the Liffey to the west of Dublin city centre, a group of actors including Stephen Rea gathered on the steps dressed in full Joycean regalia carrying carpet bags and suitcases. This was something unconnected to Ulysses but deeply connected to Joyce and his work, not to mention an illustration of issues facing contemporary Dublin. This was a symbolic eviction.
In April the last appeal against the approval of a plan to convert 15 Usher's Island into a 54-room hostel was rejected by the Irish planning authority An Bord Pleanála. On the face of it, the application shouldn't really have aroused much in the way of opposition. Although it looks along the road bridge that carries James Joyce's name, the house is part of a row of buildings that are clearly in dire need of some TLC. Number 15 is a handsome 18th century house of four storeys with the classic Georgian fanlight over the door but it's been unoccupied since its previous owner was declared bankrupt almost a decade ago and shows signs of neglect.
Yet the planned development was opposed vehemently by a range of artistic figures from Ireland and beyond led by Colm Toibin and including Edna O'Brien, Salman Rushdie, Richard Ford, Anne Enright, Michael Ondaatje, Sally Rooney, John Banville and Anjelica Huston.
The reason for this circling of the cultural wagons was that 15 Usher's Island is not simply another Georgian house, of which Dublin has many other fine examples. This was the setting for Joyce's short story The Dead, part of his celebrated collection Dubliners and regarded as one of the greatest short stories ever written.
The house was built during the 1770s by a grain merchant as his family residence, but by the 1890s the house had been divided and the top two floors were occupied by two aunts of James Joyce who ran a music school on the premises. Joyce was a regular visitor during his childhood and the building was identified as the location of the story, in which a teacher named Gabriel Conroy attends a Christmas meal with his wife at which he makes a startling discovery about her past, during the 1960s by Joyce scholar David Norris.
"It is a very significant house," he said in 2019 in response to the original planning application. "I identified and photographed it more than 50 years ago. I don't think anybody knew of its significance at the time."
A member of Seanad Éireann, the upper house of the Irish parliament, and a high-profile campaigner for LGBT rights, Norris has long been critical of what he sees as the hypocrisy of the Irish establishment's adoption of Joyce since the late 20th century, long after the author's death in 1941. Joyce had left Ireland in his early 20s and rarely returned, with Norris pointing out that he was "anathema to the Irish establishment" during his lifetime.
"They saw Joyce as someone who was anti-Irish, who was profligate, who ran away with a chambermaid, who wrote dirty books," he said. "It's only in recent years that Joyce has become so popular, partly through the revenue generated through tourism. Nothing so disinfects a reputation as the clink of money in the till."
Joyce's relationship with Dublin was as complicated after his death as it was during his life. Having left Dublin in 1904 he returned only three times, the last occasion in 1912 in a futile effort to find an Irish publisher to take on Dubliners. Yet the city remained vividly drawn in his mind for the rest of a life spent mainly in Zurich, Trieste and Paris. So much so in fact that Joyce claimed of Ulysses that if Dublin "one day suddenly disappeared from the Earth it could be reconstructed out of my book".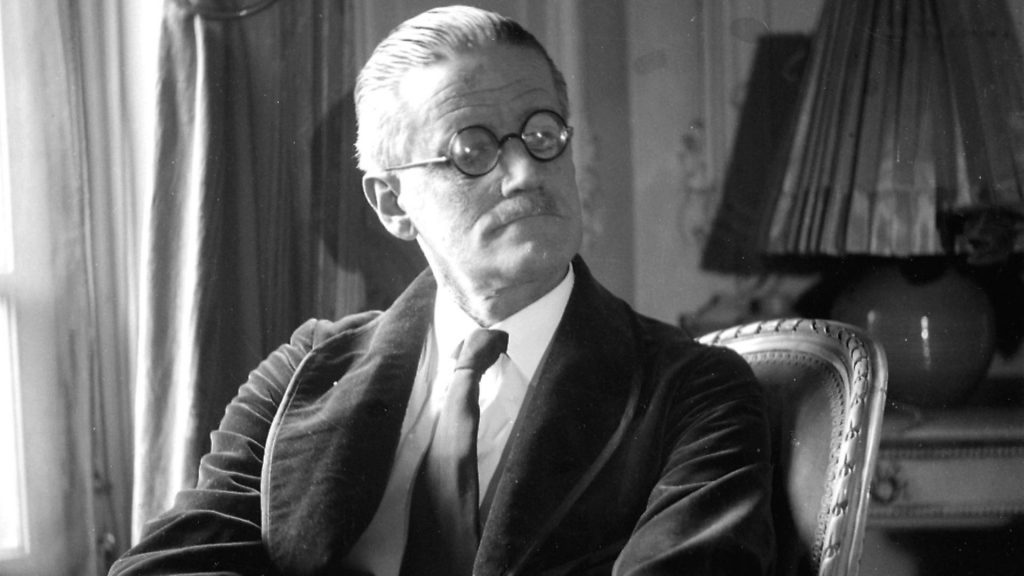 Ulysses, which follows Leopold Bloom through a single Dublin day, cites many locations in Dublin that are warmly associated with Joyce to this day, from the Martello tower at Sandycove where the book opens to Sweny's pharmacy, which still looks much as it would have when Leopold Bloom bought some lemon scented soap on tick during the novel. It had been hoped that 15 Usher's Island, which was used as a location for John Huston's 1987 film adaptation of The Dead, would also be preserved as a key part of Dublin's literary heritage.
The planners argued that as the building fell further into disrepair their proposal was the only plausible way to secure its future, as well as its historic and cultural value. Toibín and his fellow campaigners hoped the building could be preserved as a visitors' centre or put to some other cultural use.
"In the decades since Joyce's death, too many of the places that are rendered immortal in his writing have been lost to the city," he said as part of the objection to the proposed development.
With the developers given the go-ahead earlier this year, the symbolic departure from the steps on the night before Bloomsday by Stephen Rea and others, including Rachael Dowling and Maria Hayden who had appeared in the film adaptation, represented the final eviction of Joyce and his legacy from the premises.
Literary heritage is a difficult thing to quantify and evaluate. Some would argue that Joyce's legacy is already well-preserved in Dublin. As well as the surviving locations that appear in his books there is a dedicated James Joyce Centre in another Georgian building. as well as a statue of the author on North Earl Street in the heart of the city.
While many buildings associated with famous authors have been saved, some even turned into museums such as the Bronte parsonage at Haworth and Wordsworth's Dove Cottage, many more have been lost. Realistically, though, do locations that were the settings for fictional events have the same pull as places physically associated with the author? Granted, walking through the door of Sweny's does take you back to 1904, and you can still buy bars of lemon soap labelled and packaged just as it was back then, but Leopold Bloom never really bought any because he didn't exist. Similarly, the yuletide dinner party depicted in The Dead never took place.
One can appreciate the argument that while it's undeniably a shame that the house will be turned into a hostel at least it's being used for something. At least it will still be there. Many other literary landmarks have not been so lucky.
The Marylebone house in which Charles Dickens lived for 13 years during which he wrote David Copperfield and A Christmas Carol was demolished in 1958, for example, with London County Council deciding that "given the existence of other houses in London and the provinces devoted to the memory of Dickens" they saw no reason for the house not to be pulled down to make way for an office block.
The house in Dominica where Jean Rhys, author of Wide Sargasso Sea, grew up was razed last year, again to make way for offices. James Baldwin's house in the south of France was pulled down in 2014; a block of flats stands there now.
Perhaps the most egregious desecration of a literary shrine took place in 1758 in Stratford-upon-Avon. In 1597 having left London for his home town William Shakespeare bought the large, rambling late 15th century New Place, where he wrote his later plays including The Tempest. It was also the most likely location of his death in 1616.
By the 1750s New Place was in the possession of the Reverend Francis Gastrell, who soon became irritated by the number of inquisitive visitors poking around in his garden and peering through his windows. His irritation was such that he even chopped down a venerable mulberry tree presumed to have been planted by Shakespeare himself. When that didn't deter the tourists Gastrell became so aggrieved he not only moved out of New Place he demolished it altogether. It led to him being driven out of Stratford but that couldn't bring back the former home of Britain's greatest literary figure.
Even if we accept that there are plenty of Joycean locations in Dublin the symbolic eviction that took place at 15 Usher's Island the night before Bloomsday has extra resonance for contemporary Dublin. The Irish capital is in the midst of a housing crisis, a shortage of available property that has led to astronomical rents and house prices so high even some high-earning professionals can't afford to live in the city. The government, many of whom own multiple properties, is showing little inclination to improve matters and with hotel after hotel going up instead of affordable housing the sacrifice of this Joycean landmark to the tourist euro carries extra nuance. For many Dubliners it's just another example of their city's soul being sacrificed on the altar of greed.
FIVE GREAT BOOKS OUT THIS WEEK
FALLING IS LIKE FLYING
Manon Uphoff, trans. Sam Garrett (Pushkin Press, £12.99)
Shortlisted for five literary awards in the Netherlands, this English translation charts the author's traumatic, abusive childhood at the hands of a father she calls The Minotaur. The death of her 69-year-old sister prompted a flood of suppressed memories, producing a memoir ultimately as uplifting as it is harrowing.
THE FIVE WOUNDS
Kirsten Valdez Quade (Profile, £16.99)
Inviting comparisons with Elizabeth Strout and Jonathan Franzen, this immersive novel brings together five generations of the Padilla family in the town of Las Penas, New Mexico, to cope with a teenage pregnancy in the family. Selected by Roxane Gay for her book club, The Five Wounds is kaleidoscopic family saga rich in detail.
HOGARTH: LIFE IN PROGRESS
Jacqueline Riding (Profile, £30)
In the first new biography of the artist and engraver whose work provides us with the most vivid and realistic images of 18th century Britain, Jacqueline Riding explores Hogarth's life and art and places him firmly in the context of the times in which he lived. As well as the great artist, a self-made man, devoted husband and philanthropist emerges here.
MAINSTREAM: AN ANTHOLOGY OF STORIES FROM THE EDGES
Edited by Justin David and Nathan Evans (Inkandescent, £9.99)
An ambitious and wide-ranging collection of short stories by writers from backgrounds too often marginalised by the literary mainstream. Thirty queer writers, working class writers and writers of colour are gathered within its pages to produce a collection as varied and insightful as any you'll read this year.
DAUGHTERS OF THE LABYRINTH
Ruth Padel (Corsair, £18.99)
Best known for her poetry, Padel's second novel is set at the time of the Brexit vote and the Greek financial collapse as widowed artist Ri returns from the UK to Crete, exploring her family history on the island in a thought-provoking novel of identity, history and our times. "Ruth Padel brings a poet's eye to this world of great physical beauty and gnarled legacy," says Colm Tóibín.
Most popular