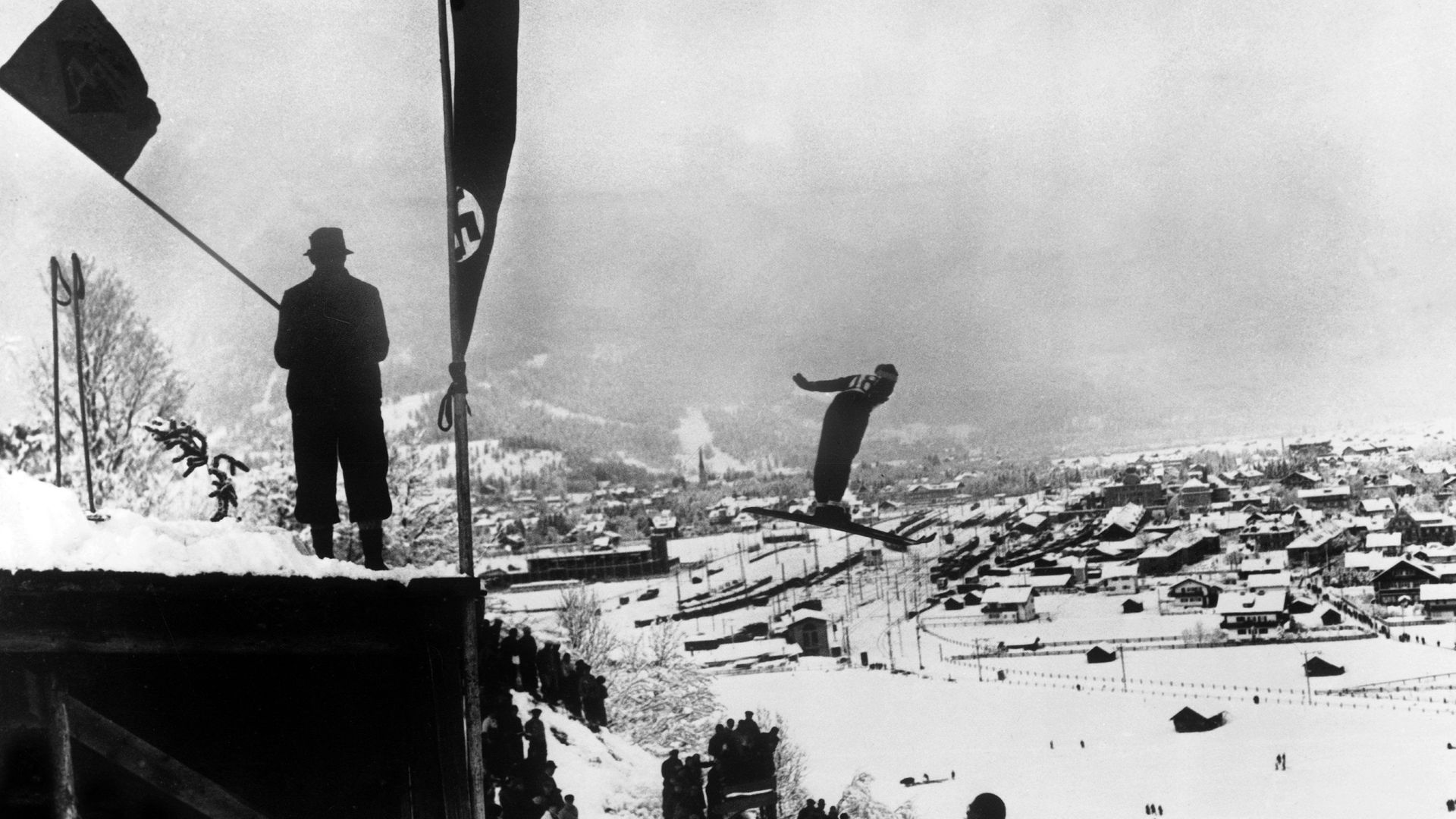 Birger Ruud helped to change his sport for good, before serving his country against its Nazi occupiers
It's hard to imagine a sport more exhilarating for the competitor than ski jumping. The jumper hauls themself onto the in-run, skis perfectly parallel, crouching as low as possible as they hurtle down a slope as steep as 38 degrees, picking up as much speed as they can until, at around 65mph, they launch themselves into the void, flying as far as they can, standing straight, ski tips at nose level. Their body remains rigid to coax as much resistance from the air rushing past them as possible, keeping them above the ground for as long as they can.
There's a sea of faces ahead and to each side of them, a crowd that had chanted and clanged cowbells as the jumper bulleted down the in-run but is now holding its breath, awed by this unpowered flight, a great sportsman or woman reduced to a tiny figure falling through the sky at the mercy of gravity until skis meet snow as gently as possible, as if guided down by some invisible, benevolent force.
Ski jumping is measured in length over the ground, its results binding competitors to the earth as if they'd never left it, never been alone in the air for those glorious moments, flying further unaided than almost every human being who ever lived.
At the Winter Olympics of 1936 at Garmisch-Partenkirchen in Germany, 90,000 people watched Birger Ruud fly. Ninety thousand faces turned up towards him as the Norwegian added a second gold medal to the one he'd secured at Lake Placid four years earlier. If it hadn't been for the war he could well have won a third and a fourth. As he floated down to earth in front of that vast crowd anything seemed possible for the man who was arguably the greatest ski jumper of all time.
In any sport there are winners, there are champions, then truly great champions. Very occasionally there are great champions who transcend the scoreboard to change the face of their sport forever. Birger Ruud achieved that for ski jumping, not only drawing huge crowds to slopes across the northern hemisphere but transforming the basic technique of the sport itself, not to mention helping to raise the profile of his country only a few years after the dissolution of its union with Sweden. He fought for Norway on the slopes, then fought for Norway as part of the resistance during the Second World War.
There's a statue of Birger Ruud in Kongsberg, a town at the mouth of a valley 50 miles southwest of Oslo. It captures him in mid jump, legs straight, bending forward at the waist so his torso is parallel with his skis, arms spread wide as if bowing before the town that made him. Kongsberg was once famous for its silversmiths – it's still home to the Norwegian royal mint – but, most notably between the wars when the town had a population of a little over 5,000, it has produced some of the greatest ski jumpers the world has ever seen. Six Olympic medallists have come from Kongsberg: the first five ski jumping Olympic golds were all won by Kongsberg men.
A combination of sloping streets and particularly heavy winter snowfalls meant that Kongsberg children were piling and packing snow into little ski jumps almost as soon as they could walk. Even adults would spend their lunch breaks flying down the hilly streets and taking off from improvised jumps.
If Ruud was born in the right place, he was also born into the right family. Of six siblings, three brothers would go on to be champion ski jumpers. Older brother Sigmund won silver at the 1928 Winter Olympics and became world champion the following year while Asbjørn, eight years younger than Birger, was world champion in 1938. Thanks in no small part to the Ruuds the Kongsberg club, with its signature white K on a red sweater, became one of the strongest in any sport in the world.
"Sometimes I think it was harder to become club champion than world champion," Birger would joke.
Of the three brothers it was Birger who truly captured the imagination of the winter sports fraternity. He made his first jump at the age of four, won his first competition at seven and the first of his four world championships at 19 in 1931. His first Olympic gold arrived the following year, just pipping another Kongsberg man Hans Beck who took silver. Two years later, in 1934, he became the first ski jumper ever to break 90 metres.
By the 1936 Olympics Ruud was at his peak. With elder brother Sigmund and Jacob Tullin Thams he had also revolutionised ski jumping technique, devising between them what became known as the 'Kongsberger method', the one captured in Ruud's statue, bending forward at the hips and extending the arms. Until then there had been no accepted jumping style. Skiers just took off and landed as best they could, but the introduction of the more aerodynamic Kongsberg method practically doubled jumping distances at a stroke.
Ruud's preparations for the 1936 games were meticulous. He'd lived and worked in Germany as a sales representative for a firm of Norwegian ski makers for some years, first in Berlin, then Innsbruck. Ahead of the Olympics he'd based himself in Garmisch-Partenkirchen, determined to familiarise himself with the jump and local conditions.
He'd also entered the inaugural Olympic Alpine skiing event, a combined downhill and slalom that took place ahead of the jumping competition. He won the downhill race and then the slalom, putting him in the lead by more than four seconds, but a six-second penalty for missing one of the gates that ultimately cost him a medal.
The jump was the climax of the games, held on the morning of the closing ceremony. In front of Hitler, Ruud clinched gold ahead of Sven Eriksson of Sweden. All four Norwegian jumpers finished in the top eight of a 48 competitor field.
The following winter Birger undertook a highly successful promotional tour of north America with his brother Sigmund, drawing huge crowds wherever they went including a showpiece event in Los Angeles attended by Clark Gable and Loretta Young. Meanwhile the gathering clouds of war over Europe were darkening and would have a profound effect on the champion jumper's life and career. He left Germany for Norway on his return from the US, but within two years Hitler's forces had rolled into Ruud's homeland and everything changed.
Ruud was one of many Norwegian sportspeople who refused to participate in German-run sham competitions intended to demonstrate Aryan superiority, prompting in 1941 a lifetime ban from competing. His fame and years spent in Germany, where he had become a popular figure, made his refusal a particular blow to the occupying nation. By then Ruud was already involved with the resistance, where his skiing experience made him ideal for collecting messages and parcels of ammunition dropped by parachute in remote areas.
He was also part of a group of Norwegians holding their own clandestine events and competitions until in 1943 a Quisling sympathiser reported the skiers to the Gestapo and the three Ruud brothers were sent to the Grini concentration camp. Released after a year Ruud returned immediately to resistance activities, becoming close to one of its key leaders Ahlert Horn.
By the time of the 1948 Olympics Ruud, in his late 30s, had taken a step back from major competition in favour of younger skiers. He'd had his time, he felt, and with so many gifted Norwegian jumpers coming through he saw no reason to stand in their way. He travelled with the team to the 1948 winter games in St Moritz as assistant coach, but on the morning of the competition bad weather had closed in and he considered it too dangerous for the team's least experienced jumper to compete.
Rather than just withdraw Ruud decided, at the age of 37 and 12 years after his last Olympics, he would jump instead. He led the field when the final competitor, compatriot Petter Hugsted, from Kongsberg, naturally, and an old friend, launched himself onto the in-run. When Hugsted narrowly cleared Ruud's distance to take the gold, the delighted old champion sprinted to his friend and swept him up in a celebratory embrace.
Ruud carried on competing at a local level until his retirement in 1967 at the age of 56. By then he'd spent more than half a century flinging himself into the void, tweaking the nose of gravity in search of the sheer exhilaration of flight. When you're airborne, he knew, it's one of the few places on earth where age doesn't matter.
Most popular