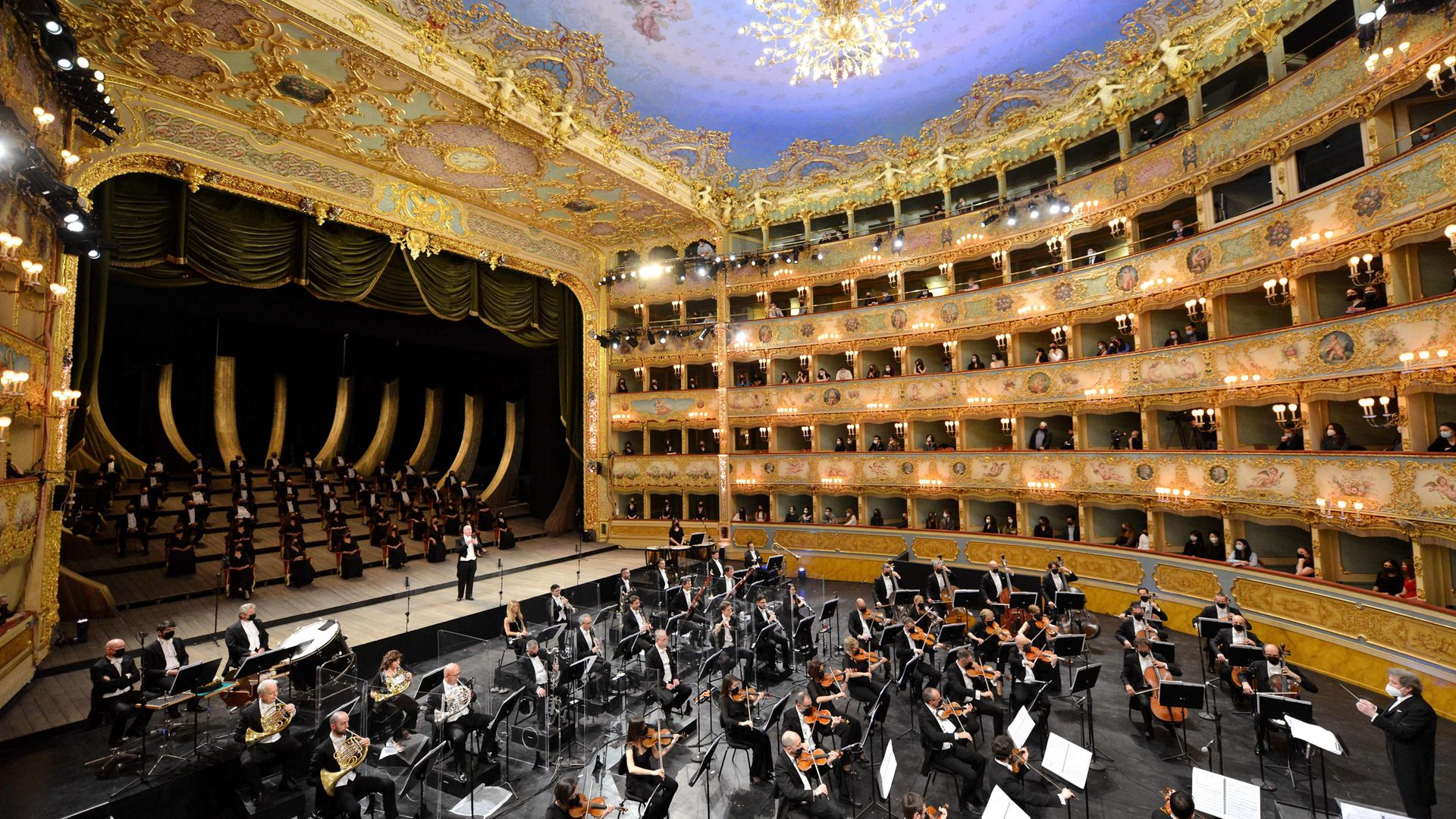 Venice's music, like the city itself, seems designed specifically to stir emotions
There is the Venice of history, the city-state that was a world power for centuries and a musical powerhouse in the 17th century. Then there is the Venice of imagination, of canals, Carnival and decadent beauty – a characterisation fuelled above all by cinema. But the two are not exclusive and music made in or associated with this city has become a staple of the TV and film soundtrack and used as shorthand for the most heightened of human emotions.
Monteverdi arrived in Venice from his native Cremona around 1613 to take charge of the music at St Mark's Basilica. He was in his forties and already controversial for his musical innovations that bridged between the Renaissance and Baroque styles, and he would make Venice synonymous with the emerging form of modern opera. As a court musician in Mantua he had already written L'Orfeo (1607), one of the earliest true operas, and he survived the plague of 1629-31 which wiped out a third of Venice's population to spend his last years writing his operatic masterpieces Il ritorno d'Ulisse in patria, premiered in 1639, and L'incoronazione di Poppea, debuting four years later.
When Monteverdi died in 1643, the outsider who had made such a huge contribution to Venice's musical life was afforded a funeral of grand pomp and was buried in the imposing Venetian Gothic church Santa Maria Gloriosa dei Frari in the central and ancient district of San Polo. Despite being three and a half centuries dead, his music lives on, just one example being the devastating Lasciatemi Morire ('Let Me Die') from L'Arianna (1608), as sung by Mario Lanza, popping up in the latest remake of A Star is Born (2018).
The next era of Venetian music – one which coincided with Canaletto preserving the visual ideal of the city in aspic – was dominated by two figures, Baroque contemporaries Tomaso Albinoni and Antonio Vivaldi. Albinoni was born in 1671 into money from the Venetian paper trade and enjoyed huge fame in his own time as a composer of opera. Yet today almost all of his 53 operas are lost, and he is most famous for a piece of music he probably did not write.
Albinoni's life's work – and it was a long life of eight decades – was preserved in the Saxon State and University Library in Dresden, but much of it was destroyed in the bombing raids of 1945. When Milanese musicologist Remo Giazotto began to use what material was left to write a biography of Albinoni, he claimed he discovered six bars of a previously unknown sonata. Giazotto finished the piece and published it in 1958 as Adagio in G Minor for Strings and Organ on Two Thematic Ideas and on a Figured Bass, attributing the whole composition to Albinoni.
But no evidence of Albinoni's original document was ever produced, and Giazotto later claimed full authorship of the Adagio, along with the copyright. It had been one of music's greatest hoaxes, but it hasn't stopped this tortured and stately piece being used widely on both the big and small screens. From the futuristic dystopia of Rollerball (1975), to war epic Gallipoli (1981), and the critically acclaimed Manchester By the Sea (2017), 'Albinoni's' Adagio has been a used to indicate emotional anguish. It was also recently used over the dialogue-free opening eight minutes of The Assassination of Gianni Versace (2018), lending the central events of the title the essential pathos and universality of opera.
Seven years Albinoni's junior, Vivaldi was reportedly born in the middle of an earthquake, a foreshadowing of his eventual effect on music. He was a consecrated priest and a hugely prolific composer, writing 46 operas and 500 concertos, and travelled widely. But he spent the last 40 years of his life as music teacher at the Ospedale della Pietà girls' orphanage – music was one of the trades taught to the children – and died in the city in 1741 in obscurity and poverty.
While Vivaldi's series of violin concertos, the Four Seasons, in fact written not in Venice but during his tenure as kapellmeister at the Mantuan court of Philip of Hesse-Darmstadt, are absolutely ubiquitous, much of the rest of his output has also made appearances in film.
His sacred motet Nulla in mundo pax sincera ('In this world there is no honest peace') was memorably used in the central scene in Shine (1996) where pianist David Helfgott (Geoffrey Rush) bounces on a trampoline naked while listening to a personal stereo. That film also featured Vivaldi's Gloria in D major, as did films as diverse as Oliver Stone's weighty Nixon (1996) and Disney's teen musical Descendants (2015).
The Venetian Republic was already declining in Albinoni and Vivaldi's lifetimes, losing territories amid rivalry with the Ottomans and Austrians. Soon Venice would lose its economic and political power as the sack of the city by Napoleon in 1797 saw the abdication of the six-hundred-year-old Great Council and of the Doge. Ricocheting between the Austrian empire and the Kingdom of Italy followed, and the city would never regain its former glory.
But just before the arrival of Napoleon's men, Venice made a further major contribution to music. The first public opera house had opened in Venice in the 1630s and opera had been pioneered in the city as a commercial enterprise. La Fenice opera house opened in 1792 and staples of the operatic repertoire by Rossini, Bellini and Donizetti would be premiered there. It was also a venue that was vital to Verdi's career. Between 1844 and 1857, he composed Ernani (1844), Attila (1846), Rigoletto (1851), La traviata (1853), and Simon Boccanegra (1857) for the theatre, making major innovations in the genre in the process.
In the 20th century Venice music became almost wholly defined by film, and the 1970s saw several films appear that used it as a backdrop for powerful emotions, with the music to match. Visconti's adaptation of Thomas Mann's Death in Venice (1971) has forever associated the adagietto from Mahler's 5th symphony with the city, its tragic-euphoric strains playing as the central character dies on the beach amid his contemplation of beauty. Britten's opera based on the story came two years later.
Nicolas Roeg's Venice-set psychological thriller Don't Look Now (1973) was no less invested in themes of longing and loss and was scored by Venice-born Pino Donaggio. Donaggio trained as a violinist, becoming intimately familiar with the oeuvre of Vivaldi, before making the shift to pop. He was the writer and original performer of Lo che non vivo (senza te) ('I Who Cannot Live (Without You)'), a song that got to the final of the Sanremo Festival in 1965 and which, as You Don't Have to Say You Love Me, became a runaway hit for Dusty Springfield the following year. Donaggio would later contribute spine-chilling scores to the films of Brian De Palma, among others.
Finally, Fellini's Casanova (1976), starring Donald Sutherland just as Don't Look Now had, was a riot of decadence and death, and boasted a score by Milan's Nino Rota, Fellini's long-term collaborator, but also composer of film music for Visconti and Zeffirelli. Rota's archives are held at the Venice's Fondazione Giorgio Cini on the island of San Giorgio Maggiore, which also holds a complete set of the works of Vivaldi.
In these cinematic treatments, an image became crystallised of Venice as a place of decadence, decline and death. But it had once been the beating heart of European musical endeavour.
CANAL CANZONE
Gondoliers' operatic strains echoing down the canals is the characteristic sound of Venice, but the origins of the tradition were in controversy. Rousseau and Burney both recorded the phenomenon of gondoliers singing barcarolle – boat songs – in the middle decades of the 18th century, at a time of deepening political crisis for the Republic of Venice when the songs were sometimes a powerful mode of social commentary. In 2016 Italian multi-instrumentalist and singer Rachele Colombo released an album of the songs drawn from original 18th century manuscripts.
Most popular