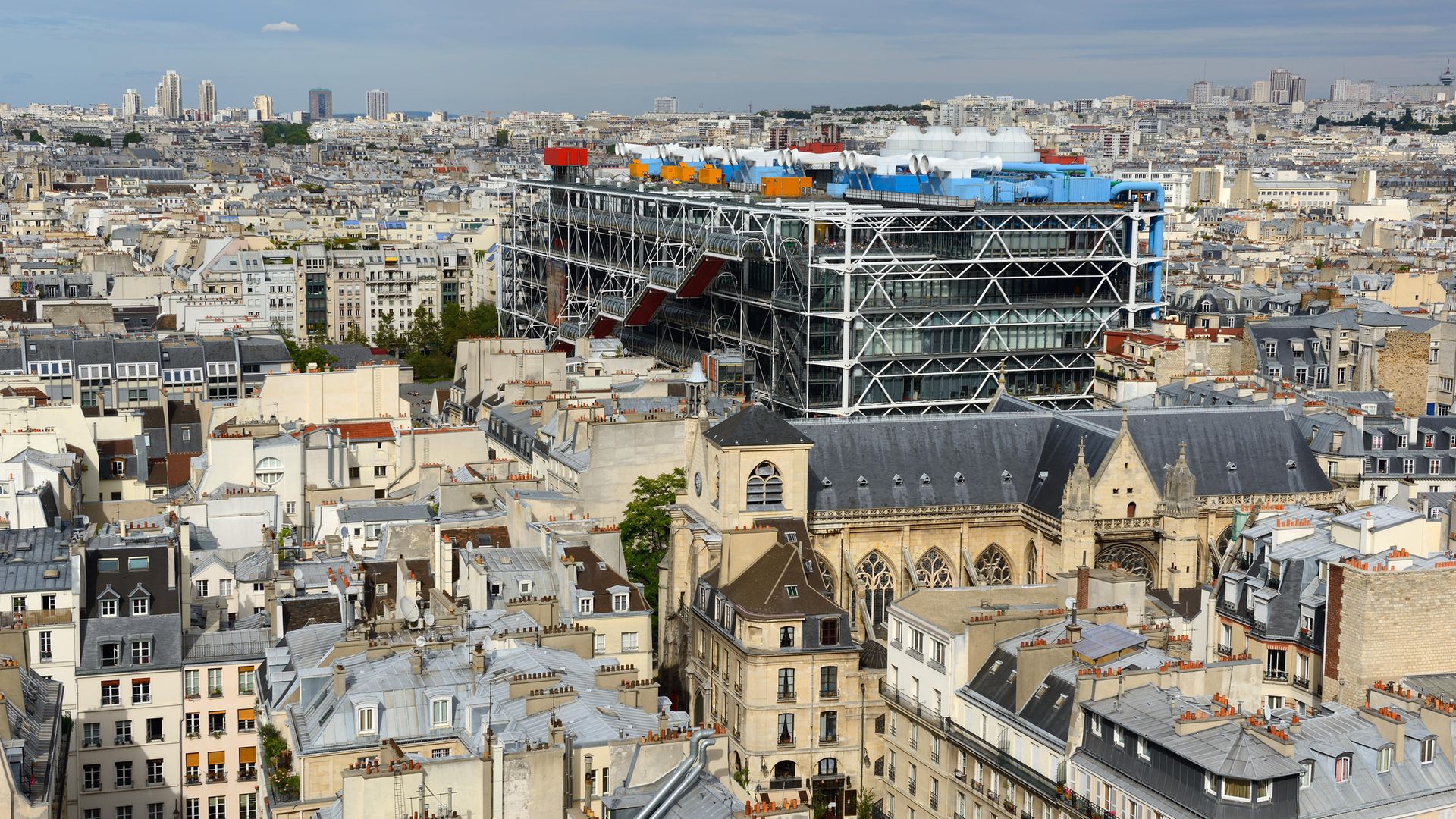 Following the announcement that the Pompidou Centre is to close from 2023 until 2027, BENJAMIN IVRY explores the history of the controversial building and its complex place at the heart of French culture and identity.
Often referred to in French as Beaubourg, after the area in central Paris where it is located, the Pompidou Centre – with its brightly coloured water pipes and air-conditioning ducts, as well as the escalator fixed to the building's exterior – has always been seen as typically, Gallicly exuberant.
Yet it was very much an international effort, designed by British architect Richard Rogers and an Italian colleague, Renzo Piano, with a steel structure provided by Krupp, the German company implicated in Nazi slave labour profiteering.
During the planning stages in the early 1970s, Rogers and Piano were heavily influenced by the ideas of the 1960s English progressive architectural group Archigram, obsessed with assembling giant structures showing off technology and futurism.
Yet Archigram was unconcerned with societal or environmental subjects, and by 1973, they had already abandoned initial plans to dream up megastructures, widely rejected by the British public.
By then, the already-dated Archigram approach had inspired a vast new entity overseas, Beaubourg.
It was named after Georges Pompidou, a bookish French president who had scarcely emerged from the shadows as a loyal underling of Charles de Gaulle before he died prematurely in 1974.
Five years earlier, Pompidou had announced his plan to construct a vast cultural centre in what was formerly a fresh food market in the heart of Paris. It would serve as a modern art museum and free public library.
Curiously, Pompidou suggested that the plan would rival cultural centres "such as those planned for the United States, with hitherto unmatched success, combining museum with creative centre, where the visual arts mingle with music, film, books, and audiovisual research".
But in the United States, no such centres ever existed, certainly not on the Beaubourg scale.
One problem with Pompidou's idea, among many, soon became clear. Art was never a main factor drawing punters to the centre, which opened in 1977.
A dozen years ago, a Beaux Arts magazine poll discovered that of 1,000 Parisians, only four could name one artwork or artist represented at Beaubourg.
This ignorance about the permanent collection isn't due to its mediocrity. Fine artworks by Brancusi, Kandinsky, Duchamp, Léger, Matisse, Mondrian, and Miró are on view.
Yet paintings are not really the draw for most visitors. Eye-opening transitory exhibitions have been crowd-pleasers and aesthetic sensations, honouring Duchamp (1977); Henri Michaux (1978); Paul Klee (1985); Kurt Schwitters (1994); Francis Bacon (1996); Louise Bourgeois (2008); Alexander Calder (2009); Edvard Munch (2011); and Simon Hantaï (2014).
Yet there have also been much-hyped exhibits of highly commercial art that hardly wins points for originality or finesse, such as the crass Jeff Koons (2014) or mind-numbingly repetitive Christo (2020).
This dichotomy may have occurred because Beaubourg first sought an international director with art credentials, but later appointed high-ranking French civil servants, often with no art museum experience.
Beaubourg's first director was the Swedish art entrepreneur and impresario Pontus Hultén, who had already established the Moderna Museet in Stockholm before being called upon to work magic in Paris.
This Hultén did with a series of major shows linking Paris to other European cities of art. Subsequent bean-counting directors have tried to link Paris to other cities by planning money-making Beaubourg outposts in China, Spain, Korea, and elsewhere.
In this atmosphere of l'argent fait tout ('money means everything'), it was perhaps unsurprising that Agnès Saal, a French civil servant who was general director of Beaubourg from 2007 to 2014, was accused of charging 40,000 euros' worth of taxi rides to her expense account, according to l'Express magazine in June 2015.
The following year, Saal pled guilty to misuse of public funds, but the episode's echoes remind us that Beaubourg inevitably reflects how the French civil service which runs it, and Paris as the city that houses it, are loci of sometimes-mercenary privilege.
After a previous renovation when the museum was closed from 1997 to 2000, the free enjoyable view of the surrounding neighbourhood from external elevators to the sixth-floor observation terrace, was snatched away. Thenceforth, visitors had to purchase a ticket to the art museum to have access to the elevators.
This meanness over what was once an experience open to all seems a sadly typical result of a Parisian official killjoy mentality, concerned only with the bottom line.
Perhaps some future plan will also leech profits from president Pompidou's cherished free public library. For years there has been a distinct economic divide between the sometimes scruffy regular denizens of the library and the comparatively privileged tourist hordes paying for the official Beaubourg experience.
Paris is, after all, one of the snob capitals of the world, and few were surprised in November 2013 when international media transmitted a story first reported in Le Canard enchaîné, that employees at the chic restaurant Georges, on the rooftop of Beaubourg, reserved tables in public view for physically attractive diners, while ugly ones were relegated to hidden spots where no one could see them.
The only exception to this rule, instigated by a manager and tacitly admitted by the restaurant owners, was for ugly celebrities; fame outweighed good looks and pug-ugly stars could be seated where others might glimpse them.
This policy is especially ironic at Beaubourg, which itself was taxed with a horrid appearance when first opened to the public.
In a January 1977 issue of Journal du Dimanche, the science fiction author René Barjavel, instead of enjoying the building's futurist aura, exclaimed, "My God, how ugly!.. It's ugly from inside and outside and from every perspective."
Barjavel's solution for the eyesore was to present it as a gift to the African dictator Idi Amin, known as the Butcher of Uganda. The only problem, Barjavel added, was that Amin, considered one of the most brutal despots in history, was so devilish that he was capable of refusing the generous gesture.
Barjavel was far from alone in his view. In Le Monde the same year, the editorialist Jean Paris bemoaned that modern-day Parisians lacked the fortitude of revolutionaries two centuries earlier who had dismantled the Bastille prison. Paris asked, "Who today will take the initiative to advocate abolishing the monster [Beaubourg] and turning it into a park?"
Cultural critic Dominique Jamet, in L'Aurore in September 1976, likewise decried the colour scheme of the outside piping which, he wrote, included shades of blue, red, and "goose poo" ('caca d'oie').
No naysayer was more influential than the sociologist Jean Baudrillard, who coined the term "The Beaubourg Effect" in his Simulacra and Simulation philosophical treatise of 1994 to argue that the centre's mass-media overload was so aggressive in presenting culture that it effectively destroyed it.
Baudrillard observed that it was useless to try to burn down or oppose Beaubourg, since simply going there was the best way to demolish it.
Indeed, the hordes of tourists, vastly outnumbering the crowds initially expected during the planning stages, have caused part of the wear and tear that has led to repeated urgent renovations and repairs of the building. The latest plan, announced in late January, is for the centre to close from 2023 for four years of maintenance work.
Today, no one seriously calls for the destruction of Beaubourg, although Renzo Piano suggested to the New York Times in 2000 that the centre might close every quarter-century or so, for its function to be reconsidered.
Following Piano's open-minded advice, we might consider one possibility to reestablish Beaubourg's original identity as a free and open place for the people, as envisaged by Pompidou himself.
This could be achieved by relocating the generally-overlooked permanent art collection to other museums and reopening Beaubourg as the largest and most literate homeless shelter in Europe.
With current French official estimates of migrants sleeping rough and in illegal camps in the thousands, it may be time to conceive of a combined residence and cultural centre focused on creativity.
After all, well over a century ago, the Bateau-Lavoir, a ramshackle building in Montmartre, sheltered the penniless foreign artists Picasso, Modigliani, and Gris, as well as indigent poets and other social outcasts.
Conceived before Paris became a nightmare of artistic sterility and gouging real estate opportunism, the Bateau-Lavoir might serve as an inspirational model for a repurposed and entirely free Beaubourg, realising societal and environmental goals so painfully absent from Rogers and Piano's Archigram-based model.
KNOWING BEAUBOURG INSIDE OUT
The functional structural elements of the building – exposed on its outside – are colour-coded: green pipes for plumbing; blue ducts for climate control; electrical wires encased in yellow; and circulation elements and safety features are red.
Even after more than 40 years, it has not won over all locals. Comparisons have included an "oil refinery", a ship in a dock" and "Notre Dame des pipes". The building is said to be in the geographical centre of Paris, equidistant from the Louvre Museum and the actual Notre Dame.
The Pompidou Centre featured in the 1979 James Bond film Moonraker, as the futuristic offices of the villain, Hugo Drax.
Most popular